Les dangereux jeux de guerre du prince saoudien
TEL AVIV – Plusieurs développements politiques étonnants en provenance d'Arabie saoudite sont venus troubler un Moyen-Orient déjà instable. Une nouvelle grande guerre est-elle en vue ?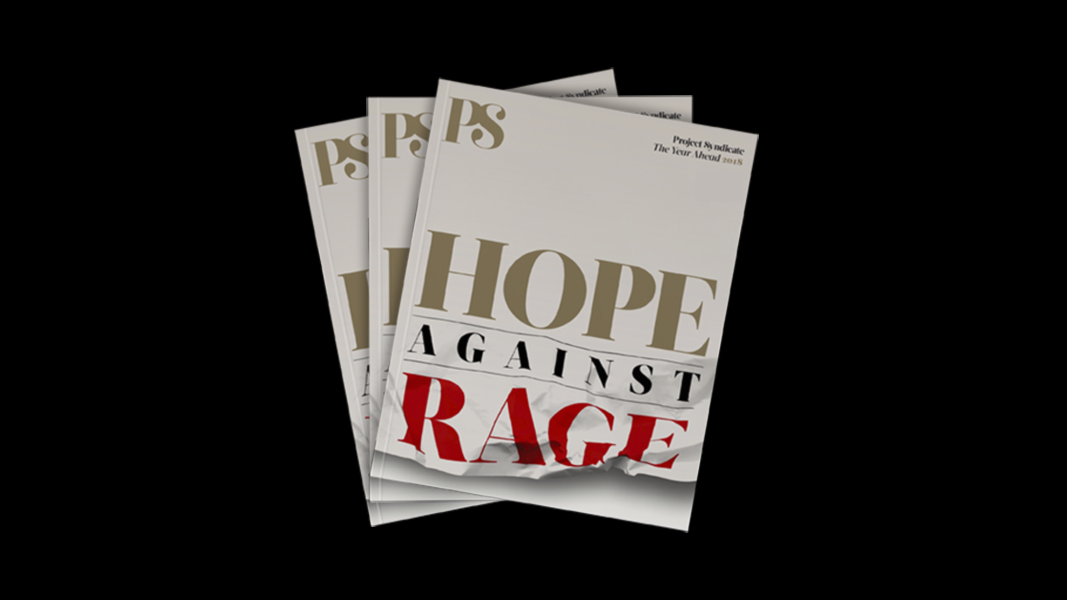 The Year Ahead 2018
The world's leading thinkers and policymakers examine what's come apart in the past year, and anticipate what will define the year ahead.
L'ambitieux prince héritier de l'Arabie saoudite de 32 ans, le prince Mohammed ben Salman (communément désigné par ses initiales, MBS), qui supervise une transformation historique (et déstabilisatrice) de l'économie du Royaume, a ordonné l'arrestation de plusieurs des plus puissants princes et hauts-fonctionnaires du pays. Le coup, présenté comme une campagne anti-corruption, est une manœuvre hardie visant à consolider le pouvoir.
Mais les ambitions de MBS s'étendent bien au-delà des frontières de son pays. Le même jour, le Premier ministre libanais Saad Hariri a annoncé sa démission dans une émission de télévision en direct de Riyadh, en accusant l'Iran de causer la « dévastation et le chaos » par son ingérence dans d'autres pays.
Lorsque quelques jours plus tard Riyadh a été ciblée par un missile à longue portée lancé du Yémen par les rebelles Houthi soutenus par l'Iran, les Saoudiens n'ont pas perdu de temps avertir l'Iran de la possibilité d'une guerre. Les dirigeants saoudiens ont dénoncé le Hezbollah - la milice chiite du Liban soutenue par l'Iran - pour son aide en faveur des Houthis. En faisant référence à l'inclusion de membres du Hezbollah au Liban, le gouvernement de l'Arabie saoudite a accusé le pays de déclarer la guerre au Royaume et a ordonné à ses citoyens de quitter le pays.
MBS espère établir clairement l'Arabie saoudite comme l'hégémon l'unique du golfe Persique et comme protecteur de l'Islam sunnite dans tout le Moyen-Orient. Mais ses efforts ressemblent de plus en plus à l'œuvre d'un parieur immature.
L'Arabie saoudite a déjà souffert de l'échec de son blocus grotesque contre le Qatar, sans parler de ses deux tentatives désastreuses pour bloquer les progrès de l'Iran en Syrie et au Yémen. Ajoutons à cela la purge politique maladroite de MBS - et l'escalade au Liban peut être envisagée comme une manœuvre désespérée.
Pourtant provoquer l'Iran n'est probablement pas dans l'intérêt de l'Arabie saoudite. Comme le MBS ne le sait que trop bien, le Royaume ne peut égaler la puissance militaire de l'Iran. Et son plan de secours probable - accroître la coopération en matière de sécurité avec Israël - risque de ne pas fonctionner selon ses vœux.
Il est vrai que le Chef de cabinet, le général Gadi Eisenkot, a évoqué dans un rare entretien avec un journal saoudien les « nombreux intérêts communs » entre les deux pays. En outre, le ministre de la Défense Avigdor Lieberman a averti qu'Israël ne permettrait pas la consolidation « d'un axe chiite en Syrie. » Et le Premier ministre Benyamin Netanyahou a clairement fait savoir qu'Israël ne laisserait pas l'armée iranienne gagner du terrain sur terre et sur mer en Syrie.
Mais il est ridicule de croire qu'Israël va s'engager dans une guerre à grande échelle au Nord de sa frontière pour le compte de l'Arabie Saoudite. Ce ne serait même pas la première fois qu'Israël a déçu les attentes saoudiennes d'une intervention. En 2012, Netanyahou n'a pas donné suite aux menaces d'attaquer les installations nucléaires de l'Iran.
Plus récemment, Israël a refusé d'intervenir dans la guerre civile en Syrie contre le régime alaouite affilié aux chiites de Bachar el-Assad. En fait, Israël a pris grand soin d'éviter d'être entraîné dans ce conflit, alors même qu'il a intensifié les attaques aériennes contre les convois d'armes dirigés vers le Hezbollah, qui a tenté d'ouvrir un deuxième front contre Israël sur le Golan.
Pourtant, il serait irresponsable de rejeter l'idée de la guerre. Après tout, les guerres sur le front Nord d'Israël n'ont pas toujours été préméditées. Et un Assad de plus en plus sûr de lui ne semble plus résigné à l'insistance d'Israël selon qui sa force aérienne devrait avoir pleine liberté d'action en Syrie et au Liban : ses batteries anti-aériennes ont commencé à répondre aux vols militaires israéliens sur la Syrie. Le 11 novembre, les forces israéliennes ont abattu un drone syrien.
En outre, Israël a établi une nouvelle ligne rouge en Syrie : la protection de la communauté druze, envers laquelle les citoyens druzes très loyaux d'Israël entretiennent des liens forts. Le 3 novembre, après que les forces rebelles ont tué neuf personnes dans un village druze à l'intérieur de la Syrie, l'armée israélienne a averti qu'elle interviendrait pour empêcher l'occupation du village.
Bien qu'Israël ne soit pas intéressé dans le fait de mener une guerre totale, il n'envisage pas un tel scénario comme étant totalement improbable. En septembre, Israël a réalisé son plus grand exercice militaire depuis deux décennies, avec ses forces aériennes, maritimes et ses grandes forces terrestres qui ont effectué une simulation de conflit de deux semaines sur les fronts syrien et libanais. Une évacuation massive de la population civile du Nord d'Israël a également été simulée. Après deux guerres avec le Hezbollah qui se sont terminées par une sorte d'ex æquo, Israël a clairement fait savoir que dans tout nouveau conflit, l'objectif serait la victoire sans équivoque.
Le Hezbollah, épuisé par son effort coûteux pour soutenir la guerre civile d'Assad en Syrie, ne désire pas particulièrement s'engager dans une confrontation avec Israël. L'Iran, pour sa part, a permis d'éviter de perturber la stabilité du Liban et la trêve toujours précaire avec Israël, afin de permettre au Hezbollah de se concentrer sur la Syrie.
Mais l'Arabie saoudite se réjouirait d'un affrontement entre Israël et le Hezbollah, en estimant qu'elle conduirait inévitablement à une confrontation entre Israël et l'Iran. C'est particulièrement vrai en ce moment : comme les combats en Syrie prennent fin, l'axe sunnite dirigé par les Saoudiens est impatient de compenser ses pertes et pousse donc le Liban à devenir son prochain champ de bataille.
En l'état, le Liban reste partagé entre le Hezbollah pro-syrien et le camp iranien - qui comprend le président Michel Aoun - et « l'Alliance du 14 mars » d'Hariri -  des Sunnites, des groupes anti-syriens, que l'Arabie saoudite espère entraîner dans le conflit qu'elle désire tant. Bien sûr, s'engager dans une guerre menée par des puissances qui considèrent le Liban comme une simple pièce d'un puzzle stratégique plus large n'est pas dans l'intérêt du pays.
Ce n'est pas non plus dans le meilleur intérêt d'Hariri : après tout, un tel conflit priverait les entreprises de construction de sa famille de l'opportunité de remporter des contrats pour la reconstruction de la Syrie. En effet, il semble très probable qu'Hariri soit à Riyadh contre sa volonté.
Alors que MBS joue avec le feu, le président américain Donald Trump lui a offert un large soutien, en raison de son animosité envers l'Iran et peut-être dans l'espoir que l'Arabie saoudite va soutenir un plan de paix mené par les États-Unis en Palestine. Mais il faut trouver une incitation plus bénigne de toute urgence. Après tout, comme le conflit syrien l'a clairement démontré, les guerres vont souvent à l'encontre de leur but recherché.