Russland ist ein Stratege, kein Störer
MADRID – Am 1. Oktober verkündete der ukrainische Präsident Wolodymyr Selenskyj die Unterstützung seiner Regierung für eine Vereinbarung, die zu Wahlen in den östlichen Provinzen Luhansk und Donetsk (von denen große Teile 2014 von durch Russland unterstützte Separatisten erobert wurden) führen würde – mit dem letztlichen Ziel, diesen einen besonderen Autonomiestatus einzuräumen. Dies war eine wichtige Entwicklung, und zwar nicht nur, weil sie die ukrainische Zustimmung zu einem Prozess signalisierte, der die Feindseligkeiten im Lande beenden könnte, sondern auch aufgrund ihrer Auswirkungen auf eine im Umbruch befindliche Weltordnung.
Von dem gewagten Angriff des Iran auf wichtige Ölanlagen in Saudi-Arabien bis zur Einleitung einer Voruntersuchung für ein Amtsenthebungsverfahren gegen US-Präsident Donald Trump hat der vergangene Monat die Volatilität unterstrichen, die die internationale Ordnung ergriffen hat. Während Saudi-Arabien und der Iran um die Vorherrschaft im Nahen Osten wetteifern und Chinas Stellung in der internationalen Ordnung sich fortentwickelt, sind drei andere wichtige Akteure – Europa, Russland und die USA – dabei, ihre globalen Rollen neu zu gestalten.
Beginnen wir mit Russland. Seit dem Einmarsch des Landes in der Ukraine und der illegalen Annexion der Krim 2014 war die gängige Sichtweise, dass sich Präsident Wladimir Putin entschlossen habe, in internationalen Angelegenheiten als Störenfried zu agieren. Schließlich sei das Land zwar einflussreich genug, Schwierigkeiten zu verursachen – und hoffe darauf, seine Einflusssphäre zu sichern –, doch würden ihm die Ressourcen fehlen, um seine Rolle als globales Schwergewicht wiederaufzunehmen.
Als Russland in Syrien intervenierte, um seinen angeschlagenen Verbündeten, Präsident Bashar al-Assad, zu stützen, betrachteten viele diesen Schritt daher als schlichten Opportunismus: Putin nutze das Chaos, um zu zeigen, dass er die Pläne des Westens noch immer vereiteln könne. Das zunehmende russische Engagement in Venezuela und Afrika wurde weitgehend genauso angesehen.
Heute jedoch ist Russland ein echter globaler Machtfaktor. In der Ukraine stellt Selenskyjs Annahme der sogenannten Steinmeier-Formel einen bedeutenden Schritt hin zur Normalisierung der russischen Präsenz im Lande und seiner Beziehungen zu Europa und den USA dar. Insofern war sie ein wichtiger Erfolg für Putin bei seinem Bemühen, Russland wieder als Weltmacht zu etablieren.
In ähnlicher Weise verkündeten die Vereinten Nationen im letzten Monat die endgültige Zusammensetzung eines vorab bestätigte Vertreter aus Regierung, Zivilgesellschaft und Opposition umfassenden 150 Mitglieder starken Ausschusses in Syrien, der die Verfassung umschreiben soll. Dies folgt einem Plan, der ursprünglich auf einer 2018 von Russland ausgerichteten Friedenskonferenz vorgeschlagen wurde. Auch als Syrien auf eine Stabilisierung zusteuerte, signalisierte der Kreml seine Absicht, seine langfristige Präsenz dort aufrechtzuerhalten, und verkündete nur wenige Tage nach der UN-Ankündigung Pläne, die russischen Luftwaffen- und Marinestützpunkte auszubauen.
Subscribe now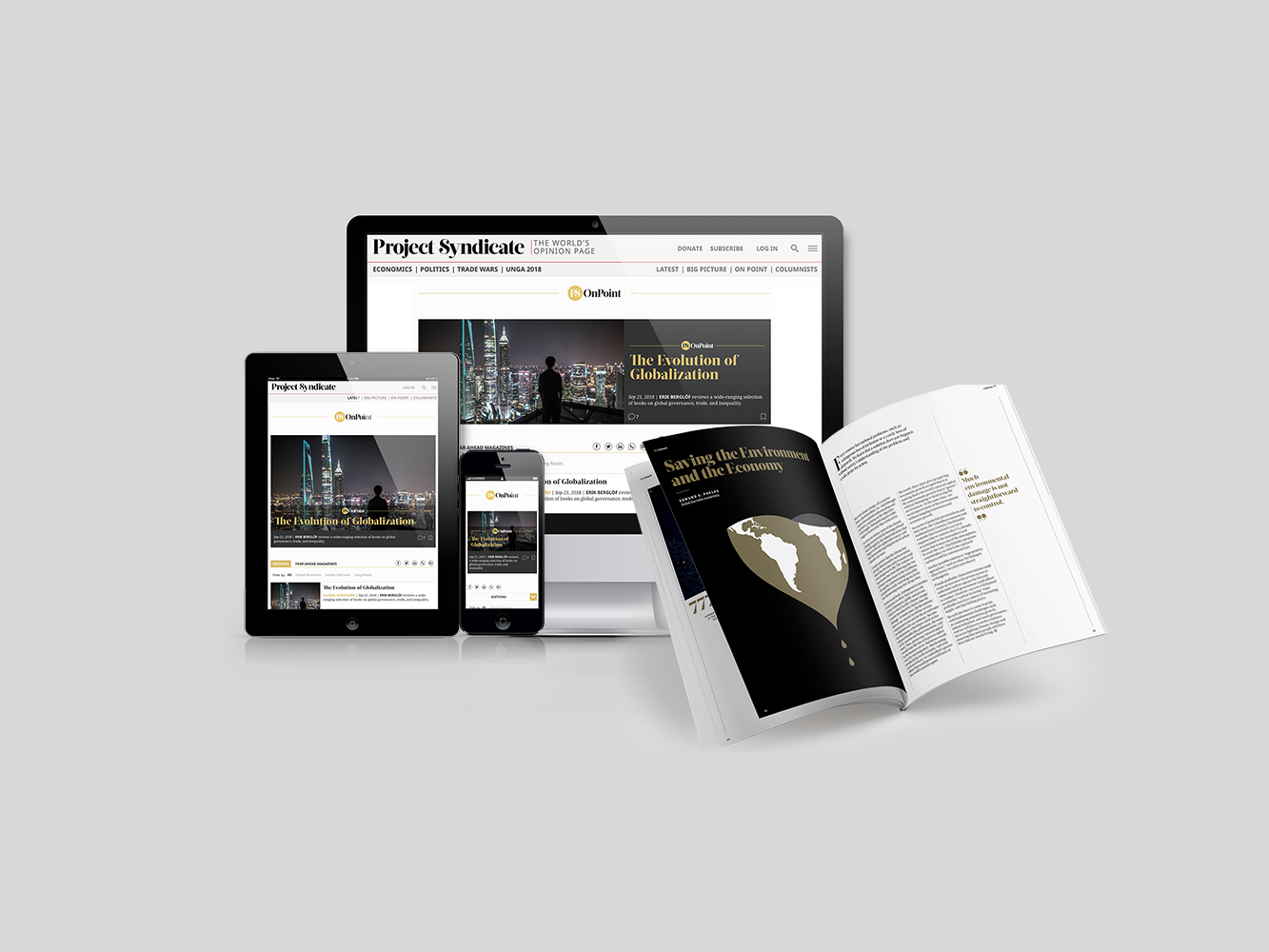 Subscribe now
Subscribe today and get unlimited access to OnPoint, the Big Picture, the PS archive of more than 14,000 commentaries, and our annual magazine, for less than $2 a week.
Russlands neuerliche Bedeutung ist zum Teil schlicht durch den Rückzug der USA von ihrer globalen Führungsrolle bedingt. Der Kontrast wurde im Gefolge der Angriffe auf Saudi-Arabien im vergangenen Monat klar deutlich.
Auf US-Seite tweetete Trump sofort kriegslüsterne Drohungen: Die USA seien "geladen und entsichert", prahlte er, und würden nur darauf warten, von den Saudis zu hören, "zu welchen Bedingungen" sie vorgehen sollten. Doch wie so oft ließ Trump hierauf keine Taten folgen. Stattdessen befahl er eine weitere Runde von Sanktionen und stationierte ein paar Soldaten und etwas militärische Ausrüstung in Saudi-Arabien und den Vereinigten Arabischen Emiraten.
Putin dagegen präsentierte Russland als potenziellen Bürgen regionaler Stabilität. Er vermied sorgfältig jegliche Schuldzuweisungen – der Iran streitet seine Beteiligung an den Angriffen nach wie vor ab – und stellte klar, dass er mit allen Parteien zusammenarbeiten würde. Russlands staatlicher Waffenexporteur erklärte zudem, dass er sich mit den Ländern des Nahen Ostens treffen würde, um ihnen Waffensysteme zur Drohnenabwehr zu verkaufen  – ein klarer Versuch, eine zentrale amerikanische Rolle in der Region an sich zu reißen. Dies ist der Ansatz eines Strategen und nicht der eines Störenfrieds.
Die USA bewegen sich in die gegenteilige Richtung. Trotz ihres allmählichen Rückzugs aus einer globalen Führungsrolle – ein Prozess, der bereits während der Regierung von Barack Obama begann – betrachten große Teile der Welt das Land weiterhin als primäre Macht des Status quo. Doch ist dies angesichts der Tatsache, dass die USA keinerlei Führungsneigung an den Tag legen, eher die Macht der Gewohnheit zuzuschreiben und keine logische Schlussfolgerung.
Tatsächlich scheinen die USA ihrem Rückzug aus wichtigen globalen Initiativen wie dem Nuklearabkommen mit dem Iran und dem Pariser Klimaabkommen nach zu urteilen wenig Neigung zu haben, sich auch nur zu beteiligen. Angesichts von Amerikas Einfluss – das Land bleibt in vieler Hinsicht ein unverzichtbarer Akteur – läuft dieser Rückzug manchmal auf ein Störverhalten hinaus. Und da die Voruntersuchung für das Amtsenthebungsverfahren Amerikas Aufmerksamkeit zunehmend in Beschlag nehmen wird, dürfte sich dieser Trend noch beschleunigen.
Damit bleibt noch Europa. Europa ist weder Stratege noch Störenfried, sondern übt innerhalb des Systems vielmehr die Rolle eines Moderators aus. So spielten Frankreich und Deutschland eine wichtige Rolle dabei, die Vereinbarung vom 1. Oktober in der Ukraine herbeizuführen. Der französische Staatspräsident Emmanuel Macron hat zudem Berichten zufolge am Rande der jüngsten UN-Generalversammlung (wenn auch erfolglos) versucht, eine Übereinkunft über Rahmenverhandlungen zwischen den USA und dem Iran herbeizuführen.
Diese Bemühungen sollten zu Optimismus Anlass geben; Europa hat noch immer eine Rolle zu spielen und ist bemüht, diese auszufüllen. Doch müssen die europäischen Regierungen diese Verantwortung in einer Zeit sich verschiebender Machtdynamik mit großer Vorsicht angehen und sich alle potenziellen Folgen der Vereinbarungen bewusst machen, die sie innerhalb einer sich wandelnden Weltordnung herbeizuführen helfen.
Als wichtiger globaler Moderator muss Europa genau wissen, wem diese Bemühungen dienen. Schließlich kann, wie die in der Ukraine ausgebrochenen Proteste unterstreichen, selbst eine Einigung, die jahrelange Feindseligkeiten zu beenden verspricht, riskanter sein, als es den Anschein hat.
Aus dem Englischen von Jan Doolan