La alarma por los rohinyás
PARÍS – Como suele suceder, la alarma la dio un artista. Se llama Barbet Schroeder, y su llamado de atención fue en la forma de un film, estupendo, sobrio, titulado The Venerable W., que hace un retrato del monje budista birmano Ashin Wirathu. Conocido como "W", Wirathu es la otra cara de una religión generalmente vista como arquetipo de paz, amor y armonía. Y tras su faz de racismo, se esconde una orientación budista violenta más amplia que quita el aliento.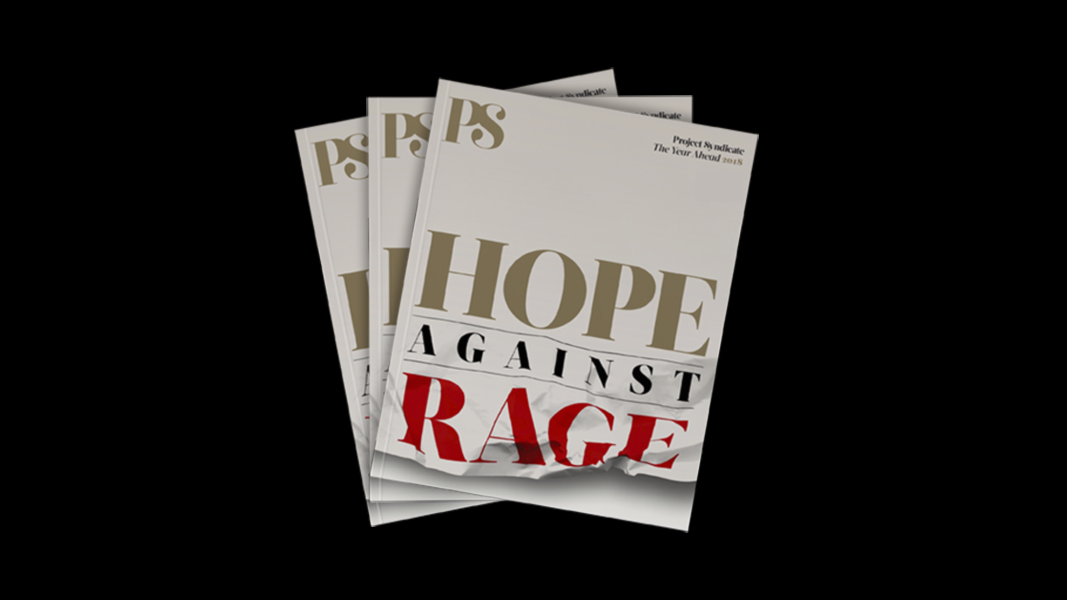 The Year Ahead 2018
The world's leading thinkers and policymakers examine what's come apart in the past year, and anticipate what will define the year ahead.
El film de Schroeder se presentó en el Festival de Cannes 2017 y concitó enorme atención de los medios. En una aparición posterior en la televisión, Schroeder alertó que los rohinyás, la minoría musulmana del estado birmano de Rakáin, estaban en la mira del sanguinario "Movimiento 969" de Wirathu.
No debería sorprender a nadie. Los rohinyás son un millón de hombres y mujeres convertidos en apátridas en su propio país. Privados de derecho al voto, de representación política y de acceso a hospitales y escuelas, padecieron pogromos cada vez que los militares que tiranizaron Myanmar/Birmania por medio siglo se cansaban de matarlos de hambre.
La situación única de los rohinyás es de una crueldad que asombra por lo calculada. Están al mismo tiempo desprovistos de raíces (no tienen reconocimiento oficial en un país cuya obsesión por la raza lo lleva a contar otras 135 "etnias nacionales", es decir que son literalmente una raza de más) y atados a sus raíces (tienen legalmente prohibido mudarse, trabajar o casarse fuera de su aldea de origen, y el tamaño de sus familias está sujeto a restricciones).
Así que aquí estamos, ante uno de esos momentos que parecen llegar sin previo aviso, pero que ya deberíamos ser capaces de reconocer como la pulsación cada vez más rápida del genocidio.
Casi 400 000 personas han sido pasadas de la condición de subhumanas a la de animales de caza; expulsadas por el fuego de las aldeas donde estaban confinadas; empujadas a los caminos; sometidas a las balas, a torturas por diversión y a violaciones masivas. Los sobrevivientes están llegando a campamentos improvisados, apenas cruzando la frontera con el vecino Bangladesh, que siendo uno de los países más pobres del mundo, carece de recursos (pero no de voluntad) para dar alojamiento a las crecientes masas de refugiados.
Naciones Unidas, superando su habitual pusilanimidad, apeló a lo que le queda de capital moral para condenar estos crímenes y declarar que los rohinyás son la minoría más perseguida del mundo. Para los que quieren ver, y recuerdan, la situación en el estado de Rakáin se parece a la limpieza étnica en la ex Yugoslavia de los noventa y a las masacres, incluso peores, ocurridas en Ruanda esa misma década.
Pero hay muchos que no quieren ver. Como los perseguidores de los rohinyás, restringiendo el acceso a periodistas y fotógrafos, han negado a sus víctimas un rostro, y como los rohinyás son musulmanes en mal tiempo para serlo, casi todo el mundo hace la vista gorda.
Confrontado con esta tragedia preanunciada, el mundo debería meditar acerca de lo que mi difunto amigo, el filósofo Jean-François Revel, denominaba conocimiento inútil y pasión por la ignorancia.
Deberíamos maldecir la ingenuidad que llevó a muchos (entre los que me incluyo) a santificar a la "Dama de Rangún", Aung San Suu Kyi, personaje ella misma de un film que pretendía ser hagiográfico pero que, visto en retrospectiva, resulta estremecedor. Convertida el año pasado en líder de facto de Myanmar, Suu Kyi abandonó a los rohinyás a su suerte.
Suu Kyi parecía merecer el Premio Nobel de la Paz que ganó en 1991, cuando se la veía como la reencarnación en un mismo cuerpo de Nelson Mandela, Mahatma Gandhi y el Dalai Lama. Pero desde el momento en que juró solemnemente al mundo que no vio nada en Sittwe, que no pasó nada en el resto del estado de Rakáin y que los informes alarmantes que decían lo contrario sólo eran "la punta de un iceberg de desinformación", su Nobel se convirtió en coartada.
Los rohinyás son la última cohorte de los desnudos existenciales: desposeídos de todo (hasta de su propia muerte), excluidos de la comunidad humana, despojados de derechos. Son aquellos que Hannah Arendt predijo se volverían parte del decorado en el futuro de la humanidad; reproches vivos (o muertos en vida) a las huecas declaraciones de derechos humanos.
Pero antes de que suceda, formularé un deseo. Mañana, una mujer muy diferente, Sheikh Hasina, primera ministra de Bangladesh, se presentará ante la ONU para pedir una respuesta internacional a la crisis de los rohinyás. Conozco a Hasina hace casi cincuenta años, y he tenido muchas oportunidades de apreciar no sólo su nobleza de espíritu, sino también su profundo y permanente compromiso con un Islam moderado, esclarecido y plenamente respetuoso de los derechos del hombre (y de la mujer).
Deseo que la conciencia de la humanidad esté allí, oyendo su discurso en Nueva York, y que, porque ella será oída, la alarma que hará sonar no evoque el triste resonar de un repique de difuntos.
Traducción: Esteban Flamini