Waarom de teruggave van Afrikaanse cultuurvoorwerpen ertoe doet
NEW YORK – De Franse premier Édouard Philippe heeft onlangs een antieke sabel aan de Senegalese president Macky Sall overhandigd in het presidentiële paleis van Dakar, maar het was geen gift. De sabel kwam thuis, ruim een eeuw nadat hij was gestolen.
De repatriëring van een voorwerp met een diepe historische, spirituele en culturele betekenis kan louter een gebaar lijken van koloniale "Wiedergutmachung." Maar deze ceremonie was anders en ging over véél meer dan louter een fysiek object. In feite was het een beslissend moment in de erkenning door het Westen van de culturele schade die door het kolonialisme is toegebracht.
De sabel in kwestie behoorde toe aan El Hajj Omar Tall, oprichter van het Toucouleur-rijk, dat zich ooit uitstrekte van het hedendaagse Senegal tot in Mali en Guinee. Tall was een gerespecteerd religeus leider en anti-koloniale verzetsstrijder. Zijn wapen is naast tienduizenden andere geroofde Afrikaanse erfstukken sinds de jaren negentig van de negentiende eeuw in Franse handen. Tentoongesteld in Franse musea was de sabel geen symbool meer van de militaire bekwaamheid van een ooit machtige dynastie, en vertelde hij in plaats daarvan het verhaal van de decimering van een Afrikaans rijk, waardoor het racisme en de vooroordelen die ten grondslag lagen aan de koloniale periode werden gelegitimeerd.
De familie van Tall had al sinds 1944 campagne gevoerd voor de terugkeer van de sabel, en afgelopen maand hebben zij die strijd eindelijk gewonnen. Afstammelingen van Tall reisden naar Dakar uit steden in Guinee, Mali en Senegal om getuige te zijn van de thuiskomst. De sabel zal vijf jaar in Senegal blijven, terwijl het Franse parlement zal beslissen of hij – en andere voorwerpen – definitief zal worden teruggegeven.
Dit moment zou nog maar een paar jaar geleden ondenkbaar zijn geweest. Europese regeringen, ministeries van cultuur, musea en universiteiten hebben lange tijd geweigerd de immoraliteit te erkennen van de omstandigheden waaronder het cultureel erfgoed van Afrika van het continent is verwijderd. De overdracht van de sabel was dus zeer symbolisch, en duidde op een verandering van de machtsdynamiek en op hernieuwd respect voor de bruisende geschiedenis van Afrika. Het is ook een eerbewijs aan de vasthoudendheid van de Afrikanen – jong en oud, zowel op het continent zelf als in de diaspora – bij het mobiliseren van de eis dat leiders van voormalige koloniale machten historisch onrecht rechtzetten.
Het kolonialisme berustte op het loochenen van de Afrikaanse kunst, muziek en architectuur. Meedogenloze leiders als Ian Smith, de premier van Rhodesië (nu Zimbabwe) in de jaren zestig en zeventig, rechtvaardigden gruwelijk misbruik en onrecht door de cultuur van het Afrikaanse volk te ondermijnen, waarbij hun menselijkheid werd uitgewist.
Subscribe now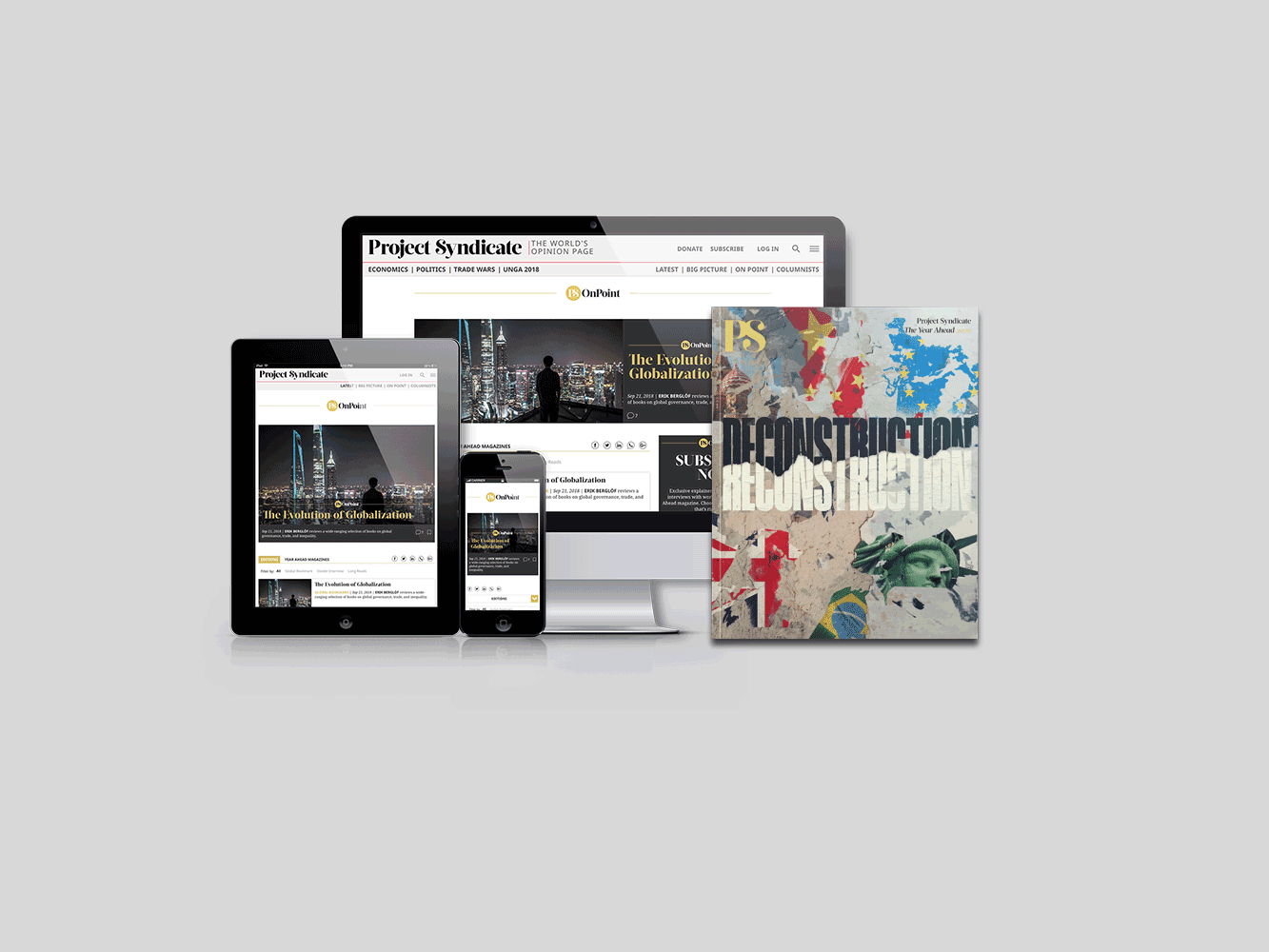 Subscribe now
Subscribe today and get unlimited access to OnPoint, the Big Picture, the PS archive of more than 14,000 commentaries, and our annual magazine, for less than $2 a week.
Tientallen jaren lang hebben de Open Society Foundations degenen gesteund die in de frontlinie van de maatschappelijke transformatie stonden. Wij erkennen de macht van kunst en cultuur om structurele ongelijkheden in twijfel te trekken, vooroordelen uit te dagen en de verbeelding te stimuleren van een nieuwe generatie leiders. Onze culturele erfenis vormt de basis van de verhalen die wij delen om onze plaats in de geschiedenis – en in de wereld – te begrijpen. En in de kern van de zaak is de creatie van culturele voorwerpen in fundamentele zin een manifestatie van menselijke hoop.
Op basis van de erkenning van deze uitgangspunten lanceren de Open Society Foundations een nieuw initiatief ter waarde van $15 mln om de pogingen te versterken om de restitutie van kunstvoorwerpen die van het Afrikaanse continent zijn geroofd zeker te stellen. De komende vier jaar zullen we burgers, kunstenaars, onderwijzenden, inheemse gemeenschappen, civil-society organisaties, musea, universiteiten en andere instellingen steunen die werken aan de terugkeer van Afrika's erfenis naar zijn rechtmatige verblijfplaats, en die in toekomstige generaties van Afrikanen een gevoel van eigenaarschap ten aanzien van hun geschiedenis, cultuur en identiteit wakker willen maken.
Met name de jongeren in Afrika hebben de controle over hun eigen lot geëist, wat onlangs heeft geleid tot opzienbarende veranderingen in Ethiopië en Soedan. Die jongeren zien het belang van hun culturele erfgoed en hebben campagne gevoerd voor de terugkeer van Afrikaanse kunstvoorwerpen. Nu ze beseffen dat jongeren een cruciale macht zijn geworden op een continent waarvan de bevolking naar verwachting met ruim een miljard mensen zal groeien naar 2,5 miljard mensen in 2050, zijn veel voormalige koloniale machten gaan luisteren.
In een toespraak uit 2017 voor een vol auditorium van een universiteit in Burkina Faso beloofde de Franse president Emmanuel Macron om van de terugkeer van Afrikaanse kunstvoorwerpen een prioriteit te maken. "Het Afrikaanse culturele erfgoed," betoogde hij, "kan niet langer gevangen worden gehouden in Europese musea." En sindsdien heeft het baanbrekende Sarr-Savoy Report, in opdracht van de Franse president, geleid tot een mondiaal gesprek over de terugkeer van voorwerpen die uit Afrika geroofd waren. De auteurs van het rapport, de Franse kunsthistoricus Bénédicte Savoy en de Senegalese schrijver Felwine Sarr, adviseerden de onmiddellijke, onvoorwaardelijke terugkeer van alle cultuurvoorwerpen die verkregen waren door diefstal, plundering, roof of oneerlijke ruil in koloniale tijden.
Sinds het verschijnen van het rapport in november 2018 is de mondiale beweging voor de teruggave van kunst aanzienlijk in kracht toegenomen. Er zijn officiële claims ingediend voor de teruggave van historische voorwerpen en menselijke resten aan Ethiopië, Senegal, Benin en Nigeria. Maar er moet nog een hoop werk worden verzet om de hoop op teruggave van cultuurgoederen tot een werkelijkheid te maken.
Het aantal kunstvoorwerpen dat uit Afrika is verdwenen is verbijsterend. Het Koninklijk Museum voor Centraal Afrika in België heeft momenteel 180.000 stukken die afkomstig zijn uit ten zuiden van de Sahara gelegen Afrikaanse landen. Het British Museum in Londen en het Musée du Quai Branly in Parijs hebben ieder ongeer 70.000 historische kunstvoorwerpen uit Afrika. Dit staat in sterk contrast met de omvang van de bezittingen van musea in Afrika zelf. Alain Godonou, een historicus en curator uit Benin, schat dat de inventarissen van de meeste nationale musea in Afrika de drieduizend objecten niet overtreffen. De Open Society Foundations proberen daar samen met onze Afrikaanse partners en anderen in de hele wereld verandering in te brengen.
Teruggave gaat over méér dan alleen over het aangaan van de confrontatie met de gewelddadige erfenis van het kolonialisme – een erfenis die de machtsdynamiek in Afrika en de hele wereld blijft beïnvloeden. Het gaat over het ondersteunen van het werk dat jonge Afrikanen verrichten om de gedateerde, racistische verhalen over hun diverse culturele erfenis en rijke geschiedenis te transformeren. Het gaat over het verstrekken van de middelen aan huidige generaties om een betere toekomst voor zichzelf te creëren. Het gaat in de kern van de zaak om het teruggeven van handelingsmacht aan een continent dat zijn weg voorwaarts aan het bepalen is.
Vertaling: Menno Grootveld