Otra mirada sobre la reforma fiscal y el crecimiento económico
STANFORD – A fines de noviembre, un grupo de economistas, en el cual estuve incluido, publicó una carta abierta al Secretario del Tesoro de Estados Unidos Steven Mnuchin en el Wall Street Journal, en dicha carta ofrecíamos una evaluación de los efectos positivos sobre el crecimiento que traería consigo el paquete impositivo republicano, sobre el cual ahora se votará. El ex secretario del Tesoro Larry Summers y el ex presidente del Consejo de Asesores Económicos Jason Furman, plantearon varias preguntas técnicas acerca de nuestras conclusiones. Respondimos. Otro firmante, Robert Barro, de la Universidad de Harvard, posteriormente publicó, aquí en Project Syndicate, una reflexión más profunda con respecto a los efectos sobre el crecimiento que tendrá el plan fiscal, a la que Summers y Furman ofrecieron una respuesta.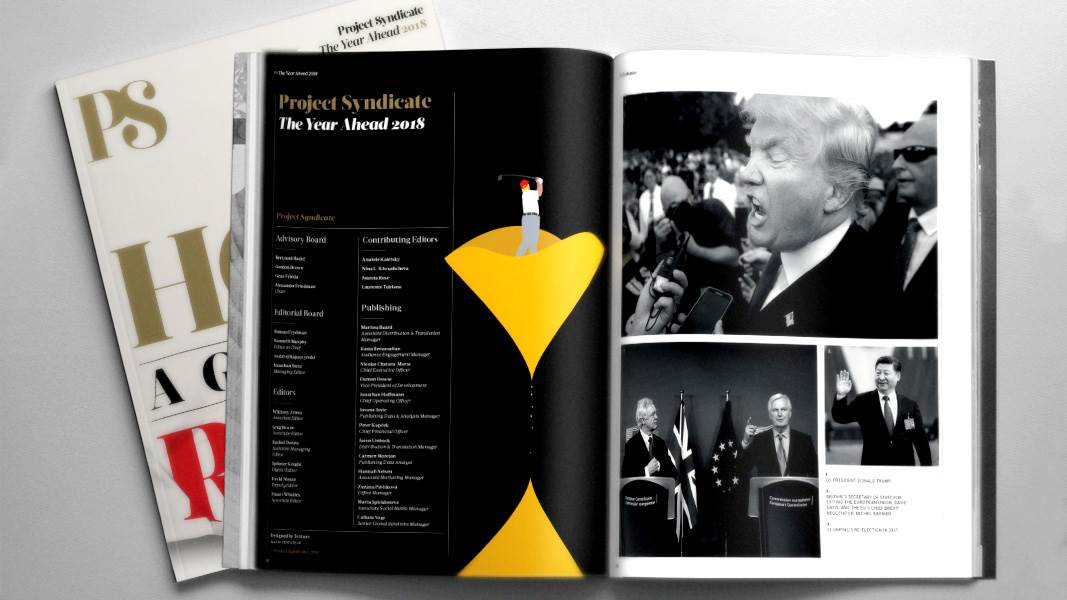 The Year Ahead 2018
The world's leading thinkers and policymakers examine what's come apart in the past year, and anticipate what will define the year ahead.
Summers y Furman originalmente sugirieron que deberíamos dejar las estimaciones de los efectos sobre el crecimiento que tendría el plan fiscal a los profesionales que llevan las cuentas de los ingresos del gobierno. "En lugar de ser utilizados para justificar este proyecto de ley sobre impuestos", estos dos economistas escribieron posteriormente, "las ideas de Barro podrían haber ayudado a dar forma a un proyecto de ley de impuestos muy mejorado". En vez de volver a tratar los problemas técnicos a los que ya respondimos, quiero ofrecer algunas ideas adicionales que pueden contribuir a una mirada más amplia.
En primer lugar, en lo que se refiere a la interrogante relativa a si se debe o no aprobar este proyecto de ley sobre impuestos, Summers y Furman, como aquellos de nosotros a los que ellos critican, tenemos la suficiente experiencia en la formulación de políticas como para saber que el producto final generalmente difiere de lo que los economistas considerarían ideal. Huelga decir que muchas de las políticas promulgadas durante la administración del presidente Barack Obama, en la que ellos ponderablemente prestaron sus servicios, se ajustan a esa descripción, al igual que lo hacen otras políticas de administraciones anteriores.
Estoy de acuerdo con que el actual proyecto de ley de impuestos podría, en teoría, haber sido mejor. Por ejemplo, me encantaría que la provisión sobre gastos en equipos sea permanente, también me gustaría que la base de impuesto sobre la renta personal sea ampliada y que se integraran por completo los impuestos corporativos y personales a tasas de impuesto sobre la renta más bajas. Pero, tal proyecto de ley no sería aprobado por el Congreso. La pregunta es, por lo tanto, si un proyecto de ley final que sea viable será mejor que el statu quo, no es si el proyecto final podría haber sido mejor.
En segundo lugar, Barro y yo hemos llegado claramente a una conclusión distinta sobre el proyecto de ley de la que arribaron Summers y Furman, fundamentándonos en nuestras propias valoraciones sobre los vínculos entre la reforma de impuestos corporativos y el crecimiento económico. Por cierto, si bien yo respeto el derecho que tienen Summers y Furman a tener sus propios puntos de vista, no voy a ceder mi valoración profesional ante la de otros, ya sea que estos estén dentro o fuera del gobierno.
En tercer lugar, existen legítimas diferencias de opinión sobre cuánto y con qué rapidez el plan tributario afectará las decisiones de inversión (especialmente las inversiones en equipos) y, por ende, el crecimiento económico a largo plazo. Los propios resultados de investigación de Summers justifican de manera dramática este punto. Usando datos de una variedad de países y de períodos de tiempo, algunos tan cortos como cinco años, él y Brad DeLong de la Universidad de California, Berkeley (quien también se opone a la actual ley de impuestos) han presentado los argumentos más sólidos que conozco acerca de que la inversión en equipos puede tener un gran impacto sobre el crecimiento del PIB. Además, el efecto que ellos estiman es mucho más grande que en los modelos convencionales utilizados en la mayoría de los estudios, incluidos aquellos en los que se basan quienes llevan las cuentas sobre los  ingresos del gobierno.
 "El análisis sugiere una relación fuerte y causal entre la inversión en equipos y el crecimiento económico", según Summers y DeLong. Llegaron a la conclusión de que "un aumento de tres o cuatro puntos porcentuales en la participación del PIB relativa a la inversión en equipos se asocia con un aumento del PIB por trabajador del uno por ciento anual". Por lo tanto, para lograr el aumento del 0.3% en el crecimiento anual del PIB que es el nivel que ahora se está debatiendo, la inversión en equipos tendría que aumentar en un 1% del PIB por año, un nivel considerable sin duda, pero bien dentro del rango de lo que históricamente se experimentó.
Summers y DeLong también calculan que los beneficios sociales de la inversión en equipos son mucho mayores que aquellos por ingresos privados. Por lo tanto, llegaron a la conclusión de que "parece existir una razón fuerte para garantizar que la política económica no penalice, y de hecho para que recompense, a los inversores en equipos"; y que "las medidas que reducen la carga impositiva sobre la inversión en nuevos equipos probablemente sean especialmente potentes como para maximizar la inversión en equipos generada por cada dólar de ingresos gubernamentales que fueron sacrificados". Finalmente, señalaron que "las políticas con un sesgo anti equipos incluyen reglas tributarias que subsidian activos que pueden apalancarse fácilmente... [y] que indican que las piezas de equipos son con frecuencia más difíciles de constituir como garantía de deuda en comparación con las inversiones en estructuras".
Summers y DeLong atribuyen los grandes efectos de crecimiento de la inversión en equipos principalmente a los efectos de aprender haciendo, ellos citan ejemplos históricos desarrollados por, entre otros, mi difunto colega de la Universidad de Stanford, Nathan Rosenberg. Los potenciales efectos económicos beneficiosos que son más grandes que los habituales fueron desarrollados en un artículo clásico escrito por otro colega de la Universidad de Stanford (y tío de Summers) quien fue galardonado con el Premio Nobel: Kenneth Arrow. Si una mayor inversión conduce hacia nuevas tecnologías o hacia mejoras mediante el aprendizaje el cual, a su vez, genera mayores avances tecnológicos, dicha inversión tendrá un efecto desproporcionadamente mayor sobre el crecimiento.
Personalmente creo que hay algo que se debe decir sobre aprender haciendo. Si se considera la fracturación hidráulica, cuyo costo marginal se ha reducido a la mitad en la última década gracias a experimentos con nuevas tecnologías y técnicas, así como mi propia investigación (con Lawrence J. Lau de la Universidad de Stanford) sobre el crecimiento en los países del G7, se puede sugerir que la tasa de progreso técnico concretado se eleva cuando se tiene más capital.
Un cuarto punto es que si bien el trabajo académico de Summers y DeLong sugiere que la inversión en equipos debe ser subsidiada y las estructuras gravadas con más impuestos, Summers y Furman quieren que los gastos se extiendan a las estructuras – hacia aquellas que tienen más probabilidades de ser financiadas con deuda – así como también quieren que la reducción en la tasa de impuestos corporativos sea más pequeña. Es prerrogativa de Summers ofrecer propuestas que se aparten de su trabajo anterior. Yo también reviso mis posturas de acuerdo con los cambios que suceden en la economía y los hallazgos de investigaciones posteriores – y, mucho ha cambiado desde que Summers y DeLong presentaron su trabajo de investigación.
La competencia mundial por inversiones, incluida la competencia por tasas de impuestos corporativos más bajas entre los competidores de EE.UU., parece haber fortalecido el argumento acerca de reducir la tasa legal estadounidense, que en el 39% (incluidos los impuestos estatales) y es la más alta en la OCDE y se encuentra más del 50% por encima del promedio. La tasa efectiva, que incluye créditos y deducciones, también es alta, a pesar de ser menos anómala.
En un análisis de investigaciones académicas recientes, Michael Devereux, de la Universidad de Oxford, determina que, si bien las tasas impositivas efectivas marginales afectan el nivel de inversión empresarial, la tasa efectiva promedio tiene un efecto mucho mayor sobre dónde, internacionalmente, se realizan las inversiones. Si él tiene razón, el gasto y una tasa impositiva más alta – que implica una tasa marginal baja y una tasa promedio alta – no se constituirían en la mejor manera de aumentar la inversión en Estados Unidos.
Independientemente de mi propio papel, creo que la reforma actual bien podría haberse desviado más del ideal si no hubiéramos ofrecido nuestros análisis y consejos. Lo mismo sucedió cuando mi persona y otros aconsejábamos al presidente Ronald Reagan y a los líderes del Congreso sobre las principales reformas tributarias de los años 1981 y 1986. Muchos otros factores, además de las propuestas de políticas planteadas por economistas y que se pueden encontrar en libros de texto, afectan al producto final.
Finalmente, quisiera enfatizar el punto relacionado a que todavía no se han redactado las disposiciones fiscales reales que las personas y las empresas deberán usar, y que dichas disposiciones se determinarán, en parte, mediante interpretaciones técnicas y reglamentaciones que se determinarán en el transcurso de los próximos meses. En el caso de la reforma del año 1986, semanas después de que dicha reforma fue aprobada por el Congreso, yo aún recibía llamadas del personal del Comité para preguntarme qué era exactamente lo que yo pensaba que se quiso decir con esta o aquella disposición. Nadie debería esperar que esta vez suceda algo distinto.
Traducción del inglés: Rocío L. Barrientos.