Ein weiterer Blick auf Steuerreform und Wirtschaftswachstum
STANFORD – Ende November veröffentlichte eine Gruppe von Ökonomen, zu der auch ich gehörte, im Wall Street Journal einen offenen Brief an US-Finanzminister Steven Mnuchin, in dem wir eine Bewertung der positiven Auswirkungen des Republikanischen Steuerpakets, das jetzt zur Abstimmung ansteht, abgaben. Der ehemalige US-Finanzminister Larry Summers und des frühere Vorsitzende des wirtschaftlichen Beraterstabes Jason Furman warfen mehrere technische Fragen über unsere Schlussfolgerungen auf. Wir antworteten. Ein anderer Unterzeichner, Robert Barro von der Universität Harvard, veröffentlichte dann hier bei Project Syndicate tiefer gehende Erläuterungen der Auswirkungen des Steuerplans auf das Wachstum, auf die dann Summers und Furman antworteten.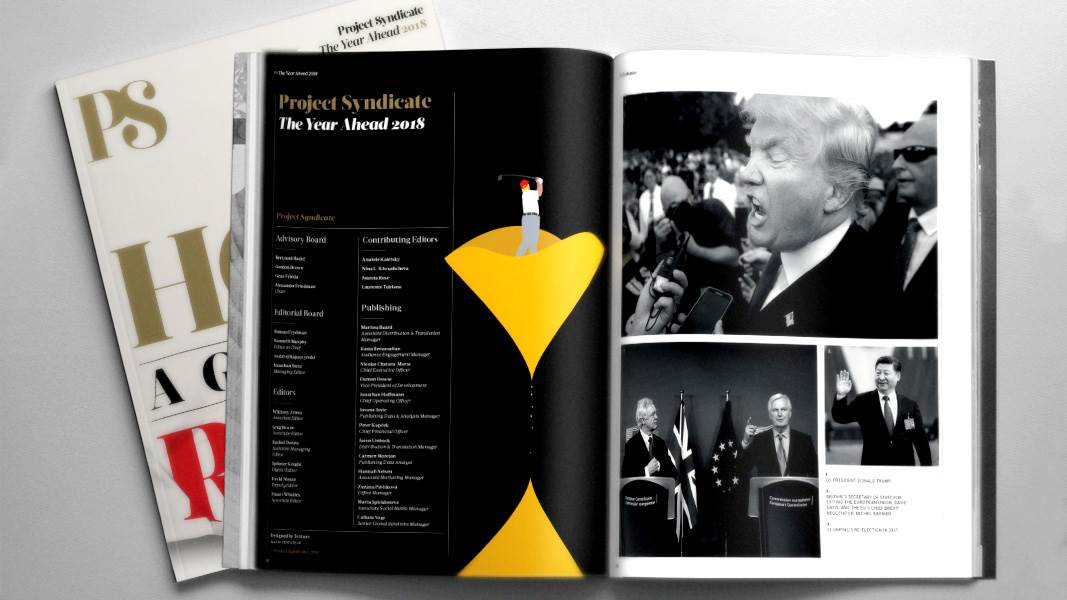 The Year Ahead 2018
The world's leading thinkers and policymakers examine what's come apart in the past year, and anticipate what will define the year ahead.
Summers und Furman hatten ursprünglich vorgeschlagen, dass wir die Einschätzung der Auswirkungen des Steuerplans auf das Wachstum den beamteten Steuerschätzern der Regierung überlassen sollten. "Statt zur Rechtfertigung dieser Steuervorlage genutzt zu werden", schrieben sie später, "hätten Barros Erkenntnisse dazu betragen können, eine deutlich bessere Steuervorlage zu formulieren." Statt auf die technischen Fragen zurückzukommen, auf die wir bereits reagiert haben, möchte ich hier einige zusätzliche Gedanken anbieten, die zu einer breiter angelegten Sichtweise beitragen könnten.
Erstens: Was die Frage betrifft, ob man diese Gesetzesvorlage verabschieden sollte oder nicht, haben Summers und Furman – wie diejenigen von uns, die Gegenstand ihrer Kritik sind – genug politische Erfahrung, um zu wissen, dass das Endprodukt normalerweise von dem abweicht, was Ökonomen als ideal betrachten würden. Es versteht sich von selbst, dass diese Beschreibung auf eine ganze Reihe während der Regierung von Präsident Barack Obama (in welcher sie in bewundernswerter Weise dienten) verabschiedeter Maßnahmen passt, und auch auf andere früherer Regierungen.
Ich stimme zu, dass die gegenwärtige Steuervorlage prinzipiell besser hätte ausfallen können. So würde ich etwa gern die Bestimmung über die Erfassung der Kosten für Ausrüstung im Aufwand zu einer Dauereinrichtung machen, die Steuerbasis bei der persönlichen Einkommensteuer verbreitern oder Unternehmenssteuern und persönliche Steuern bei niedrigeren Einkommensteuersätzen vollständig integrieren. Doch würde es eine derartige Gesetzesvorlage nicht durch den Kongress schaffen. Die Frage ist daher, ob eine verabschiedungsfähige endgültige Gesetzesvorlage besser ist als der Status quo, und nicht, ob die endgültige Vorlage hätte besser sein können.
Zweitens sind Barro und ich in Bezug auf die Gesetzesvorlage eindeutig zu anderen Schlüssen gekommen als Summers und Furman, und zwar gestützt auf jeweils eigene Beurteilungen über die Beziehungen zwischen Körperschaftsteuerreform und Wirtschaftswachstum. Während ich das Recht von Summers und Furman auf ihre Ansichten sicherlich respektiere, werde ich mein professionelles Urteil niemand anderem überlassen – egal, ob innerhalb oder außerhalb der Regierung.
Drittens gibt es legitime Meinungsunterschiede darüber, wie stark und wie schnell sich der Steuerplan auf die Investitionsentscheidungen (insbesondere für Ausrüstung) und damit das langfristige Wirtschaftswachstum auswirken wird. Summers' eigene Forschungsergebnisse machen dies in drastischer Weise deutlich. Unter Verwendung von Daten aus einer Vielzahl von Ländern und Zeiträumen, teils von nicht mehr als fünfjähriger Dauer, haben er und Brad DeLong von der University of California in Berkeley (der ebenfalls gegen die gegenwärtige Steuervorlage ist) die stärksten mir bekannten Argumente dafür vorgebracht, dass Investitionen in Ausrüstung eine große Auswirkung auf das BIP-Wachstum haben können. Zudem ist die von ihnen geschätzte Wirkung sehr viel größer als in den herkömmlichen Modellen, die in den meisten Studien Verwendung finden – auch jenen, auf die sich die staatlichen Steuerschätzer stützen.
"Die Analyse legt eine starke Kausalbeziehung zwischen Investitionen in Ausrüstung und Wirtschaftswachstum nahe", so Summers und DeLong. Sie kamen zu dem Schluss, dass "eine Zunahme um drei oder vier Prozentpunkte beim Anteil des BIP, der auf Investitionen in Ausrüstung entfällt, mit einer Zunahme beim BIP pro Erwerbstätigem von einem Prozent jährlich verbunden ist." Um also jene Zunahme von 0,3% beim jährlichen BIP-Wachstum zu erreichen, die derzeit debattiert wird, müssten die Investitionen in Ausrüstung um jährlich 1% vom BIP steigen. Das ist sicherlich eine ganze Menge, liegt jedoch durchaus innerhalb des geschichtlich belegten Rahmens.
Summers und DeLong gehen zudem davon aus, dass der gesellschaftliche Nutzen von Investitionen in Ausrüstung deutlich größer ist als der private Nutzen. Sie kommen daher zu dem Schluss, dass es "starke Argumente dafür zu geben scheint, dafür zu sorgen, dass die Steuerpolitik diejenigen, die in Ausrüstung investieren, nicht bestraft, sondern vielmehr belohnt". Und weiter: "Maßnahmen, die die Steuerbelastung für Investitionen in neue Ausrüstung verringern, dürften besonders wirkungsmächtig dabei sein, die pro Dollar nicht erhobener Steuern hervorgerufenen Investitionen in Ausrüstung zu maximieren". Und schließlich äußerten die beiden, dass "zu den Ausrüstung benachteiligenden Maßnahmen Steuerregeln gehören, die problemlos beleihbare Vermögenswerte subventionieren … [und] Ausrüstungsgegenstände lassen sich häufig schwieriger als Sicherheit nutzen als Investitionen in Bauten".
Summers und DeLong führen die starken Auswirkungen von Investitionen in Ausrüstung in erster Linie auf die Auswirkungen von "Learning by doing" zurück. Sie zitieren dabei historische Beispiele, die u. a. von meinem verstorbenen Kollegen an der Universität Stanford, Nathan Rosenberg, entwickelt wurden. Die potenziellen überproportionalen wirtschaftlichen Nutzeffekte wurden in einem klassischen Aufsatz eines weiteren verstorbenen Kollegen von der Universität Stanford, dem Nobelpreisträger (und Summers' Onkel) Kenneth Arrow, ausgeführt. Führen erhöhte Investitionen lernbedingt zu neuen Technologien oder zu Verbesserungen, die dann weitere technologische Fortschritte hervorbringen, haben sie eine überproportional größere Wachstumswirkung.
Ich persönlich glaube, dass Learning by doing etwas für sich hat. Man betrachte etwa das Fracking, dessen Grenzkosten sich aufgrund von Experimenten mit neuen Technologien und Techniken allein während des vergangenen Jahrzehnts halbiert haben. Und meine eigenen Forschungsarbeiten (zusammen mit Lawrence J. Lau von der Universität Stanford) zum Wachstum in den G7-Ländern legen nahe, dass die erzielte Rate des technischen Fortschritts mit zunehmendem Kapitaleinsatz steigt.
Ein vierter Punkt ist, dass, während Summers' und DeLongs wissenschaftliche Arbeit nahelegt, dass man Investitionen in Ausrüstung subventionieren und Bauten stärker besteuern sollte, sie die Verbuchung als Aufwand auf Bauten – die mit größerer Wahrscheinlichkeit schuldenfinanziert sind – ausweiten sowie den Körperschaftsteuersatz in geringerem Umfang senken wollen. Natürlich darf Summers Vorschläge machen, die zu seinen früheren Arbeiten im Widerspruch stehen. Auch ich revidiere die von mir vertretenen Positionen in Übereinstimmung mit Veränderungen der wirtschaftlichen Lage und späteren Forschungsarbeiten, und es hat sich eine Menge verändert, seit Summers und DeLong ihre Forschungsergebnisse vorgelegt haben.
Der globale Konkurrenzkampf um Investitionen, u. a. durch niedrigere Körperschaftsteuersätze bei Amerikas Wettbewerbern, scheint die Argumente für eine Senkung des gesetzlichen US-Steuersatzes noch gestärkt zu haben. Dieser ist mit 39% (unter Einschluss einzelstaatlicher Steuern) der höchste in der OECD und liegt mehr als 50% über dem Durchschnitt. Der effektive Steuersatz, der Gutschriften und Abzüge berücksichtigt, ist ebenfalls hoch, wenn auch nicht im selben ungewöhnlichen Umfang.
In seiner Analyse aktueller wissenschaftlicher Forschungsergebnisse stellt Michael Devereux von der Universität Oxford fest, dass effektive Grenzsteuersätze zwar das Niveau der Unternehmensinvestitionen beeinflussen, der durchschnittliche effektive Steuersatz jedoch sehr viel größeren Einfluss darauf hat, wo international investiert wird. Falls Devereux Recht hat, wären die Verbuchung im Aufwand und ein höherer Steuersatz – was einen niedrigen Grenzsteuersatz und einen hohen durchschnittlichen Steuersatz impliziert – nicht der beste Weg, um die Investitionstätigkeit in den USA zu steigern.
Von meiner eigenen Rolle einmal ganz abgesehen, bin ich der Ansicht, dass die derzeitige Reform möglicherweise noch stärker vom Ideal abgewichen wäre, wenn wir nicht unsere Analysen und Ratschläge angeboten hätten. Dasselbe war der Fall, als ich und andere Präsident Ronald Reagan und die Kongressführung bei den großen Steuerreformen der Jahre 1981 und 1986 berieten. Das endgültige Produkt wird zusätzlich zu den lehrbuchartigen Vorschlägen der Ökonomen noch durch viele weitere Faktoren beeinflusst.
Abschließend möchte ich den verbundenen Punkt betonen, dass die tatsächlichen Steuerbestimmungen, die Privatpersonen und Unternehmen werden nutzen müssen, erst noch geschrieben werden müssen. Teilweise werden sie durch technische Interpretationen und Vorschriften in den kommenden Monaten bestimmt werden. Im Falle der Reform von 1986 erhielt ich noch Wochen nach Verabschiedung der Reform Anrufe von Ausschussmitarbeitern, die mich fragten, was genau diese oder jene Bestimmung meiner Ansicht nach beabsichtige. Niemand sollte erwarten, dass das diesmal anders sein wird.
Aus dem Englischen von Jan Doolan