Vývoj uprchlické krize
LONDÝN – Němci během oslav Vánoc také vzpomínají na ty, kdo zemřeli, když loni na berlínském vánočním trhu zaútočil migrant, jemuž nebyl udělen azyl. Incident rozdmýchal plameny veřejných nálad namířených proti přistěhovalectví a pravděpodobně sehrál roli v ohromujícím nezdaru kancléřky Angely Merkelové při sestavování nové koaliční vlády po zářijových spolkových volbách. Mezi německými voliči panují široce rozšířené obavy, že zemi zaplaví další vlna migrantů podobná přílivu před dvěma lety.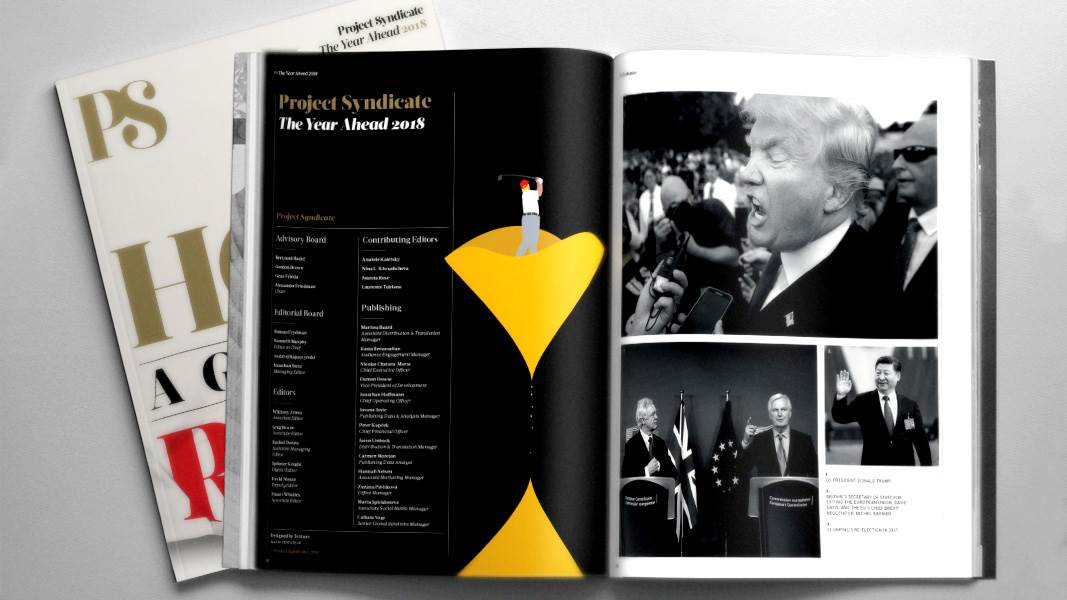 The Year Ahead 2018
The world's leading thinkers and policymakers examine what's come apart in the past year, and anticipate what will define the year ahead.
Realita v terénu se ale dramaticky proměnila. Dne 15. listopadu 2015 centrum pro dohled nad migrací na německém ministerstvu zahraničních věcí se sídlem na berlínském Werderscher Markt sledovalo toky uprchlíků na všech potenciálních hraničních přechodech na trase z Řecka do Německa. Z 12 milionů vyhnaných Syřanů nakonec do Evropy doputoval milion. Navzdory mohutné reakci německé vlády a zástupců veřejnosti mnoho žadatelů o azyl skončilo na ulici a spali venku a na nádražích. Tehdy se šířily zvěsti, že zemí zmítají migranty vyvolané zločiny, přestože pozdější výzkum zjistil malý vzestup kriminality podél migračních cest.
Dva roky poté je mnohé jinak. Německá úřední mašinérie jela na všechny válce, aby vyřídila žádosti o azyl a usnadnila integraci. Ze 700 tisíc žádostí o azyl v roce 2016 bylo téměř 300 tisíc zamítnuto a dotčení lidé čekají návrat do země původu. Řecko, pro uprchlíky z Blízkého východu první zastávka v Evropské unii, začalo po udělení azylu zhruba 50 tisícům lidí zavírat některé uprchlické tábory. Dokonce i Itálie, první unijní přístav pro africké migranty, nyní zaznamenává úbytek žádostí o azyl.
Současně Turecko dodržuje dohodu s EU, podle níž pobírá finanční výpomoc výměnou za přijetí syrských uprchlíků. Než v březnu 2016 dohoda vstoupila v účinnost, turecká vláda migranty a uprchlíky aktivně pobízela k pokračování do Evropy; teď uprchlíky integruje do turecké společnosti, a dokonce se snaží bránit odchodu vysoce kvalifikovaných migrantů. Evropská komise v souladu s tím tento měsíc oznámila, že Turecku poskytne pomoc ve výši dalších 700 milionů eur.
Situace se zlepšila i v severním Iráku (iráckém Kurdistánu). V minulosti syrská občanská válka a vzestup Islámského státu (ISIS) vysídlily tři miliony Iráčanů a statisíce syrských Kurdů. Po vojenské porážce ISIS a opětovném získání jeho území teď však kurdští uprchlíci mají na výběr buď zůstat v Iráku, nebo se vrátit do Sýrie. U vnitřně vysídlených Iráčanů se naproti tomu očekává, že se vrátí do svých měst a domů, ať už z nich zbylo cokoli – a tento proces ještě urychluje skutečnost, že iráčtí Kurdové letos obnovili úsilí o získání nezávislosti.
V tomto kontextu relativně lepších podmínek vyčnívá jako výjimka Libanon. Ten má sice jen čtyři miliony obyvatel, ale dnes hostí víc než 1,5 milionu syrských uprchlíků. Výsledkem je sílící pocit únavy z uprchlíků, který hrozí destabilizací tamního křehkého vícekonfesijního uspořádání podílu na moci. Vládní rétorika už se začala zaměřovat návrat uprchlíků do Sýrie, namísto zjišťování, jak se o ně nejlépe postarat.
Co se týče samotných uprchlíků, mnozí jsou vidět v ulicích hlavního města Bejrútu, ale většina trčí v táborech nebo dočasných hostitelských komunitách a postrádají adekvátní přístup ke zdravotní péči a školství. I když jsou ovšem pro uprchlíky zajištěny školy a univerzity, mají po ukončení studia omezené vyhlídky na zaměstnání. V zemi už dlouho štěpené zpackanými integračními snahami dospívá další ztracená generace. A aby toho nebylo málo, po rezignaci a návratu premiéra Saada Harírího teď Libanon prochází politickou krizí, která vyvolává strašáka návratu občanské války.
Co lze tedy dělat? Jeden vzor k následování snad nabízí sousední Jordánsko. To uprchlíky namísto integrace až donedávna drželo do značné míry stěsnané podél syrské hranice. Zpočátku tak byl uprchlíkům ponechán chabý přístup do škol a na pracovní trhy. Díky koordinovaným snahám mezinárodního společenství a financování z EU je už dnes ale zavedeno několik programů ke stimulaci investic, pobídnutí firem k najímání uprchlíků a vytváření zvláštních příhraničních ekonomických zón. Představa je taková, že při povzbuzení hospodářské aktivity na hranici si syrské uprchlické komunity a podniky mohou začít budovat schopnosti, jichž bude zapotřebí k rekonstrukci poválečné Sýrie, až přijde čas. Na hodnocení celkového dopadu těchto opatření je příliš brzy, ale přesto jsou slibná.
Evropa však musí dělat mnohem víc než jen poskytovat financování. Neschopnost evropských vlád zvládnout náhlý příliv uprchlíků v roce 2015 podnítila v dříve otevřených společnostech populismus a netoleranci. Pravda, toto selhání zčásti zapříčinily skutečné meze, zejména ve zdravotnické a vzdělávací soustavě. Promítla se do něj ale i špatná příprava, nízká míra koordinace a nedostatečné investice.
Uprchlická krize je v zásadě systémová výzva, protože vývoj v jedné zemi může ovlivnit řadu dalších zemí. Proto krize vyžaduje reakci na úrovni EU, ba na celosvětové úrovni. Naštěstí se poprvé od začátku syrské občanské války zdá nadějné, že by EU mohla dát dohromady účinný společný přístup k problému. V zářijovém široce pojatém projevu na Sorbonně francouzský prezident Emmanuel Macron vlil do tvorby politik EU v této oblasti novou energii. Inspirováni jordánským modelem, tvůrci politik EU teď mohou začít vyvíjet soudržnější migrační politiku založenou na důkazech.
Samozřejmě, mnohé bude záležet na Německu. Člověk doufá, že jeho lídři nedopustí, aby koaliční dohodu potopily vybičované nálady v oblasti migrace. Musejí si uvědomit, že německé vedení v EU i na světové scéně má zásadní význam pro zvládnutí migrační výzvy, především v samotném Německu.
Z angličtiny přeložil David Daduč