Die Entwicklung der Flüchtlingskrise
LONDON – Während die Deutschen Weihnachten feiern, gedenken sie auch der Toten des Anschlags auf einen Weihnachtsmarkt in Berlin im vergangenen Jahr, verübt durch einen Flüchtling, dessen Asylantrag abgelehnt wurde. Dieser Vorfall hat Öl in das Feuer der öffentlichen Meinung gegen die Immigration gegossen und war möglicherweise verantwortlich für Angela Merkels spektakuläre Schlappe bei der Bildung einer neuen Regierung nach den Bundestagswahlen im vergangenen September. Unter den deutschen Wählern grassiert die Furcht, das Land könne wie vor zwei Jahren von einer neuen Flüchtlingswelle überrollt werden.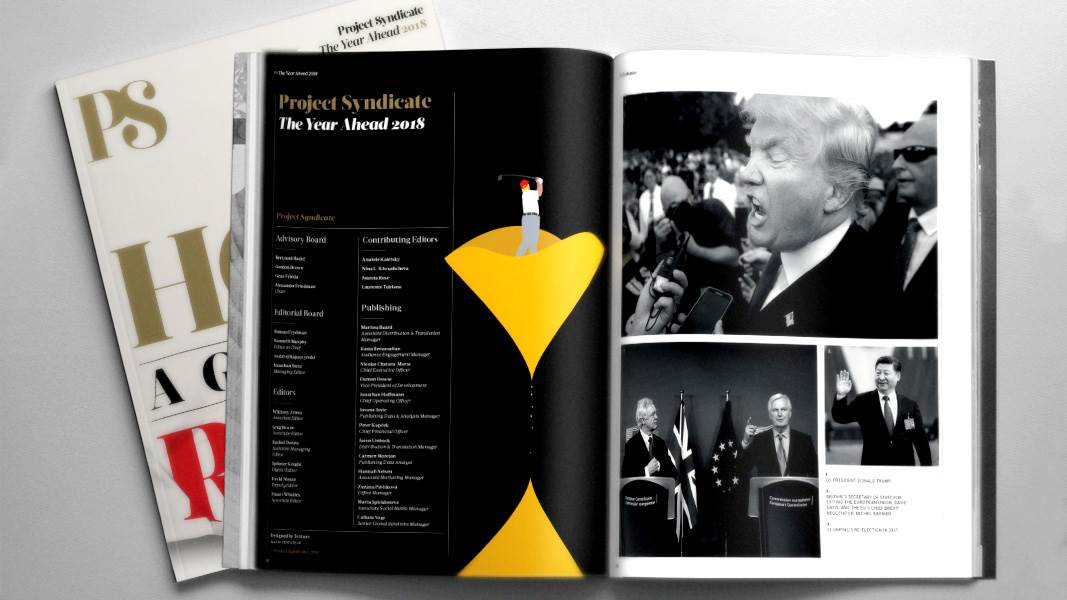 The Year Ahead 2018
The world's leading thinkers and policymakers examine what's come apart in the past year, and anticipate what will define the year ahead.
Aber die Tatsachen vor Ort haben sich dramatisch verändert. Am 15. November 2015 verfolgte ein Migrations-Kommandozentrum im Auswärtigen Amt am Werderschen Markt in Berlin Flüchtlingsströme an jedem potenziellen Grenzübergang auf der Route von Griechenland nach Deutschland. Letztlich kamen von 12 Millionen vertriebenen Syrern eine Million in Europa an. Und trotz einer massiven Reaktion vonseiten der deutschen Regierung und aus der Zivilgesellschaft mussten viele Asylsuchende auf der Straße oder in Bahnhöfen schlafen. Es entstanden Gerüchte, die Kriminalität würde aufgrund der Flüchtlinge steigen, aber spätere Untersuchungen ergaben eine nur geringe Steigerung entlang der Migrationsrouten.
Zwei Jahre später hat sich viel verändert. Die deutsche Bürokratie hat alle Maschinen angeworfen, um die Asylanträge abzuwickeln und die Integration zu erleichtern. Von 700.000 Asylanträgen 2016 wurden fast 300.000 abgelehnt, die Betroffenen warten auf die Rückkehr in ihre Herkunftsländer. Griechenland, die erste Anlaufstelle in der Europäischen Union für Flüchtlinge im Nahen Osten, schließt die ersten Flüchtlingslager, hat aber circa 50.000 Menschen Asyl gewährt. Und sogar Italien, der erste EU-Anlaufhafen für afrikanische Migranten, erlebt jetzt einen Rückgang bei den Asylanträgen.
Die Türkei hat sich an ihre Vereinbarung mit der EU gehalten, nach der sie Finanzhilfen bekommt, wenn sie syrische Flüchtlinge aufnimmt. Vor dem Deal, der im März 2016 in Kraft trat, hat die türkische Regierung Migranten und Flüchtlinge aktiv dazu aufgefordert, nach Europa weiterzuziehen. Jetzt integriert sie Flüchtlinge in die türkische Gesellschaft und versucht sogar, hoch qualifizierte Migranten davon abzuhalten, das Land zu verlassen. Dementsprechend hat die Europäische Kommission diesen Monat verkündet, der Türkei weitere Hilfen in Höhe von 700 Millionen Euro zur Verfügung zu stellen.
Die Situation im Nordirak (irakisches Kurdistan) hat sich auch verbessert. Einst hatten der syrische Bürgerkrieg und der Aufstieg des Islamischen Staates (ISIS) drei Millionen Iraker und Hunderttausende syrische Kurden vertrieben. Aber jetzt, da ISIS militärisch geschlagen ist und sein Territorium zurückgewonnen wurde, haben die geflüchteten Kurden die Wahl, ob sie im Irak bleiben oder nach Syrien zurückkehren. Von im Land vertriebenen Irakern, auf der anderen Seite, wird erwartet, dass sie zu dem, was von ihren Städten und Häusern übriggeblieben ist, zurückkehren. Dieser Prozess wird durch das Drängen der irakischen Kurden auf Unabhängigkeit beschleunigt.
Angesichts der allgemeinen relativen Verbesserung der Bedingungen bildet der Libanon eine Ausnahme. Obwohl der Libanon eine Bevölkerung von nur vier Millionen Menschen hat, leben dort jetzt mehr als 1,5 Millionen syrische Flüchtlinge. Das Ergebnis ist eine wachsende Flüchtlingsmüdigkeit, die eine Bedrohung für das Gleichgewicht des fragilen, multi-konfessionellen Machtgefüges ist. Die Regierung hat rhetorisch bereits mit der Rückkehr der Flüchtlinge nach Syrien begonnen, anstatt sich darum zu kümmern, wie man sie am besten versorgen könne.
Die Flüchtlinge selbst sind zwar auf den Straßen der Hauptstadt Beirut präsent, aber die meisten leben in Lagern oder vorübergehenden Aufnahmestätten und werden nicht ausreichend mit Gesundheits- und Bildungsleistungen versorgt. Und selbst wenn die Flüchtlinge in Schulen und Universitäten aufgenommen werden, haben sie nach dem Abschluss nur geringe Aussichten auf Beschäftigung. Eine weitere verlorene Generation wird in einem Land volljährig, das seit langem durch gescheiterte Integrationsbemühungen gespalten ist. Dazu kommt noch, dass der Libanon nach Rücktritt und Rückkehr von Premier Saad Hariri jetzt eine politische Krise durchlebt, die das Schreckgespenst eines neuen Bürgerkrieges wiederaufleben lässt.
Was also ist zu tun? Der Nachbar Jordanien hat vielleicht ein Modell zu bieten, das Vorbild sein könnte. Anstatt die Flüchtlinge zu integrieren, hat Jordanien sie hauptsächlich entlang der Grenze zu Syrien untergebracht. Zunächst hatten die Flüchtlinge kaum Zugang zu Bildung oder Arbeitsmarkt. Aber dank einer gemeinsamen Anstrengung der internationalen Gemeinschaft und Mitteln der EU gibt es jetzt mehrere Programme, die Investition stimulieren, die Einstellung von Flüchtlingen durch Privatunternehmen fördern und spezielle Wirtschaftszonen an der Grenze schaffen. Durch die Ankurbelung wirtschaftlicher Aktivitäten an der Grenze sollen syrische Flüchtlingsgemeinschaften und Unternehmen beginnen, die Kapazitäten aufzubauen, die notwendig sind, um Syrien nach Ende des Krieges zu gegebener Zeit wiederaufzubauen. Es ist noch zu früh, um den Erfolg dieser Maßnahmen abschließend zu bewerten, aber sie sind vielversprechend.
Aber Europa seinerseits muss viel mehr tun als Mittel bereitzustellen. Das Versagen der europäischen Regierungen beim Management des plötzlichen Zustroms von Flüchtlingen 2015 hat Populismus und Intoleranz in ehemals offenen Gesellschaften befeuert. Es stimmt, dass teilweise ganz reale Beschränkungen, besonders im Gesundheits- und Bildungswesen, Ursache dieses Versagens waren. Aber schlechte Vorbereitung, fehlende Koordination und unzureichende Investition waren auch dafür verantwortlich.
Die Flüchtlingskrise ist grundsätzlich eine systemische Herausforderung, weil sich die Entwicklung in einem Land auf viele andere Länder auswirken kann. Daher braucht die Krise eine Reaktion nicht nur der EU, sondern auf globaler Ebene. Glücklicherweise besteht zum ersten Mal seit Beginn des syrischen Bürgerkriegs Hoffnung, dass die EU eine effektive gemeinsame Lösung für das Problem findet. In einer thematisch breit gefächerten Rede in der Sorbonne im September injizierte der französische Präsident Emmanuel Macron neue Energie in die EU-Politik in diesem Bereich. Und die Entscheidungsträger der EU können jetzt, inspiriert durch das jordanische Modell, beginnen, eine kohärentere, evidenz-basierte Migrationspolitik zu entwickeln.
Natürlich hängt viel von Deutschland ab. Es bleibt zu hoffen, dass es die politische Führung des Landes nicht zulassen wird, dass aufgepeitschte Gefühle über Migration eine Koalitionsvereinbarung torpedieren. Sie muss erkenne, dass die Führung Deutschlands in Europa und auf der Weltbühne für das Management der Migrationsherausforderung unbedingt erforderlich ist, und nicht zuletzt auch in Deutschland selbst.
Aus dem Englischen von Eva Göllner.