Os riscos econômicos do Pandexit
EDIMBURGO – As pessoas têm usado "saída" como sufixo há cerca de uma década. O Grexit, referência a uma possível saída da Grécia da zona do euro, foi o primeiro caso. Italexit fez uma breve aparição, e foi recém-revivido pela direita italiana. Mas nenhum dos dois vingou. Muito menos o Frexit, a retirada unilateral da França da União Europeia. A política de extrema-direita Marine Le Pen flertou com a ideia no passado, mas depois a deixou passar. E o único candidato que defendia a saída na eleição presidencial de 2017, François Asselineau, teve apenas 0,9% dos votos.
Essas saídas parecem desanimar a maioria dos europeus continentais. Até aqui, só o Brexit aconteceu de fato, embora pesquisas no mês anterior ao referendo de junho de 2016 do Reino Unido mostrassem que mais eleitores franceses que britânicos estavam insatisfeitos com a UE, por uma margem de 61% a 48%.
Todas essas saídas potenciais e reais foram consideradas indesejáveis pela maioria dos economistas. Agora está em discussão outra que todos esperam que aconteça: a Pandexit. Esta palavra-valise feia encapsula a ideia otimista de que em breve podemos ter esperança de deixar a pandemia de covid-19 para trás e voltar a beijar conhecidos casuais (na bochecha, pelo menos) e nos enfiar como sardinhas em bondes e trens em cidades de Nova York a Tóquio.
Há poucas dúvidas de que, em termos econômicos, as consequências de primeira ordem de um retorno às interações sociais normais serão positivas. Pesquisadores do Banco de Compensações Internacionais (BIS, sigla em inglês de Bank for International Settlements) estimam que a pandemia causou uma perda de 8% de produtividade nos países desenvolvidos em 2020, e projetam um declínio adicional de pouco mais de 2% para este ano. O relaxamento das restrições a viagens e outras atividades deve proporcionar uma recuperação poderosa em 2022, embora sua extensão vá variar muito entre países, dependendo dos índices de infecção e vacinação. E, é claro, um aumento geral de infecções ou reinfecções poderia produzir uma terceira onda de problemas econômicos se forem necessárias novas restrições às atividades.
Além disso, nem todos os benefícios econômicos da Pandexit serão plenos. Os banqueiros centrais, que sabem transformar oportunidades em problemas, já estão preocupados. Embora seu cenário econômico básico seja positivo, eles veem riscos significativos. "Os legisladores ainda enfrentam desafios assustadores", afirmou o gerente geral do BIS, AgustínCarstens, recentemente. "As dívidas pública e privada são muito altas e os legados adversos da pandemia são grandes."
O ponto-chave de Carstens é que o dano econômico criado pela covid-19 foi mitigado por uma "acomodação de política macroeconômica sem precedentes": taxas de juros muito baixas e doses maciças de flexibilização quantitativa, juntamente com "amplo" apoio fiscal. O grau de assistência orçamentária tem variado de país para país e é muito maior nos Estados Unidos do que na Europa, por exemplo. Mas a dívida do governo vem aumentando de modo acentuado em todos os lugares e agora está em níveis inéditos em países como Itália e Japão.
Subscribe to Project Syndicate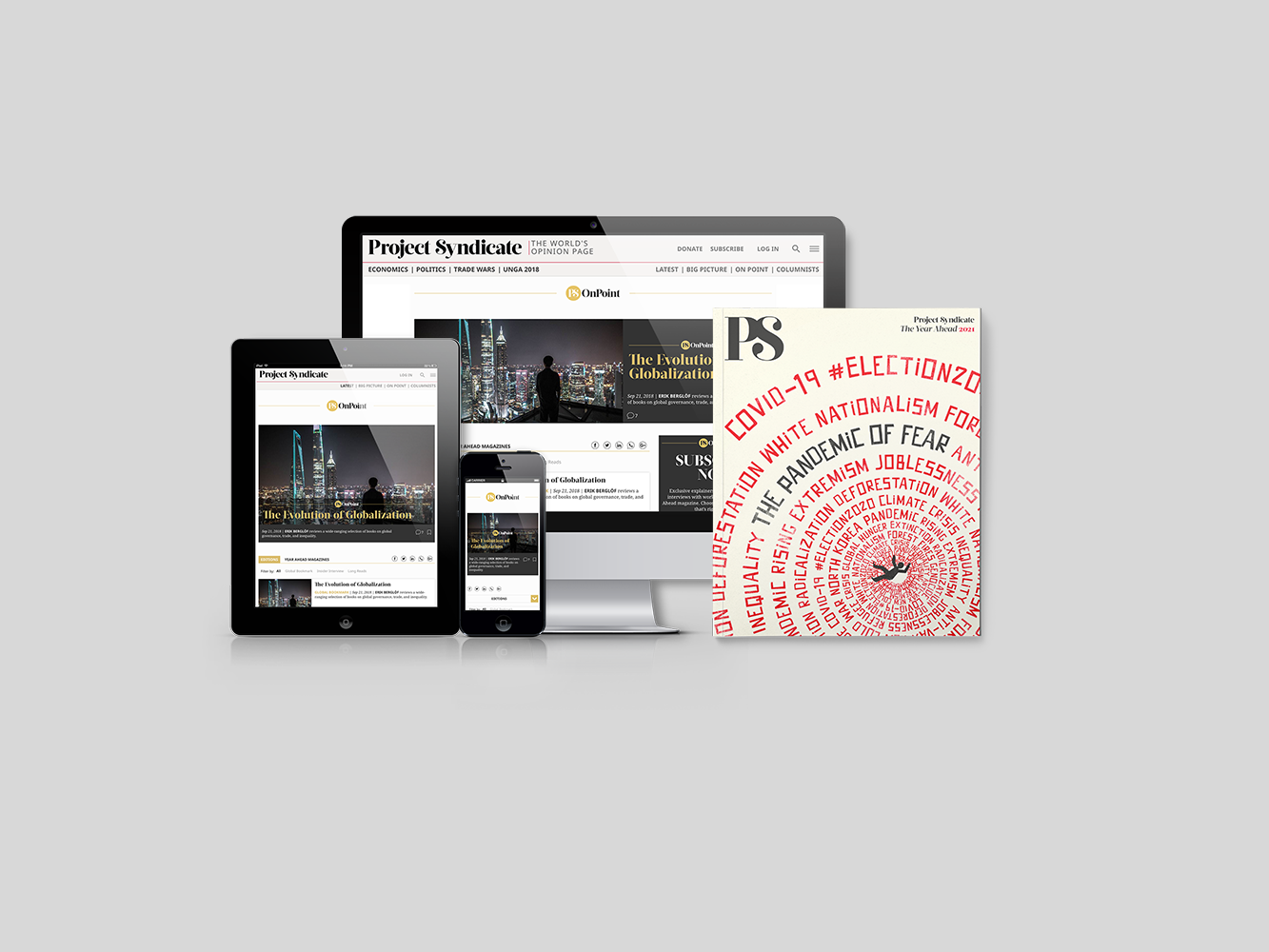 Subscribe to Project Syndicate
Enjoy unlimited access to the ideas and opinions of the world's leading thinkers, including weekly long reads, book reviews, topical collections, and interviews; The Year Ahead annual print magazine; the complete PS archive; and more – for less than $9 a month.
Neste contexto, o BIS identificou dois cenários negativos perigosos. O primeiro é essencialmente epidemiológico: novas variantes do coronavírus podem surgir, exigindo mais bloqueios e apoio fiscal, o que pode ser inviável para alguns governos. Em minha opinião, porém, novos bloqueios se provarão politicamente impossíveis. Portanto, se as novas mutações de vírus se espalharem rapidamente, precisaremos avançar da melhor maneira possível e torcer para que as vacinações minimizem as mortes adicionais.
O segundo cenário negativo, que considero muito mais plausível, é que as atuais pressões sobre os preços se intensifiquem e a inflação suba ainda mais, exigindo uma resposta monetária. A inflação dos preços ao consumidor nos EUA foi de 5,4% ao ano até julho. O Baltic Dry Index, que monitora as taxas de envio de commodities secas, está em alta de cerca de 170% neste ano. E restrições de oferta estão aparecendo em muitas regiões.
A linha oficial do Federal Reserve dos EUA e de outros bancos centrais é de que esse surto inflacionário é transitório. Mas, como diz o ditado francês, "rien ne dure comme le provisoire" (nada tão duradouro quanto o que é temporário). Se o consenso atual do banco central estiver errado, como o ex-secretário do Tesouro dos EUA Larry Summers e outros acreditam que esteja, podemos ter problemas à frente.
O aperto monetário durante a Pandexit terá consequências mais graves do que o normal. Como os bancos centrais acumularam muitas dívidas do governo, o vencimento médio dos títulos públicos foi encurtado na prática, de modo que os balanços do setor público estão mais sensíveis do que o comum a mudanças nas taxas de juros de curto prazo. Os governos não ficarão satisfeitos com a política de endurecimento dos banqueiros centrais de seus países, porque isso poderia ter consequências fiscais diretas.
Além disso, o aperto monetário no mundo desenvolvido, em particular nos EUA, será altamente indesejável para os mercados emergentes. A maioria ainda luta para controlar a pandemia e tem taxas de vacinação de covid-19 muito menores do que a Europa ou América do Norte, apesar dos recentes sinais bem-vindos de que os países ricos hoje estão mais dispostos a compartilhar seus estoques de vacinas.
Em resposta à pandemia em si, todos nós temos enfrentado desafios semelhantes, e a combinação de políticas econômicas que os governos têm usado vem sendo basicamente a mesma. No período Pandexit, tudo isso pode mudar. Medidas que podem fazer sentido para países com baixas taxas de infecção de covid-19 e dívida pública administrável podem significar um desastre econômico para outros.
Carstens, portanto, defende que a normalização da política monetária "seja muito gradual", embora ele também, como seria de se esperar, afirme a primazia do controle da inflação e da independência do banco central. Ele poderia ter acrescentado que precisaremos de mais coordenação política internacional, algo que mal ficou em evidência no último ano e meio. O próprio BIS tem trabalho a fazer.
Tradução por Fabrício Calado Moreira