Die wirtschaftlichen Risiken des Pandexit
EDINBURGH – Seit ungefähr zehn Jahren hat sich die Verwendung der Nachsilbe "exit" eingebürgert. Als erstes tauchte der Grexit auf, also der mögliche Austritt Griechenlands aus der Eurozone. Anschließend hatte der Italexit einen kurzen Auftritt, der mittlerweile von der italienischen Rechten wieder ins Spiel gebracht wird. Doch nichts davon trat je ein. Ebenso wenig wie der Frexit - der einseitige Austritt Frankreichs aus der Europäischen Union. Die ultrarechte Politikerin Marine Le Pen liebäugelte zwar damit, ließ diese Idee jedoch schlussendlich fallen. Und François Asselineau, der einzige Kandidat bei den französischen Präsidentschaftswahlen 2017, der dies befürwortete, erhielt nur 0,9 Prozent der Stimmen.
Derartige Austrittsszenarien scheinen auf die meisten Kontinentaleuropäer abschreckende Wirkung zu haben. Bislang hat nur der Brexit stattgefunden, obwohl Umfragen im Monat vor dem britischen Referendum im Juni 2016 zeigten, dass mehr Franzosen als Briten mit der EU unzufrieden waren, und zwar mit einem Vorsprung von 61 zu 48 Prozent.
Diese potenziellen und tatsächlichen Ausstiege wurden von den meisten Wirtschaftswissenschaftlern als nicht erstrebenswert betrachtet. Mittlerweile ist ein weiterer Ausstieg im Gespräch, von dem alle hoffen, dass er bald eintreten möge: nämlich der Pandexit. Diese unschöne Wortschöpfung steht für die erwartungsvolle Vorstellung, dass wir die Covid-19-Pandemie bald hinter uns lassen können und wieder Gelegenheit haben werden, Bekannte (zumindest auf die Wange) zu küssen und uns in Städten von New York bis Tokio wie Sardinen in Straßenbahnen und Züge zu quetschen.
Es bestehen kaum Zweifel daran, dass die Rückkehr zu normalen sozialen Interaktionen in wirtschaftlicher Hinsicht in erster Linie positive Auswirkungen haben wird. Forscher der Bank für Internationalen Zahlungsausgleich (BIZ) schätzen, dass die Pandemie in den Industrieländern im Jahr 2020 einen Produktionsrückgang von 8 Prozent verursachte. Für dieses Jahr rechnen sie mit einem weiteren Rückgang von knapp über 2 Prozent. Die Lockerung von Reisebeschränkungen und anderen restriktiven Maßnahmen dürfte 2022 zu einer kräftigen Erholung führen, die allerdings je nach Infektionsgeschehen und Impfraten von Land zu Land sehr unterschiedlich ausfallen wird. Und natürlich könnte ein allgemeiner Anstieg der Infektionen oder Reinfektionen zu einer dritten Welle wirtschaftlichen Ungemachs führen, sollten weitere Einschränkungen der Wirtschaftstätigkeit erforderlich werden.
Außerdem werden sich nicht alle Aspekte des wirtschaftlichen Aufschwungs im Laufe des Pandexit ungetrübt präsentieren. Zentralbanker mit dem Talent, jede Chance in ein Problem zu verwandeln, zeigen sich bereits besorgt. Trotz eines positiven wirtschaftlichen Ausgangsszenarios sehen sie erhebliche Risiken. "Die politischen Entscheidungsträger stehen immer noch vor gewaltigen Herausforderungen", sagteAgustín Carstens, Generaldirektor der BIZ, kürzlich. "Öffentliche und private Verschuldung liegen auf überaus hohem Niveau, und die negativen Auswirkungen der Pandemie präsentieren sich umfassend."
Carstens' Hauptargument besteht darin, dass der durch Covid-19 verursachte wirtschaftliche Schaden durch " akkommodierende makroökonomische Maßnahmen in beispiellosem Ausmaß" abgemildert wurde: nämlich durch sehr niedrige Zinssätze, den massiven Einsatz quantitativer Lockerung und "umfassende" fiskalpolitische Unterstützung. Das Ausmaß dieser Unterstützung aus den staatlichen Haushalten gestaltet sich von Land zu Land unterschiedlich und ist beispielsweise in den Vereinigten Staaten viel höher als in Europa. Die Staatsverschuldung ist jedoch überall stark angestiegen und hat in Ländern wie Italien und Japan ein noch nie dagewesenes Niveau erreicht.
Subscribe to Project Syndicate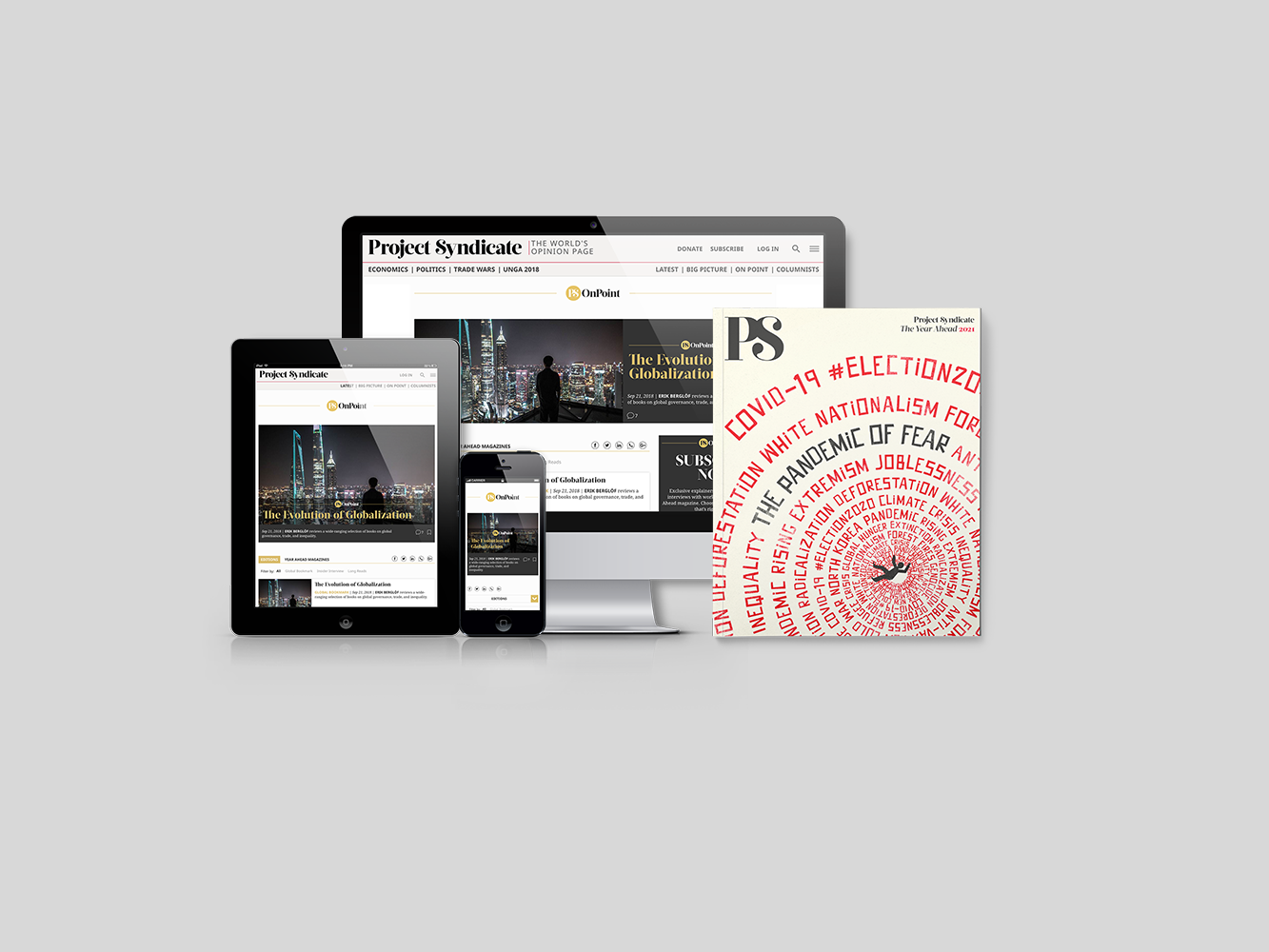 Subscribe to Project Syndicate
Enjoy unlimited access to the ideas and opinions of the world's leading thinkers, including weekly long reads, book reviews, topical collections, and interviews; The Year Ahead annual print magazine; the complete PS archive; and more – for less than $9 a month.
Vor diesem Hintergrund hat die BIZ zwei gefährliche Negativszenarien ausgemacht. Das erste ist im Wesentlichen epidemiologischer Natur: es könnten neue Varianten des Coronavirus auftauchen und damit weitere Lockdowns und fiskalpolitische Unterstützung erforderlich machen, die jedoch für einige Regierungen möglicherweise nicht mehr finanzierbar sind. Meiner Meinung nach werden sich weitere Lockdowns politisch als undurchführbar erweisen. Sollten sich also neue Virusmutationen schnell ausbreiten, müssen wir uns so gut es geht durchwursteln und hoffen, mit  Impfungen zusätzliche Todesfälle zu minimieren.
Das zweite Negativszenario, das ich für wesentlich plausibler halte, besteht darin, dass sich der derzeitige Preisdruck verstärkt und die Inflation weiter ansteigt, wodurch schließlich eine geldpolitische Reaktion notwendig wird. Die Verbraucherpreisinflation in den USA betrug im Juli 5,4 Prozent. Der Baltic Dry Index, der die Frachtraten für Trockengüter abbildet, ist in diesem Jahr um etwa 170 Prozent gestiegen. Und in vielen Regionen zeichnen sich Versorgungsengpässe ab.
Die offizielle Linie der US-Notenbank und anderer Zentralbanken lautet, dieser Inflationsschub sei vorübergehender Natur. Aber wie schon ein französisches Sprichwort sagt: "rien ne dure comme le provisoire" (nichts währt so lange wie das Vorübergehende). Sollte sich der aktuelle Zentralbank-Konsens als falsch erweisen, wie der frühere US-Finanzminister Larry Summers und andere glauben, könnte uns Ärger ins Haus stehen.
Eine Straffung der Geldpolitik während des Pandexit würde mehr als nur schwerwiegende Folgen nach sich ziehen. Da die Notenbanken Staatsschulden in derart großem Umfang aufgekauft haben, hat sich die durchschnittliche Laufzeit der Staatsanleihen effektiv verkürzt, so dass die Bilanzen des öffentlichen Sektors empfindlicher als sonst auf Veränderungen der kurzfristigen Zinssätze reagieren. Die Regierungen werden mit den Zentralbankern ihrer Länder keine große Freude haben, wenn sie diese Straffung umsetzen, denn das könnte direkte fiskalische Folgen nach sich ziehen.   
Darüber hinaus wäre eine Straffung der Geldpolitik in den Industrieländern, insbesondere in den USA, für die Schwellenländer höchst unwillkommen. Die meisten von ihnen ringen immer noch mit der Bekämpfung der Pandemie und weisen viel niedrigere Covid-19-Impfraten als Europa oder Nordamerika auf, obwohl es in letzter Zeit erfreuliche Anzeichen dafür gibt, dass die reichen Länder nun eher bereit sind, ihre Impfstoffvorräte zu teilen.
Hinsichtlich der Pandemie-Bekämpfung standen wir alle vor ähnlichen Herausforderungen, und die von den Regierungen eingesetzten Maßnahmen gestalteten sich im Großen und Ganzen gleich. Das könnte sich in der Phase des Pandexit ändern. Maßnahmen, die für Länder mit niedrigen Covid-19-Infektionsraten und überschaubarer Staatsverschuldung möglicherweise sinnvoll sind, könnten für andere eine wirtschaftliche Katastrophe bedeuten.
Carstens plädiert daher für eine "äußerst schrittweise Normalisierung der Geldpolitik", obwohl er, wie nicht anders zu erwarten, auch das Primat der Inflationskontrolle und der Unabhängigkeit der Zentralbank hervorhebt. Er hätte noch hinzufügen können, dass wir eine verstärkte politische Koordination auf internationaler Bühne brauchen. Derartiges hat sich in den letzten eineinhalb Jahren nicht eingestellt. Die BIZ hätte in dieser Hinsicht selbst einen Auftrag. 
Aus dem Englischen von Helga Klinger-Groier