O regresso da ameaça financeira?
CAMBRIDGE – Depois da crise financeira global de 2008, os governos e os bancos centrais das economias avançadas juraram que jamais deixariam que o sistema bancário mantivesse a política refém, e muito menos que ameaçasse o bem-estar económico e social. Treze anos mais tarde, só parcialmente cumpriram esta promessa. Uma outra parte da indústria financeira arrisca-se a arruinar o que poderia ser (na verdade, o que tem de ser) uma recuperação durável, inclusiva e sustentável do horrível choque provocado pela COVID-19.
A história da crise de 2008 já foi contada muitas vezes. Deslumbrado pelo modo como as inovações financeiras, nomeadamente a titularização, permitiam a repartição do risco, o sector público recuou, de modo a fornecer à indústria financeira o espaço necessário para criar a sua magia. Alguns países foram mesmo mais longe do que a mera adopção de uma abordagem "ligeira" à regulação e supervisão bancária, e concorreram ferozmente para se tornarem centros bancários globais maiores, independentemente da dimensão das suas economias reais.
O que passou despercebido em tudo isto foi que a indústria financeira se encontrava à beira de uma perigosa dinâmica de excesso, já antes testemunhada com outras inovações importantes como a máquina a vapor e a fibra óptica. Em qualquer um destes casos, a facilitação e a redução do custo do acesso a actividades previamente inacessíveis em grande medida, alimentaram uma primeira e exuberante ronda de produção e consumo excedentários.
Efectivamente, as fábricas do crédito e da alavancagem de Wall Street engrenaram na velocidade máxima, inundando o mercado imobiliário e outros sectores com novos produtos financeiros com poucas protecções. Para garantir uma aceitação rápida, os financiadores começaram por flexibilizar os seus critérios – nomeadamente, através da oferta das denominadas hipotecas NINJA (NdT: sigla da expressão em inglês "No Income, No Job, no Assets", cuja tradução literal é "sem rendimentos, sem emprego, sem bens") que não exigiam documentação ou capacidade creditícia aos mutuários – e depois dedicaram-se a negociações sobredimensionadas entre si.
Quando os governos e os bancos centrais perceberam o que se estava a passar, era tarde demais. Para usar a frase do economista americano Herbert Stein, o que era insustentável comprovou ser insustentável. A implosão financeira que se seguiu quase que causou uma recessão global e forçou os legisladores a resgatar aqueles cujo comportamento irresponsável criara o problema.
Em boa verdade, os legisladores também introduziram medidas para reduzirem o risco dos bancos. Aumentaram as reservas de capital, reforçaram a supervisão local e proibiram determinadas actividades. Mas apesar dos governos e dos bancos centrais terem sido bem-sucedidos na redução dos riscos sistémicos provenientes do sistema bancário, não conseguiram compreender nem monitorizar suficientemente de perto o que aconteceu a estes riscos.
Back to Health: Making Up for Lost Time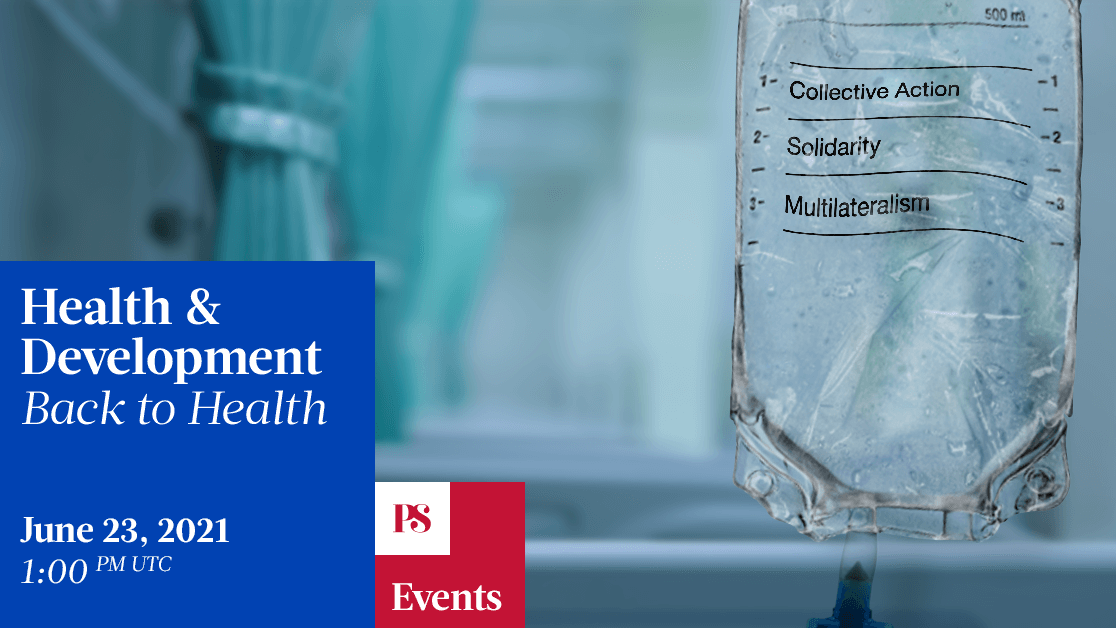 Back to Health: Making Up for Lost Time
The COVID-19 crisis has laid bare systemic inequities that will have to be addressed if we are ever going to build more sustainable, resilient, and inclusive societies. Join us on June 23, 2021, for our latest live virtual event, Back to Health: Making Up for Lost Time, where leading experts will examine the immediate legacy of the pandemic and explore solutions for bringing all communities and societies back to health.
Neste caso, o vácuo resultante foi rapidamente preenchido pelo ainda pouco supervisionado e regulado sector não-bancário. O sector financeiro continuou assim a crescer significativamente nas economias nacionais, tanto em termos absolutos como em termos relativos. Os bancos centrais caíram numa insalubre co-dependência com os mercados, que lhes fez perder flexibilidade política e arriscar a credibilidade de longo prazo essencial à sua eficácia. Neste processo, os activos sob gestão e a dívida marginal subiram para níveis recorde, tal como aconteceu com o endividamento e com o balanço patrimonial da Reserva Federal dos EUA.
Dadas as grandezas envolvidas, não surpreende que os bancos centrais em particular estejam a avançar muito cuidadosamente, com receio de perturbar os mercados financeiros de uma forma que comprometa a recuperação económica pós-pandemia. Na auto-estrada da indústria financeira, onde demasiados participantes conduzem conduzir demasiado depressa (e alguns a velocidades imprudentes) já tivemos três quase-acidentes este ano que envolveram o mercado da dívida pública, investidores de retalho que empurraram fundos especulativos para um canto e uma empresa familiar demasiado alavancada que alegadamente provocou perdas de 10 mil milhões de dólares a um conjunto de bancos. Graças a um feliz acaso, mais do que a medidas oficiais para prevenção de crises, nenhum destes eventos causou um efeito cumulativo na globalidade do sistema financeiro.
O relacionamento de co-dependência dos bancos centrais com o sector financeiro parece ter levado os legisladores a crer que não têm outra opção senão isolar o sector da dura realidade da pandemia. Isto provocou uma dissociação ainda mais espantosa entre Wall Street e a economia real, e provocou um preocupante reforço da desigualdade da distribuição de rendimentos. Nos 12 meses até Abril de 2021, a riqueza combinada dos bilionários referidos na lista global anual da revista Forbes registou um aumento recorde de 5 biliões de dólares, para os 13 biliões de dólares. E a população mundial de bilionários teve um aumento de quase 700 comparativamente ao ano passado, atingindo o valor mais alto de sempre, superior a 2700.
Os legisladores sensatos não deveriam esperar que as coisas corram bem – nomeadamente, por algum deus ex machina financeiro em que uma recuperação económica robusta e rápida venha resgatar a enorme corrida no sentido do endividamento, da alavancagem e das valorizações de activos. Em vez disso, deveriam agir imediatamente e moderar a excessiva tomada de riscos por parte do sector financeiro. Esta acção deveria prever a contenção e a redução da dívida marginal, a aplicação de critérios de adequabilidade mais restritivos às sociedades correctoras, a melhoria da avaliação, supervisão e regulação das instituições não-bancárias e a redução das vantagens fiscais aplicadas a ganhos de investimento actualmente favorecidos.
Estas medidas, encaradas individual e colectivamente, não são em si mesmas uma panaceia para um problema persistente e crescente. Mas isso não é desculpa para prolongar a espera. Quanto mais tempo os legisladores permitirem o crescimento das dinâmicas actuais, maior será a ameaça ao bem-estar económico e social, e maior será o risco de erupção de uma outra crise – de forma injusta e apesar de uma década de promessas – no mesmo sector que da última vez.