Steht ein weiterer Anstieg der Ölpreise bevor?
,
CAMBRIDGE – In weiten Teilen der Vereinigten Staaten überstieg der Preis für Superbenzin an der Tankstelle in den letzten Wochen die Marke von 3 US-Dollar pro Gallone, was zwar die Verbraucher, nicht aber die Analysten der weltweiten Ölmärkte überraschte. Ausgehend von seinem lokalen Tiefststand vor zwei Jahren hat sich der Preis mehr als verdoppelt. Was man von diesem Preisanstieg hält, hängt wie bei jedem Markt davon ab, auf welcher Seite man sich befindet.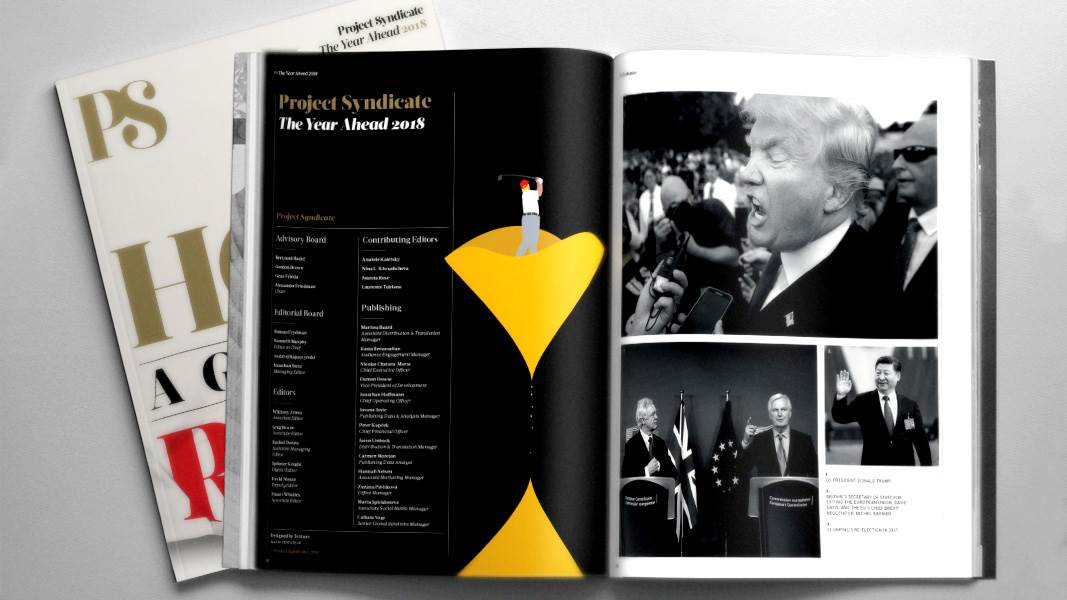 The Year Ahead 2018
The world's leading thinkers and policymakers examine what's come apart in the past year, and anticipate what will define the year ahead.
Höhere Ölpreise stützen die Vermögen der Produzenten in den USA und in anderen Ländern. Der Internationale Währungsfonds hob die BIP-Wachstumsprognosen aller sechs jener Top-Ten-Ölproduzenten an, die in seiner aktualisierten Prognose für 2018 separat ausgewiesen waren, und das prognostizierte Wachstum des Welthandelsvolumens wurde für dieses und nächstes Jahr um einen halben Prozentpunkt nach oben korrigiert. Steigende Einnahmen aus dem Verkauf von Öl verbessern die Haushaltsposition der meisten Erzeugerländer und manche haben den wachsenden Appetit der globalen Anleger zur Ausgabe von Staatsanleihen genutzt.
In den USA verzeichneten die fünf Bundesstaaten mit den im letzten Jahrzehnt höchsten Zuwächsen in der Ölproduktion im Jahr 2017 ein Beschäftigungswachstum von 2,75 Prozent - dieser Wert liegt doppelt so hoch wie der nationale Durchschnitt. Unterdessen stieg die Zahl der Ölplattformen landesweit um ungefähr 50 Prozent.
Gleichzeitig belastet eine Verdoppelung der Energiekosten die Budgets der amerikanischen Haushalte erheblich, wobei die Energiekosten direkt für etwa 6,5 Prozent der Verbraucherausgaben verantwortlich sind. Noch problematischer ist, dass es sich dabei um eine regressive Steuer handelt, die die diskretionäre Kaufkraft der einkommensschwachen Haushalte überproportional stark belastet. Im letzten Jahr entfielen 8,7 Prozent der Ausgaben der unteren 20 Prozent der Haushalte auf Energie, während es im obersten Quintil nur 4,9 Prozent waren. Überdies fehlt es der Gruppe am unteren Ende der Einkommensskala an Nettovermögen, das ihnen über mögliche negative Folgen dieser Entwicklung hinweghelfen würde.
Teilweise liegt dieser Steuereffekt dem starken Zusammenhang zwischen den Anstiegen der Weltölpreise und den wirtschaftlichen Abschwüngen in den USA zugrunde, wie dies von James Hamilton von der University of California San Diego dokumentiert wurde. Hamiltons ernüchternde Resultate zeigen, dass im Laufe der Geschichte jeder Rezession, mit einer Ausnahme, ein Anstieg der Ölpreise vorausging und auf jede Störung des Ölmarktes - ebenfalls mit einer Ausnahme – eine Rezession folgte. 
Das heißt allerdings nicht, dass wir uns zurücklehnen und auf den Abschwung warten sollen. Wie bereits festgestellt, steht der Ölpreisanstieg in Zusammenhang mit höherem Wachstum und während die von Hamilton untersuchten Ereignisse eher mit angebotsseitigen Störungen zu tun hatten, stellt die Geschichte der letzten beiden Jahre eine Kombination aus Kräften der Angebots- und Nachfrageseite dar.   
Am bedeutsamsten: im Laufe des jüngsten Anstiegs der Energiepreise wertete der Dollarkurs auf handelsgewichteter Basis um etwa 10 Prozent ab. Da der Ölpreis auf dem Weltmarkt in Dollar gehandelt wird, hatte dies materielle Auswirkungen auf die Anreize der Marktteilnehmer auf beiden Seiten der Angebots- und Nachfrageschere.
Ein schwächerer Dollar lässt die Kaufkraft der US-Handelspartner steigen (der nach dem verstorbenen MIT-Ökonomen Rudi Dornbusch benannte Dornbusch-Effekt) und das überträgt sich teilweise auf eine steigende Energienachfrage. Ölproduzenten außerhalb der USA verkaufen ein in Dollar denominiertes Gut, konsumieren aber einen Korb an Waren, die auf Dollar und andere Währungen lauten. Für sie verringert ein schwächerer US-Dollar die Exportpreise im Vergleich zu den Importen, weswegen sie das Angebot beschränken. Die Schere schließt sich bei mehr Nachfrage und weniger Angebot, was einen höheren Dollarpreis für Öl impliziert.
Der Rückgang des Dollar-Wechselkurses scheint an Dynamik gewonnen zu haben. Dies teilweise deshalb, weil die Person, deren Unterschrift auf der US-Währung prangt – nämlich Finanzminister Steve Mnuchin – von der Dollarschwäche unbeeindruckt zu sein scheint. Könnte diese Entwicklung, so sie anhält, zu einem Anstieg der Energiekosten führen? Unsere vorsichtige Antwort lautet nein und zwar aus drei Gründen.
Erstens wertete der Dollar gegenüber den meisten Währungen ab, aber in geringerem Ausmaß gegenüber denen wichtiger Partner unter den Schwellenländern wie etwa China.
Zweitens ist der Anstieg des Ölpreises teilweise offenbar auf Angebotsbeschränkungen durch die Mitglieder der Organisation erdölexportierender Staaten und ihrer Zweckfreunde (insbesondere Russland) zurückzuführen. Der Anstieg des Ölpreises begann Ende 2016 nicht zufällig mit den Produktionskürzungen durch die "OPEC+". Und im Vergleich zu anderen Industrierohstoffen erscheint der Ölpreis mittlerweile hoch.
Eine weitere Abwertung des Dollars, die das Angebot schmälert und die Nachfrage erhöht, könnte genau das ändern. Saudi Arabien wünscht sich im Vorfeld des Verkaufs von 5 Prozent der Anteile an Saudi Aramco, der nationalen Ölgesellschaft, nichts mehr als einen stabilen, ausgeglichenen Ölmarkt. Für einen gesunden Markt, der mit längerfristigen Kapitalinvestitionen vereinbar ist, kann ein zu hoher Ölpreis ebenso herausfordernd sein wie ein zu niedriger. Unter derartigen Umständen könnten Vertreter der OPEC+ sehr wohl die Chance ergreifen und das Angebot bei gleichzeitiger Beibehaltung des derzeitigen Preisniveaus erweitern.
Drittens gilt es für Amerikaner hinsichtlich des Angebots, sich nicht ausschließlich auf andere Länder zu konzentrieren. Der Anstieg der Produktion in den USA war dank technologischer Fortschritte bei der Förderung von Öl aus Schiefergestein atemberaubend. 
Die USA sind auf dem Weg dieses Jahr mehr Öl zu fördern als jemals zuvor in ihrer Geschichte. Dennoch haben die US-Produzenten das Angebot bislang nur in bescheidenem Umfang gesteigert, angeblich aus Rücksicht auf die Wünsche der Aktionäre nach mehr Profit und weniger Investitionsausgaben. Aber die Produktionstechnologie schreitet in ihrer Weiterentwicklung voran und höhere Preise winken. 
Insgesamt ist es wahrscheinlich, dass die Auswirkungen des Energieschocks auf die US-Volkswirtschaft, obwohl unangenehm, das Wachstum nicht zu Fall bringen werden. Allerdings sind wir aufgrund der Volatilität der Rohstoffmärkte vorsichtig. Im Rahmen einer jüngst mit Christoph Trebesch vom Kiel Institut für Weltwirtschaft vorgelegten Arbeit zählten wir ab dem Jahr 1820 mehr als doppelt so viele Boom-Bust-Zyklen bei Rohstoffpreisen als bei Kapitalströmen. Es scheint, als gleiche die Entwicklung der Weltwirtschaft einer Achterbahnfahrt.
Dieser Artikel gibt die Meinung der Verfasser wider.
Aus dem Englischen von Helga Klinger-Groier