Vers une nouvelle flambée des cours du pétrole ?
,
CAMBRIDGE – Le prix de l'essence à la pompe a dépassé les 3 $ par gallon dans la majeure partie des États-Unis ces dernières semaines, ce qui surprend les consommateurs, mais pas les analystes des marchés pétroliers mondiaux. Par rapport à son faible niveau local d'il y a deux ans, le prix du pétrole a plus que doublé. Et comme sur n'importe quel marché, la mesure de cette hausse des prix dépend du pays dans lequel vous vous situez.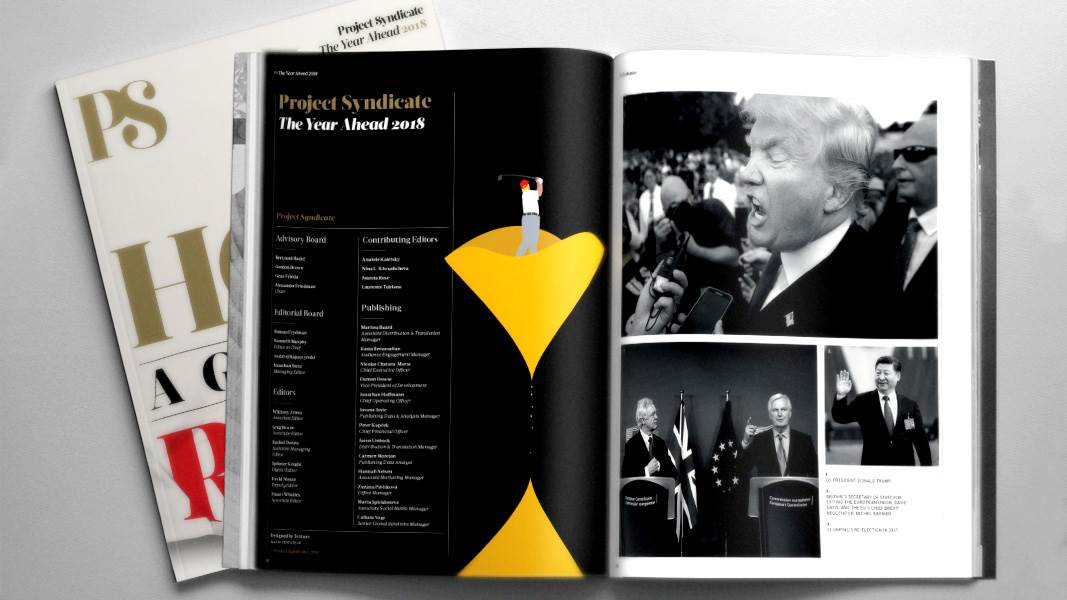 The Year Ahead 2018
The world's leading thinkers and policymakers examine what's come apart in the past year, and anticipate what will define the year ahead.
L'augmentation des prix du pétrole fait la fortune des producteurs d'or noir à l'étranger comme au niveau national. Le Fonds monétaire international a revu à la hausse les prévisions de croissance du PIB de six des dix plus grands pays producteurs de pétrole qui apparaissaient séparément dans ses prévisions ajustées pour 2018, de même que les projections relatives aux volumes d'échanges commerciaux à travers le monde ont été rehaussées d'un demi-point de pourcentage pour cette année et la prochaine. La hausse des recettes pétrolières améliore la situation budgétaire de la plupart des pays producteurs, dont certains profitent de l'appétit plus prononcé des investisseurs internationaux pour émettre de la dette souveraine.
Aux États-Unis, les cinq États ayant réalisé les gains de production pétrolière les plus élevés au cours de la dernière décennie ont enregistré une croissance de l'emploi de 2,75 % en 2017, soit le double de la moyenne nationale. Parallèlement, le nombre de sites de forage pétrolier à augmenté d'environ 50 % à l'échelle du pays.
Dans le même temps, la multiplication par deux des coûts énergétiques a significativement affecté le budget des ménages américains, ces coûts représentant directement environ 6,5 % des dépenses de consommation. Plus problématique encore, il y a là une forme de taxe régressive, qui érode disproportionnellement le pouvoir d'achat discrétionnaire des ménages à faibles revenus. L'an dernier, l'énergie a représenté 8,7 % des dépenses des 20 % de ménages situés au bas de la pyramide, contre 4,9 % pour le quintile le plus élevé. Par ailleurs, le groupe inférieur manque d'actifs nets pour surmonter les mauvaises périodes.
Cet effet de taxe sous-tend en partie le lien étroit entre les flambées des cours mondiaux du pétrole et les ralentissements économiques aux États-Unis, qu'a étudiés James Hamilton de l'Université de Californie à San Diego. Les observations frappantes d'Hamilton révèlent qu'au cours d'une histoire de longue date, toutes les récessions – à l'exception d'une seule – ont été précédées d'une augmentation des prix du pétrole, et que toutes les périodes de perturbation sur le marché pétrolier – sauf une – ont été suivies d'une récession.
Cela ne signifie pas qu'il faille tendre le dos en attendant une récession. Comme observé précédemment, la hausse des cours du pétrole s'accompagne d'une légère augmentation de la croissance, et tandis que les événements examinés par Hamilton concernent davantage les perturbations de l'offre, l'histoire des deux dernières années est une combinaison des forces de l'offre et de la demande.
Plus important encore, durant cette période de hausse des prix énergétiques, le taux de change du dollar s'est déprécié d'environ 10 % sur une base pondérée en fonction des échanges commerciaux. Les prix du pétrole étant fixés en dollars sur le marché mondial, ceci a exercé un effet significatif sur les motivations des participants du marché au niveau des deux lames qui constituent la paire de ciseaux offre-demande.
Un dollar plus faible augmente le pouvoir d'achat des partenaires commerciaux des États-Unis (c'est l'effet Dornbusch, du nom du regretté économiste du MIT Rudi Dornbusch), dont une partie s'oriente vers une augmentation de la demande en énergie. Les producteurs de pétrole extérieurs aux États-Unis commercialisent un produit libellé en dollars, mais consomment un panier composé d'éléments à la fois en dollars et dans d'autres monnaies. Pour eux, un dollar américain plus faible diminue le prix des exportations par rapport aux importations, et ils limitent par conséquent l'offre. Les ciseaux se referment avec davantage de demande et une offre moindre, ce qui signifie un prix du pétrole plus élevé en dollars.
La baisse du taux de change du dollar semble prendre de l'ampleur, notamment parce que celui qui marque de son empreinte la monnaie américaine, le secrétaire du Trésor Steve Mnuchin, ne semble pas perturbé par ce faible niveau. Si la tendance se prolonge, pourrait-elle entraîner une flambée des prix énergétiques ? La réponse est plutôt non, et cela pour trois raisons.
Pour commencer, le dollar s'est déprécié par rapport à la plupart des monnaies, mais dans une moindre mesure par rapport à celle des principaux partenaires des marchés émergents, tels que la Chine.
Deuxièmement, une partie de l'augmentation des prix du pétrole semble s'expliquer par une limitation de l'offre de la part des membres de l'Organisation des pays exportateurs de pétrole, et de leurs alliés de convenance (notamment la Russie). Sans aucun hasard, les cours du pétrole ont commencé à grimper au moment des restrictions de production décidées par l'« OPEP+ » fin 2016, et apparaissent désormais élevés par rapport aux autres matières premières industrielles.
En érodant l'offre et en augmentant la demande, une dépréciation prolongée du dollar pourrait précisément changer cela. L'Arabie saoudite accorde une grande importance à la stabilité et à l'équilibre du marché pétrolier à l'approche de la vente d'une participation de 5 % dans Saudi Aramco, la société pétrolière nationale. Pour un marché sain qui s'inscrit en cohérence avec des investissements en capitaux à plus long terme, un cours du pétrole trop élevé peut s'avérer tout aussi problématique qu'un prix trop faible. Dans de telles circonstances, les dirigeants de l'OPEP+ pourraient bien sauter sur l'occasion d'étendre l'offre tout en maintenant les prix sur leur trajectoire actuelle.
Troisièmement, s'agissant de l'offre, il ne faut pas seulement regarder à l'étranger. L'augmentation de la production aux États-Unis, rendue possible par les progrès technologiques en matière de production de pétrole de schiste, s'est révélée stupéfiante.
L'Amérique est en bonne voie pour pomper davantage de pétrole cette année que jamais au cours de son histoire. Les producteurs nationaux se montrent toutefois modérés jusqu'à présent dans l'accroissement de l'offre, en raison semble-t-il de la volonté de leurs actionnaires de réaliser davantage de profits en dépensant moins de capitaux. Les technologies de production continuent néanmoins de progresser, et invitent à la hausse des prix.
En somme, il est peu probable que les effets du choc énergétique à l'échelle de l'économie, bien que déplaisants, fassent véritablement dérailler la croissance. La volatilité des marchés de matières premières nous incite néanmoins à la prudence dans nos propos. Dans nos récents travaux avec Christopher Trebesch du Kiel Institute, nous avons dénombré plus de deux fois plus de cycles d'envolée puis chute des prix des matières premières que de flux de capitaux depuis 1820. L'économie mondiale semble embarquée sur des montagnes russes. 
Les opinions ici exprimées sont propres à leurs auteurs.
Traduit de l'anglais par Martin Morel