El único camino de futuro con Corea del Norte
SEÚL – ¿Podría ocurrir otra devastadora guerra en la Península Coreana? En estos días, la pregunta está presente en muchas conversaciones.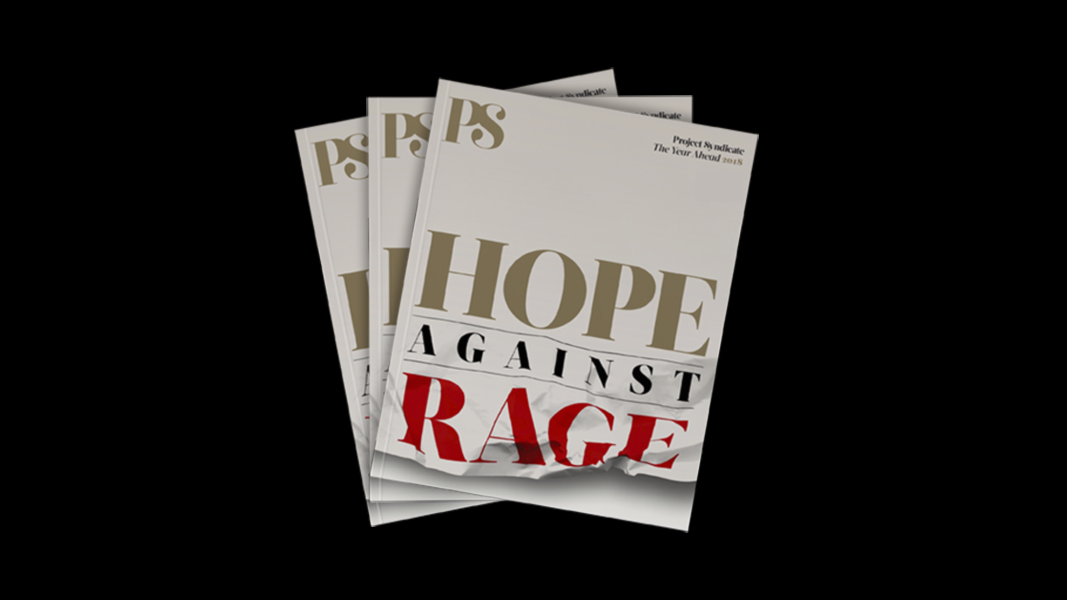 The Year Ahead 2018
The world's leading thinkers and policymakers examine what's come apart in the past year, and anticipate what will define the year ahead.
Por supuesto, no hay nada nuevo acerca de las inquietudes sobre el programa de armas nucleares del régimen norcoreano. La primera vez que Estados Unidos intentó resolver el asunto fue en 1994 con el Acuerdo Marco entre Estados Unidos y Corea del Norte, pero fue una iniciativa que colapsó gradualmente debido a las medidas adoptadas (y las no adoptadas) por ambas partes. Entonces, en 2006 el régimen de Kim Jong-il detonó la primera bomba nuclear norcoreana y puso el problema abruptamente en la agenda del Consejo de Seguridad de las Naciones Unidas.
En la década siguiente, Corea del Norte ha realizado cinco otras pruebas nucleares (la última en septiembre) y demostrado el dominio tecnológico necesario para desarrollar armas termonucleares avanzadas. Y con Kim Jong-un al mando, la situación empeoró aún más cuando el régimen comenzó a dar pasos decisivos en el desarrollo de un misil balístico intercontinental (ICBM, por sus siglas en inglés), capaz de alcanzar el territorio continental estadounidense. Todo esto coincidió con la elección de Donald Trump como Presidente de EE.UU., que ha prometido un nuevo enfoque de política exterior.
Corea del Norte ha dejado claro su compromiso con el desarrollo de una capacidad de ataque nuclear de larga distancia. Desde su punto de vista, las armas nucleares son su único seguro contra ataques enemigos. Kim cree que sin ellas compartiría el mismo destino de quienes abandonaron su desarrollo, como Saddam Hussein en Irak y Muammar el-Qaddafi en Libia.
En este contexto, el objetivo de EE.UU. de una Corea del Norte desnuclearizada y sin ICBM es imposible de lograr por vías diplomáticas. Y, en cualquier caso, Trump ha tachado la diplomacia como una "pérdida de tiempo" y famosamente advirtió que "solo una cosa funcionará", aunque todavía no explica lo que quiere decir con eso.
Considerando que ni EE.UU. ni Corea del Norte han demostrado entusiasmo alguno por establecer conversaciones, se podría llegar a la conclusión de que la guerra es inevitable. Sin embargo, con toda su belicosidad, es improbable que el régimen del norte inicie un conflicto abierto a gran escala, porque seguramente marcaria su desaparición del mapa. Al mismo tiempo, Estados Unidos no cuenta con buenas opciones para atacar primero. Los ataques quirúrgicos pueden sonar prometedores, pero difícilmente son a prueba de tontos. Como bien saben los comandantes del ejército de EE.UU., si un ataque se propusiera eliminar todas las armas nucleares norcoreanas de una sola vez y fracasara, podría generar una guerra regional (o incluso nuclear) con millones de víctimas.
En Estados Unidos, quienes argumentan a favor de la acción militar a menudo plantean que la disuasión no funciona con un régimen "irracional", pero nada hace suponer que Kim se incline al suicidio masivo. Después de todo, cuando en los años 60 la China de Mao comenzó a desarrollar armas nucleares, sus razones no eran muy diferentes a la actual Corea del Norte, pero nadie dudó de que la disuasión funcionaría.
De todos modos, incluso suponiendo que la disuasión funciona (encarnada en la amenaza de Trump de que EE.UU. "destruirá por completo" a Corea del Norte), no impedirá que una Corea del Norte armada con bombas nucleares e ICBM cambie de manera fundamental el cálculo estratégico en el noreste de Asia. La capacidad disuasoria estadounidense protege antes que todo a los Estados Unidos. Queda por verse si la "disuasión ampliada" del poderío estadounidense seguirá protegiendo a aliados como Corea del Sur y Japón. Si Estados Unidos continental se convierte en un objetivo potencial de un ataque nuclear norcoreano, entonces la credibilidad de su disuasión podría depender de si está dispuesto a sacrificar San Francisco para salvar Seúl o Tokio.
Las dudas sobre la protección nuclear estadounidense podrían llevar a Corea del Sur y Japón a desarrollar sus propias opciones nucleares. De hecho, Corea del Sur tenía un programa de armas nucleares mucho antes que su vecino del norte, y lo abandonó cuando firmó el Tratado de No Proliferación Nuclear en 1975. En Seúl su reinicio se ha convertido en tema de debate. Huelga decir que sería muy peligrosa una intensificación de la escalada nuclear en la Península, y no en menor medida porque el régimen de Kim se sentiría todavía más amenazado.
Hasta ahora, el enfoque de Estados Unidos hacia Corea del Norte ha sido hacer más estrictas las sanciones y externalizar el problema a China. Si bien esta tiene sólidos vínculos económicos con Corea del Norte, no está claro si tiene la influencia para cambiar la conducta del régimen de Kim, incluso si lo quisiera. Para tener éxito con esto, probablemente sería necesario algo parecido a un cambio de régimen.
Por ende, confiar del todo en China no es lo más sabio. Es precisa una iniciativa diplomática más amplia, que debería comenzar por abordar un problema fundamental: nunca se ha firmado un tratado de paz para poner fin a la Guerra de Corea de 1950-1953.
Un diálogo para reemplazar el armisticio de 64 años con un acuerdo de paz formal podría allanar el camino a conversaciones de mayor alcance acerca de la escalada nuclear y otras amenazas a la estabilidad regional. Como mínimo, salir del actual callejón sin salida diplomática y dar a las partes involucradas otras razones para abstenerse de mayores provocaciones.
En términos más amplios, una nueva ronda de gestiones diplomáticas habría de abordar las preocupaciones de seguridad norcoreanas, y dar espacio para su evolución política y económica, como lo ha hecho China en las últimas décadas. Esto puede parecer una perspectiva distante, pero si se solucionara la situación de seguridad en la península, no estaría fuera de lugar.
La alternativa es continuar por el camino actual y correr el riesgo de un conflicto militar o una guerra a gran escala. Incluso si esas peores situaciones hipotéticas se evitan, la región no tendría más que años de inestabilidad por delante.
Traducido del inglés por David Meléndez Tormen