¿Será el final de la Alemania "pequeña"?
LONDRES – Se hizo esperar, pero Alemania está lista para la asunción de un nuevo gobierno. Tras cinco meses de discusiones, el Partido Socialdemócrata (SPD) y la Unión Demócrata Cristiana (CDU), junto con su rama bávara, la Unión Social Cristiana (CSU), han formado un gobierno de coalición. Pero en el proceso de llegar a un acuerdo, algo cambió en el debate político alemán.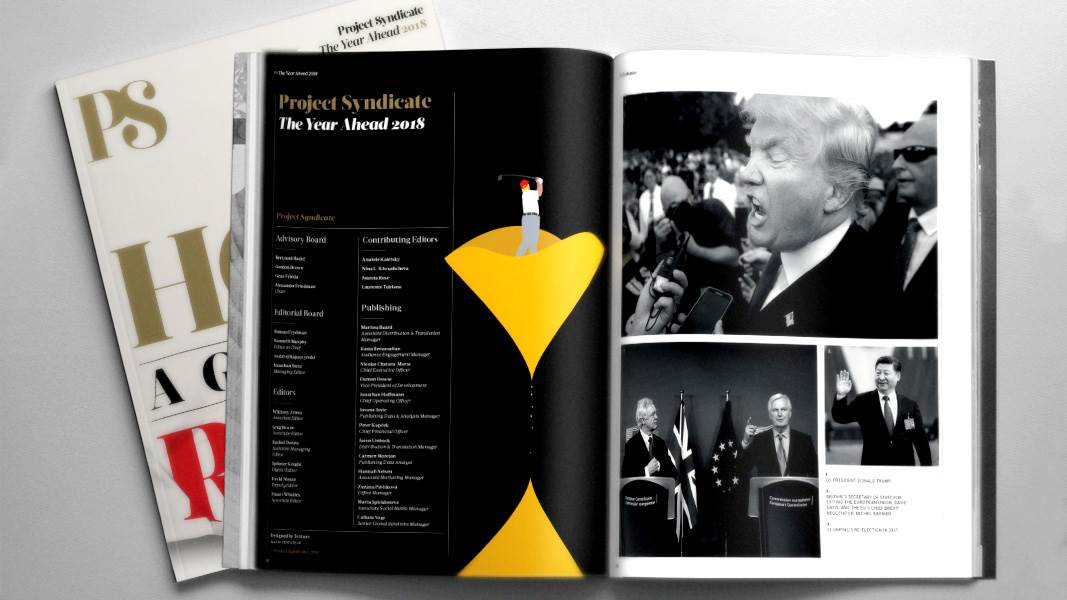 The Year Ahead 2018
The world's leading thinkers and policymakers examine what's come apart in the past year, and anticipate what will define the year ahead.
Alemania se dio por mucho tiempo el lujo de fingirse algo que no es: un país pequeño. Al momento de la elección, el año pasado, no hubo casi debate público sobre la Unión Europea y el papel de Alemania en ella. La cómoda ventaja que en aquel tiempo llevaba la canciller Angela Merkel en las encuestas de opinión confirmaba su instinto de que los votantes alemanes no querían que se los molestara con discusiones sobre el futuro de Europa. Y pese a ser expresidente del Parlamento Europeo, el por entonces líder del SPD, Martin Schulz, también se concentró casi por entero en las cuestiones internas.
Pero la elección de Donald Trump como presidente de los Estados Unidos, la agenda de reformas del presidente francés Emmanuel Macron y, en menor medida, la decisión del Reino Unido de abandonar la UE fueron un llamado de atención en toda Alemania. Para que Europa pueda hacer frente a sus numerosos desafíos, Alemania tiene que cuestionarse algunos viejos supuestos y adoptar una agenda europea clara que prescinda de un pensamiento más propio de una nación pequeña.
Es verdad que en Alemania los relatos históricos y las preferencias políticas limitan las opciones de los gobiernos. Pero aun así hay medidas realistas que el nuevo gobierno alemán puede tomar, por el bien de Europa y del mundo. ¿Estará la nueva coalición a la altura de la tarea?
El capítulo del acuerdo de coalición entre la CDU/CSU y el SPD referido a Europa se presentó en Alemania como una respuesta a las propuestas de Macron para la reforma de la eurozona. Pero quienes esperaban un cambio fundamental en la política económica probablemente se llevarán una decepción. El nuevo gobierno podrá hablar de reiniciar el motor francoalemán de reforma de la UE, pero difícilmente apoyará propuestas de mutualización de deudas o la creación de un presupuesto común importante.
Pero hay otras medidas que puede y debe encarar. Una de ellas es aceptar (e incluso promover) la idea de que la política fiscal en el nivel nacional debe ser más anticíclica. También es hora de que Alemania deje de frenar la creación de una unión bancaria para la eurozona y se fije como alta prioridad política la unión de los mercados de capitales. Puede hacer una oferta audaz respecto de un seguro de depósitos europeo y la provisión de un respaldo fiscal común al Fondo Único de Resolución de la eurozona (que interviene en los procesos de quiebra y liquidación de bancos), tal vez vinculándola a una depuración exhaustiva del sistema bancario europeo, especialmente en Italia, y a reglas estrictas sobre la participación de los acreedores en los rescates (bail-in).
Alemania también debe resolver su cuantioso excedente de ahorro, que no se corresponde con la economía más grande de Europa. Es necesario reducir la excesiva carga impositiva sobre las personas de menos ingresos, para así alentar el consumo. Las instituciones del mercado laboral alemán dejan a muchos trabajadores del sector servicios con poco poder de negociación o protección, lo que lo convierte en uno de los peor remunerados de Europa. Otra medida que beneficiaría a los ahorristas alemanes sería la creación de un fondo público de inversión con bajo nivel de comisión, que alentaría la inversión de capital en Alemania y el extranjero, y al mismo tiempo reduciría la demanda alemana de activos seguros internacionales.
Con la designación de un ministro de finanzas del SPD también se hizo posible un mayor énfasis en la inversión pública que en rebajas impositivas y seguir reduciendo la deuda pública. Los alemanes comienzan a cansarse de una búsqueda de reducir el déficit por razones ideológicas que ya lleva un decenio. La norma fiscal consagrada en la constitución del país (el llamado "freno al endeudamiento") es compatible con un aumento del gasto público. Un ligero sobrecalentamiento económico derivado de una mayor inversión pública y privada contribuiría a mejorar los salarios y la demanda de importaciones, lo cual tal vez ayude a reducir el actual superávit de cuenta corriente de Alemania.
El nuevo gobierno alemán también debe elaborar una nueva política comercial que suponga reconocer y estar dispuestos a usar la influencia económica del país (y la de la UE) más estratégicamente. El tono cada vez más proteccionista de la administración Trump da a Alemania una oportunidad perfecta para intervenir. En breve Estados Unidos impondrá aranceles a todas las importaciones de acero y aluminio, y esto exige una firme respuesta europea.
Es notable que el debate alemán sobre la Asociación Transatlántica de Comercio e Inversión entre Estados Unidos y la UE se haya centrado más que nada en los derechos de los consumidores y en la protección de normas y estándares locales. Pero unos objetivos económicos tan estrechos (del tipo que priorizaría un país pequeño) ya no se condicen con el nuevo papel hegemónico de Alemania. Lo mismo puede decirse de seguir manteniendo un optimismo excesivo respecto de una forma de multilateralismo comercial que ya prácticamente está agotada.
En vez de eso, el nuevo gobierno alemán debe elaborar una política comercial que sostenga las reformas económicas y los estándares sociales y al mismo tiempo promueva la economía de mercado y el Estado de Derecho en el vecindario. Alemania también debe trabajar más en convencer al resto de Europa de adoptar una posición más decidida en la Organización Mundial del Comercio en cuestión de derechos sociales, protección del medioambiente, justicia tributaria y mejora de los estándares políticos.
Estas propuestas demandan que los políticos alemanes cambien el debate. Como país dominante de la eurozona, Alemania debe procurar que el bloque beneficie a todos sus miembros y sea una fuerza estabilizadora en la economía mundial. Es hora de que Alemania comience a reconocer su importancia económica y se comporte de conformidad con ella; y mejor si es antes de que los nuevos ministros se asienten otra vez en las viejas rutinas.
Traducción: Esteban Flamini