Neues Selbstbewusstsein für Deutschland?
LONDON – Deutschland ist nach einer langen Hängepartie endlich bereit eine neue Bundesregierung zu vereidigen. Nach monatelangem politischem Gerangel haben die Sozialdemokraten (SPD) und die Christlich-Demokratische Union (CDU) – gemeinsam mit der bayerischen Schwesterpartei der CDU, der Christlich-Sozialen Union (CSU) – eine Regierungskoalition gebildet. Im Zuge dieses Einigungsprozesses hat sich in der politischen Debatte in Deutschland jedoch etwas verändert.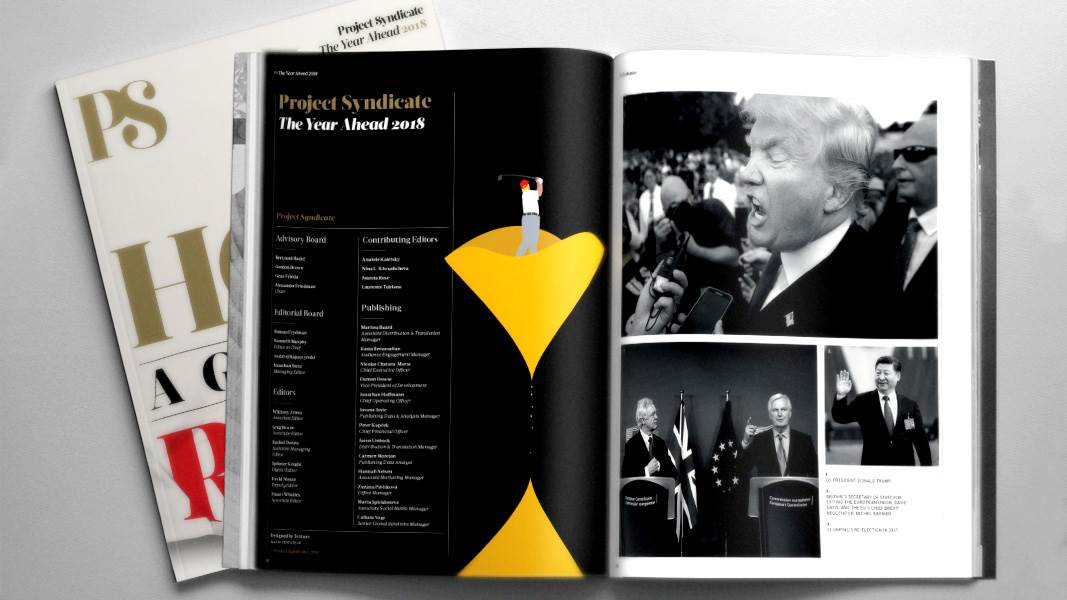 The Year Ahead 2018
The world's leading thinkers and policymakers examine what's come apart in the past year, and anticipate what will define the year ahead.
Deutschland hat sich lange den Luxus erlaubt, vorzugeben etwas zu sein, das es nicht ist: ein kleines Land. Zum Zeitpunkt der Bundestagswahl im vergangenen Jahr hat es so gut wie keine öffentliche Debatte über die Europäische Union und die Rolle Deutschlands in der EU gegeben. Bundeskanzlerin Angela Merkel verfügte damals über einen komfortablen Vorsprung in den Meinungsumfragen, der sie in ihrem Instinkt bestätigte, dass die deutschen Wählerinnen und Wähler nicht mit Diskussionen über Europas Zukunft behelligt werden wollen. Und auch der damalige SPD-Vorsitzende Martin Schulz konzentrierte sich fast ausschließlich auf innenpolitische Themen, obwohl er zuvor Präsident des Europäischen Parlaments war.
Doch die Wahl von Donald Trump zum US-Präsidenten, die Reformagenda des französischen Präsidenten Emmanuel Macron und, in geringerem Maße, die Entscheidung des Vereinigten Königreichs die EU zu verlassen haben das Blickfeld der Deutschen verändert. Wenn Europa seine zahlreichen Herausforderungen bewältigen soll, muss Deutschland einige seiner seit langem bestehenden Annahmen hinterfragen. Es braucht eine klare europäische Agenda, die seinem politischen Gewicht ohne Klein-Klein gerecht wird.
Deutschlands historische Narrative und seine politischen Präferenzen beschränken zwar die Optionen, die einer Bundesregierung zur Verfügung stehen. Es gibt aber dennoch realistische Schritte, die eine neue Regierung zum Wohl Europas und der Welt unternehmen kann. Wird die neue Koalition dieser Aufgabe gewachsen sein?
Das Kapitel der Koalitionsvereinbarung zwischen CDU/CSU und SPD, das Europa gewidmet ist, ist in Deutschland als Antwort auf Macrons Reformvorschläge für die Eurozone formuliert worden. Wer auf einen grundlegenden wirtschaftspolitischen Kurswechsel gehofft hat, dürfte aber enttäuscht sein. Die neue Regierung mag vom Neustart des deutsch-französischen Motors für Reformen in der EU sprechen, es ist aber unwahrscheinlich, dass sie Vorschläge für die Vergemeinschaftung von Schulden oder die Schaffung eines gut ausgestatteten gemeinsamen Haushalts unterstützen wird.
Sie kann und sollte jedoch andere Maßnahmen verfolgen. Deutschland könnte sich mit dem Gedanken einer antizyklischen Finanzpolitik auf nationaler Ebene anfreunden – und sogar dafür werben. Außerdem sollte es aufhören, die Vollendung der Bankenunion der Eurozone hinauszuzögern und der Kapitalmarktunion hohe politische Priorität beimessen. Die neue Bundesregierung könnte einen mutigen Vorschlag zur Europäischen Einlagensicherung und zur gemeinsamen Letztsicherung (Fiscal Backstop) für den europäischen Bankenabwicklungsfonds machen, der greift wenn Banken zusammenbrechen und abgewickelt werden. Sie könnte diesen Vorschlag an die Bedingung einer gründlichen Bilanzbereinigung im europäischen Bankensystem knüpfen, vor allen in Italien, und an strenge Regeln für die Gläubigerbeteiligung (Bail-in).
Außerdem muss Deutschland seinen großen Sparüberschuss in Angriff nehmen, der Europas größter Volkswirtschaft nicht angemessen ist. Um den Konsum anzukurbeln, muss die zu hohe Steuerbelastung von Geringverdienern verringert werden. Die deutschen Arbeitsmarktinstitutionen bieten vielen Beschäftigten im Dienstleistungssektor weder ausreichend Verhandlungsmacht, noch Schutz und haben so einen der größten Niedriglohnsektoren Europas entstehen lassen. Deutschen Sparern wäre außerdem mit einem kosteneffizient verwalteten Staatsfonds gedient, der Kapitalinvestitionen sowohl in Deutschland als auch über Grenzen hinweg beflügeln könnte und zugleich die deutsche Nachfrage nach sicheren Anlagen im Ausland verringern würde.
Da das Finanzministerium in den Händen der SPD liegen wird, ist zudem möglich, dass mehr Gewicht auf öffentliche Investitionen als auf Steuersenkungen und eine weitere Verringerung der öffentlichen Verschuldung gelegt wird. Nach einem Jahrzehnt werden die Deutschen des ideologisch motivierten Strebens nach einer Reduzierung der Defizite allmählich müde.
Die im deutschen Grundgesetz verankerte Schuldenbremse lässt höhere Staatsausgaben durchaus zu. Eine leichte Konjunkturüberhitzung infolge höherer privater und öffentlicher Investitionen würde dazu beitragen, die Löhne und die Importnachfrage zu erhöhen, was dazu beitragen könnte Deutschlands Leistungsbilanzüberschuss zu verringern.
Die neue Bundesregierung sollte außerdem eine neue Handelspolitik entwickeln, die das wirtschaftliche Gewicht Deutschlands, und das der EU, anerkennt und die bereit ist, es strategischer einzusetzen. Die zunehmend protektionistischen Töne der Regierung Trump sind eine ideale Gelegenheit für Deutschland in die Bresche zu springen. Die USA werden bald Strafzölle auf Stahl- und Aluminiumimporte verhängen, was nach einer unmissverständlichen Antwort der Union verlangt.
Es ist bemerkenswert, dass es in der deutschen Debatte über das Transatlantische Freihandelsabkommen zwischen den USA und der EU vor allem um Verbraucherechte und den Schutz eigener Normen und Vorschriften ging. Aber eng gefasste wirtschaftliche Ziele wie diese, denen ein kleines Land Priorität geben würde, sind heute nicht mehr ausreichend für ein Deutschland mit einer Führungsrolle in Europa. Das gilt auch für die allzu optimistische Unterstützung einer Form von Handelsmultilateralismus, die sich weitgehend erschöpft hat.
Die künftige Bundesregierung muss stattdessen eine Handelspolitik entwickeln, die Wirtschaftsreformen und Sozialstandards unterstützt und zugleich Marktwirtschaften und Rechtsstaatlichkeit in ihrer Nachbarschaft fördert. Deutschland könnte auch mehr dafür tun, das übrige Europa dazu zu drängen, sich bei der Welthandelsorganisation energischer für soziale Rechte, Umweltschutz, Steuergerechtigkeit und bessere politische Standards einzusetzen.
Um diesen Vorschlägen Gehör zu verschaffen, müssen deutsche Politikerinnen und Politiker neue Akzente in der Debatte setzen. Als dominierendes Land der Eurozone muss Deutschland gewährleisten, dass alle ihre Mitglieder von der Währungsunion profitieren und dass sie eine stabilisierende Größe in der Weltwirtschaft ist. Deutschland muss endlich anfangen sich als der bedeutende wirtschaftliche Akteur zu begreifen, der es ist und sich entsprechend verhalten – möglichst bevor sich neue Minister an eingefahrene Routinen gewöhnen.
Aus dem Englischen von Sandra Pontow.