Los nuevos monopolios
STANFORD – Hace más de 30 años que en las economías avanzadas, en particular Estados Unidos, la desigualdad de ingresos y riqueza está en aumento, el crecimiento del salario real (ajustado por inflación) está frenado, y los pensionados obtienen menos intereses por sus ahorros. Todo esto ocurrió a la par de un marcado aumento de las ganancias y de las valuaciones bursátiles de las corporaciones. Una investigación que realicé muestra que la causa principal ha sido el auge de la moderna tecnología de la información (TI).
La TI repercutió de muchas maneras en la economía; la computadora, Internet y la tecnología móvil transformaron los medios de comunicación, el comercio, la industria farmacéutica y un sinnúmero de otros servicios al consumidor. Los beneficios de la TI son inmensos.
Pero al permitir el ascenso de un poder monopólico y facilitar la creación de barreras al ingreso, el auge de la TI también ha tenido importantes efectos secundarios negativos en términos económicos, sociales y políticos (entre ellos, la proliferación de las "noticias falsas").
Para empezar, la estructura misma de la industria informática permite la formación de poder monopólico. La TI mejora el procesamiento, el almacenamiento y la transmisión de datos, y los innovadores en el área se convierten en propietarios exclusivos de importantes canales de información, de los que excluyen activamente a la competencia.
Las empresas de TI podrían defender el poder monopólico por medio de patentes o copyright, pero para ello tendrían que revelar secretos comerciales. Así que por razones estratégicas, muchas empresas renuncian a la protección legal y en cambio consolidan su posición dominante en el mercado mediante el lanzamiento continuo de actualizaciones de software que, como norma, actúan como barreras contra los competidores. Y ante la posibilidad de surgimiento de tecnologías alternativas, es común que las grandes empresas compren a sus rivales, sea para desarrollar aquellas tecnologías por cuenta propia o para suprimirlas.
En cuanto una empresa innovadora consigue dominio en una plataforma, el tamaño se convierte en ventaja. La reducción del costo de procesamiento y almacenamiento de la información lograda en años recientes permite a las empresas más grandes reducir los costos operativos y aumentar rápidamente las ganancias conforme se multiplica la cantidad de usuarios (Google y Facebook son buenos ejemplos). Estas ventajas en materia de costos y economías de escala son prácticamente insuperables para la competencia.
Además, como estas empresas derivan poder de la información, la capacidad de usar datos privados de sus clientes como activo estratégico les permite reforzar su posición. De hecho, muchas plataformas informáticas no son organizaciones de producción en el sentido tradicional, sino servicios públicos para la coordinación y la puesta en común de información entre usuarios en diversos ámbitos. En síntesis, la TI permite crear barreras contra el ingreso al mercado, y luego alienta a las empresas líderes a reforzar su posición dominante. Y el poder monopólico va en aumento, conforme se acelera el ritmo de la innovación en TI.
En un trabajo de investigación reciente sobre los efectos económicos del poder monopólico, calculé unos niveles normales por encima de los cuales las ganancias o la valuación bursátil dejan de ser resultados fortuitos para convertirse en reflejo de aquel poder. Usando estos niveles, medí el componente monopólico de la valuación bursátil total (lo que denomino "riqueza monopólica") y de las ganancias o rentas de los monopolios. Luego traté de determinar cómo han evolucionado estos indicadores.
El gráfico que aparece a continuación muestra el componente monopólico de la riqueza como porcentaje de la valuación bursátil total entre 1985 y 2015. Los datos muestran que en los ochenta la riqueza monopólica era inexistente. Pero a la par del desarrollo de la industria informática, aquella aumentó drásticamente; en diciembre de 2015, llegó a un 82% de la valuación bursátil total, lo que equivale a unos 23,8 billones de dólares. Es la riqueza adicional que se obtiene a través de un poder monopólico cada vez mayor, y no deja de crecer.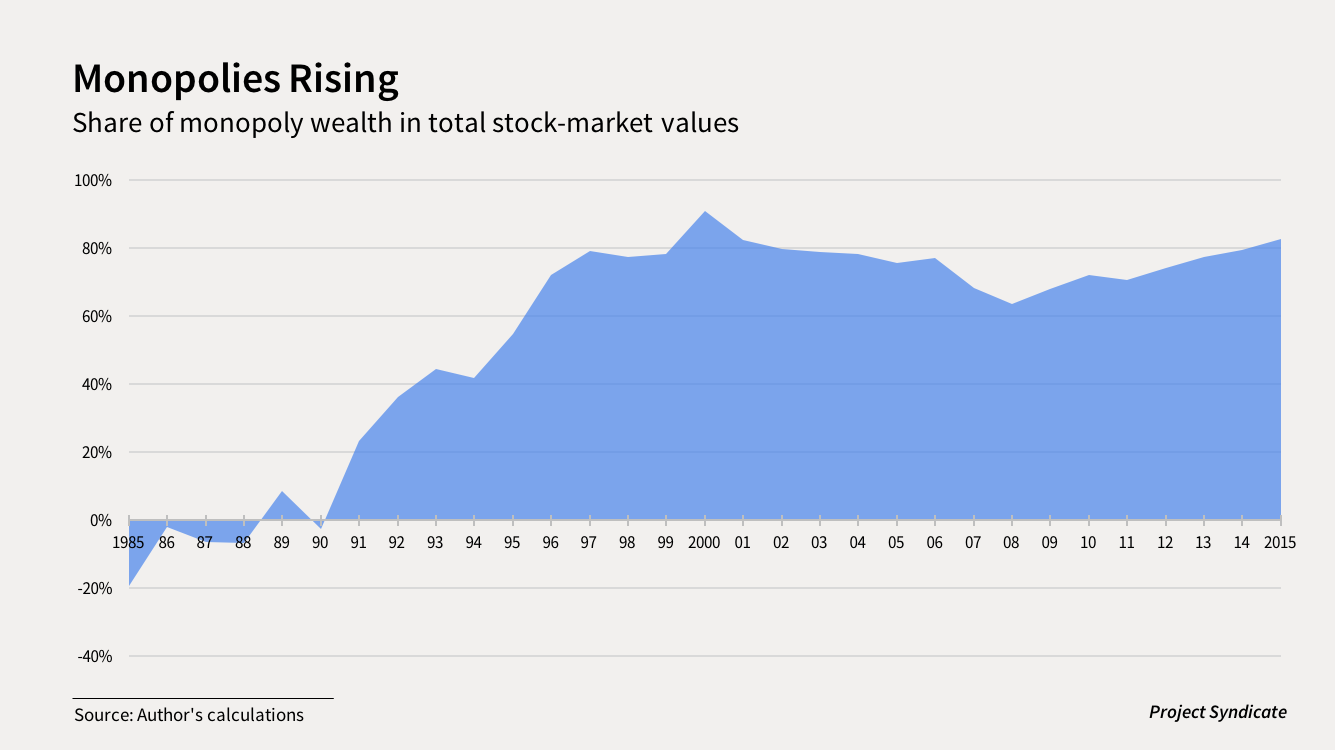 Para poner en perspectiva el porcentaje de riqueza monopólica, veamos otro indicador relacionado que también aumentó marcadamente: el apalancamiento corporativo. En los sesenta, el porcentaje de los activos corporativos reales que se financiaba con deuda era inferior al 20%. En 2015, esa proporción ascendía a cerca del 80%; es decir, la mayor parte del capital de las corporaciones que cotizan en bolsa está en la forma de bonos negociables. Dicho de otro modo, los inversores han acordado financiar la deuda corporativa usando la riqueza monopólica como garantía, y la mayor parte de las transacciones en bolsa pueden considerarse una compraventa de títulos de propiedad sobre aquella riqueza.
Como muestra la tabla que aparece a continuación, nueve de las diez empresas con mayor riqueza monopólica en diciembre de 2015 tienen que ver con la TI, sobre todo con las comunicaciones móviles, las redes sociales, el comercio electrónico minorista y la industria farmacéutica. Asimismo, entre las cien empresas más importantes, las que están creando más riqueza monopólica son aquellas que han sido transformadas por la TI.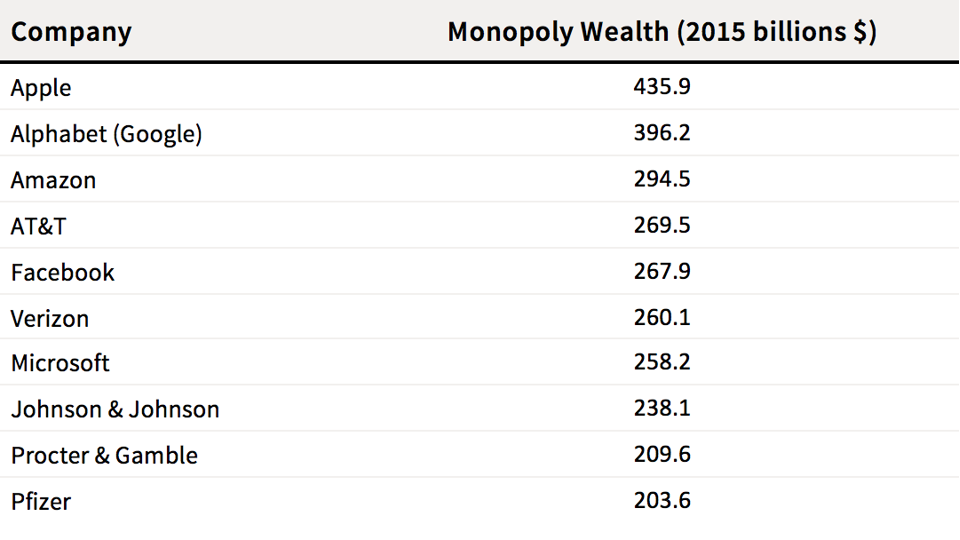 Los ingresos creados por las empresas con poder monopólico se dividen en tres clases: ingresos del trabajo, ingresos por el pago normal de intereses al capital y ganancias monopólicas. Los datos muestran que en los setenta y principios de los ochenta, las ganancias monopólicas eran insignificantes. Pero desde 1984, su proporción aumentó sin pausa, hasta llegar en 2015 al 23% del ingreso total de las corporaciones estadounidenses. Es decir que en los tres decenios que precedieron a 2015, el poder monopólico llevó a que la participación combinada de los salarios y del pago normal de intereses al capital se redujera un 23%.

A la par que la creciente productividad y la acumulación de capital elevan los salarios y la renta del capital, el poder monopólico reduce la cuota que estos representan del total. Esto explica en parte por qué, en el período 1985‑2015, el crecimiento salarial se desaceleró y los pensionados cobraron menos intereses por sus ahorros.
¿Por qué el creciente poder monopólico en la industria informática llevó a concentración de ingresos y riqueza en menos manos, y por tanto a más desigualdad?
Una parte de la respuesta sería que la formación de poder monopólico aumentó las ganancias corporativas y empujó al alza las cotizaciones bursátiles; esto benefició a una pequeña población de accionistas y directivos corporativos. Pero al inicio de sus carreras muchos emprendedores informáticos eran jóvenes y poseían una cantidad limitada de acciones, de modo que se necesita una explicación más elaborada.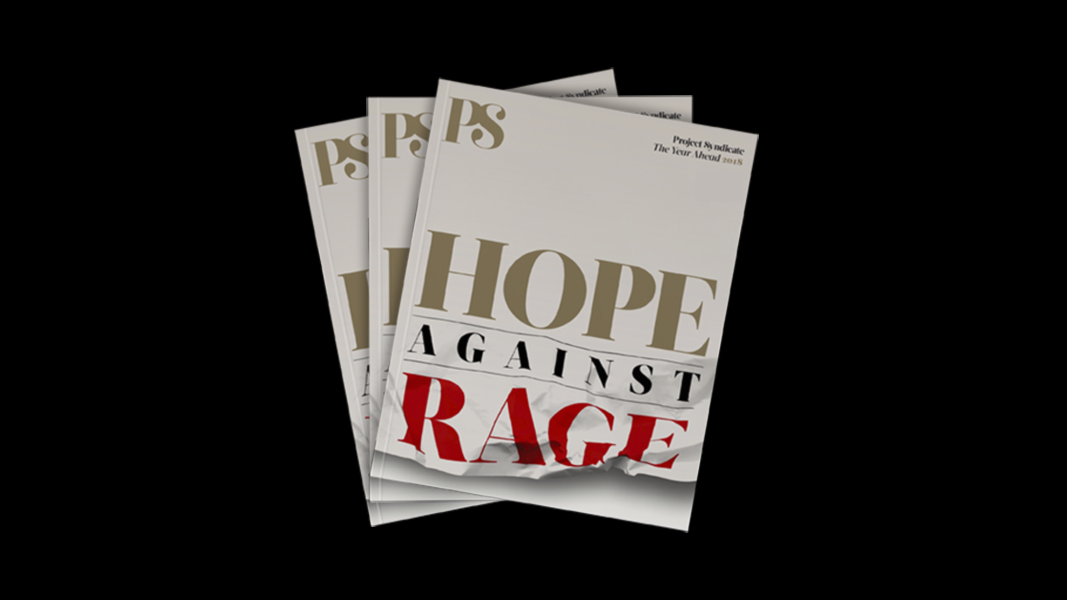 The Year Ahead 2018
The world's leading thinkers and policymakers examine what's come apart in the past year, and anticipate what will define the year ahead.
Desde los ochenta, las innovaciones en TI han sido sobre todo en software, lo que dio a los innovadores jóvenes una ventaja. Además, los estudios de "prueba de concepto" para innovaciones en software suelen ser baratos (excepto en la industria farmacéutica): los innovadores en TI pueden poner a prueba ideas con muy poco capital, sin ceder una cuota importante de la propiedad de la empresa. Esto llevó a que las innovaciones informáticas exitosas concentraran la riqueza en menos personas (a menudo, más jóvenes).
No era lo mismo durante el siglo XX, cuando las grandes innovaciones en industrias líderes, como la automotriz, demandaban cuantiosas inversiones de riesgo. La necesidad de contar con muchos inversores llevaba a una distribución más amplia de la riqueza creada.
Los efectos secundarios negativos de la TI todavía no se comprenden bien, y se necesita con urgencia un debate público sobre la regulación del sector. En esto hay tres aspectos fundamentales. En primer lugar, las leyes antimonopolio actuales no son en general aplicables al poder monopólico derivado de la tecnología, de modo que se necesitarán medidas de otra índole para el sector informático. La regulación de los nuevos canales de transmisión pública de información, como las redes sociales, también obliga a una redefinición del concepto de interés público. En segundo lugar, el poder monopólico de las empresas de TI demanda adaptar los modelos impositivos habituales aplicados a los ingresos y la riqueza corporativos. Y en tercer lugar, hay que reevaluar las leyes de protección de la información privada, para impedir a las empresas de TI explotarla y manipularla en provecho propio.
Sobre todo, la opinión pública debe llegar a una mejor comprensión de los efectos económicos de la TI, particularmente de cómo es posible que tecnologías que beneficiaron a tantos enriquecieran a tan pocos.
Traducción: Esteban Flamini