Quando venceremos?
NOVA IORQUE – Em 1967, eclodiram motins em cidades por todos os Estados Unidos, desde Newark, em Nova Jérsia, até Detroit e Mineápolis no Midwest – dois anos depois do bairro de Watts, em Los Angeles, ter explodido com violência. Como resposta, o presidente Lyndon B. Johnson nomeou uma comissão, chefiada pelo governador do Illinois Otto Kerner, para investigar as causas e propor medidas para a sua resolução. Há cinquenta anos, a Comissão Consultiva Nacional sobre as Desordens Civis (mais conhecida como a Comissão Kerner) publicou o seu relatório, proporcionando um relato cru das condições na América que levaram às desordens.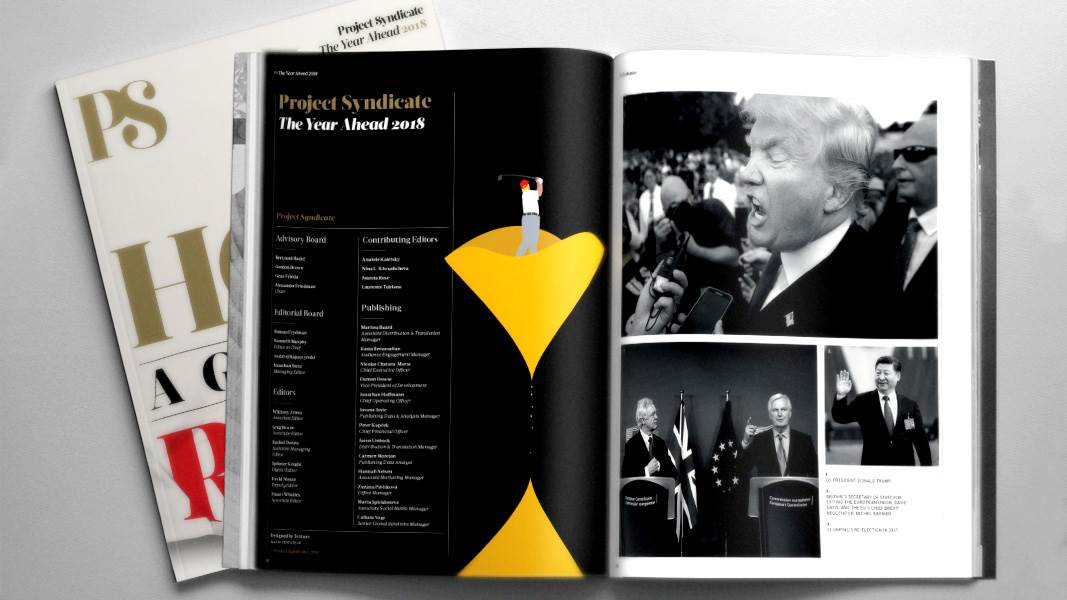 The Year Ahead 2018
The world's leading thinkers and policymakers examine what's come apart in the past year, and anticipate what will define the year ahead.
A Comissão Kerner descreveu um país em que os afro-americanos enfrentavam uma discriminação sistemática, sofriam com educação e habitação inadequada, e não conseguiam aceder a oportunidades económicas. Para eles, o sonho americano não existia. A raiz do problema residia "na atitude e comportamento raciais dos americanos brancos relativamente aos americanos negros. O preconceito racial moldou a nossa história de forma decisiva; ameaça agora afectar o nosso futuro."
Participei num grupo convocado pela Fundação Eisenhower para avaliar os progressos alcançados no meio século seguinte. Infelizmente, a frase mais famosa do relatório da Comissão Kerner – "A nossa nação progride no sentido de duas sociedades, uma negra e outra branca – separadas e desiguais" – permanece verdadeira.
O livro recém-publicado e baseado nos nossos esforços, Curar a nossa sociedade dividida: Investir na América cinquenta anos depois do Relatório Kerner, editado por Fred Harris e Alan Curtis, promete uma leitura sombria. Como escrevi no meu capítulo, "Algumas áreas problemáticas identificadas no Relatório Kerner melhoraram (participação de americanos negros na política e no governo – simbolizada pela eleição de um presidente negro), algumas ficaram na mesma (desigualdades no ensino e no emprego), e algumas pioraram (desigualdades na riqueza e no rendimento)." Outros capítulos debatem um dos aspectos mais perturbadores da desigualdade racial na América: a desigualdade na garantia do acesso à justiça, reforçada por um sistema de encarceramento em massa que visa principalmente os afro-americanos.
Não há dúvida de que o movimento pelos direitos civis de há meio século marcou a diferença. Foram ilegalizadas várias formas declaradas de discriminação. As normas sociais mudaram. Mas a extirpação do racismo entranhado e institucional revelou-se difícil. Pior, o presidente Donald Trump explorou este racismo e ateou as chamas da intolerância.
A mensagem principal do novo relatório reflecte a grande visão do líder dos direitos civis, Martin Luther King, Jr.: a realização da justiça económica para os afro-americanos não pode estar separada da realização de oportunidades económicas para todos os americanos. King chamou à sua marcha de Agosto de 1963 sobre Washington, a que aderi e onde fez o seu sonante e inesquecível discurso "Tenho um Sonho (I Have a Dream)", uma marcha por empregos e pela liberdade. Porém, o fosso económico nos EUA cresceu ainda mais, provocando efeitos devastadores sobre as pessoas sem educação superior, um grupo onde quase três quartos são afro-americanos.
Além disso, a discriminação é galopante, mesmo que frequentemente oculta. O sector financeiro da América seleccionou os afro-americanos para a exploração, especialmente nos anos anteriores à crise financeira, vendendo-lhes produtos voláteis com taxas elevadas que poderiam explodir, e que explodiram. Milhares de pessoas perderam as suas casas e, feitas as contas, a já considerável disparidade na riqueza aumentou ainda mais. Um banco proeminente, o Wells Fargo, pagou multas avultadas por cobrar taxas de juro mais elevadas aos seus devedores afro-americanos e latinos; mas ninguém foi verdadeiramente responsabilizado por muitos outros abusos. Quase meio século após a promulgação das leis anti-discriminação, o racismo, a cobiça, e o poder dos mercados ainda colaboram em desfavor dos afro-americanos.
Existem, porém, vários motivos para esperança. Primeiro, a nossa compreensão da discriminação melhorou bastante. Nesse tempo, o economista laureado com o Nobel, Gary Becker, poderia defender que num mercado competitivo a discriminação seria impossível; o mercado faria subir o salário de qualquer pessoa sub-remunerada. Hoje, compreendemos que o mercado está pejado de imperfeições, nomeadamente imperfeições de informação e de concorrência, que proporcionam amplas oportunidades para a discriminação e a exploração.
Além disso, hoje reconhecemos que os EUA paga um preço elevado pela desigualdade, e um preço especialmente elevado pela sua desigualdade racial. Uma sociedade marcada por divisões deste tipo não se tornará um farol para o mundo, e a sua economia não prosperará. A verdadeira força dos EUA não reside no seu poderio militar mas sim na sua influência cultural, que sofreu sérios desgastes não apenas devidos a Trump, mas também à persistente discriminação racial. Todos perderão se isto não for resolvido.
O sinal mais promissor é a onda de activismo, especialmente junto dos jovens, que compreendem que já é tempo que os EUA cumpram o seu ideal, nobremente expresso na sua Declaração de Independência, de que todos os homens são criados iguais. Um século e meio após a abolição da escravatura, o legado desse sistema ainda permanece. Demorou um século a promulgar leis que garantissem a igualdade de direitos; mas hoje, os tribunais e políticos controlados pelos Republicanos renegam frequentemente esse compromisso.
Como concluí no meu capítulo, "É possível um mundo alternativo. Mas 50 anos de luta mostraram-nos como é difícil alcançar essa visão alternativa." Para progredirmos mais, precisaremos de ser determinados, e de sustentar-nos na fé expressa pelas palavras imortais do cântico espiritual que se tornou o hino do movimento pelos direitos civis: "Venceremos*".