Когда же мы преодолеем?
НЬЮ-ЙОРК – В 1967 году по городам США – от Ньюарка в штате Нью-Джерси до Детройта и Миннеаполиса на среднем Западе – прокатилась волна беспорядков, причём всего два года спустя после взрыва насилия в Уоттсе, пригороде Лос-Анджелеса. В ответ президент Линдон Джонсон создал комиссию во главе с губернатором Иллинойса Отто Кернером для расследования причин этих беспорядков и выработки мер по их устранению. «Национальная консультативная комиссия по гражданским беспорядкам» (более известная как Комиссия Кернера) выпустила – 50 лет назад – доклад с жёсткими оценками ситуации в Америке, которая привела к данным беспорядкам.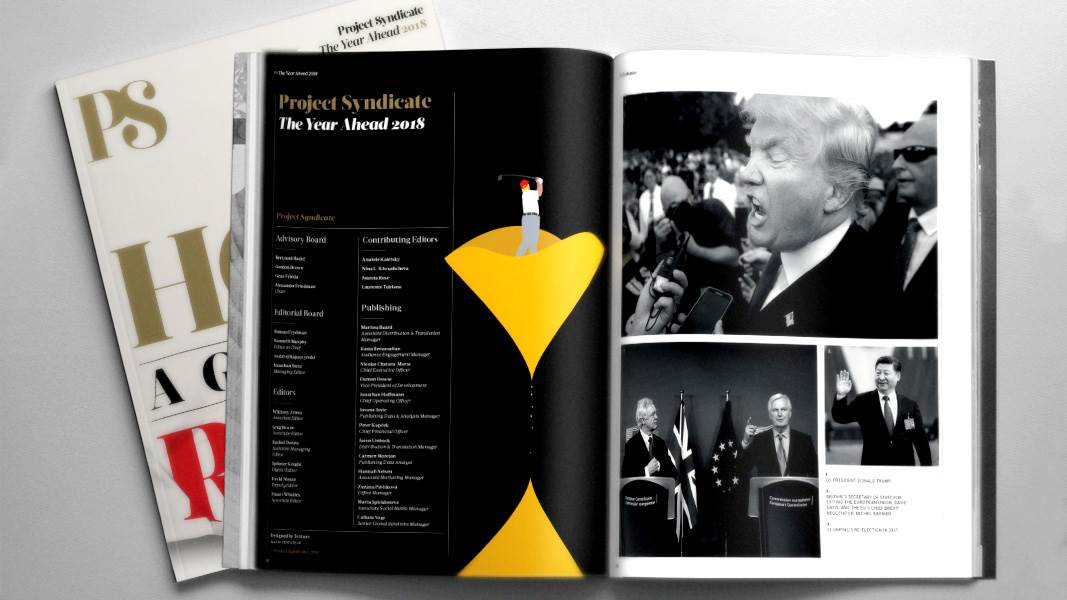 The Year Ahead 2018
The world's leading thinkers and policymakers examine what's come apart in the past year, and anticipate what will define the year ahead.
В докладе комиссии Кернера описывалась страна, в которой афроамериканцы сталкиваются с систематической дискриминацией, страдают от неадекватного уровня образования и качества жилья, не имеют экономических перспектив. Для них не существовало «Американской мечты». Главной причиной такого положения стали «расистские подходы и поведение белых американцев по отношению к чёрным американцам. Расовые предрассудки играли ключевую роль в формировании нашей истории; а теперь они грозят негативно повлиять на наше будущее».
Я был участником группы, созданной Фондом Эйзенхауэра с целью оценить прогресс, который был достигнут за прошедшие полвека. К сожалению, самая знаменитая фраза в докладе Комиссии Кернера («Наша Нация движется к расколу на два общества – чёрное и белое, – разделённых и неравных») до сих пор звучит актуально.
Только что вышедшую книгу, основанную на результатах работы этой комиссии («Как вылечить наше расколотое общество: Инвестируя в Америку спустя 50 лет после доклада Кернера»,  под ред. Фреда Харриса и Алана Кёртиса), читать грустно. В своей главе я пишу: «Ситуация на некоторых проблемных направлениях, названных в докладе Кернера, улучшилась (участие чёрных американцев в политике и органах власти; символом этого участия стало избрание чёрного президента), в некоторых – она осталась неизменной (неравенство в уровне образования и занятости), а некоторые – ухудшилась (неравенство в состоянии здоровья и уровне доходов). В других главах этой книги обсуждается один из наиболее шокирующих аспектов расового неравенства в Америке – неравенство в доступе к правосудию, усиливаемое системой массового лишения свободы, которая в основном нацелена на афроамериканцев.
Нет сомнений, что движение за права человека полувековой давности добилось перемен. Многочисленные формы явной дискриминации были объявлены вне закона. Изменились социальные нормы. Но искоренение нашего глубинного и институционального расизма оказалось трудной задачей. Хуже того, президент Дональд Трамп пользуется этим расизмом, разжигая огонь нетерпимости.
Ключевая идея нового доклада опирается на великий вывод Мартин Лютера Кинга, лидера борьбы за гражданские права: достижение экономической справедливости для афроамериканцев нельзя отделять от достижения позитивных экономических перспектив для всех американцев. В августе 1963 год Кинг организовал марш на Вашингтон, в котором я принимал участие и на котором он выступил со своей яркой, незабываемой речью «У меня есть мечта». Это был марш за рабочие места и свободу. Тем не менее, уровень экономического неравенство в США с тех пор повысился, причём с катастрофическими последствиями для тех, у кого нет высшего образования, а в эту группу входят почти три четверти афроамериканцев.
Помимо этого, повсеместной остаётся дискриминация, хотя зачастую в скрытых формах. Для финансового сектора Америки афроамериканцы стали объектом для эксплуатации, особенно в годы накануне финансового кризиса. Им продавались волатильные финансовые продукты с высокими комиссионными, которые могли обесцениться и обесценились. Тысячи человек потеряли свои дома, а разница в уровне богатства, уже и так значительная, в итоге ещё больше возросла. Один из ведущих банков страны – Wells Fargo – выплатил огромные штрафы за то, что назначал более высокие процентные ставки для афроамериканских и латиноамериканских заёмщиков. Однако за другие многочисленные случаи злоупотреблений никто так и не был привлечён к ответственности. Спустя почти 50 лет после принятия антидискриминационных законов коллективный расизм, жадность и злоупотребление рыночной силой продолжают ухудшать положение афроамериканцев.
Впрочем, есть несколько причин для надежды. Прежде всего, наше понимание, что такое  дискриминация, значительно улучшилось. Раньше лауреат Нобелевской премии, экономист Гэри Беккер мог утверждать, что на конкурентном рынке дискриминация невозможна; рынок повысит зарплату всем, чья работа оплачивается недостаточно. Но сегодня мы понимаем, что рынки крайне несовершенны (это касается, в частности, конкуренции и доступа к информации), а это открывает широкие возможности для дискриминации и эксплуатации.
Кроме того, мы теперь знаем, что США платят высокую цену за неравенство и особенно высокую цену за расовое неравенство. Общество, в котором существуют подобные социальные разногласия, не может быть маяком для мира, а его экономика не будет процветать. Реальная сила США заключается не в их военной мощи, а в их мягкой силе, а она серьёзно ослабляется, причём не только Трампом, но и сохраняющейся расовой дискриминацией. Абсолютно все проиграют, если эта проблема будет и дальше оставаться нерешённой.
Самым многообещающим сигналом стало повышение гражданской активности, особенно среди молодёжи, которая понимает, что для США давно пришла пора начать жить в соответствии со своими идеалами, столь благородно сформулированными в «Декларации независимости»: все люди созданы равными. Прошло 150 лет после отмены рабства, но наследие той системы до сих пор остаётся неизжитым. Потребовалось сто лет, чтобы принять законы, гарантирующие равные права; однако сегодня контролируемые республиканцами суды и политики-республиканцы зачастую отказываются следовать этим принципам.
В завершении своей главы я написал: «Альтернативный мир возможен. Но 50 лет борьбы показали нам, насколько трудно добиться его воплощения». Для дальнейшего прогресса потребуется решимость с опорой на веру, выраженную в бессмертных словах спиричуэла, который стал гимном движения за гражданские права: «Мы преодолеем».