Istanbul ukazuje jak vítězit v zápase o demokracii
ISTANBUL – Když turecká Vrchní volební rada, většinově složená z členů jmenovaných prezidentem Recepem Tayyipem Erdoğanem, 6. května anulovala mimořádně důležité istanbulské komunální volby, svět byl právem znepokojen. Avšak poté, co teď proběhlo další hlasování, by měl být znepokojen Erdoğan.
Letošní obecní volby – původně konané 31. března – byly všeobecně považovány za referendum o Erdoğanově autoritářské vládě. Po opakovaných volbách v Istanbulu jsou nyní výsledky úplné. Opoziční koalice, vedená Republikánskou lidovou stranou (CHP), zvítězila ve třech nejvýznamnějších metropolitních oblastech Turecka: Ankaře, Izmiru a Istanbulu. Coby ekonomické hlavní město a nejlidnatější metropole země byl opravdovou trofejí právě Istanbul. Kromě symbolického významu těm, kdo jej ovládají, propůjčuje také značnou moc a prostředky (a příležitosti ke korupci). Jak řekl sám Erdoğan, "kdo vyhraje Istanbul, vyhraje Turecko".
Tak jako populističtí lídři na Filipínách, v Brazílii, Maďarsku, Polsku a jinde, také Erdoğan, jenž vlastní politickou kariéru zahájil v roce 1990 právě jako starosta Istanbulu, se zdál připraven udělat vše pro to, aby zvrátil volební výsledek, který mu nevyhovuje. Opozice však ignorovala ty, kdo chtěli, aby opakované volby bojkotovala, a místo toho se do nových voleb pustila s ještě větším nasazením a Erdoğanovu Stranu spravedlnosti a rozvoje (AKP), která vládne Turecku od roku 2002 a Istanbulu od roku 1994, s převahou porazila. Nový starosta, Ekrem Imamoğlu z CHP, v souboji s bývalým ministerským předsedou Binalim Yıldırımem z AKP ukořistil přes 54 % hlasů.
Význam tohoto výsledku sahá za hranice Istanbulu, a dokonce Turecka, neboť vrhá světla reflektorů na největší slabinu autoritářských populistů: volební urny. Dnešní populisté nejsou stejní jako někdejší siloví despotové v Latinské Americe, jižní Asii a Turecku, kteří oblékali vojenský mundúr a jezdecké boty a moci se chápali uskutečňováním pučů. Tito dřívější nepřátelé demokracie, jako Augusto Pinochet v Chile, se na svých pozicích drželi pouhým násilím a běžně vraždili, mučili a věznili každého, kdo se stavěl proti jejich vládě.
Naproti tomu populističtí autoritáři uplynulých dvou desetiletí se k moci dostali prostřednictvím voleb a své odpůrce (obvykle) nevraždí. Ve většině případů byli zvoleni, protože formulovali a pak zužitkovali rozhořčení veřejnosti nad ekonomickými nerovnostmi a rozdmýchanými kulturními rozepřemi. Jakmile se dostali k moci, legitimitu svého vládnutí opírají o projevy voličské podpory, již si zajišťují vymezením svých stoupenců v kontrastu k jiným (méně hodnotným) členům společnosti.
Problém je samozřejmě v tom, že se strategií založenou na polarizaci voličů se nepojí oddanost svobodným a spravedlivým volbám, natož úcta k občanským právům. Přesto je důležité nezapomínat, že v posledku spoléhají na fasádu většinové podpory, a právě proto cítí nutnost vychylovat volby ve svůj prospěch a tlačit na mediální domy, aby je opěvovaly.
Subscribe now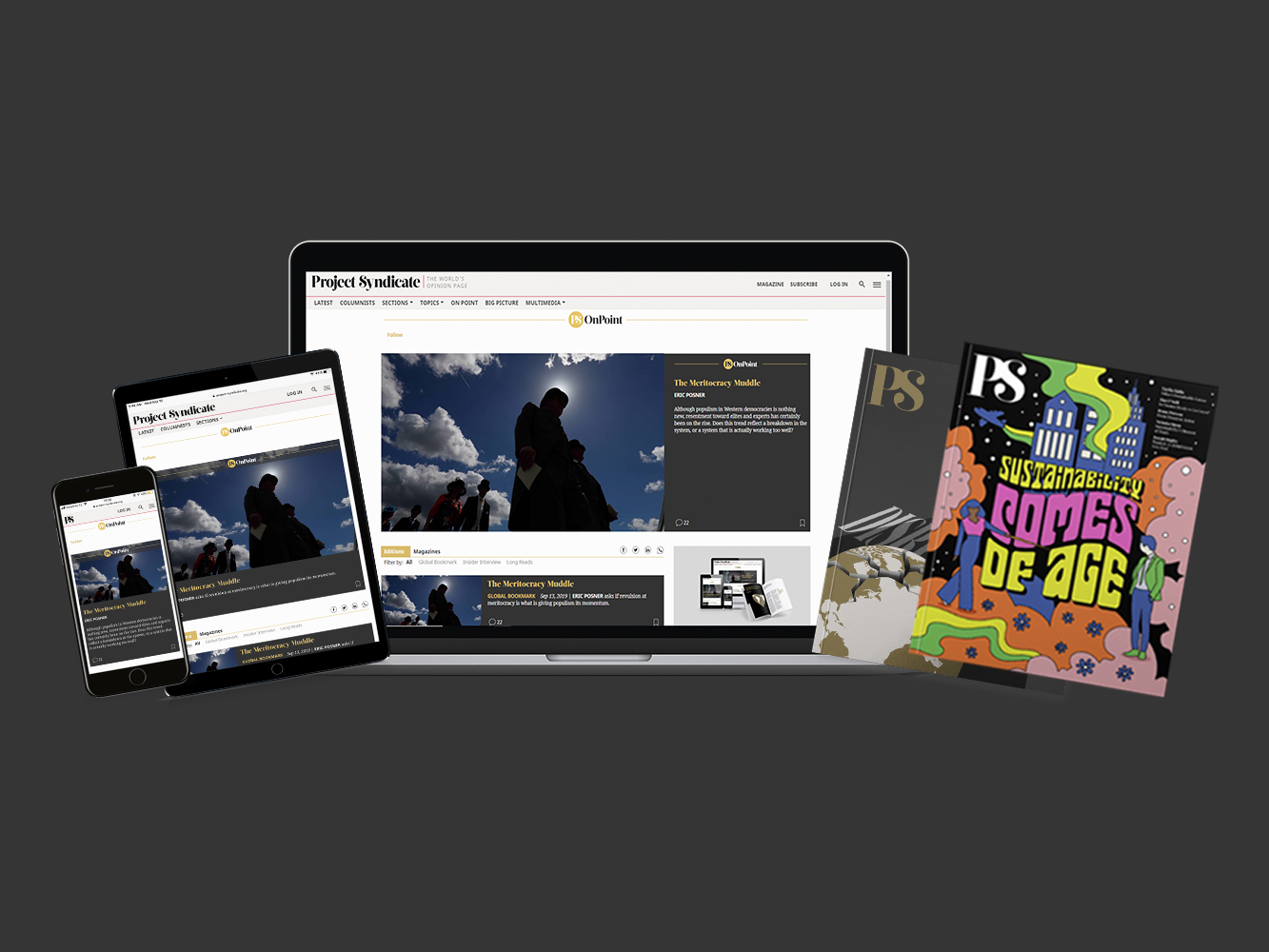 Subscribe now
Subscribe today and get a free copy of our new magazine, Sustainability Comes of Age, along with unlimited access to OnPoint, the Big Picture, the entire PS archive of more than 14,000 commentaries, and our annual magazine, for less than $2 a week.
Erdoğan už tohoto receptáře bohatě využil. K moci vystoupal čerpáním mízy z ukřivděnosti více nábožensky založených, méně vzdělaných a méně pozápadněných Turků, kteří se cítili politicky nevyslyšení, ekonomicky vytěsňovaní a kulturně přezíraní. (Ve skutečnosti se příslušníci této kohorty desítky let v různých formách na moci podíleli, ale postupně sílila jejich ctižádost.)
Jakmile se Erdoğan dostal k moci, zdůrazňoval svou oblibu u "lidu" a během posledních 17 let si vychutnal několik volebních vítězství. Zároveň ale sílila jeho panovačnost. Tištěná média ani televizní stanice už v Turecku nemají nezávislost a tamní byrokracii, soudnictví a bezpečnostní složky ovládají Erdoganovi věrní.
Až donedávna takto pokřivené hřiště způsobovalo, že Erdoğan dokázal vyhrávat volby a opírat svou legitimitu o všeobecnou podporu. Když ale ve všeobecných volbách v červnu 2015 AKP ztratila parlamentní většinu, Erdoğan musel přitvrdit. Jako prezident znemožnil vznik koaliční vlády a vynutil si nové volby v polarizovanějším a čím dál represivnějším prostředí. Jelikož z nových voleb vyšel vítězně, jeho legitimita ani autorita neutrpěly.
Erdoğanův pokus zvrátit výsledek istanbulských voleb se řídil toutéž logikou. Když teď ale prohrál, ukázala se jeho Achillova pata. Kdo vyhrává u voleb, u voleb také prohraje. Právě tam je třeba dnešní populistické autoritáře přemoci a právě tam může začít obnova demokracie.
Zřetelnou soudobou výjimkou je Venezuela pod vedením prezidenta Nicoláse Madura. Přestože se Maduro zprvu dostal k moci prostřednictvím voleb, jeho vláda se vždy opírala o moc nad armádou a do současnosti už ustoupil od veškerého předstírání všeobecné legitimity. Brazílie, Filipíny a mnohé další země ovládané populisty nejsou ale na téže lodi. Pro ně, jakož i pro samotné Turky jsou istanbulské volby důležitým ponaučením.
CHP se dlouho nedařilo zajistit účinnou protiváhu k AKP, protože odmítala vytvořit širokou platformu a lpěla na své tradiční úloze strany rigidního sekularismu. To se však změnilo s nástupem Imamoğlua, který vedl pozitivní kampaň soustředěnou na zlepšení blahobytu, zajištění lepších městských služeb, omezování odpadů, potlačení korupce a – v případě znovuzvolení – obnovu demokracie. Sečteno podtrženo, vyhrál, protože překonal mantinely polarizujících, zpátečnických ideologických linií. Obdobně pragmatický přístup, který se zaměřuje na zlepšování života lidí, by měl být významnou výzvou pro populisty všude jinde.
Ovšemže nenastal konec vlády AKP v Turecku. Erdoğan nemusí usilovat o znovuzvolení až do roku 2023 a jeho strana má silnou parlamentní většinu. Aby CHP upevnila svou věrohodnost, musí plnit své předvolební sliby, což nebude lehké, když se jí Erdoğan bude snažit na každém kroku podrážet nohy. Populisté ale v posledku odvozují svou moc od skutečných křivd. Opoziční strany mohou vydobýt demokracii zpět od jejích populistických uzurpátorů jedině řešením těchto křivd, nikoli jejich ignorováním.
Z angličtiny přeložil David Daduč
,