El nuevo eje de Medio Oriente
BERLÍN – Vivimos en un tiempo de transición geopolítica. Mucho se habla, y con razón, del intento de China de reemplazar a Estados Unidos como primera potencia mundial (o al menos compartir el liderazgo global). Pero además, hay una transformación de las dinámicas generales que hasta ahora definían a Medio Oriente, y es probable que aquí también haya una pérdida de influencia estadounidense.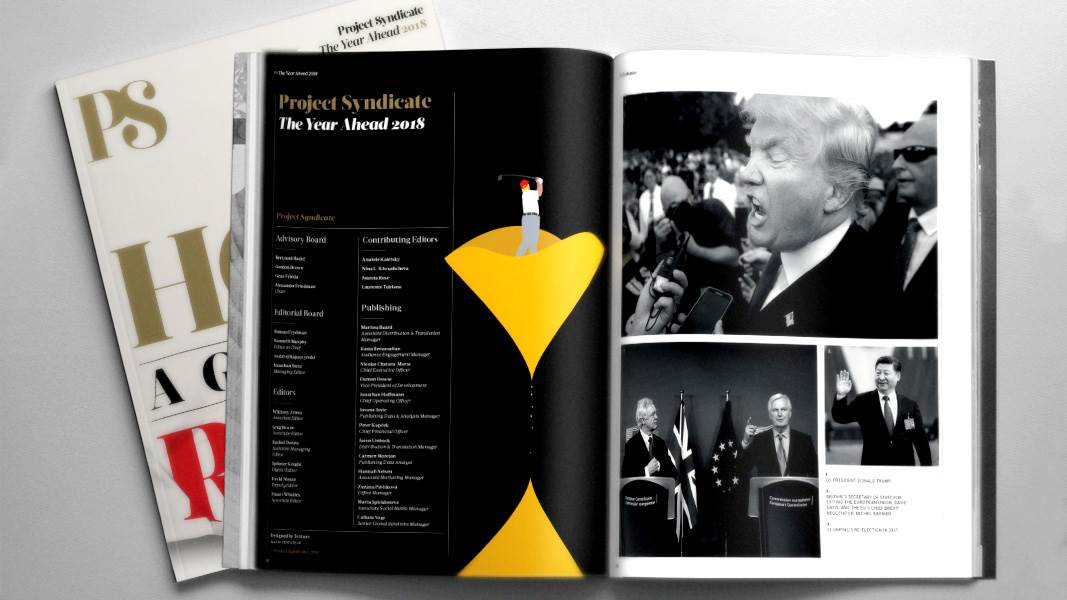 The Year Ahead 2018
The world's leading thinkers and policymakers examine what's come apart in the past year, and anticipate what will define the year ahead.
Hace poco más de un siglo, el acuerdo Sykes-Picot dividió a Medio Oriente entre Francia y Gran Bretaña, y trazó fronteras nacionales que todavía siguen vigentes. Pero ahora el orden regional está cambiando.
Desde la fundación de Israel, la geopolítica de la región giró en gran medida en torno del conflicto árabe‑israelí, que llevó a una serie de guerras (la primera de ellas en 1948) que fueron ganadas sin excepción por Israel. Pero la posibilidad de que israelíes y palestinos llegaran a un acuerdo razonable que trajera paz a Medio Oriente siguió siendo un tema central de la política internacional.
Lo más cerca que estuvieron ambas partes de lograr la paz fue durante el período que comenzó con la firma del primer acuerdo de Oslo el 13 de septiembre de 1993 y terminó con el asesinato del entonces primer ministro israelí Yitzhak Rabin el 4 de noviembre de 1995. Recordemos que los acuerdos de Oslo de 1993 y 1995 no definieron el estatus de Jerusalén, ya que se consideró que era una cuestión demasiado delicada y difícil para intentar resolverla antes de que concluyera el proceso de paz.
El conflicto entre Israel y Palestina dejó de ser central para la región tras la invasión estadounidense de 2003 a Irak, y más aún después del comienzo de la Primavera Árabe, a fines de 2010. Después de 2011, la guerra civil siria y el surgimiento de Estado Islámico (ISIS) dominaron la narrativa regional. Pero ahora que una coalición internacional expulsó a ISIS de su "califato" en Siria e Irak, la lucha por el dominio regional entre Irán y Arabia Saudita pasó a primer plano.
Hasta ahora, el enfrentamiento entre ambos países se limitó en gran medida a librar guerras por intermediarios en Siria y Yemen. Pero el apoyo de las partes a facciones rivales en el Líbano y la disputa diplomática que se desarrolla entre Qatar y Arabia Saudita también son parte de esa competencia más amplia.
En este contexto, el irresuelto conflicto entre Israel y Palestina parecía reducido a la condición de una disputa periférica. Eso fue hasta que el gobierno del presidente estadounidense Donald Trump decidió reconocer unilateralmente a Jerusalén como capital de Israel.
El gobierno y la Knesset (parlamento) de Israel tienen sus sedes en Jerusalén occidental, que es destino habitual de visitas oficiales de dignatarios extranjeros. Pero la comunidad internacional nunca convalidó la anexión unilateral de Jerusalén oriental por Israel después de la Guerra de los Seis Días (1967), y otros países (entre ellos Estados Unidos) han mantenido sus embajadas en Tel Aviv, porque saben que el estatus de Jerusalén es una cuestión política y religiosa complicada.
Además, el resto de los países entiende que tomar partido respecto de Jerusalén dificultaría una eventual solución de dos estados (ya prevista en el plan de 1947 de las Naciones Unidas para la partición de Palestina), porque tanto israelíes cuanto palestinos proclaman la ciudad como capital propia.
En 1947 no fue posible llegar a una solución de dos estados porque los países árabes respondieron a la fundación de Israel con una guerra. Pero en 1993 se vio como un gran avance la decisión de los palestinos de reconocer finalmente la existencia de Israel.
Pese a que los diplomáticos todavía hablan de un proceso de paz para Medio Oriente, hace muchos años que no existe tal cosa. La solución de dos estados es la única opción concebible capaz de satisfacer a ambas partes, pero el correr del tiempo y la expansión continua de los asentamientos israelíes en Cisjordania la vuelven cada vez menos creíble. Y ahora, el reconocimiento estadounidense de Jerusalén como capital de Israel puede clausurar para siempre esa solución.
Pero la alternativa (un estado binacional) pone a Israel frente al dilema de seguir siendo democrático o seguir siendo judío, pero no ambas cosas. Y descartada ya la búsqueda de un estado propio, los palestinos no tardarían en demandar en vez de eso la igualdad de derechos civiles.
Existe una tercera opción, al menos en teoría: crear un estado palestino en Gaza (extendido hasta el norte del Sinaí) bajo control de facto de Egipto, y al mismo tiempo dividir Cisjordania entre Israel y Jordania. Pero los palestinos nunca aceptarán esta salida, y para Israel, no resolvería el problema de convertirse en un estado binacional.
No se entiende por qué Trump decidió actuar en relación con Jerusalén justo ahora. ¿Fue resultado de su habitual irracionalidad, o de la política interna? ¿O será que tiene en mente una nueva solución territorial que trasciende los parámetros tradicionales del conflicto entre Israel y Palestina?
Hay que señalar que la maniobra unilateral de Trump provocó una tibia respuesta de las principales potencias árabes (Arabia Saudita, Egipto y Jordania). La prioridad de Arabia Saudita es contrarrestar a Irán; y como se sabe demasiado débil para ganar esa batalla sola (particularmente en el Líbano y Siria), seguirá fortaleciendo lazos con los otros rivales de Irán, especialmente la superpotencia militar de la región: Israel.
Es probable que la alianza emergente entre Arabia Saudita e Israel, otrora impensable, se convierta en una de las fuerzas dominantes del nuevo Medio Oriente. Sólo el tiempo dirá cuál será el precio de esta alianza contra Irán.
Traducción: Esteban Flamini