Der alte Nahostkonflikt und der neue Nahe Osten
BERLIN – Wir leben in einer Zeit des Übergangs, global schickt sich China an, die USA als Führungsmacht abzulösen oder zumindest zum Ko-Partner in der Führung zu werden. Und auch im Nahen und Mittleren Osten verschieben sich die bisher bekannten Parameter seiner Ordnung oder besser: Konflikte.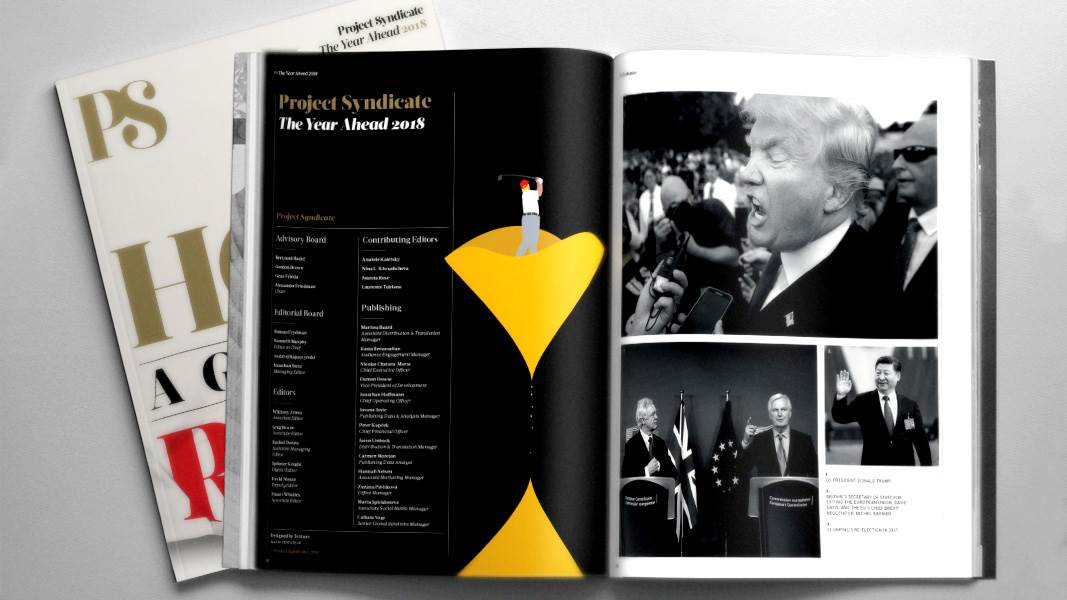 The Year Ahead 2018
The world's leading thinkers and policymakers examine what's come apart in the past year, and anticipate what will define the year ahead.
Ziemlich genau hundert Jahre nach dem Sykes–Picot Abkommen, durch das die beiden europäischen Kolonialmächte Frankreich und Großbritannien den  post-osmanischen Nahen Osten unter sich aufteilten und dessen Grenzen entsprechend ihrer Interessen zogen,  die bis heute gültig sind, mehren sich die Anzeichen, dass sich die Ordnung der Region und die Einordnung der existenten Konflikte zu ändern beginnt.
Diese Region war seit 1948, seit der Gründung des Staates Israel, und dem ersten israelisch-arabischen Krieg, den Israel gewonnen hatte, wie alle anderen, die danach kamen, auch, hat dieser Konflikt die Region dominiert und strukturiert. Eine der großen Fragen der Weltpolitik lautete seitdem, ob und wenn ja, wie und vor allem wann es gelingen könnte, einen friedlichen Ausgleich zwischen Israel und den Palästinensern zu erreichen, um so den Nahen Osten zu befrieden.
Nie waren die Konfliktparteien dem Frieden so nahe, wie zwischen der Unterzeichnung der beiden Oslo-Vereinbarungen 1993 und 1995 und der Ermordung von Ministerpräsident Rabin am 4. November 1995. In beiden Vereinbarungen blieb allerdings der Status von Jerusalem offen, weil zu sensitiv und kompliziert und sollte erst in späteren Verhandlungen gelöst werden. 
Mit der US Intervention im Irak, dem arabischen Frühling und in dessen Gefolge des
syrischen Bürgerkriegs und dem Entstehen des Islamischen Staates und seines Terrorstaates in Syrien/Irak, der jedoch mittlerweile wieder durch eine internationale Koalition niedergekämpft wurde, verlor der israelisch arabische Konflikt seine zentrale Rolle in der Region.
An seine Stelle tritt ein Konflikt zwischen Iran und Saudi-Arabien um die Vorherrschaft in der Region, der bisher noch im wesentlichen in Form von Stellvertreterkriegen in Syrien, dem Jemen und perspektivisch auch im Libanon geführt wird. Auch der Konflikt um Katar gehört dazu.
Der israelisch-palästinensische Konflikt, der mitnichten gelöst war, schien durch den Gang der Ereignisse auf einen Randkonflikt herabgestuft worden zu sein, bis die US Regierung unter Präsident Trump sich dazu entschloss, Jerusalem einseitig als Hauptstadt Israels anzuerkennen.
Staatspräsident, Regierung und Parlament des Staates Israel haben ihren Sitz in Westjerusalem, offizielle Besuche finden dort statt, aber weder war die einseitige Annektion Ost-Jerusalems durch Israel international anerkannt worden, noch waren bisher die Botschaften, der in dem Land vertretenen Staaten von Tel Aviv nach Jerusalem umgezogen, weil alle wussten, als wie heikel sich diese Statusfrage nicht nur aus politischen, sondern auch aus religiösen Gründen für eine mögliche Zwei-Staaten-Lösung erweisen würde. Denn sowohl Israelis als auch Palästinenser beanspruchen Jerusalem als ihre Hauptstadt. Die Zwei-Staaten-Lösung geht auf den Teilungsplan der Vereinten Nationen von 1947 zurück. Er funktionierte und funktioniert aber nicht, da sich beide Seiten über die endgültige Grenzziehung unter Einschluss Jerusalems und auf wesentliche Sicherheitsfragen nicht einigen konnten und können. Es war ja nach Jahrzehnten bereits ein großer Fortschritt, dass die arabische Seite die Existenz Israels anerkannte.
Zwar sprechen Diplomaten nach wie vor von dem Nahost-Friedensprozess, aber über die Jahre hinweg gab es kaum mehr Fortschritte, sodass sich weder Frieden noch ein Prozess finden ließen. Die einzig theoretisch denkbare Lösung, die den Interessen beider Nationen entsprechen würde – zwei Staaten – wird mit dem Ablauf der Zeit und dem voranschreitenden Ausbau der israelischen Siedlungen auf der Westbank immer weniger glaubwürdig und die einseitige Festlegung der USA in der Jerusalemfrage könnte diesen Glaubwürdigkeitsverlust so verstärkt haben, dass damit das Ende der Zwei-Staaten-Lösung faktisch besiegelt wurde.
Ob diese Entwicklung im Interesse Israels ist, muss mit guten Gründen bezweifelt werden. Denn die Alternative zu den zwei Staaten wäre ein binationaler Staat von Israelis und Palästinensern – was definitiv nicht im Interesse Israels sein kann, gleichwohl aber der Realität heute unter der anhaltenden Besatzung der palästinensischen Gebiete im Westjordanland entspricht.
Jede Form von Binationalität wird Israel vor die Alternative Demokratie oder jüdischer Charakter und Mehrheit des Staates stellen und deshalb kaum funktionieren. Verschwindet aber die Hoffnung auf zwei Staaten, dann ist es nur eine Frage der Zeit, bis die Palästinenser den Kampf für einen eigenen Staat zugunsten des Kampfes für gleiche Bürgerrechte aufgeben werden.
Eine dritte Option existiert nur in der Phantasie: Einen Palästinenserstaat in einem in den Nordsinai hinein vergrößerten Gaza, quasi unter ägyptischer Kontrolle. Und eine Teilung des Westjordanlandes mit Jordanien. Aber erstens würden die Palästinenser eine solche Lösung nicht akzeptieren und zweitens auch nicht das Problem des binationalen Staates für Israel lösen.
Es fiel auf, dass die Reaktion der wichtigsten arabischen Staaten – Saudi-Arabien, Ägypten und Jordanien –auf Trumps Entscheidung sehr moderat ausfiel. Für die Saudis hat Iran offensichtlich absolute Priorität und deshalb wird Saudi-Arabien versuchen, die israelische Militärmacht vor allem in Libanon und in Syrien zu nutzen. Aber ohne Israel und die USA im Hintergrund ist Saudi-Arabien für eine Roll-Back-Strategie gegenüber dem Iran viel zu schwach.
Ein formell nicht erklärtes Bündnis zwischen dem saudischen Königreich und Israel wird im neuen Nahen Osten seinen Preis haben, für beide Seiten. Warum hat Trump jetzt die Jerusalementscheidung getroffen? Warum ausgerechnet jetzt?
Gewiss, bei Donald Trump muss man den Irrationalitätsfaktor sehr hoch veranschlagen. Dennoch spricht vieles dafür, dass die amerikanische Entscheidung eher mit dem Hegemonialkonflikt im neuen Nahen Osten im Zusammenhang steht, als mit innenpolitischen Interessen. Gehört dazu auch eine Neuausrichtung des israelisch-palästinensischen Konflikts, weg von den alten Parametern einer Teilung des Territoriums hin zu einer anderen territorialen Ausrichtung um den Preis einer gemeinsamen antiiranischen Front? Die Zukunft wird es zeigen.