Eine "echte" Industriepolitik für alle
WASHINGTON, DC – In der Januarausgabe 1954 von The Atlanticargumentierte John F. Kennedy, damals Juniorsenator für Massachusetts im US-Kongress, dass man die laufende Abwanderung von Branchen aus Neu-England in den Süden des Landes nicht behindern sollte. Er forderte die Regierung stattdessen auf, Kredite und andere Formen der Unterstützung bereitzustellen, um Unternehmen mit Sitz in Neu-England zu unterstützen, Industriearbeiter umzuschulen und lokale Agenturen für industrielle Weiterentwicklung zu finanzieren.
Kennedy erkannte, dass der Staat eine wichtige Rolle dabei zu spielen hatte, sowohl den Süden zu fördern als auch die Entwicklung neuer Industrien in Neu-England zu unterstützen. Heute steht die Industriepolitik nach Jahrzehnten an den Rändern der politischen Debatte erneut auf der Tagesordnung. Neben der chinesischen Initiative "Made in China 2025", der vor kurzem veröffentlichten industriellen Strategie Großbritanniens und einem neuen deutsch-französischen politischen Manifest haben auch die Länder des Golf-Kooperationsrates Strategien zur Entwicklung von Sektoren außerhalb der Ölbranche entwickelt, und viele Entwicklungsländer verfolgen ähnliche Diversifizierungsbemühungen.
Diese Politik ist eine Reaktion auf den Druck durch den internationalen Wettbewerb, eine auf breiter Front zurückgehende Produktivitätszunahme, Arbeitsplatzverluste in der Industrie und zunehmende Ungleichheit. Doch hat die Industriepolitik schon immer eine intensive Debatte unter Politikern und Wissenschaftlern ausgelöst. Ihre Kritiker argumentieren, dass derartige Strategien in vielen Ländern nicht funktioniert und zu Vetternwirtschaft und Korruption geführt hätten. Ein besserer Ansatz bestünde darin, die Rolle des Staates innerhalb der Wirtschaft zurückzufahren, das Geschäftsumfeld zu verbessern und in Infrastruktur und Bildung zu investieren. Unter günstigen Umständen würden Firmen und Unternehmer hervortreten und sich vermehren. Die realweltlichen Fehlschläge der Industriepolitik in Lateinamerika und anderswo bestätigen die Berechtigung dieser Sichtweise.
Befürworter der Industriepolitik dagegen argumentieren, dass wir in einer Welt des Marktversagens leben, die gewisse staatliche Eingriffe erfordere. Andernfalls würden sich neue Sektoren – insbesondere hochentwickelte Technologiesektoren – selbst in einem günstigen Geschäftsumfeld schlicht nicht herausbilden. Dieses Lager konzentriert sich naturgemäß auf vergangene Erfolge insbesondere in den ostasiatischen Volkswirtschaften.
In einem kürzlich erschienen Arbeitspapier des Internationalen Währungsfonds haben wir diese vergangenen Erfolge genutzt, um drei Prinzipien zu ermitteln, die dem zugrundeliegen, was wir als "echte" Industriepolitik bezeichnen. In den asiatischen Wirtschaftswunder-Volkswirtschaften – wie etwa Singapur und Südkorea – sowie in Japan, Deutschland und den USA intervenierte der Staat frühzeitig, um einheimische Unternehmen in aufstrebenden, technologisch fortschrittlichen Sektoren zu fördern. Die erfolgreichen Strategien legten einen besonderen Schwerpunkt auf den Export und machten die Unternehmen für die erhaltene Unterstützung rechenschaftspflichtig. Angesichts des starken Fokus auf innovative Sektoren ist diese "echte" Industriepolitik im Wesentlichen eine Technologie- und Innovationspolitik.
Technologie und Innovation sind für das Wirtschaftswachstum von zentraler Bedeutung. Chinas Programm "Made in China 2025" imitiert im Wesentlichen die von Südkorea (und zuvor Japan) genutzte Strategie, um der sogenannten Falle des mittleren Einkommens zu entgehen. Die neuen britischen und deutsch-französischen Strategien konzentrieren sich in ähnlicher Weise auf Zukunftsbranchen wie erneuerbare Energien, künstliche Intelligenz und Robotik.
Subscribe now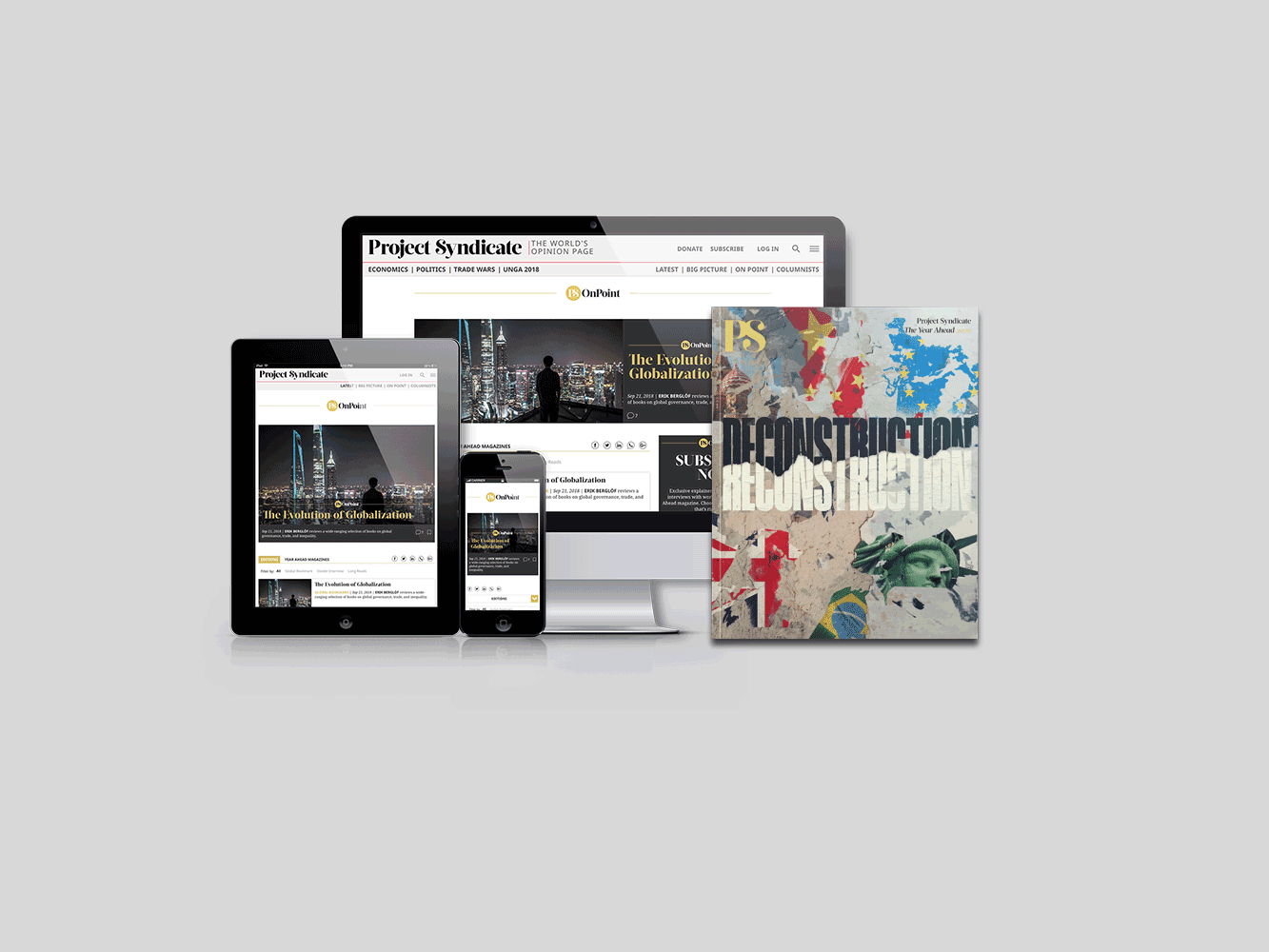 Subscribe now
Subscribe today and get unlimited access to OnPoint, the Big Picture, the PS archive of more than 14,000 commentaries, and our annual magazine, for less than $2 a week.
Aus potenziell disruptiven Innovationen Kapital zu schlagen ist für hochentwickelte Länder und Entwicklungsländer gleichermaßen eine Option. Unabhängig vom eigenen Platz innerhalb der globalen Wertschöpfungskette eröffnet die Produktion von hochmoderner Technologie nicht nur einheimischen Anlegern und Unternehmen Chancen, sondern auch Verbrauchern und Branchen andernorts. Zudem könnten vom technologischen Fortschritt in den USA, China, Großbritannien, Frankreich, Deutschland und anderen Ländern alle profitieren, was weltweit zum Wettbewerb, zur Innovation und zum Lebensstandard beitragen würde.
Genau wie es zwei Flügel braucht, um zu fliegen, bedarf es des Staates und des Marktes, um eine effektive Technologie- und Innovationspolitik umzusetzen. Tatsächlich ist "Staat oder Markt" genau die falsche Herangehensweise. Wie wir in unserem 2016 erschienen Buch Breaking the Oil Spell argumentieren, muss der Staat die Führung dabei übernehmen, Ressourcen in Richtung von Aktivitäten zu lenken, die der Markt möglicherweise anfänglich nicht von selbst unterstützt. Zugleich müssen sich die Regierungen an auf Marktsignalen beruhende Entscheidungsprozesse halten, um Raum für einen autonomen, wettbewerbsgeprägten privaten Sektor zu gewährleisten. Wie die Ökonomin Mariana Mazzucatoargumentiert: "Wenn die Öffentlichkeit die Führung übernimmt und ehrgeizig ist – und nicht nur unterstützend oder demütig daherkommt –, kann sie die Grenze hinausschieben."
Wie Mazzucato in The Entrepreneurial State erläutert, förderten die USA bei ihrer damaligen Reaktion auf das Verschwinden der Altindustrien Neu-Englands zugleich aktiv die technologische Innovation und stachelten durch öffentliche Investitionen in Forschung und Entwicklung sowie durch die staatliche Beschaffungspolitik zur Entwicklung neuer Sektoren an. Tatsächlich entfielen 1979 mehr als die Hälfte aller Käufe von Flugzeug-, Funk- und Fernsehausrüstung auf das Beschaffungswesen der US-Bundesregierung.
Allgemeiner gibt es viele theoretische und empirische Gründe für den Staat, die Heranführung zur Marktreife und die Kommerzialisierung neuer Technologien durch öffentliche Forschung und Entwicklung, die Bereitstellung von Wagniskapital und Investitionen in Infrastruktur und Qualifizierung zu unterstützen. Derartige Ausgaben nutzen nicht nur bestehenden Innovationszentren, sondern tragen auch zur Bildung neuer derartiger Zentren bei. Die Auswirkungen staatlich geleiteter Entwicklung lassen sich am besten durch Kennedys Forderung des Jahres 1961 nach einem Mondflug belegen: Eine scheinbar unmögliche Aufgabe wurde bis Ende des Jahrzehnts Realität.
Die Bemühungen der USA zur Förderung von Technologie und Innovation haben zu bahnbrechenden Fortschritten in den Naturwissenschaften und bei disruptiven Technologien und zur Geburt weltweit führender Hightech-Branchen geführt. Viele asiatische Volkswirtschaften, die in Amerikas Fußtapfen getreten sind, haben eigene Wirtschaftswunder erreicht, indem sie eine "echte" Industriepolitik verfolgt haben. Heute haben alle Länder eine Chance, eine Nische zu finden, in der sie eine Technologie- und Innovationspolitik umsetzen können. Wenn sie dabei Erfolg haben, werden wir alle von den dadurch bedingten Wissenstransfers profitieren.
Aus dem Englischen von Jan Doolan
,