Una "verdadera" política industrial para todos
WASHINGTON, DC – En la edición de enero de 1954 de The Atlantic, John F. Kennedy, por entonces senador junior de Estados Unidos por Massachusetts, sostenía que no debía obstaculizarse la migración en curso de las industrias de Nueva Inglaterra al sur del país. Por el contrario, instaba al gobierno a ofrecer préstamos y otras formas de apoyo para asistir a las empresas radicadas en Nueva Inglaterra, volver a capacitar a los trabajadores industriales y financiar a las agencias locales de desarrollo industrial.
Kennedy reconocía que el gobierno tenía un papel importante para desempeñar tanto a la hora de promover al sur como de fomentar las nuevas industrias en Nueva Inglaterra. Hoy, la política industrial vuelve a estar en la agenda, después de haber pasado décadas en los márgenes del debate sobre políticas. Además de la iniciativa Hecho en China 2025 de China, la Estrategia Industrial del Reino Unido dada a conocer recientemente y un nuevo manifiesto de políticas franco-alemán, los países del Consejo de Cooperación del Golfo también han adoptado estrategias para desarrollar sectores no petroleros, mientras que muchos países en desarrollo están llevando a cabo esfuerzos similares de diversificación.
Estas políticas han surgido como una respuesta a las presiones de la competencia internacional, una desaceleración generalizada del crecimiento de la producción, pérdidas de empleos en la industria y una creciente desigualdad. Pero la política industrial siempre ha generado un intenso debate entre los responsables de las políticas y los académicos. Los críticos sostienen que estas estrategias no han funcionado en muchos países y que, en cambio, han resultado en clientelismo y corrupción. Una mejor estrategia, sostienen, es reducir el papel del estado en la economía, mejorar el ambiente de negocios e invertir en infraestructura y educación. En condiciones favorables, las empresas y los emprendedores surgirán y se reproducirán en multitudes. Los fracasos de las políticas industriales en el mundo real en América Latina y otras partes confirman la validez de esta visión.
Los defensores de la política industrial, en cambio, sostienen que vivimos en un mundo de fallos del mercado que exigen alguna suerte de intervención estatal. De lo contrario, los nuevos sectores, especialmente los sectores de tecnología avanzada, simplemente no prosperarían, ni siquiera en un buen ambiente de negocios. Naturalmente, este campo se centra en éxitos pasados, particularmente en las economías del este de Asia.
En un documento de trabajo reciente del Fondo Monetario Internacional, utilizamos estos éxitos pasados para identificar tres principios que sustentan lo que llamamos una "verdadera" política industrial. En las economías del "milagro" asiático –como Singapur y Corea del Sur- así como en Japón, Alemania y Estados Unidos, el gobierno intervino desde un principio para respaldar a las empresas domésticas en sectores emergentes tecnológicamente sofisticados. Las políticas exitosas colocaron un especial énfasis en la orientación exportadora, y se exigió a las empresas que rindieran cuentas por el respaldo recibido. Dado el fuerte énfasis en los sectores de vanguardia, esta "verdadera" política industrial es esencialmente una política de tecnología e innovación (TIP por su sigla en inglés).
La tecnología y la innovación son clave para el crecimiento económico. El programa Hecho en China 2025 de China emula esencialmente la estrategia utilizada por Corea del Sur (y antes por Japón) para escapar de la llamada trampa del ingreso medio. De la misma manera, las nuevas estrategias industriales del Reino Unido y franco-alemanas se centran en las industrias del futuro: energía renovable, inteligencia artificial y robótica.
Subscribe now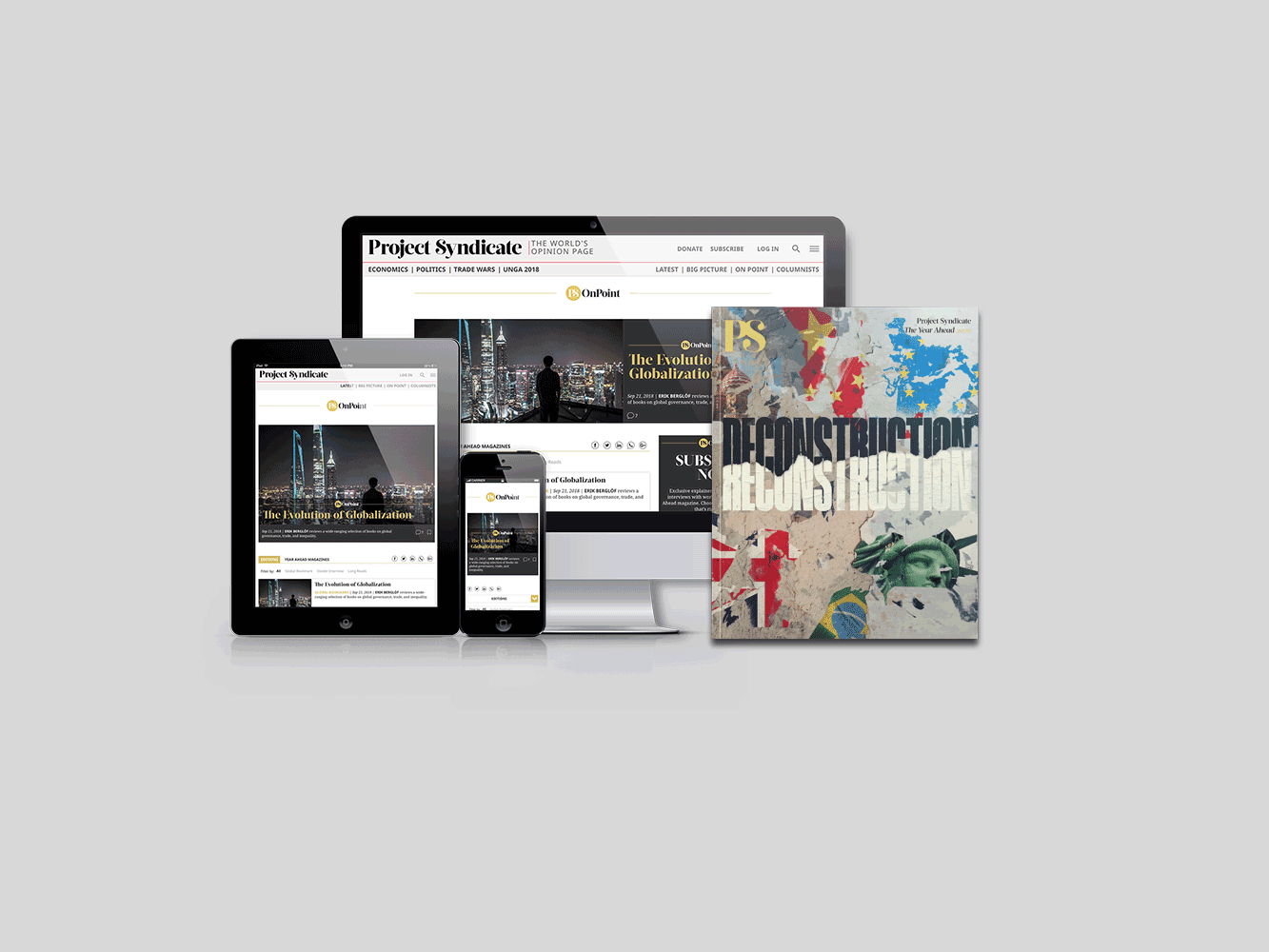 Subscribe now
Subscribe today and get unlimited access to OnPoint, the Big Picture, the PS archive of more than 14,000 commentaries, and our annual magazine, for less than $2 a week.
Capitalizar el potencial de la innovación disruptiva es una opción para países avanzados y en desarrollo por igual. Más allá del lugar que uno ocupe en la cadena de valor global, producir tecnologías de vanguardia genera oportunidades no sólo para los inversores y las empresas locales sino también para los consumidores y las industrias en otras partes. Es más, los avances tecnológicos en Estados Unidos, China, el Reino Unido, Francia, Alemania y otros países podrían ser beneficiosos para todos, ya que contribuirían a la competencia, la innovación y los niveles de vida a nivel global. 
De la misma manera que se necesitan dos alas para volar, tanto el estado como el mercado son necesarios para implementar una TIP efectiva. Por cierto, "estado vs. mercado" es precisamente la manera equivocada de pensar al respecto. Como sostuvimos en nuestro libro de 2016 Breaking the Oil Spell, el estado debe tomar la delantera en lo que concierne a dirigir los recursos hacia actividades que el mercado no podría inicialmente respaldar por cuenta propia. Al mismo tiempo, los gobiernos también deben adherir a procesos de toma de decisiones basados en las señales del mercado, para garantizar espacio para un sector privado autónomo y competitivo. Como sostiene la economista Mariana Mazzucato, "Cuando lo público toma la delantera y es ambicioso, no sólo facilitando o siendo manso, puede empujar la frontera".
Como explica Mazzucato en The Entrepreneurial State, cuando Estados Unidos lidiaba con la desaparición de las viejas industrias de Nueva Inglaterra, también promovía activamente la innovación tecnológica y fomentaba la creación de nuevos sectores a través de la inversión pública en investigación y desarrollo, así como a través de políticas de contratación por parte del gobierno. De hecho, en 1979, la contratación del gobierno federal de Estados Unidos representaba más de la mitad de las compras totales de equipos aeronáuticos, de radio y de televisión.
En términos más generales, existen muchas razones teóricas y empíricas para que el estado respalde la maduración y comercialización de nuevas tecnologías a través de investigación y desarrollo públicos, la provisión de capital de riesgo e inversiones en infraestructura y capacidades. Estos desembolsos no sólo benefician a los nodos de innovación existentes, sino también ayudan a crear nuevos. El impacto de un desarrollo liderado por el estado queda mejor ilustrado en el pedido de Kennedy en 1961 de un lanzamiento de nave espacial a la luna: una tarea aparentemente imposible se convirtió en una realidad para fines de la década.
El impulso de Estados Unidos de respaldar la tecnología y la innovación ha conducido a avances pioneros en ciencia y tecnologías disruptivas, y al nacimiento de las industrias de alta tecnología que son líderes en el mundo. Siguiendo sus pasos, muchas economías asiáticas han logrado milagros económicos propios implementando una "verdadera" política industrial. Ahora, todos los países tienen la posibilidad de encontrar un nicho en el cual implementar una TIP. Si lo logran, los derrames de conocimiento nos beneficiarán a todos.
,