Quell'eterno ottimista del Fmi
PRINCETON – Nell'aprile del 2018 il Fondo monetario internazionale aveva previsto che l'economia mondiale sarebbe cresciuta in modo robusto, a +3,9% sia per quell'anno che per il 2019. Questo balzo globale, sosteneva il Fondo, era diventato "più ampio e più forte". Quella visione si rivelò presto troppo rosea. Nel 2018 l'economia mondiale è cresciuta solo del 3,6%. E nell'aggiornamento appena pubblicato, il Fmi riconosce che il rallentamento in corso spingerà la crescita globale al ribasso ad appena il 3,3% nel 2019.
Come sempre, il Fondo attribuisce la colpa della crescita al di sotto delle previsioni a fattori temporanei, tra i cui imputati compaiono anche le tensioni commerciali Usa-Cina e le incertezze correlate alla Brexit. Quindi, il messaggio è che la crescita rimbalzerà al 3,6% il prossimo anno. Come segnala la Deutsche Bank, le previsioni del Fmi implicano che meno paesi saranno in recessione nel 2020 che in qualsiasi altro periodo degli ultimi decenni.
Ma le forze che causano la decelerazione sono ancora in atto. La crescita globale quest'anno sarà prossima al 3%, con le tensioni finanziarie in aumento in Europa.
[Grafico 1]
Il Fmi continua a sbagliare le previsioni perché perde di vista il quadro generale. I paesi avanzati a livello economico – che producono ancora circa tre quinti dell'output globale – attraversano una fase di rallentamento dal 1970. La ragione, come afferma Robert Gordon della Northwestern University, è che malgrado la promessa delle moderne tecnologie, il costante rallentamento della produttività ha trascinato al ribasso il potenziale di crescita di queste ricche economie.
Di conseguenza, la Cina ha iniziato a rivestire un ruolo dominante nel determinare il ritmo della crescita globale. Oltre alle sue notevoli dimensioni, l'economia cinese vanta anche ampi legami commerciali che riverberano la sua crescita al resto del mondo. Quando la Cina cresce, prosciuga le importazioni di altri paesi, dando un grande impulso all'economia globale. La rapida crescita cinese ha fatto andare su di giri l'economia mondiale tra il 2004 e il 2006, nel 2009-10 e nel 2017.
Subscribe now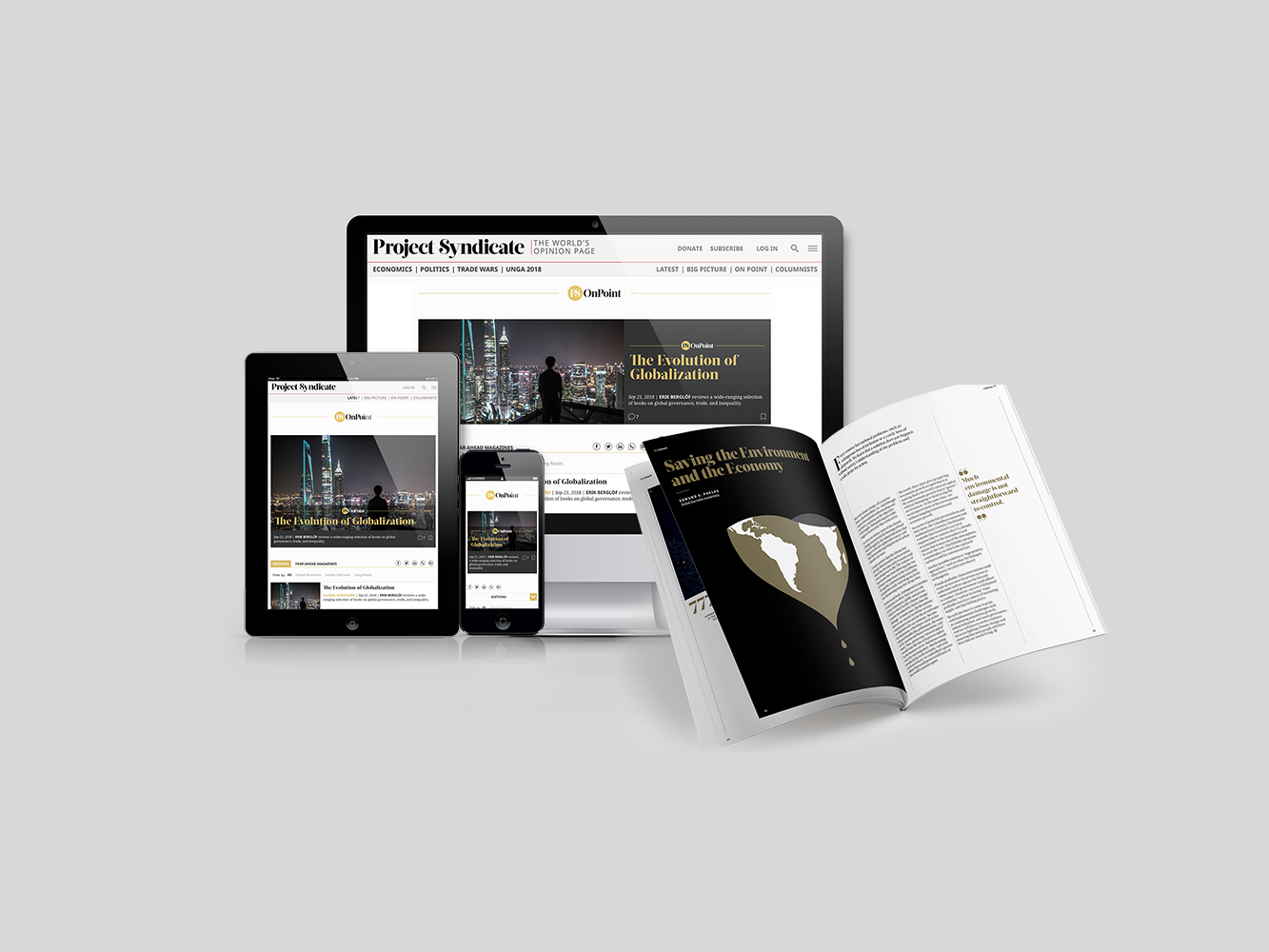 Subscribe now
Get unlimited access to OnPoint, the Big Picture, and the entire PS archive of more than 14,000 commentaries, plus our annual magazine, for less than $2 a week.
Ma i tassi di crescita un tempo inebrianti della Cina non potevano non registrare una flessione dal momento che il paese è diventato più ricco. In base agli standard storici, un'economia ricca come la Cina oggi dovrebbe crescere al 3-5% l'anno, invece che al 6% o più che le autorità cinesi tentano di raggiungere con stimoli fiscali e creditizi.
Insistere troppo su una crescita fuori-misura ha fatto salire le vulnerabilità della Cina a livelli spaventosi. Con le misure standard di espansione creditizia e di inflazione dei prezzi azionari, il paese avrebbe già dovuto attraversare una crisi finanziaria. Le autorità cinesi hanno quindi messo in campo lo yin e yang, stimolando la crescita per evitare un rapido rallentamento, ma frenando gli stimoli per contenere i rischi finanziari.
L'ultimo ciclo non è stato diverso. Nel 2017 gli stimoli delle politiche cinesi si sono diffusi in tutto il mondo, portando alla celebrazione di una "recrudescenza sincrona". A beneficiarne di più è stata l'Europa, che dipende fortemente dal commercio. Il presidente della Banca centrale europea Mario Draghi si è vantato per le abili "misure di politica monetaria", che a suo avviso avrebbero supportato un impulso ad ampio raggio.
Quando la Cina ha ritirato gli stimoli all'inizio del 2018, il Fmi, la Bce e altre istituzioni hanno ostinatamente continuato a prevedere elevati tassi di crescita, anche quando l'economia globale rallentava rapidamente. Ma ben presto l'Europa ha perso i sensi, mandando l'Italia in recessione tecnica e la Germania sul punto di una recessione. (Stranamente, l'economia del Regno Unito, con tutti i suoi guai legati alla Brexit, va marginalmente meglio di entrambe).
[Grafico 2]
Negli ultimi mesi i leader cinesi, preoccupati per il rallentamento della loro economia, hanno avviato una nuova tornata di stimoli. Sebbene i dati non siano ancora disponibili, la crescita del commercio mondiale sembra essersi ripresa leggermente da allora. I tassi di crescita europei hanno registrato un rialzo, anche se solo in modo sufficiente ad alleviare gli immediati rischi di recessione.
Per l'economia mondiale, il problema persistente resta la breve durata degli stimoli cinesi. L'OCSE ha già avvertito che gli ultimi stimoli spingeranno al rialzo il volume spaventosamente elevato dei titoli di debito societari, e che i governi locali super-indebitati contrarranno più prestiti per finanziare dispendiose infrastrutture. Di fronte alla scelta tra una crisi finanziaria o un rallentamento della crescita, le autorità cinesi – e il resto del mondo – preferiranno ancora una volta la seconda opzione. La decelerazione della Cina ripartirà nei prossimi mesi, con un nuovo effetto frenante sulla crescita mondiale. Al momento nessun paese è nella posizione di prendere il posto della Cina.  
A oscurare ulteriormente l'outlook globale ci pensa l'economia americana che sta uscendo dall'eccesso di stimoli fiscali e di rimpatri di liquidità delle aziende dall'estero. Inoltre, il rallentamento della Germania nel 2018 e all'inizio del 2019 potrebbe riflettere non solo la sua sensibilità a rallentare la crescita del commercio internazionale. La sua economia potrebbe scendere alla fine dal suo alto piedistallo dal momento che il suo famigerato comparto automobilistico basato sui motori diesel lotta per conformarsi agli standard anti-inquinamento e alla crescente concorrenza delle auto elettriche.
Il rischio reale, però, risiede in Italia. Nella checklist degli indicatori di crisi, quelli italiani sono tutti rossi. L'economia dell'Italia registra una crescita di produttività pari a zero (forse anche negativa) che non le consentono di generare uno slancio interno per uscire dalla recessione. La Bce non può aiutare in alcun modo. Il rapporto debito-Pil dell'Italia è superiore al 130%, e le assurde regole di bilancio dell'Unione europea, in ogni caso, rendono gli stimoli fiscali quasi impossibili. Le scosse nelle faglie italiane si diffonderanno rapidamente verso la Francia, che registra indicatori solo leggermente migliori e uno scarso raggio d'azione per un'efficace risposta politica a una seria contrazione economica.
Il Fmi, da sempre restio a suonare campanelli d'allarme sull'economia mondiale, è particolarmente contrario a rispondere al recente sentimento positivo. Ma con le condizioni economiche destinate a peggiorare, la compiacenza potrebbe costare molto.

Traduzione di Simona Polverino