O desafio civilizacional da China
KUALA LUMPUR – A fórmula "um país, dois sistemas" da China em Hong Kong está a falhar miseravelmente. Depois de mais de seis meses de protestos pró-democracia em larga escala – inclusive confrontos violentos com a polícia – os eleitores da cidade deram um poderoso golpe em novembro aos partidos pró-continente, que perderam 87% dos assentos para os rivais pró-democracia nas eleições do Conselho Distrital.
O significado dessas eleições não deveria ser subestimado. Embora os Conselhos Distritais tenham pouco poder, eles selecionam alguns dos 1200 eleitores que escolhem o presidente executivo de Hong Kong. Nas próximas eleições, os partidos pró-democracia ocuparão quase 10% desses lugares.
As eleições também tiveram implicações simbólicas importantes. Os Conselhos Distritais são eleitos num processo totalmente democrático (em comparação com apenas metade dos assentos no conselho legislativo de Hong Kong). Com uma impressionante participação de 71%, as eleições foram amplamente vistas como um voto de desconfiança na presidente executiva da China, Carrie Lam.
Algumas pessoas de Hong Kong perderam a fé na perspetiva de manterem a sua democracia dentro do esquema "um país, dois sistemas". Isto reflete-se nas crescentes exigências pela independência, que nunca foram ouvidas durante 155 anos de domínio britânico. Embora a independência continue a ser uma ideia marginal – em parte devido ao reconhecimento da posição intransigente da China em relação à integridade territorial – quase ninguém com menos de 30 anos em Hong Kong se identifica exclusivamente como chinês.
Uma reação similar contra a China continental também está a ocorrer agora em Taiwan. Tendo estado a desfrutar de facto a independência desde 1949, Taiwan deveria ser arrastado de volta para o redil chinês através do modelo "um país, dois sistemas". Mas o fracasso desse modelo em Hong Kong endureceu o sentimento antiChina e afastou muitos eleitores dos partidos políticos pan-azuis, que favorecem laços mais estreitos com o continente.
Isto representa uma mudança significativa em relação às eleições intermediárias do ano passado, quando o partido Kuomintang Azul conseguiu várias vitórias importantes sobre o Partido Progressista Democrático (PPD) do governo, pró-independência. Na verdade, esse resultado foi provavelmente menos sobre o desejo de estreitar laços com a China do que sobre repreender o PPD.
Subscribe now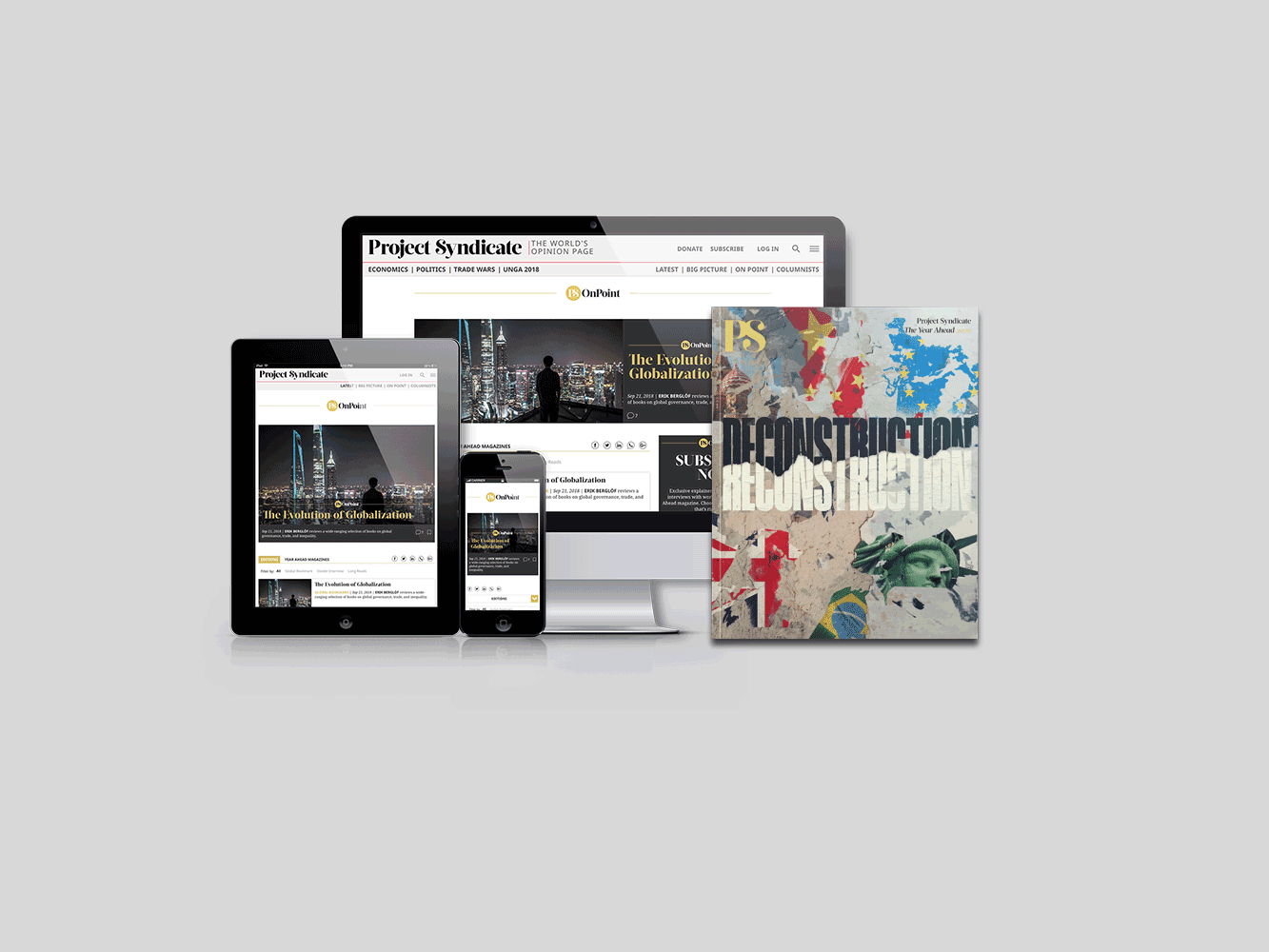 Subscribe now
Subscribe today and get unlimited access to OnPoint, the Big Picture, the PS archive of more than 14,000 commentaries, and our annual magazine, for less than $2 a week.
De facto, após o presidente chinês Xi Jinping, no seu discurso de Ano Novo, de 2019, ter incentivado Taiwan a seguir os passos de Hong Kong, a presidente Tsai Ing-wen do PPD reavivou a sua popularidade ao reafirmar a soberania de Taiwan. Amparada pela crise de Hong Kong, Tsai parece agora estar a avançar sem grande esforço em direção a uma vitória esmagadora nas eleições presidenciais de janeiro.
Longe de permitir a reunificação pacífica da China, o modelo "um país, dois sistemas" está a prejudicá-la. Talvez isso fosse inevitável, devido a uma causa mais fundamental do que a centralização do poder de Xi, a crescente interferência do Partido Comunista da China nos assuntos de Hong Kong ou mesmo a contradição básica entre um regime de partido único e uma democracia multipartidária. O estado chinês, construído sobre um paradigma milenar de ordem política, não pode lidar com conflitos intergovernamentais.
A democracia moderna baseia-se na divisão, dentro da sociedade e do estado. Na sociedade, diferentes grupos, cada um com os seus próprios interesses e prioridades, competem pela representação. No estado, existe uma separação horizontal de poderes (entre os poderes legislativo, executivo e judicial) e uma divisão vertical de poderes (entre governos nacionais e subnacionais).
Para países com historial de dominação estrangeira, essas divisões podem parecer fraquezas que podem ser exploradas por pessoas de fora usando uma estratégia de "dividir e governar". E, de facto, de acordo com a visão cíclica do mundo da China, a comunidade (Tian Xia) alterna entre a divisão (marcada pelo caos e a guerra) e a união (que restaura a paz e a ordem).
Indubitavelmente, a China mantém uma separação de poderes. Mas está muito mais confortável com os controlos e equilíbrios horizontais do que com os verticais. Durante mais de dois mil anos, as cortes imperiais chinesas nomeavam um chefe de censura para gerir ministros e burocratas, e grandes mestres de protesto para criticarem imperadores. A dinastia Song até dividiu o poder a nível provincial entre responsáveis militares, administrativos, fiscais e judiciais.
Os conflitos entre governos nacionais e subnacionais foram, no entanto, historicamente divididos em três categorias – senhores da guerra (割据, ge ju), insubordinação (不臣, bu chen) e ameaça estrangeira (外患, wai huan) – em que todas são inequivocamente negativas. Até aos dias de hoje, os governantes da China desconfiam dos líderes locais, escolhendo muitas vezes pessoas de fora para servirem como governadores provinciais e chefes de partido, e remodelando-os regularmente.
Do ponto de vista do governo chinês, "Hong Kong governada por Hong Kongers" (港人治港, gang ren zhi gang) já era uma concessão arriscada. Por isso, excluiu um presidente executivo diretamente eleito e trabalhou para reprimir a oposição, temendo que dissidentes locais agissem como agentes estrangeiros para desafiar a autoridade do governo central.
Esta medida foi um tiro que saiu pela culatra. A interferência da China prejudicou a capacidade dos "democratas" mais velhos, que se identificavam como chineses para realizarem as mudanças que as pessoas exigiam, e por isso foram substituídos por "localistas" mais jovens. Quando o governo central da China tentou reprimi-los – inclusive expulsando-os da legislatura em 2017 – a resistência intensificou-se.
No início deste ano, quando Lam apresentou um projeto que tornaria mais fácil a extradição de suspeitos de crimes para a China continental, o povo de Hong Kong estava saturado. O governo da China tentou silenciar os manifestantes, inclusive prendendo os principais ativistas. O movimento de protesto ficou assim sem liderança, tornando impossível negociar uma resolução.
Muitos dos jovens manifestantes agora acreditam que têm muito pouco a perder e que procuram efetivamente  uma "destruição mutuamente garantida". Esta estratégia de "terra queimada" torna praticamente impotentes as ameaças chinesas de repressão.
A China agora enfrenta um dilema. A menos que a democracia – com sua divisão necessária – mostre que apoia o sonho do ressurgimento civilizacional, ela carecerá de legitimidade entre os nacionalistas chineses. Mas a única maneira de reavivar a rubrica "um país, dois sistemas" é aceitar os conflitos intergovernamentais – um grande salto em direção à adoção da democracia.
O respeito institucionalizado pela identidade e autonomia regionais diminuiu o sentimento separatista em Tamil Nadu, Escócia, Quebec, região basca e Flandres, e poderia fazer o mesmo em Hong Kong e, possivelmente, até em Taiwan. Mas se a China continuar a suprimir os conflitos intergovernamentais, o colapso do modelo "um país, dois sistemas" será apenas uma questão de tempo.