Les hélicoptères arrivent
NEW YORK – Suite à l'intensification de la pandémie de Covid-19, les États-Unis viennent d'adopter un plan de sauvetage économique de 2 000 milliards de dollars (l'équivalent de 9,2 % du PIB de l'année 2019). Le vote du Congrès fait suite aux mesures sans précédent déjà adoptées par la Réserve fédérale des États-Unis, qui s'engage dans une politique illimitée d'assouplissement monétaire et a lancé de nouveaux dispositifs pour soutenir les entreprises et maintenir le fonctionnement du crédit.
Pour une bonne part, la réponse américaine prendra la forme de « monnaie hélicoptère », une forme d'action préconisée par la Théorie monétaire moderne (TMM) qui consiste à financer la relance budgétaire par la banque centrale, laquelle rachète les émissions de dette publique lorsque cette dernière est creusée par les réductions d'impôts et l'augmentation des dépenses. L'économie américaine se détériore à une vitesse spectaculaire, en partie sous le choc sanitaire direct de la pandémie de Covid-19, mais surtout en raison des mesures de distanciation sociale, qui entravent la production et la consommation.
Étant donné les circonstances, on peut penser que le programme progressif de rachat d'actifs de la Fed atteindra au moins les 2 000 milliards de dollars si c'est ce qu'il en coûte pour éviter à l'État fédéral de se fournir sur les marchés d'actifs afin de financer ses nouvelles décisions. Au mois de janvier, avant que le coronavirus ne soit reconnu comme une réelle menace, le bureau du budget du Congrès prévoyait que le déficit budgétaire excéderait pendant au moins une décennie les 1 000 milliards de dollars.
Voici quelques semaines, alors que la gravité de la crise commençait seulement d'apparaître, certains hauts fonctionnaires fédéraux ont averti que le taux de chômage pourrait atteindre aux États-Unis les 20 % en l'absence d'une réponse budgétaire forte. Mais malgré les nouvelles dispositions législatives, les suppressions d'emploi pourraient se poursuivre au cours des deuxième et troisième trimestres de cette année. Pour être efficace, le soutien budgétaire doit être méticuleusement ciblé, et toucher les ménages qui ont perdu des revenus ainsi que les entreprises (grandes et petites) qui ont perdu des recettes en raison de la pandémie. Il reste à voir si le dispositif que les États-Unis s'apprêtent à mettre en œuvre comprendra ces mesures de ciblage, ou si elles sont inenvisageables en temps et en heure.
Pendant ce temps, le Royaume-Uni mène lui aussi une énergique expérience de monnaie hélicoptère et de la théorie monétaire moderne. Pour commencer, la Banque d'Angleterre s'apprête à racheter des obligations d'État britanniques ainsi que des émissions obligataires d'entreprises en sterling, classées dans la catégorie spéculative, à la hauteur de 200 milliards de livres (238 milliards de dollars) – une politique de relance monétaire qui se monte à presque 10 % du PIB de 2019. Et du côté budgétaire proprement dit, Rishi Sunak, le nouveau chancelier de l'Échiquier, fait tomber une avalanche de mesures de relance, qui vont accroître le déficit.
Pour l'année calendaire 2020, le gouvernement britannique prévoit un déficit d'au moins 7,5 % du PIB, et peut-être même de 10 %. Mais quand bien même prévaudrait l'hypothèse haute, le déficit n'excéderait pas l'ampleur des mesures de monétisation de la dette prises par la BoE. En d'autres termes, en dépit de l'ampleur inédite de la relance budgétaire, le gouvernement britannique ne devra pas emprunter sur les marchés.
Subscribe to Project Syndicate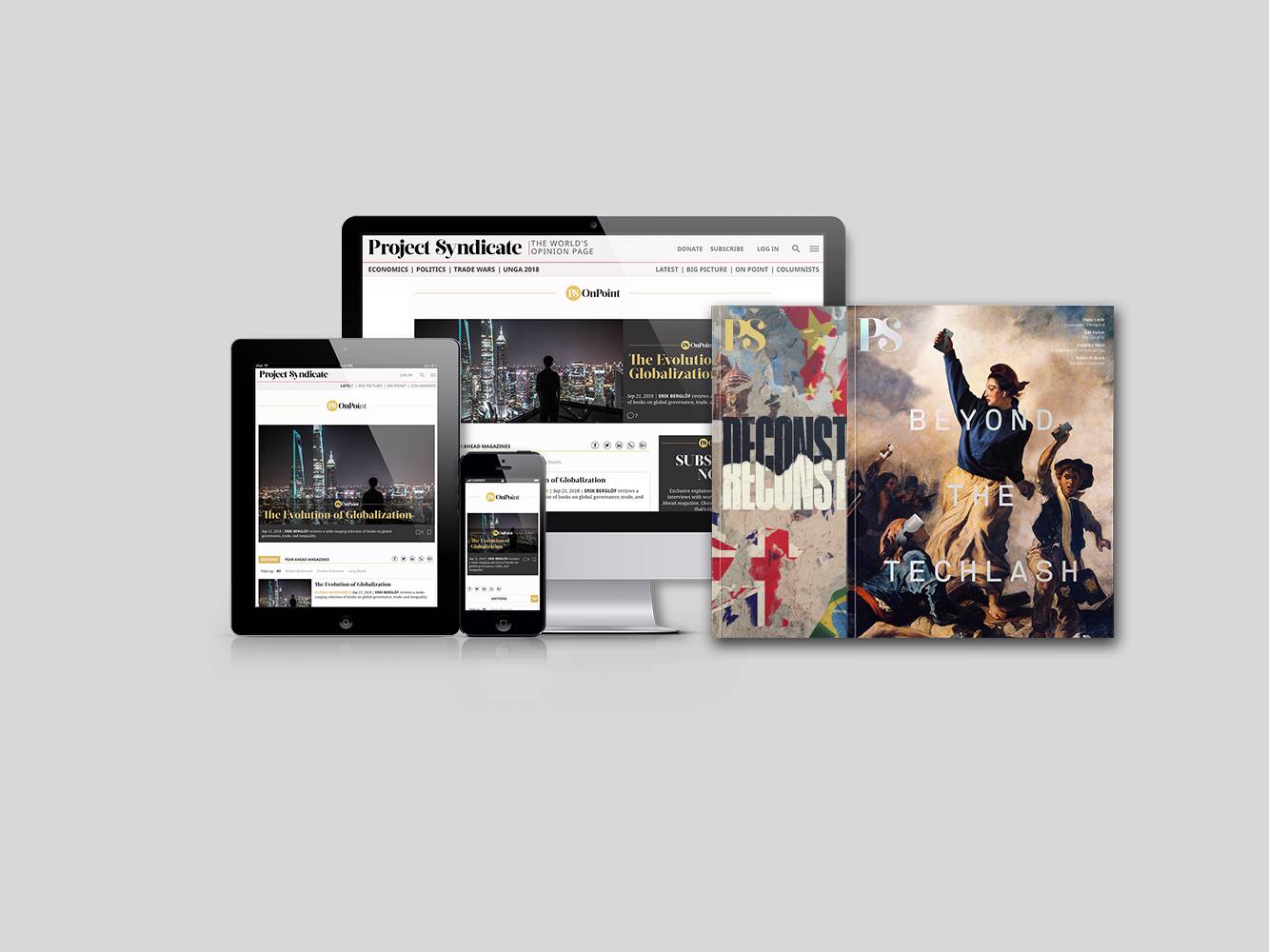 Subscribe to Project Syndicate
Enjoy unlimited access to the ideas and opinions of the world's leading thinkers, including weekly long reads, book reviews, and interviews; The Year Ahead annual print magazine; the complete PS archive; and more – all for less than $2 a week.
Les marges budgétaires de la zone euro sont moins importantes. Mais la Banque centrale européenne s'est déjà engagée à des rachats nets d'actifs à hauteur de 120 milliards d'euros (130 milliards de dollars), outre les 750 milliards d'euros annoncés le 18 mars. Son nouveau programme temporaire d'achats d'urgence face à la pandémie (PEPP) prévoit même d'acquérir des obligations souveraines grecques, ce qui avait été exclu lors des précédents programmes d'achats d'actifs déclenchés après le défaut de la Grèce sur sa dette, en 2015.
Au total, les achats d'actifs supplémentaires de la BCE (qui sont d'habitude monétisés) ne se montent qu'à 7,3 % du PIB 2019 de la zone euro, ce qui place la réponse des Européens en dessous de celle des États-Unis et du Royaume-Uni. Malheureusement, la politique budgétaire du bloc est assez pitoyable. Le 16 mars, les ministres des Finances des États membres ont annoncé qu'ils mèneraient une politique de relance pour la maigre valeur de 1 % du PIB au cours de l'année 2020 – et ce pour une économie qui peinait déjà à maintenir sa croissance. Si les dirigeants de la zone euro ont annoncé qu'ils pourraient, si besoin était, aller plus loin, cela n'apporte qu'un piètre soulagement. Seul développement positif à cet égard, l'engagement de mettre en place des lignes de liquidités – dispositifs publics de garantie et délais de paiement d'échéances fiscales – pour une valeur au moins égale à 10 % du PIB.
La zone euro n'ayant pas à sa disposition d'établissement central doté de pouvoirs budgétaires indépendants, le mécanisme européen de stabilité (MES) devient l'institution qui s'impose à travers laquelle les États membres financièrement forts pourraient, le cas échéant, fournir aux membres plus fragiles une aide politiquement transparente. Aucun consensus n'apparaît pourtant au sein de la zone euro sur la nécessité d'utiliser ainsi le MES.
Les États membres n'auraient dès lors plus d'autre choix que d'augmenter leurs programmes nationaux de relance budgétaire à la hauteur, disons, de 7,3 % du PIB, tandis que la BCE ferait office d'hélicoptère monétaire. Ce qui, en revanche, engagerait la BCE dans des initiatives quasi budgétaires, impliquant des redistributions transnationales du risque, et requerrait alors soit une modification des traités existants, soit une volonté collective de passer outre les évidentes questions de légitimité posées par ce type d'opérations.
À la différence de la banque centrale aux États-Unis et au Royaume-Uni, qui est celle d'un seul pays, la BCE ne peut endosser facilement le rôle d'agent budgétaire d'un gouvernement. Des achats, par exemple de dette souveraine italienne, effectués par l'Eurosystème, déplaceraient le risque sur les banques centrales nationales des États membres dont la santé financière est la plus solide et, en fin de compte, sur les contribuables de ces pays.
Et pourtant, même si c'est effectivement le cas, ce serait une négligence bien coupable de permettre qu'une erreur de conception dans les traités existants soit un frein à l'utilisation appropriée de monnaie hélicoptère en un tel moment de crise existentielle. La politique de relance budgétaire que l'Italie doit mettre en œuvre équivaut au moins à 5 % du PIB – probablement plus. L'action combinée de la BCE et du MES doit pouvoir le lui permettre.
Traduit de l'anglais par François Boisivon