A Globalização do nosso Descontentamento
NOVA IORQUE – Há quinze anos, publiquei Os Descontentes com a Globalização, um livro que tentava explicar porque existia tanta insatisfação com a globalização nos países em desenvolvimento. Basicamente, muitos acreditavam que o sistema estivesse "viciado" contra eles, e os acordos comerciais globais eram apontados como sendo particularmente injustos.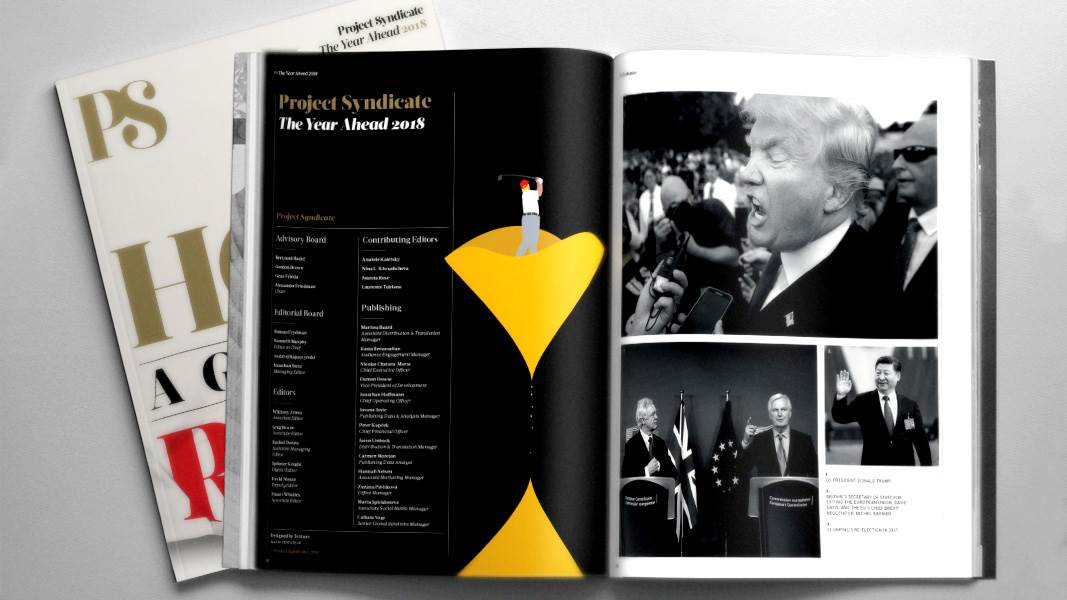 The Year Ahead 2018
The world's leading thinkers and policymakers examine what's come apart in the past year, and anticipate what will define the year ahead.
Agora, o descontentamento com a globalização alimentou uma onda de populismo nos Estados Unidos e noutras economias avançadas, liderada por políticos que afirmam que o sistema é injusto para os seus países. Nos EUA, o presidente Donald Trump insiste que os negociadores comerciais da América foram enganados pelos seus congéneres do México e da China.
Então, como se explica que algo que supostamente beneficiaria todas as pessoas, tanto nos países desenvolvidos como em desenvolvimento, esteja a ser injuriado em quase todo o mundo? Como pode um acordo comercial ser injusto para todas as partes?
Para quem está nos países em desenvolvimento, as afirmações de Trump (tal como o próprio Trump) são ridículas. Foram os EUA quem principalmente redigiram as regras e criaram as instituições da globalização. Em algumas destas instituições (por exemplo, no Fundo Monetário Internacional), os EUA ainda detêm o poder de veto, apesar do papel diminuído da América na economia global (uma posição que Trump parece determinado a reduzir ainda mais).
Para alguém como eu, que tenha acompanhado de perto as negociações comerciais há mais de um quarto de século, torna-se claro que os negociadores comerciais dos EUA conseguiram a maior parte do que pretendiam. O problema reside naquilo que pretendiam. A sua agenda foi definida pelas corporações, à porta fechada. Essa agenda foi redigida por e para as grandes empresas multinacionais, à custa dos trabalhadores e dos cidadãos comuns de todo o mundo.
Na verdade, muitas vezes parece que os trabalhadores, que assistiram à queda dos seus salários e ao desaparecimento dos seus empregos, são apenas danos colaterais: vítimas inocentes mas inevitáveis da marcha inexorável do progresso económico. Mas existe outra interpretação para o que aconteceu: um dos objectivos da globalização consistia em enfraquecer o poder de negociação dos trabalhadores. O que as corporações queriam era trabalho barato, e de qualquer maneira.
Esta interpretação ajuda a explicar alguns dos aspectos mais desconcertantes dos acordos comerciais. Por exemplo, porque cederam os países avançados quanto ao primado do direito, uma das suas maiores vantagens? Na verdade, as provisões incluídas nos acordos comerciais mais recentes proporcionam mais direitos aos investidores estrangeiros do que aos investidores nos EUA. Os primeiros, por exemplo, são compensados se o governo aprovar regulamentação que prejudique os seus lucros, por muito desejável que seja a regulamentação, ou independentemente do dano causado pela corporação na ausência da regulamentação.
Existem três respostas para o descontentamento global com a globalização. A primeira (chamemos-lhe a estratégia de Las Vegas) consiste em duplicar a aposta na globalização assumindo que esta será gerida como durante o último quarto de século. Esta aposta, como todas as apostas em fracassos políticos comprovados (como a teoria da redistribuição de riqueza, ou trickle-down economics), baseia-se na esperança de que, de alguma forma, estes sejam bem-sucedidos no futuro.
A segunda resposta é o Trumpismo: afastar-se da globalização, na esperança de que isso possa, de algum modo, devolver um mundo que já passou. Mas o proteccionismo não funcionará. Globalmente, os empregos na indústria estão a decrescer, simplesmente porque o crescimento da produtividade ultrapassou o crescimento da procura.
E mesmo no caso de uma retoma industrial, os empregos não regressariam. A tecnologia industrial avançada, e nomeadamente os robôs, significam que os poucos empregos criados requererão competências mais especializadas, e que serão colocados em locais diferentes dos locais onde se perderam empregos. Tal como dobrar a aposta, esta abordagem está condenada ao fracasso, e a aumentar ainda mais o descontentamento sentido por quem foi deixado para trás.
Trump falhará até mesmo o seu anunciado objectivo de redução do défice comercial, calculado como pela diferença entre as poupanças e o investimento nacionais. Agora que os Republicanos conseguiram o que queriam, e aprovaram uma redução fiscal para os bilionários, as poupanças nacionais decrescerão e o défice comercial aumentará, devido ao aumento do valor do dólar (o défice fiscal e o défice comercial evoluem normalmente de forma tão semelhante que são apelidados de défices "gémeos"). Trump poderá não gostar da realidade, mas tal como começa a descobrir, há certas coisas que nem a pessoa que ocupa o cargo mais poderoso do mundo consegue controlar.
Existe uma terceira abordagem: protecção social sem proteccionismo, o tipo de abordagem escolhido pelos pequenos países nórdicos. Por serem pequenos, estes países sabiam que precisavam de manter a abertura das suas economias. Mas também sabiam que, ao continuarem abertos, estariam a expor os seus trabalhadores a riscos. Portanto, tiveram de implementar um contrato social que apoiasse a transferência dos trabalhadores dos empregos antigos para os empregos novos, e que, entretanto, lhes conferisse algum apoio.
Os países nórdicos são sociedades profundamente democráticas, e por isso sabiam que, a menos que a maioria dos trabalhadores considerasse a globalização como benéfica, esta não seria considerada sustentável. E as pessoas ricas destes países reconheceram que se a globalização funcionasse como devido, haveria benefícios suficientes para todos.
O capitalismo americano dos últimos anos tem sido marcado pela ganância desenfreada: a crise financeira de 2008 confirma isso inequivocamente. Mas, tal como alguns países já demonstraram, uma economia de mercado pode assumir formas que atenuem os excessos tanto do capitalismo como da globalização, e que proporcionem um crescimento mais sustentável e melhor qualidade de vida para a maioria dos cidadãos.
Esses sucessos podem ensinar-nos o que fazer, tal como os erros passados nos podem ensinar o que não fazer. Como se tornou evidente, se não gerirmos a globalização de maneira a que beneficie todos, as repercussões (dos Novos Descontentes do Norte e dos Antigos Descontentes do Sul) correm o risco de se intensificarem.