Mientras Alemania dormía
BERLÍN – Poca gente fuera de Alemania conoce la caricatura que muchos alemanes tienen de sí mismos. Lejos del matón agresivo de la propaganda bélica del siglo veinte, el ingeniero perfeccionista de los anuncios de automóviles de Madison Avenue o el sabelotodo de la pantalla grande que sigue minuciosamente cada regla, muchos alemanes se ven a sí mismos como un dormilón en pijamas. Algunas veces sosteniendo una vela, este alemán es un personaje ingenuo y solitario, abrumado por el ruido del mundo a su alrededor.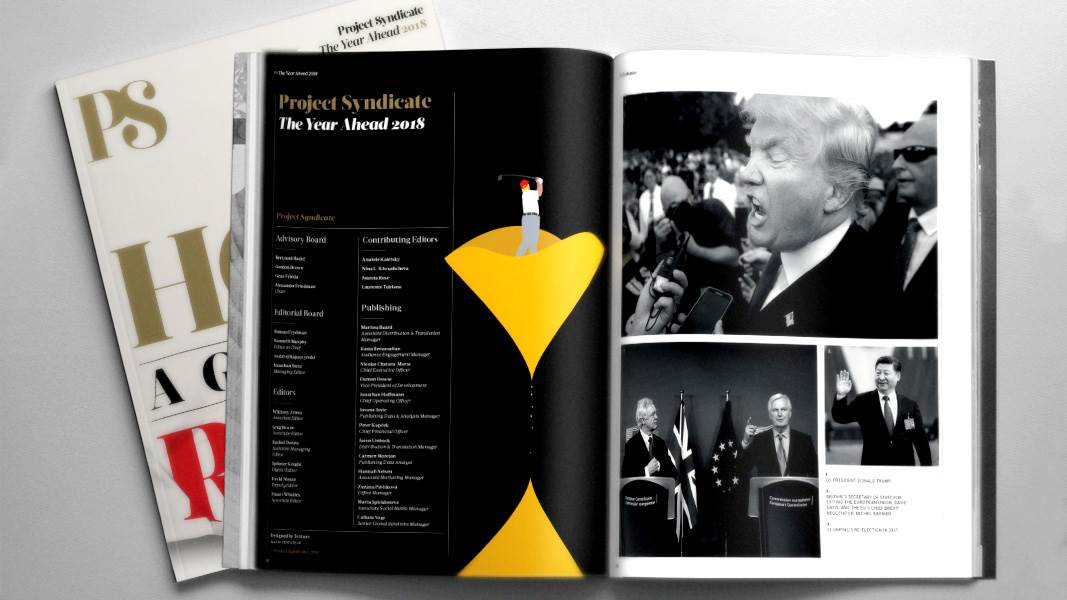 The Year Ahead 2018
The world's leading thinkers and policymakers examine what's come apart in the past year, and anticipate what will define the year ahead.
No es una figura nueva. Por el contrario, se popularizó en el siglo diecinueve como "Der deutsche Michel" o "el Michel alemán", un personaje cuya perspectiva limitada le hace despreciar las grandes ideas, evitar el cambio y aspirar solo a una vida decente, tranquila y cómoda.
Pero Michel viene de regreso… ¿Y quién podría culparlo? Alemania tiene una industria floreciente, casi pleno empleo, salarios en ascenso y sindicatos satisfechos. La crisis financiera hace mucho que está olvidada, los presupuestos públicos están bajo control y la entrada de inmigrantes en 2015 se ha gestionado relativamente bien.
Las malas noticias, como los escándalos industriales (piénsese en lo ocurrido en Volkswagen), las bancarrotas de aerolíneas y los proyectos de infraestructura postergados una y otra vez, poco amortiguan la sensación general de seguridad y bienestar que disfrutan los Micheles de Alemania. Pareciera que la única amenaza real es el mundo al exterior de sus fronteras.
En este sentido, las elecciones del otoño pasado se ajustaban mucho a los Micheles alemanes. "Un país donde vivir bien y felices", el eslogan de campaña de la Unión Demócrata Cristiana (CDU) de la Canciller Angela Merkel resonaba en ellos, igual que los mensajes provincianos y casi vacíos de sus partidos rivales. Con la excepción del derechista y populista Alternative für Deutschland (AfD), los partidos mostraron un monótono civismo y una aceptación adormecida del consenso que pacificó al electorado.
Tras las elecciones comenzó el verdadero politiqueo, pero incluso entonces se hicieron esfuerzos por ocultarlo a los Micheles alemanes. En efecto, aunque las autoridades de los partidos llevaban ejerciendo sus cargos hacía ya un tiempo, esperaron a los resultados electorales antes de poner sus cartas sobre la mesa, e incluso entonces fue con las puertas cerradas, y tan bien gestionadas que crearon la ilusión de que las "Sondierungsgespräche" (es decir, las conversaciones preparatorias entre las autoridades de los partidos) eran políticamente inofensivas.
Pero la clase política alemana, como sus Micheles comunes y corrientes, se niega a aceptar la realidad. Todo apunta a una seria carencia en la política alemana, desde las soporíferas elecciones federales, la ruptura de las negociaciones de coalición entre la CDU, su partido hermano Unión Social Cristiana (CDU), los Verdes y los Liberal Demócratas (FDP), hasta la tímida danza entre la CDU y el Partido Socialdemócrata (SPD).
La verdad es que las diferentes plataformas partidarias, que se suponía debían informar al electorado y ofrecer una base para las conversaciones de coalición, revelan una impactante falta de imaginación y carencia de nuevas ideas. Asuntos de segundo orden se presentan como líneas rojas, con temas principalmente técnicos tomando la centralidad; por ejemplo, las reuniones de familia de los refugiados, un nuevo plan de salud que nadie pidió (Bürgerversicherung), o el papel del gobierno federal en el financiamiento de la educación.
Si se considera el estado de Europa y el mundo (y las esperanzas que muchos extranjeros tienen en el liderazgo alemán), son asuntos que parecen más bien marginales. Pero el verdadero problema es que son distracciones de problemas mayores, como por ejemplo el euro, la seguridad y defensa, la migración, la infraestructura y la tributación.
Careciendo de toda visión política de avanzada, los políticos alemanes han degenerado en maniobras tácticas por parte de los actores más establecidos. La CDU, en una Guerra de las Rosas con la CSU, no puede vivir sin Merkel ni con ella, mientras que el SPD siente inseguridad de sí mismo y teme seguir declinando políticamente. Nada de esto pinta bien para un país cuyo parlamento ya ha visto disminuidos sus poderes después de que estos tres partidos, en un gobierno de coalición de ocho años de duración, marginara a la oposición y no lograra formar nuevos cuadros de liderazgo.
Los acuerdos de coalición en Alemania siempre han sido complicados documentos de naturaleza cuasicontractual. Y existe una creciente tendencia a planificar cuatro años de gobierno, en los que las autoridades usan los periodos legislativos no para debatir leyes, sino para promulgar políticas acordadas previamente.
Más aún, no se han implementado reformas de mayor calado en Alemania desde los años 2000, cuando el Canciller Gerhard Schröder impulsó las reformas del mercado laboral. En más de una década, bajo los gobiernos de Merkel no se han siquiera propuesto reformas de vanguardia del calibre de la Agenda 2010 de Schröder.
La CDU/CSU y el SPD están negociando una gran coalición que mantendría a Alemania más o menos en el mismo camino que ha seguido durante los últimos ocho años. El acuerdo de 28 páginas que hará posibles conversaciones formales para ese fin es excesivamente detallado, tecnocrático y sin ambiciones, y carece de visión.
Por consiguiente, no debe sorprender el que a pesar de que los negociadores de la CDU/CSU y el SPD hayan saludado el trato como un avance, muchos (especialmente en el SPD) están descontentos con el resultado, y algunos llaman a renegociar. El SPD debe decidir en su congreso partidario que se ha de realizar este fin de semana si unirse a otro gobierno de coalición que promete más de lo mismo o pasar a la oposición, lo que probablemente generaría nuevas elecciones.
Pero hay otra opción que muchos han ignorado: un gobierno de minoría encabezado por la CDU, con Merkel como canciller. Libre de asfixiantes acuerdos de coalición con un SPD reluctante o un FDP con calculadora en mano, Merkel podría escoger a su gabinete basándose en atributos de competencia y visión, más que en la política partidista. Hasta podría nombrar ministros de otros partidos.
Lo más importante es que Merkel al fin podría encarar los asuntos de peso que han quedado en la acera en los últimos años y que la actual coalición defiende solo de palabra. Significa cooperar con el Presidente francés Emmanuel Macron para hacer avanzar el proyecto europeo, modernizar el sistema de administración pública alemán, preparar la fuerza de trabajo para la digitalización y enfrentar los problemas relacionados con la inmigración.
El parlamento es parte integral para el éxito en cualquiera de estos frentes. Los partidos tradicionales deben abrazar el tipo de debate abierto y constructivo que nutrió a la democracia parlamentaria en los años iniciales de la República Federal, en lugar de mantenerse centrados en tácticas políticas.
Puede que Michel prefiera las modestas iniciativas políticas y la gradualidad que han caracterizado a las cancillerías de Merkel. Pero un gobierno de minoría obligado a crear coaliciones de los dispuestos a enfrentar los problemas críticos que afectan a Alemania y Europa podría salir de las limitaciones de las expectativas de Michel, liberando a la política alemana de las tácticas de partidos y permitiendo emprender reformas reales y muy necesarias. En otras palabras, el módico precio de la inseguridad política que enfrenta hoy Alemania puede ser justo lo que necesita para generar nuevas ideas y voces que abran un mejor futuro.
Traducido del inglés por David Meléndez Tormen