El Götterdämmerung de Alemania
MÚNICH – Alemania atraviesa un momento político definitorio. No es sólo que la ausencia del Partido Democrático Libre (FDP) en las negociaciones para la formación de una coalición siembre dudas sobre la permanencia en el poder de la canciller Angela Merkel (Unión Demócrata Cristiana, CDU). La salida de los liberaldemócratas de las negociaciones con la CDU, con la rama bávara de esta última (la Unión Social Cristiana, CSU) y con los Verdes señala el fin de la tradición de formar gobiernos de coalición estables que definió la política alemana desde los últimos días del mandato de Konrad Adenauer en la posguerra.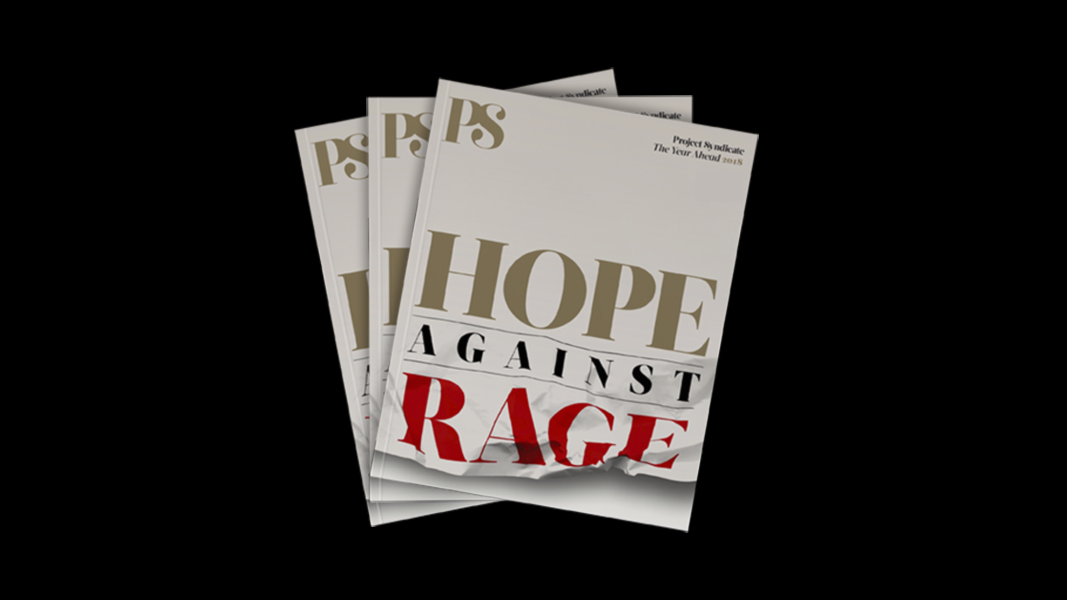 The Year Ahead 2018
The world's leading thinkers and policymakers examine what's come apart in the past year, and anticipate what will define the year ahead.
Es verdad que sin el FDP, Merkel puede tratar de crear un gobierno de coalición con los socialdemócratas (SPD). Pero este diezmado partido se declara decidido a permanecer en la oposición, para recuperarse de la aplastante derrota que sufrió en las urnas. Y cualquier otra coalición está descartada, porque ni a la extrema izquierda ni a la ultraderechista Alternative für Deutschland (AfD) se los considera socios aceptables.
Pero puede imaginarse un gobierno de minoría encabezado por Merkel. Es una alternativa probable si Merkel se niega a renunciar, ya que el presidente Frank-Walter Steinmeier no se muestra partidario de convocar a otra elección. E incluso el resultado de un nuevo llamado a las urnas no sería muy diferente, a menos que el líder del SPD, Martin Schulz, dé un paso al costado.
La CDU y la CSU podrían integrar un gobierno de minoría sin participación formal de otros partidos. Una coalición minoritaria que incluya a los Verdes obligaría a la CSU a ceder en cuestiones migratorias y de política climática, algo innecesario en otras circunstancias, dado que el SPD, Die Linke (La Izquierda) y los Verdes no tienen capacidad para bloquear la aprobación de leyes. Y Merkel intentará evitar una coalición minoritaria con el FDP, para no depender de este partido. El FDP, por su parte, querría formar esa coalición precisamente por lo mismo: para contener la propensión de Merkel hacia la izquierda y los Verdes.
Un gobierno de minoría, cualquiera sea su composición, no sería necesariamente malo. Como tendría que buscar socios para aprobar leyes caso por caso, el Bundestag volvería a ser por fin un foro de auténtico debate público. Los socios de la coalición llevan demasiado tiempo negociando decisiones de gobierno a puertas cerradas, para que el Bundestag luego se limite a ponerles el sello o vetarlas.
Los que tal vez resulten más beneficiados por un fortalecimiento del parlamento serán los pequeños partidos, que de otro modo casi no tendrían posibilidades de ejercer influencia. Un debate abierto beneficiaría sobre todo a la AfD (la versión alemana del Frente Nacional francés), que salió de la elección de septiembre convertida de buenas a primeras en la tercera fuerza de Alemania. Hasta ahora, los medios se han dedicado más que nada a desacreditarla, pero un Bundestag más proactivo se convertiría inevitablemente en un escenario para sus argumentos y su retórica.
Al mismo tiempo, un gobierno federal de minoría no sería tan fuerte en política exterior, y a Merkel le costaría desempeñar un papel activo en la política europea. Pero esto también implica que a los socios europeos de Alemania les costará obtener concesiones de Berlín. Esta dinámica será particularmente importante para Francia, en vista del objetivo del presidente Emmanuel Macron de consolidar la eurozona otorgándole más atributos soberanos y su deseo de avanzar con una Europa de dos velocidades formada por una eurozona y una gran franja de países septentrionales y orientales de la UE que no usan el euro.
Un gobierno alemán en minoría debería debatir largamente cada decisión importante con todos los grupos parlamentarios del Bundestag, antes de poder aceptar las propuestas de Macron (o cualquier otra). Una oposición efectiva en casa implica que el gobierno ya no podrá aceptar entre gallos y medianoche nuevas operaciones de rescate de socios de Alemania en la UE.
Es lo que sucedió en mayo de 2010, cuando el triunvirato francés formado por el presidente del Banco Central Europeo, Jean-Claude Trichet, el director gerente del FMI, Dominique Strauss-Kahn, y el presidente francés, Nicolas Sarkozy, obligó al gobierno de Merkel a violar el Tratado de Maastricht con la creación de un fondo de rescate para los acreedores externos de Grecia, en su mayoría bancos franceses. Alemania también tuvo que ceder en 2012, cuando forzaron a Merkel a aceptar una unión bancaria y el programa de "transacciones monetarias directas" del BCE, que en la práctica convirtió los bonos públicos europeos en eurobonos.
Merkel tampoco podrá seguir tomando decisiones apresuradas, como la de iniciar un abandono gradual de la energía nuclear (pocos meses después del accidente de Fukushima en Japón) o la de permitir la entrada de refugiados a Alemania desde otros países donde estaban seguros. Eso es bueno, porque muy a menudo los políticos, llevados por la inercia de sus pensamientos, toman decisiones con graves consecuencias duraderas.
Por ejemplo, el abandono de la energía nuclear implica que ahora Alemania sólo podrá cumplir sus compromisos en la lucha contra el cambio climático menoscabando, y quizá perdiendo, parte de su base industrial. En cuanto a admitir a 1,5 millones de migrantes en sólo dos años, con esta decisión Alemania generó una carga inmensa sobre su Estado de Bienestar, alentó sin darse cuenta a los partidarios del Brexit y se puso en contra a toda Europa oriental.
Es demasiado pronto para saber cómo se resolverá la incertidumbre política que ahora enfrentan Alemania y Europa. Pero una Merkel forzada a rendir cuentas ante el Bundestag puede ser la mejor alternativa para Alemania.
Traducción: Esteban Flamini