Le Götterdämmerung de l'Allemagne
MUNICH – L'Allemagne traverse un moment politique décisif. Ce n'est pas seulement que la sortie des Démocrates Libres (FDP) de la coalition ait jeté le doute sur le fait que la Chancelière Angela Merkel de l'Union Chrétienne-Démocrate (CDU) reste ou non au pouvoir. Le FDP a quitté les négociations avec la CDU, ainsi que son parti frère bavarois l'Union Chrétienne Sociale (CSU) et les Verts, en marquant par ce geste la fin d'une volonté de forger une coalition gouvernementale stable qui a défini la politique allemande depuis les derniers jours la Chancellerie d'après-guerre de Konrad Adenauer.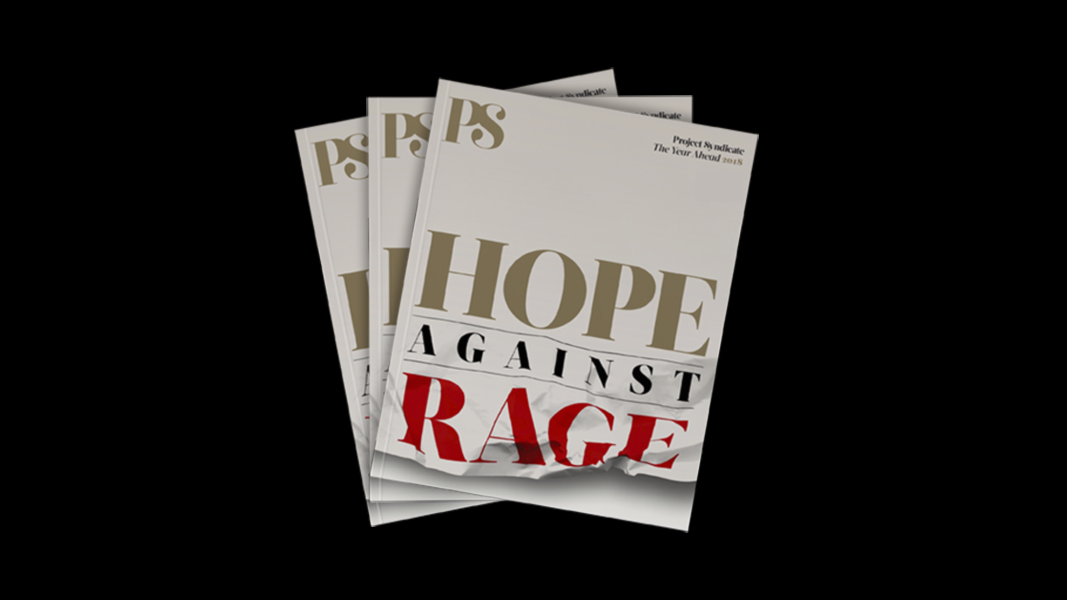 The Year Ahead 2018
The world's leading thinkers and policymakers examine what's come apart in the past year, and anticipate what will define the year ahead.
Bien sûr, sans la participation du FDP, Merkel pourrait poursuivre un gouvernement de coalition avec les Sociaux-démocrates (SPD). Mais le SPD décimé dit qu'il est déterminé à rester dans l'opposition, afin de se remettre de sa défaite écrasante aux dernières élections. Toute autre coalition possible est hors de question, car ni l'extrême-gauche ni l'extrême-droite Alternative für Deutschland (AfD) ne sont considérées comme des partenaires acceptables.
Un gouvernement minoritaire sous Merkel reste cependant concevable. Étant donné que le Président Frank-Walter Steinmeier a exprimé son dégoût d'appeler à de nouvelles élections, un tel scénario pourrait devenir probable si Merkel ne démissionnait pas de son propre chef. Et même s'il y a de nouvelles élections, le résultat risque de ne pas être très différent, à moins que le dirigeant du SPD Martin Schulz, ne se retire.
Un gouvernement minoritaire pourrait être formé par la CDU et la CSU sans la participation formelle des autres partis. Une coalition minoritaire comprenant les Verts obligerait la CSU à faire des compromis sur les questions de migration et de politique climatique, ce qui serait inutile dans le cas contraire, étant donné l'incapacité du SPD, Die Linke (La Gauche) et des Verts à bloquer la législature. Merkel elle-même veut essayer d'éviter une coalition minoritaire avec le FDP, afin d'éviter d'en devenir dépendante. Le FDP, quant à lui, aimerait participer à un tel gouvernement exactement pour la même raison. Il serait alors en mesure de contenir les affinités rouges-vertes de Merkel.
Un gouvernement minoritaire, quelle que soit sa composition, ne serait pas nécessairement une mauvaise chose. Comme le gouvernement est à la recherche de partenaires pour adopter une loi sur une base ad hoc, le Bundestag va enfin devoir redevenir le lieu d'un véritable débat public. Pendant trop longtemps, les partenaires de la coalition gouvernementale ont négocié des décisions à huis clos, avec un Bundestag qui était là soit pour approuver les décisions sans discussion, soit pour en rejeter les résultats.
Ceux qui ont le plus à gagner dans ce renforcement du Parlement seront les petits partis qui ont peu de chance de faire valoir leur influence jusque là. Par-dessus tout, l'AfD, la version allemande du Front national français, qui a émergé à partir de rien comme troisième plus grand parti d'Allemagne aux élections de septembre, va profiter d'un débat ouvert. Jusqu'à présent, les médias se sont largement concentrés sur la tâche de discréditer ce parti. Mais un Bundestag plus proactif va inévitablement devenir une vitrine pour les arguments et pour la rhétorique de l'AfD.
En même temps, une politique étrangère issue d'un gouvernement fédéral minoritaire serait sans aucun doute affaiblie et Mme Merkel risque d'avoir du mal à jouer un rôle actif dans la politique européenne. Toutefois, cela signifie également que les partenaires européens de l'Allemagne vont avoir du mal à forcer le gouvernement allemand à faire des compromis. Cette dynamique sera particulièrement importante pour la France, étant donné que le président Emmanuel Macron a pour objectif de consolider la zone euro en lui offrant davantage d'attributs étatiques et qu'il entend faire progresser une Europe à deux vitesses comprenant une zone euro et une grande frange hors-euro, composée des pays du Nord et de l'Est de l'UE.
Une minorité allemande devra avoir de longs débats avec l'ensemble des groupes parlementaires du Bundestag sur chaque décision importante avant de pouvoir approuver les propositions de Macron - ou de n'importe qui d'autre d'ailleurs. Une opposition efficace sur le plan national signifie que le gouvernement ne serait plus en mesure d'acquiescer au beau milieu de la nuit à diverses opérations de sauvetage pour les partenaires de l'UE de l'Allemagne.
C'est ce qui est arrivé en mai 2010, lorsque le gouvernement de Merkel a été forcé par le triumvirat français composé du président de la Banque centrale européenne Jean-Claude Trichet, du directeur général du FMI Dominique Strauss-Kahn et du président français Nicolas Sarkozy, de violer le traité de Maastricht en créant un fonds de sauvetage de la Grèce pour les créanciers étrangers, principalement pour les banques françaises. L'Allemagne a été également obligée de faire des compromis en 2012, lorsque Mme Merkel a été forcée de consentir à une union bancaire et au « programme d'opérations monétaires » de la BCE, qui ont effectivement transformé les obligations gouvernementales européennes en euro-obligations.
De même, les décisions hâtives de Merkel (comme son coup politique consistant à démanteler progressivement l'énergie nucléaire en quelques mois suite l'accident de Fukushima au Japon, ou à permettre aux réfugiés d'entrer en Allemagne à partir de pays tiers sûrs), seront désormais impossibles. Ceci est une bonne nouvelle, car trop souvent les politiciens, entraînés par l'élan de leurs propres réflexions, prennent des décisions qui ont des conséquences néfastes et graves à long terme.
Avec la sortie progressive du nucléaire, par exemple, l'Allemagne peut désormais honorer ses engagements en matière de lutte contre le changement climatique seulement en causant du tort à sa base industrielle, voire en en perdant une partie. Par l'admission de 1,5 millions de migrants en seulement deux ans, l'Allemagne a également placé un énorme fardeau sur les épaules de son État-providence, tout en encourageant par inadvertance les Brexiteers et en ralliant l'ensemble de l'Est de l'Europe contre elle.
Il est trop tôt pour dire comment va se résoudre l'incertitude politique qui touche actuellement l'Allemagne et l'Europe. Mais une Merkel à qui le Bundestag peut demander des comptes est peut-être la meilleure alternative dont dispose l'Allemagne.