Die Götterdämmerung
MÜNCHEN – Deutschland erlebt gerade seine Götterdämmerung, denn Angela Merkel muss nach dem Ausstieg der Liberalen aus den Koalitionsverhandlungen mit den Grünen, der CSU und der FDP nun ernsthaft um ihre Macht fürchten. Eine Koalitionsregierung mit der SPD wird es nur ohne sie geben, und eine andere Mehrheitskoalition kommt nicht mehr in Frage, weil weder die Linken noch die AfD als akzeptable Partner gesehen werden.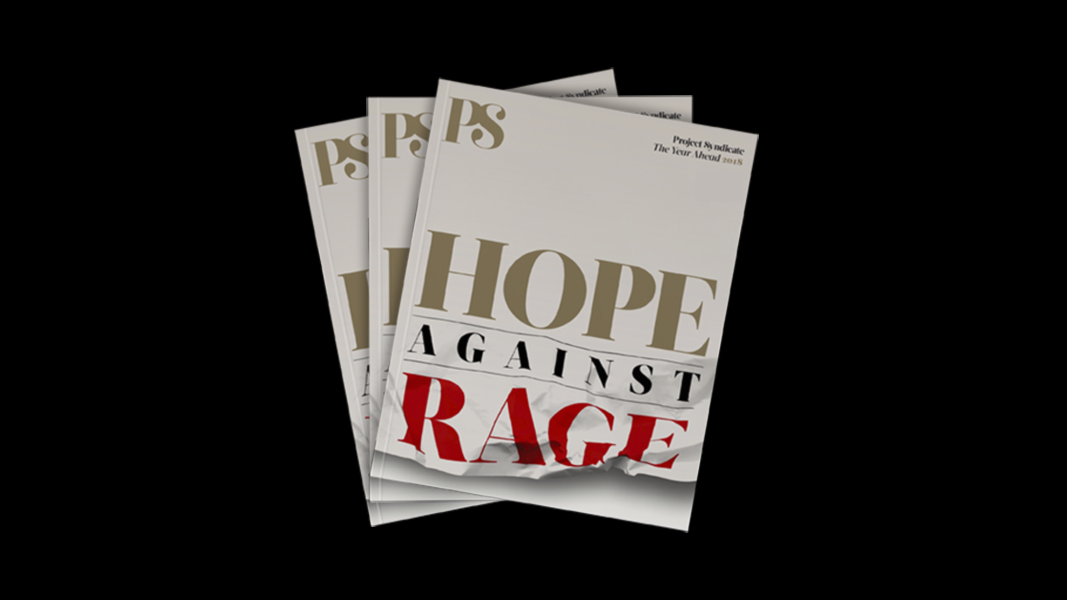 The Year Ahead 2018
The world's leading thinkers and policymakers examine what's come apart in the past year, and anticipate what will define the year ahead.
Allerdings ist eine Minderheitsregierung unter Angela Merkel vorstellbar. Nach der vom deutschen Bundespräsidenten Frank Walter Steinmeier bekundeten Abneigung gegenüber Neuwahlen ist sie sogar wahrscheinlich, wenn die Kanzlerin nicht von sich aus zurücktritt. Und wenn es doch Neuwahlen gibt, dann werden sie vermutlich kaum zu anderen Ergebnissen als die bisherigen Wahlen führen, es sei denn, Martin Schulz tritt dann zurück.
Wenn die Minderheitsregierung kommt, wird sie vermutlich ohne die Beteiligung anderer Fraktionen stattfinden. Die CDU/CSU wird sich dann wechselnde Partner suchen. Eine Minderheitskoalition mit den Grünen ist unwahrscheinlich, weil sie die CSU unnötigerweise zwingen würde, mit dieser Partei Kompromisse in der Migrationsfrage und bei der Klimapolitik einzugehen, was sie angesichts der fehlenden Sperrminorität eines rot-rot-grünen Bündnisses gar nicht nötig hätte. Und eine Koalition mit der FDP wird die Kanzlerin zu verhindern versuchen, um sich nicht von ihr abhängig zu machen. Die FDP indes würde sich wohl gerne aus genau diesem Grunde an einer solchen Koalition beteiligen. Sie könnte dann die Kanzlerin daran hindern, ihre links-grünen Neigungen auszuleben und sie zwingen, eine wirtschaftsliberale Politik zu betreiben.
Schlecht wäre eine Minderheitsregierung nicht, egal in welcher der möglichen Konstellationen sie zustande kommt,  denn sie würde bedeuten, dass das Parlament endlich wieder ein Ort ist, an dem Debatten stattfinden. Zu lange wurden die Entscheidungen der Regierung hinter verschlossenen Türen mit dem Koalitionspartner ausgehandelt, was den Bundestag zu einer bloßen Einrichtung zum Abnicken dieser Entscheidungen verkommen ließ.
Die Profiteure der Stärkung des Parlamentes werden die kleinen Parteien sein, die sonst kaum eine Chance hätten, ihren Einfluss geltend zu machen. Allen voran wird die AfD von der offenen Debatte profitieren. Bislang haben sich die Medien weitgehend darauf beschränkt, diskreditierend über sie zu berichten. Finden öffentliche Debatten im Bundestag statt, wird man der sachlichen Auseinandersetzung mit den Argumenten der neuen Partei nicht mehr ausweichen können.    
Die Bundesregierung wird, wenn sie nur eine Minderheit repräsentiert, außenpolitisch geschwächt sein. Eine aktive Gestaltung der Brüsseler Politik wird ihr schwerfallen. Andererseits wird es den europäischen Partnern nun auch nicht mehr so ohne weiteres möglich sein, die Bundesregierung in Kompromisse einzubinden, wenn es für die Entscheidungsfindung unerlässlich ist. Das betrifft insbesondere die weitgehenden Vorstellungen von Präsident Macron, die Eurozonone zu mehr Staatlichkeit zu verdichten und ein Europa der zwei Geschwindigkeiten unter Abspaltung Nord- und Osteuropas voranzutreiben. Eine deutsche Minderheitsregierung wird nun bei jeder wichtigen Entscheidung langwierige Debatten mit den Parlamentsfraktionen führen müssen, bevor sie Macron nachgeben darf. Die nächtlichen Zwangssituationen, bei denen es gelang, die Bundesregierung in vertragswidrige Rettungsaktionen einzubinden, weil zu Hause keine wirksame Opposition zu fürchten war, wird es nun nicht mehr geben. Man denke z.B. an die Nacht vom 10. auf den 11. Mai 2010, als die Bundesregierung von dem französischen Triumvirat bestehend aus Trichet, Strauß-Kahn und Sarkozy zum Bruch des Maastrichter Vertrages gedrängt wurde, oder an die Nacht vom 29. auf den 30. Juni 2012, als die Kanzlerin gedrängt wurde, einer Bankenunion sowie dem OMT-Programm der EZB ("whatever it takes") zuzustimmen. Die jeweils behauptete Krise wird von nun an warten müssen, bis sie mit deutschem Geld oder deutschen Bürgschaften bekämpft werden kann.
Auch die unüberlegten innenpolitischen Entscheidungen der Kanzlerin werden nun ein Ende haben. Die schnelle Entscheidung zum Atomausstieg innerhalb weniger Tage nach dem Unglück von Fukushima hätte es mit einer Minderheitsregierung genauso wenig gegeben wie die wider deutsches Recht getroffene Entscheidung, Flüchtlinge aus sicheren Drittländern nach Deutschland einreisen zu lassen. Dieser Regimewechsel ist begrüßenswert, denn allzu häufig fällen unbedachte Politiker, getrieben vom Schwung der eigenen Gedanken, falsche Entscheidungen, die langfristig schwerwiegende Konsequenzen haben. Mit dem Atomausstieg hat sich Deutschland klimapolitisch ins Abseits bewegt, weil es nun den Kohleausstieg nur noch unter Verlust seiner industriellen Basis realisieren kann. Und mit der Aufnahme von eineinhalb Millionen Migranten in nur zwei Jahren hat es seinen Sozialstaat massiv belastet, den Austritt der Briten befördert und ganz Osteuropa gegen sich aufgebracht. So gesehen wäre eine Angela Merkel, die vom Bundestag an die Zügel genommen wird, die bessere Alternative in einer ansonsten alternativlosen Zeit.