Liberdade de expressão na era do filtro
OXFORD –A Lei de Aplicação na Rede da Alemanha –segundo a qual as plataformas de redes sociais, como o Facebook e o YouTube, poderiam ser multadas em 50 milhões de euros (63 milhões de dólares) por cada publicação "obviamente ilegal" exibida no espaço de 24 horas após receção da notificação –tem sido controversa desde o início. Depois de ter entrado plenamente em vigor, em janeiro, houve uma enorme indignação, com críticos de todo o mapa político a argumentar que era um engodo para a censura. Protestaram que o governo estava a abdicar dos seus poderes em prol de interesses privados.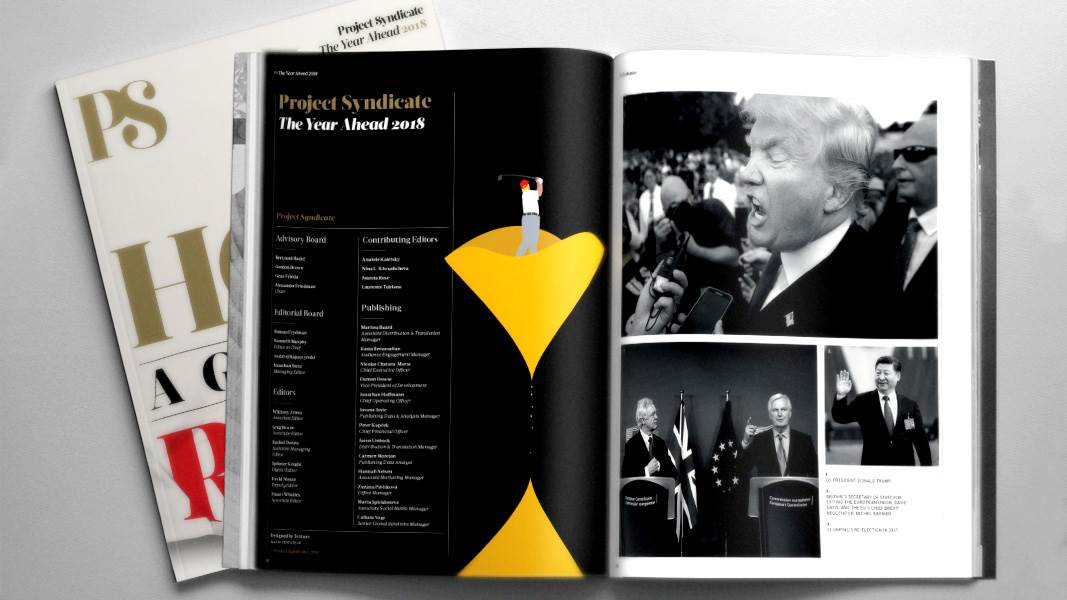 The Year Ahead 2018
The world's leading thinkers and policymakers examine what's come apart in the past year, and anticipate what will define the year ahead.
Então, é este o começo do fim da liberdade de expressão na Alemanha?
Claro que não. A lei alemã Netzwerkdurchsetzungsgesetz (ou NetzDG) é, indubitavelmente, a regulamentação mais rigorosa, deste género, na Europa que está cada vez mais irritada com as empresas de redes sociais dos EUA. E os críticos têm alguns argumentos válidos sobre as fraquezas da lei. Mas as possibilidades de haver liberdade de expressão continuarão a ser abundantes, mesmo se algumas publicações forem apagadas equivocadamente.
A verdade é que a lei envia uma mensagem importante: as democracias não irão baixar a voz enquanto os seus cidadãos estiverem expostos a imagens e discursos odiosos e violentos –conteúdos estes que, como sabemos, podem incentivar ódio e violência reais. Recusar proteger o público, especialmente os mais vulneráveis, de conteúdos perigosos em nome da "liberdade de expressão" serve, na verdade, os interesses daqueles que já são privilegiados, a começar pelas empresas poderosas que conduzem a divulgação de informação.
O discurso sempre foi filtrado. Nas sociedades democráticas, todos têm o direito de se expressar dentro dos limites da lei, mas nunca ninguém teve audiência garantida. Para causaram impacto, os cidadãos sempre precisaram de recorrer –ou evitar –os "guardiães" que decidem que causas e ideias são relevantes e valem a pena ser amplificadas, seja através da comunicação social, de instituições políticas ou de protestos.
O mesmo se aplica nos nossos dias, com a exceção de que os guardiães são os algoritmos que filtram automaticamente e classificam todos os contributos.  É claro que os algoritmos podem ser programados ao gosto das empresas, o que significa que elas podem valorizar as qualidades partilhadas por jornalistas profissionais: credibilidade, inteligência e coerência.
Mas as atuais plataformas de redes sociais são muito mais propensas a dar prioridade, acima de tudo, ao potencial de receitas de publicidade. Assim sendo, os mais ruidosos são muitas vezes recompensados ​​com um megafone, enquanto as vozes menos privilegiadas são abafadas, mesmo que forneçam as perspetivas inteligentes e diferenciadas que podem verdadeiramente enriquecer as discussões públicas.
Se o algoritmo não fizer o trabalho de silenciar as vozes menos privilegiadas, os especuladores virtuais, muitas vezes intervêm, direcionando o discurso de ódio e ameaçador para quem escolherem. As mulheres e as minorias são particularmente propensas a serem vítimas de assédio virtual, mas qualquer um pode ser alvo. O bloguista alemão, Richard Gutjahr, por exemplo, tornou-se objeto de teorias de conspiração e alvo de uma intensa perseguição, após estar presente em dois ataques terroristas no espaço de duas semanas um do outro.
As vítimas de assédio virtual muitas vezes respondem com a autocensura e muitas, com o seu sentimento de segurança e até mesmo amor-próprio erodidos, retiraram-se completamente das redes sociais. Neste sentido, ao oferecerem proteção em nome da "liberdade de expressão", os países, na verdade, privilegiam o discurso de ódio. Mas porque é que os direitos da vítima contam menos do que os dos seus agressores?
Numa democracia, os direitos de muitos não podem existir à custa dos direitos de poucos. Na era dos algoritmos, o governo deve, mais do que nunca, assegurar a proteção das vozes vulneráveis, mesmo que às vezes erre o lado das vítimas. Se as pessoas já vulneráveis ​​forem assediadas por multidões de extremistas e agressores, é perfeitamente compreensível que elas tenham medo de se manifestar. Se isso acontecer, a "liberdade de expressão" está morta.
Nem todos os críticos da NetzDG contestam esta avaliação: alguns concordam que o discurso dos vulneráveis necessita de proteção extra. Mas eles argumentam que as proteções necessárias já estão em vigor. Afinal de contas, os insultos e incitamentos graves ao ódio e à violência são proibidos, e os seus autores podem ser processados. O presidente francês, Emmanuel Macron, por exemplo, prefere focar-se no fortalecimento da capacidade do sistema judicial para lidar com o discurso do ódio e má informação.
Mas, na era digital, a velocidade é decisiva. A tecnologia é imediata e as mensagens virtuais podem ser partilhadas amplamente em poucos minutos. As instituições democráticas movimentam-se muito lentamente - demasiado lentamente para a polícia e os tribunais serem eficazes no combate a especuladores e ao ódio virtual. E muitas vítimas não estão em posição de contratar um bom advogado, como Gutjahr fez. Contar somente com as instituições mais complexas do Estado, não é uma estratégia eficaz para proteger a liberdade de expressão nas atuais redes de comunicação digital.
O discurso de ódio e outros tipos de conteúdo perigoso e ilegal devem ser atacados na fonte. Por um lado, há uma necessidade de aumentar a literacia mediática por parte dos consumidores, que precisam de ser ensinados, desde tenra idade, sobre as consequências reais do discurso de ódio virtual. Por outro lado - e isto é o que a lei NetzDG tenta assegurar - as plataformas de redes sociais devem garantir que os seus produtos são desenvolvidos de forma a encorajar o uso responsável.
Mas isto não é uma solução rápida. Pelo contrário, exige um repensar fundamental dos modelos de negócios que facilitam e até recompensam o discurso de ódio. As empresas não podem ter permissão para lucrar com conteúdos prejudiciais, enquanto descartam a responsabilidade pelas suas consequências. Em vez disso, elas devem rever os seus algoritmos de forma mais eficaz e escrupulosa, no sentido de sinalizarem conteúdos que as pessoas deverão monitorizar e avaliar, ao mesmo tempo que enraízam em todas as suas decisões empresariais uma consciência da sua responsabilidade na luta pela verdadeira liberdade de expressão.
Isto pode contradizer a lógica empresarial objetiva de se fazer tudo o que maximize o lucro e o valor dos acionistas. Mas é, sem dúvida, o que é melhor para a sociedade. O governo alemão tem razão em pressionar as empresas para irem na direção correta.