Die schwer greifbaren Vorteile flexibler Wechselkurse
CAMBRIDGE – Im Jahr 1953 veröffentlichte Milton Friedman einen Aufsatz mit dem Titel "The Case for Flexible Exchange Rates", in dem er argumentierte, dass flexible Wechselkurse sich auf eine Volkswirtschaft auswirkende interne und externe Erschütterungen abfedern, indem sie genau die richtigen Preisänderungen herbeiführen, um Vollbeschäftigung aufrechtzuerhalten. Doch fast ein halbes Jahrhundert flexibler Wechselkurse hat gezeigt, dass die Realität komplizierter ist von Friedman gedacht.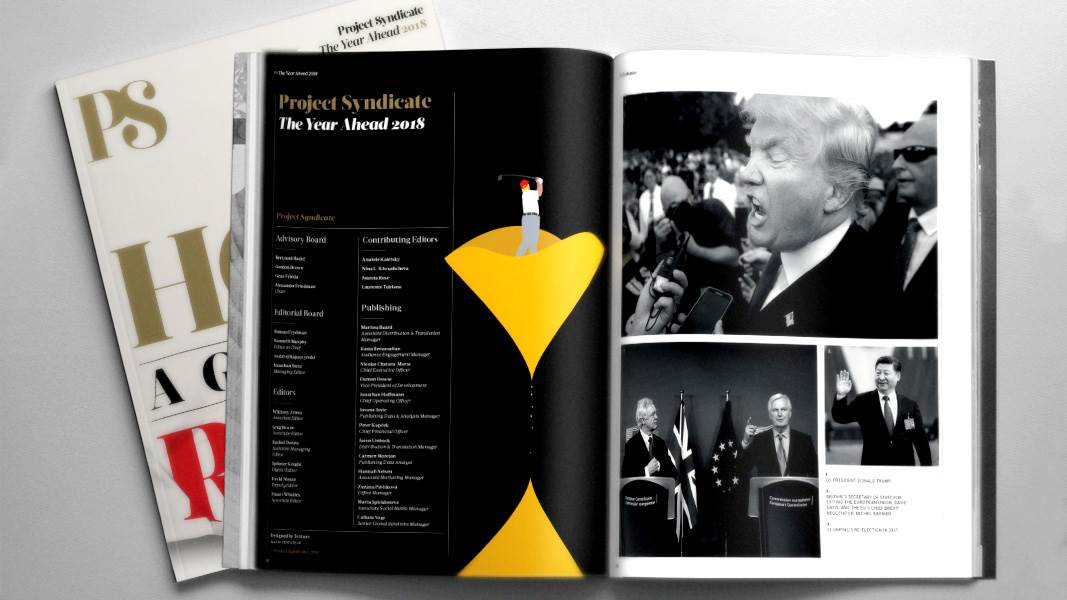 The Year Ahead 2018
The world's leading thinkers and policymakers examine what's come apart in the past year, and anticipate what will define the year ahead.
Um Friedmans Logik zu verstehen, muss man sich ein Szenario vorstellen, bei dem die Produktivität in den USA steigt. In einem effizienten System sollte dies den Preis von US-Waren im Verhältnis zu denen der übrigen Welt reduzieren, sodass sich die US-Exporte gegenüber den Importen verbilligen. Mit Verringerung von Amerikas Einfuhrtauschverhältnis (dem Verhältnis der Exportpreise zu den Importpreisen) würde sich dann Nachfrage in Richtung der US-Waren verlagern, sodass innerhalb der Volkswirtschaft Vollbeschäftigung gewahrt bliebe.
Bei "starren" Preisen (in der Währung des Erzeugers) jedoch ergibt sich ein potenzielles Problem. Ein Beispiel: Bei starren Preisen für US-Importe aus Japan (in japanischen Yen) und starren Preisen für US-Exporte nach Japan (in Dollar) bleibt das Einfuhrtauschverhältnis unverändert, solange sich der Wechselkurs nicht ändert.
Und hier kommt der flexible Wechselkurs ins Spiel. Indem er ein Geldmengenwachstum ermöglicht und damit eine Abwertung des Dollars verursacht, so die Logik, erlaube ein flexibler Wechselkurs den Preisen für US-Produkte, im Verhältnis zu denen der US-Importe zu sinken. Das Ergebnis sei die gewünschte Verringerung des Einfuhrtauschverhältnisses des Erzeugers und die Wahrung der Vollbeschäftigung.
Doch geht diese Argumentation davon aus, dass sich das Einfuhrtauschverhältnis eines Landes im Gleichschritt mit seinem Wechselkurs entwickeln. Und das scheint, wie die Geschichte während des letzten Vierteljahrhunderts gezeigt hat, nicht der Fall zu sein.
In einem aktuellen Aufsatz haben Emine Boz vom Internationalen Währungsfonds, Mikkel Plagborg-Møller von der Universität Princeton und ich bilaterale Export- und Importpreisindizes für 2500 Länderpaare erstellt, die für den Zeitraum von 1989 bis 2015 91% des Welthandels abdecken. Wir haben die Preise für Rohstoffe (Öl, Kupfer und andere derartige Waren, die an Börsen gehandelt werden) ausgeschlossen, da es sich dabei nicht um starre Preise handelt.
Es zeigt sich, dass es keinerlei Belege dafür gibt, dass Einfuhrtauschverhältnis und Wechselkurs sich synchron bewegen. Im Gegenteil: Eine 1%ige Abwertung des bilateralen Wechselkurses ist mit lediglich einem 0,1%igen Rückgang des bilateralen Einfuhrtauschverhältnisses im Abwertungsjahr verbunden. Die Ursache dieser Diskrepanz – die Camila Casas, Federico Diez, Pierre-Olivier Gourinchas und ich in einem Aufsatz aus dem Jahr 2016 beschrieben haben – scheint zu sein, dass die enorme Mehrheit der international gehandelten Waren starre Dollarpreise aufweist und keine starren Preise in der Währung des Erzeugers, so wie Friedmans Argumentationslinie das erforderte.
Man betrachte etwa den Fall USA/Japan. Fast 100% der US-Exporte nach Japan sind in Dollar bepreist, was bedeutet, dass sie, wie in Friedmans Version, einen starren Dollarpreis haben. Aber 80% der US-Importe aus Japan werden ebenfalls in Dollar fakturiert, was bedeutet, dass auch diese Preise in Dollar starr sind und nicht in japanischen Yen. Infolgedessen fluktuiert das Einfuhrtauschverhältnis selbst bei schwankendem Wechselkurs kaum.
Dies bedeutet, dass sich japanische Waren selbst bei einer Abwertung des US-Dollars für US-Importeure nicht verteuern und daher nur ein begrenzter Anreiz besteht, von japanischen auf US-Waren umzusteigen. Ein schwächerer Dollar hat daher nur begrenzte Auswirkungen auf die US-Importe. Genauso beflügelt ein schwächerer Yen die japanischen Exporte in die USA kaum, weil der Dollarpreis dieser Exporte weitgehend konstant bleibt.
Dieses Phänomen gilt selbst für Transaktionen ohne US-Beteiligung. Wie ich in einem Aufsatz aus dem Jahre 2015 gezeigt habe, ist der Anteil der weltweiten Importe, die in Dollar fakturiert werden, 4,7-mal größer als der Anteil der Importe, an denen die USA beteiligt sind. Für die weltweiten Exporte beträgt dieser Wert 3,1. Dieses "Leitwährungsparadigma" liegt der Diskrepanz beim Einfuhrtauschverhältnis zugrunde.
Tatsächlich haben wir gezeigt, dass die weltweiten Handelspreise und Handelsvolumina durch den Dollarkurs und nicht durch den Wechselkurs zwischen den Währungen der beiden Handelspartner angetrieben werden. Deshalb sind beispielsweise Preis und Menge der indischen Importe aus China vom Wechselkurs zwischen Rupie und Dollar abhängig statt vom Wechselkurs zwischen Rupie und Renminbi. Die Stärke des US-Dollars ist daher eine wichtige Vorhersagegröße des Gesamthandelsvolumens und der Verbraucher-/Erzeugerpreisinflation weltweit.
In einem hatte Friedman Recht: Flexible Wechselkurse gewährleisten tatsächlich eine wertvolle geldpolitische Unabhängigkeit. Doch in einem auf Dollar lautenden Handelsumfeld ist ihre Fähigkeit, Vollbeschäftigung zu unterstützen, stark eingeschränkt.
Aus dem Englischen von Jan Doolan