Die Fallen der Geldpolitik und der Inflationsbekämpfung
CHICAGO – In den Vereinigten Staaten sind sämtliche Waren und Dienstleistungen von Preiserhöhungen betroffen und die Inflation macht sich auch bei allgemeinen Vorleistungen wie Transport, Energie und zunehmend auch beim Faktor Arbeit bemerkbar. Welche Reaktion ist nun von den Zentralbanken zu erwarten?
Die US-Notenbank Federal Reserve betont, dass sie eine Anhebung der Zinssätze erst in Erwägung ziehen wird, wenn sie ihre monatlichen Ankäufe von Vermögenswerten beendet hat. Angesichts des derzeitigen Ausstiegstempos wird das irgendwann im Juli 2022 der Fall sein. Einige Mitglieder des über die Zinspolitik entscheidenden Offenmarktausschusses befürchten jedoch, dass die Zentralbank zu diesem Zeitpunkt hinter der Entwicklung zurückgeblieben und damit gezwungen sein wird, die Zinssätze abrupter und für einen längeren Zeitraum als erwartet anzuheben. So hat auch der stellvertretende Fed-Vorsitzende Richard Clarida jüngst angedeutet, dass die Fed bei ihrer nächsten Sitzung im Dezember möglicherweise eine Beschleunigung der Rückführung der Anleihenkäufe in Erwägung ziehen wird (um die Zinsen früher anheben zu können).
Trotz der wachsenden (aber vielfach unausgesprochenen) Befürchtungen der Fed geben sich die Zentralbanker heute zugeknöpft, wenn es darum geht, die Inflation als Problem zu betrachten. In der Vergangenheit hätten sie sich im Falle einer Inflation wie sie derzeit herrscht, entschlossen vor die Fernsehkamera gestellt und es so – oder so ähnlich - formuliert: "Wir hassen Inflation und wir werden sie bekämpfen". Heute suchen sie eher Ausreden für die Inflation und versichern der Öffentlichkeit, dass sie einfach wieder verschwinden wird.  
Die lange Phase der niedrigen Inflation nach der weltweiten Finanzkrise des Jahres 2008 – während der die Fed große Schwierigkeiten hatte, die Inflationsrate auf den von ihr gesetzten Zielwert von 2 Prozent zu bringen – hatte ganz offensichtlich nachhaltige Wirkung auf die Psyche der Zentralbanker. Die offenkundige Gefahr besteht nun darin, dass sie womöglich den vergangenen Krieg weiterführen. Aber selbst wenn sie nicht in diese Falle tappen, werden strukturelle Veränderungen innerhalb der Zentralbanken und im allgemeineren politischen Umfeld die Zentralbanker noch zögerlicher werden lassen, die Zinssätze anzuheben.
Um eine Anpassung an das vor der Pandemie herrschende Umfeld niedriger Inflation vorzunehmen, änderte die Fed ihren Inflationsrahmen, um über einen (noch immer nicht definierten) Zeitraum auf eine gewisse Durchschnittsinflation abzuzielen. Das heißt, sie kann über einen gewissen Zeitraum eine höhere Inflation zulassen, ohne dafür kritisiert zu werden, hinter der Entwicklung herzuhinken – eine potenziell sinnvolle Änderung in einer Zeit, da man dachte, die Erhöhung der öffentlichen Inflationserwartung wäre das Hauptproblem. Vorbei war es mit der alten Zentralbankweisheit, wonach es bereits zu spät sei, wenn man der Inflation schon direkt ins Auge blickt. Die Fed würde vielmehr eine Zeitlang auf die Inflation starren und erst dann handeln, wenn sie sicher ist, dass die Inflation auch von Dauer ist.
Darüber hinaus wird in dem neuen Rahmen viel mehr Wert darauf gelegt, dass der Beschäftigungszuwachs auf breiter Basis und integrativ erfolgt. Da historisch benachteiligte Minderheiten in den USA oft am schwersten einen Arbeitsplatz finden, implizierte diese Änderung, dass die Fed möglicherweise einen strafferen Arbeitsmarkt als in der Vergangenheit tolerieren würde, und dass sie über mehr Flexibilität verfügt, die Wirtschaft anzukurbeln – durchaus nützlich in einem Umfeld schwacher Nachfrage. Derzeit allerdings sieht sich die Fed mit starker Nachfrage in Verbindung mit Lieferketten-Unterbrechungen konfrontiert, die wohl noch eine Zeitlang anhalten werden.  Ironischerweise hat die Fed ihren strategischen Rahmen wohl gerade in dem Moment geändert, als sich das Wirtschaftsregime an sich veränderte.
Subscribe to Project Syndicate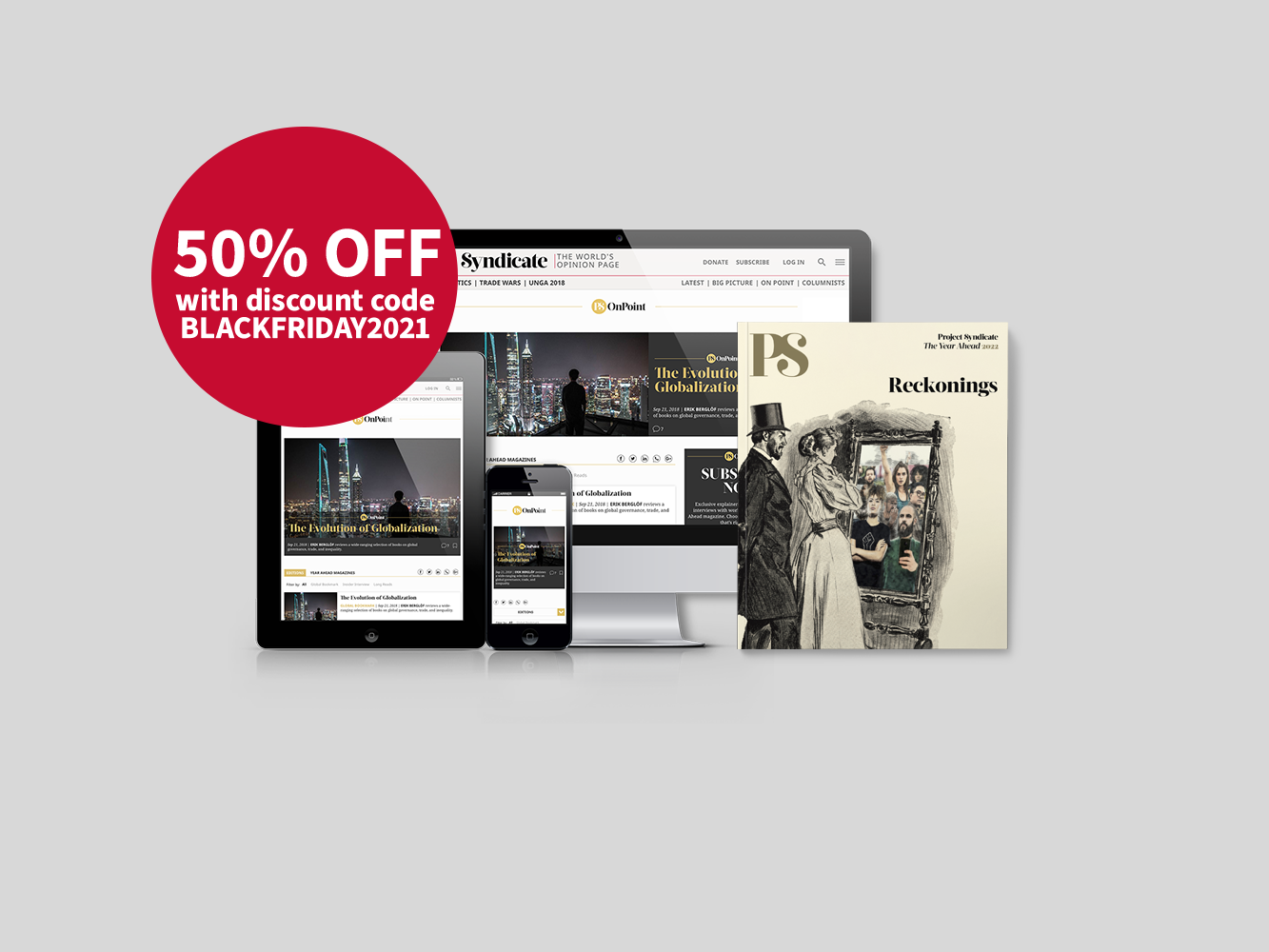 Subscribe to Project Syndicate
Enjoy unlimited access to the ideas and opinions of the world's leading thinkers, including weekly long reads, book reviews, topical collections, and interviews; The Year Ahead annual print magazine; the complete PS archive; and more – for less than $5 a month.
Doch sollte diese größere Flexibilität den Entscheidungsträgern nicht mehr Handlungsspielraum verschaffen? Nicht unbedingt. Aktuell hat der Kongress gerade Billionen Dollar ausgegeben, um die beste wirtschaftliche Erholung auf die Beine zu stellen, die für Geld zu haben ist. Man stelle sich die Empörung im Kongress vor, würde die Fed jetzt durch eine Zinserhöhung ohne Nutzung der Flexibilität des neuen Rahmens die Wirtschaft zum Absturz bringen. Anders gesagt: Einer der Vorteile eines klaren Rahmens zur Inflationsbekämpfung besteht darin, dass die Notenbank über die politische Rückendeckung verfügt, um rasch auf eine steigende Inflation zu reagieren. Mit dem geänderten Rahmen ist das nicht mehr der Fall. Deshalb wird es mit ziemlicher Sicherheit länger eine höhere Inflation geben. Tatsächlich wurde das neue Rahmenwerk genau zu diesem Zweck verabschiedet – in einer Zeit, die sich uns aus heutiger Sicht völlig anders präsentiert.
Aber nicht nur der neue Rahmen schränkt die Wirksamkeit der Maßnahmen der Fed ein. In Erwartung einer auf unbestimmte Zeit lockeren Geld- und Finanzpolitik und unterstützt von massiver Kreditaufnahme befinden sich die Vermögensmärkte auf dem Höhenflug. Die Marktteilnehmer glauben - zu Recht oder zu Unrecht - dass die Fed ihnen den Rücken freihält und von ihrem Kurs in Richtung Zinserhöhung abrückt, wenn die Vermögenspreise fallen.
Wenn sich die Fed nun zu Maßnahmen entschließt, muss sie die Zinsen zur Normalisierung des finanziellen Umfeldes möglicherweise stärker anheben und damit erhöht sich auch das Risiko einer negativen Marktreaktion, wenn die Marktteilnehmer schlussendlich erkennen, dass die Fed es ernst meint. Abermals präsentieren sich die Abwärtsrisiken eines Kurses in Richtung Zinserhöhung sowohl für die Wirtschaft als auch für das Ansehen der Fed als durchaus beträchtlich.
Die ursprüngliche Absicht hinter regierungsunabhängigen Zentralbanken bestand darin, sicherzustellen, dass sie auf diese Weise die Inflation zuverlässig bekämpfen und nicht unter Druck gesetzt werden können, entweder das staatliche Haushaltsdefizit direkt zu finanzieren oder durch Verlangsamung der Zinserhöhungen die Kreditkosten der Regierung niedrig zu halten. Die Fed hält derzeit jedoch 5,6 Billionen an staatlichen Anleihen, die durch Tagesgeld von Geschäftsbanken in gleicher Höhe finanziert werden.
Wenn die Zinssätze steigen, muss die Fed selbst höhere Zinssätze bezahlen, wodurch sich die Dividende an die Regierung verringert und das Haushaltsdefizit vergrößert. Außerdem liegt die US-Verschuldung bei etwa 125 Prozent des BIP, und ein erheblicher Teil davon weist  kurzfristige Fälligkeit auf. Das heißt, Zinserhöhungen werden sich rasch in höheren Refinanzierungskosten niederschlagen. Ein Thema, dem die Fed in der Vergangenheit nicht viel Aufmerksamkeit schenken musste – nämlich die Auswirkungen der Zinserhöhungen auf die Kosten zur Finanzierung von Staatsschulden - wird nun also in den Mittelpunkt rücken.
Freilich: nicht nur die Fed, sondern alle Zentralbanken der Industrieländer sind mit Kräften konfrontiert, die auf Zurückhaltung bei Zinserhöhungen drängen. Die erste große Zentralbank, die sich in diese Richtung bewegt, könnte somit auch für eine erhebliche Aufwertung des Wechselkurses ihrer Währung sorgen und das Wirtschaftswachstum bremsen. Dies ist ein weiterer Grund zu warten. Warum lassen wir nicht eine andere Notenbank den ersten Schritt tun und beobachten, ob sie den Zorn der Märkte und der Politik auf sich zieht?
Sollte sich das Szenario der Zeit nach 2008 wiederholen oder sollten China und andere Schwellenländer disinflationäre Impulse auf die Weltwirtschaft übertragen, wäre Abwarten die richtige Entscheidung. Andernfalls würden die derzeitigen Hemmnisse für Zentralbank-Maßnahmen zu mehr und anhaltender Inflation sowie einem längeren Kampf um deren Eindämmung führen. Fed-Chef Jerome Powell hat zu Beginn seiner zweiten Amtszeit eine Menge zu bedenken.
Aus dem Englischen von Helga Klinger-Groier