Die Rückkehr der Großmachtpolitik und die EU
BERLIN – Die Geschichte der europäischen Großmächte, die für die Dauer mehrerer Jahrhunderte hinweg die Welt beherrscht hatten, ging mit dem Ende des Zweiten Weltkriegs und mit der sich daran anschließenden Dekolonisierung zu Ende. Nach 1945 traten an die Stelle der Europäer zwei nichteuropäische Weltmächte, die USA und die Sowjetunion, und eine Vielzahl neuer unabhängiger Staaten.
Allein die USA, als Sieger auf den beiden Kriegsschauplätzen im Pazifik und in Europa, waren stark genug, der damals noch dominanten westlichen Welt eine politische und wirtschaftliche Ordnung zu geben, die, von ihnen militärisch geschützt, auf eine Überwindung von Nationalismus und Protektionismus setzte, zugunsten von machtpolitischer Zusammenarbeit und freiem Handel, und sie schufen dazu internationale Institutionen und ein multilaterales Regelwerk. In Europa entwickelte sich daraus eine neue (west-) europäische Staatenordnung, die EU.
Mit der Selbstauflösung der Sowjetunion Weihnachten 1991 blieben die USA dann als alleinige Supermacht in einem unipolaren globalen Staatensystem zurück, was diese schnell überforderte und in einem unsinnigen Krieg im Irak endete. Seitdem sind bei der Supermacht die Signale auf Rückzug gestellt, sowohl unter Barack Obama als auch unter Donald Trump.
Es gibt jedoch kein Vakuum in der globalen Ordnung, das stabil ist. Ganz im Gegenteil lädt ein Vakuum andere Mächte dazu ein, es machtpolitisch auszufüllen, an erster Stelle die aufsteigende Weltmacht China, aber auch eine militärisch wiedererstarkende globale Nuklearmacht Russland. Die Weltordnung von heute wird nicht mehr durch eine oder zwei Supermächte bestimmt und auch nicht durch eine globale multilaterale Ordnung, die versucht die Interessen zwischen den unterschiedlichen Mächten auszutarieren und Konflikte einzudämmen, zu verhindern oder gar zu lösen.
Die Gegenwart wird durch eine Rückkehr der engen nationalen Interessen und geopolitischen Interessen der globalen Groß- und auch mittleren Mächte bestimmt. Anstelle des Multilateralismus ist der außenpolitische Nationalismus zurückgekehrt, anstelle eines internationalen Regelwerks die Konfrontation der Interessen. Das macht die gegenwärtige internationale Lage so unberechenbar, so instabil.
Mit der Wahl von Donald Trump zum Präsidenten der USA begannen sich die USA von der von ihnen seit Mitte der vierziger Jahre geschaffenen Weltordnung und deren multinationalen Institutionen aktiv zu verabschieden, ja diese willentlich selbst zu zerstören, wie etwa die WTO, und aktiv ihre traditionellen und bewährten Bündnissysteme infrage zu Stellen. Die multilaterale Epoche einer Pax Americana, wie sie aus dem Zweiten Weltkrieg und dem Kalten Krieg hervorgegangen war, kam mit Trump an ihr definitives Ende und wurde abgelöst durch die Wiederkehr einer globalen Großmachtpolitik, in der versucht wird, die jeweils eigenen nationalen Interessen zu Lasten anderer, schwächerer Mächte durchzusetzen, sei es unter Einsatz von Pressionen oder sogar von Gewalt, wie die Ostukraine zeigt.
Subscribe now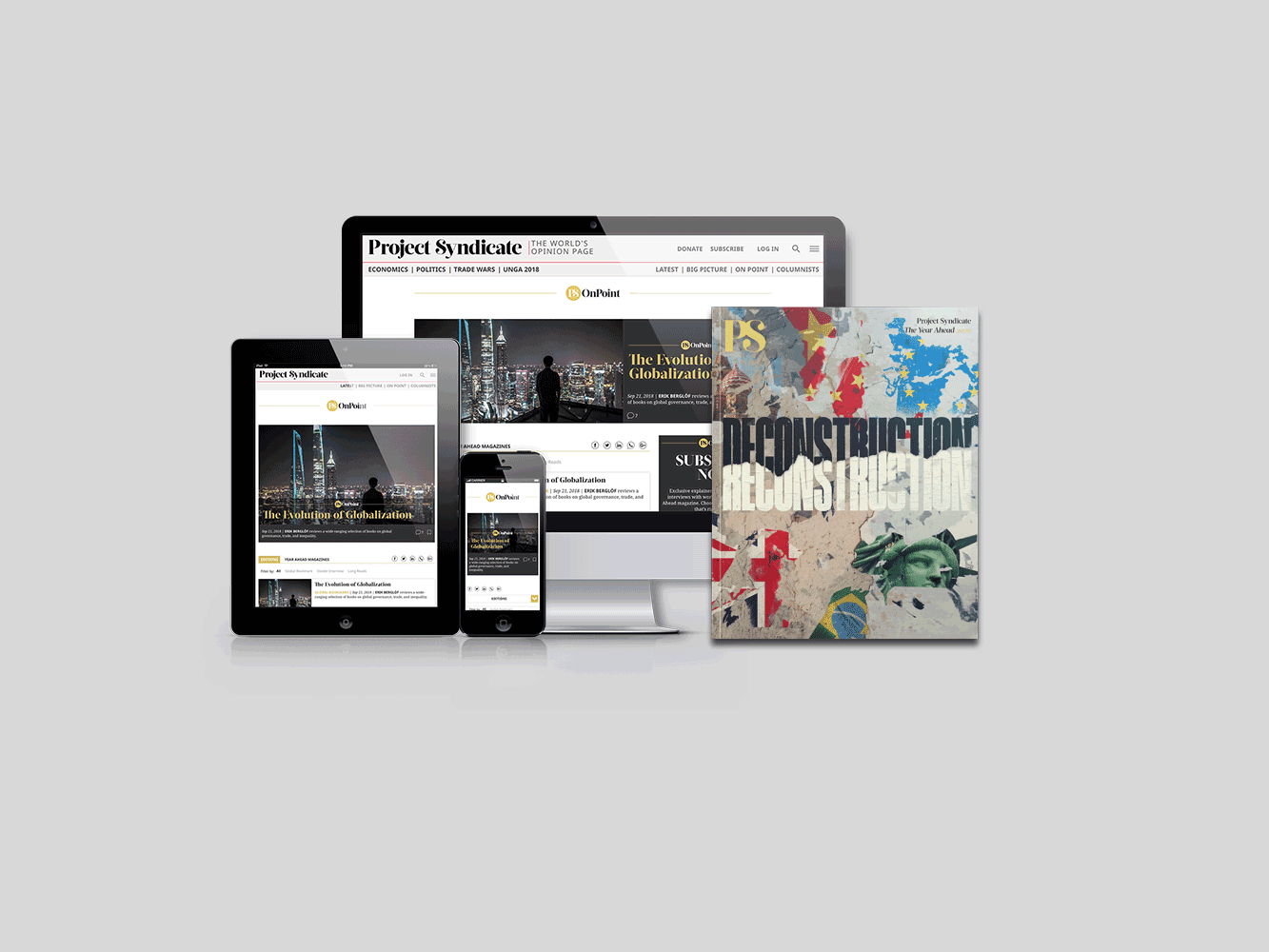 Subscribe now
Subscribe today and get unlimited access to OnPoint, the Big Picture, the PS archive of more than 14,000 commentaries, and our annual magazine, for less than $2 a week.
Europa wird sich dieser Veränderung nicht entziehen können. Auch wenn die EU wirtschaftlich, technologisch und im Handel mächtig ist, so ist sie doch keine Macht, bestimmt durch eine einheitlichen politischen Willen, durch eine selbstverständlich gewordene Tradition und militärische Fähigkeiten, die eine globale Macht definieren. Die EU ist der Verbund von siebenundzwanzig Mitgliedstaaten und insofern das erfolgreichste Kind der untergehenden multilateralen Weltordnung.
Diese historische Transformation der globalen Ordnung hin zu einer Rückkehr eines Systems einiger weniger rivalisierender Großmächte steht in einem dramatischen Widerspruch zu den wachsenden gemeinsamen globalen Herausforderungen, wie dem Klimaschutz. Im 21. Jahrhundert ist mehr gemeinsames Handeln der Staatengemeinschaft erforderlich und nicht engstirniger konfrontativer Nationalismus. Eine Begrenzung des Anstiegs der globalen jährlichen Durchschnittstemperatur setzt das gemeinsame Handeln der großen Mehrheit der Staaten voraus, also das genaue Gegenteil einer renationalisierten Großmachtpolitik. Europa verfügt im Klimaschutz sowohl technologisch als auch regulativ über eine Spitzenposition, die es unbedingt erhalten, ja ausbauen sollte, auch und gerade im Interesse seiner Wirtschaft.
Vor allem der Rückzug der USA wird die Europäer dazu zwingen, zur Macht zu werden, wenn sie nicht in neue Abhängigkeiten geraten wollen. Der Trumpismus, der Aufstieg der neuen Weltmacht China und die aggressiven Ambitionen ihres Nachbarn Russland, seinen Weltmachtstatus auf schwacher ökonomischer Grundlage wieder zu erlangen und zu sichern, beginnend mit der Revision der Grenzen Russlands in Osteuropa, zwingen die EU in Richtung Machtpolitik.
Hinzu kommt in der Gegenwart eine neue, große technologische Herausforderung. Mit der Digitalisierung, mit AI, Big Data und Quanten Computing wird über die Welt von morgen entschieden. Dabei geht es im Kern der Digitalisierung nicht um Technologie, so wichtig diese ist, sondern um Freiheit, die Freiheit des Einzelnen und der westlichen Gesellschaften insgesamt. In der digitalen Zukunft entscheidet sich die Zukunft der Freiheit, des Kerns der westlichen Zivilisation, an der Frage, wem gehören die Daten? Und noch genauer gefragt, wem gehören die Daten der Europäer? Den großen Digitalkonzernen der amerikanischen Westküste oder gar China? Oder müssen sie nicht vielmehr unter der souveränen Kontrolle der EU verbleiben? Das Letztere, die europäische Datensouveränität, wird sich als zwingend erweisen.
Die Zeit der konstitutionellen Debatten innerhalb der EU – wie viel Integration, wie viel Staatenverbund? – ist für das Erste vorbei. Ob Integrationisten oder Intergouvernementalisten, beiden wird die machtpolitische Transformation der EU von außen aufgezwungen und muss praktisch innerhalb kurzer Zeit beantwortet werden, sollen die Europäer nicht unter die Räder des technologischen und weltpolitischen Wandels kommen. Europa darf weder technologisch noch machtpolitisch abgehängt werden, und Europa muss seine globale Spitzenposition beim Klimaschutz auch und gerade technologisch und regulativ weiter ausbauen, das sind die neuen Prioritäten des 21. Jahrhunderts für die EU im Zeichen einer neuen Rivalität globaler Großmächte.