Neue Waffen für die EZB
ATHEN – Mario Draghi hat während seiner Amtszeit als Präsident der Europäischen Zentralbank eine Reihe von Waffen geschmiedet, die er einsetzte, um die Eurozone vor gefährlichen deflationären Kräften abzuschirmen. Ohne sie wäre der Euro Geschichte. Jedoch wurde das Gespenst der Deflation, das das Europa heimsucht, nie wirklich besiegt, und jetzt ist es zurück – und zwar mit beträchtlicher Kraft.
In den letzten Tagen seiner Präsidentschaft nun wirft Draghi dem Problem alles entgegen, was er aufzubieten hat; er hofft, den europäischen Regierungen und seiner Nachfolgerin Christine Lagarde damit Zeit zu erkaufen. Doch ähnlich Antibiotika, gegen welche die Bakterien eine umfassende Resistenz entwickelt haben, haben seine Waffen inzwischen ihre Wirkung verloren. Stattdessen schaden sie den Sparern im Kern Europas erheblich, und diese Sparer geben nun der EZB die Schuld für die resultierenden negativen Zinssätze, die ihre Ersparnisse angreifen, ohne dabei spürbare produktive Investitionen in die grünen Technologien und die Infrastruktur zu unterstützen, die Europe so verzweifelt braucht.
Auf seiner vorletzten Pressekonferenz als EZB-Präsident warnte Draghi, dass die EZB kaum noch Waffen zur Bewältigung der Aufgabe in ihrem Arsenal habe. Er drängte daher die Politik, durch Steigerung der öffentlichen Ausgaben und eine deutliche Lockerung des absurden Bekenntnisses der EU zu einer prozyklischen Fiskalpolitik (von der er zu Recht fürchtet, sie würde die kommende Rezession verschärfen) die Gesamtnachfrage anzukurbeln.
Künftige Historiker werden lange Abhandlungen darüber verfassen, warum die Regierungen Europas sich der Koordinierung einer vernünftigen Fiskalpolitik verweigerten. Alle Nachrichten aus Berlin und aus der informellen, aber mächtigen Eurogruppe der Finanzminister der Eurozone bestätigen: Es wird keine makroökonomisch bedeutsame Lockerung der Fiskalpolitik geben. Die Last der Bekämpfung der nächsten Rezession wird einmal mehr der EZB zufallen.
EZB-Beobachter prognostizieren, dass Lagarde an den bestehenden Praktiken herumbasteln und diese ausweiten wird. Die quantitative Lockerung dürfte sich fortsetzen, und zwar, indem der Anteil der öffentlichen Schuldpapiere eines Landes, den die EZB kaufen darf, ausgeweitet wird. Und das Notprogramm zur Bereitstellung billiger Liquidität an die Banken der Peripherie (TLTRO) wird sich zu einem dauerhaften Tropf für diese Banken entwickeln.
Die fortdauernde Stützung auf Draghis Waffen wird vermutlich erfolgreich dazu beitragen, quasi-insolvente Staaten und Banken über Wasser zu halten. Doch wird sie dies nur auf Kosten einer tiefer gehenden Stagnation und noch hässlicherer politischer Spannungen tun. Genauer gesagt wird die EZB bis 2025 die Hälfte aller (öffentlichen und privaten) Schuldpapiere der Eurozone halten. Wähler und Politiker in den fiskalisch konservativeren Ländern Mittel- und Nordosteuropas werden aufgrund der fragwürdigen Weise, in der ihnen die gefürchtete Schuldenvergemeinschaftung untergeschoben wurde, noch stärker desillusioniert werden, was den Euroskeptizismus unter konservativen Europäern weiter anheizen dürfte. Zugleich werden die realen Investitionen, die Schaffung hochwertiger Arbeitsplätze und die öffentliche Stimmung europaweit in der Flaute verharren, während auf Überschuss- und Defizitländern einer Wolke permanenter Stagnation lasten wird. Einzige Nutznießer werden die Rechtspopulisten sein.
Subscribe now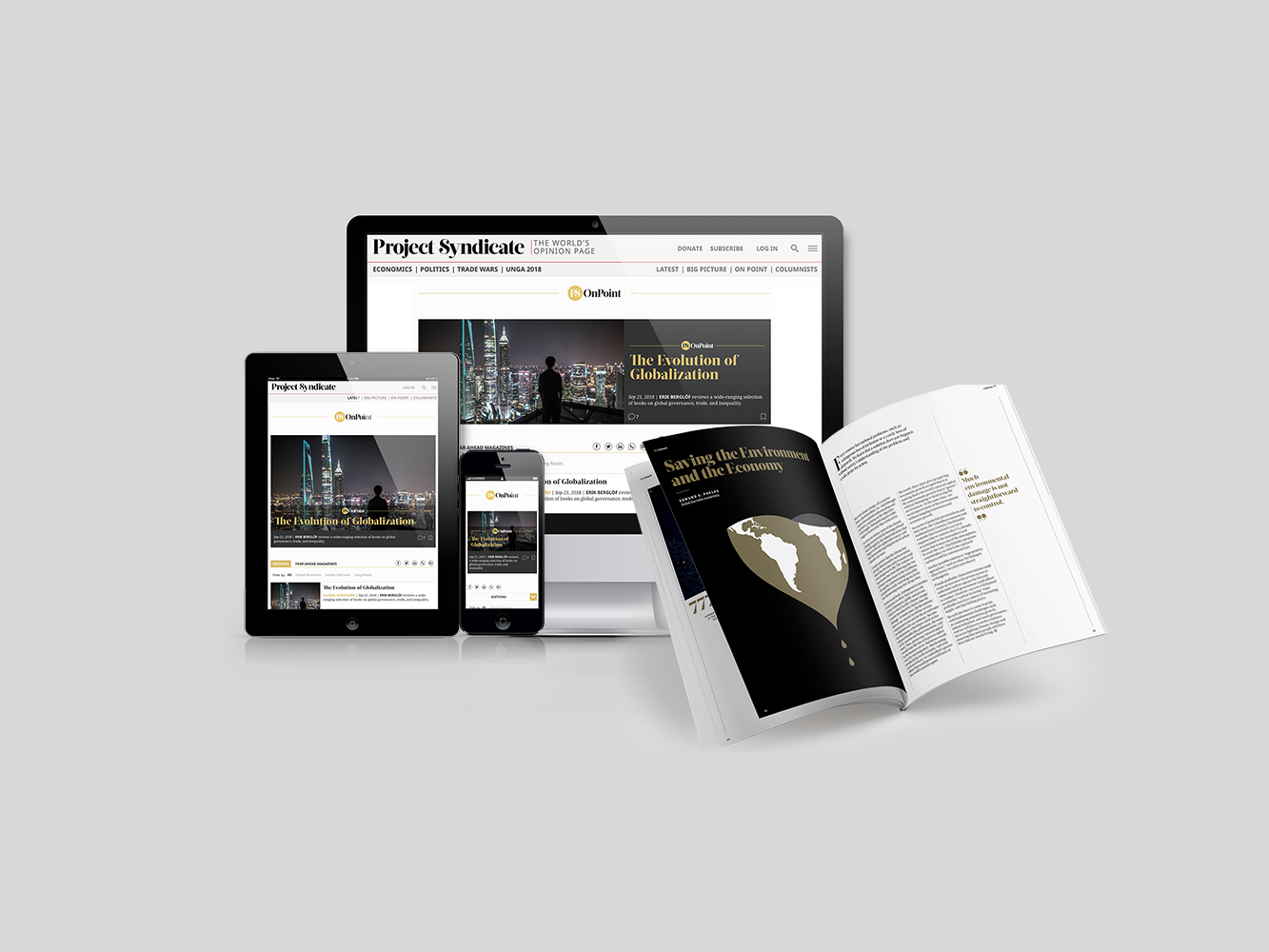 Subscribe now
Subscribe today and get unlimited access to OnPoint, the Big Picture, the PS archive of more than 14,000 commentaries, and our annual magazine, for less than $2 a week.
Die Schlussfolgerung ist unausweichlich: Die EZB braucht dringend neue Waffen! Aber was für welche? Es ist für ihre Konzeption sinnvoll, sich zunächst auf vier Standards zu einigen, die sie erfüllen müssen.
Erstens müssen die Regeln für ihren Einsatz mit der EZB-Charta im Einklang stehen und so einfach sein, dass bei ihrer Verwendung jedes Ermessen ausgeschlossen ist. Je komplexer das Protokoll für neue Interventionen ist, desto angreifbarer wird die EZB, was den Vorwurf der Bevorzugung (etwa der Parteilichkeit zugunsten italienischer Schuldpapiere oder deutscher Banken) angeht.
Zweitens müssen die neuen Waffen der EZB, um das Wiederaufleben von Einwänden über Fehlanreize zu opportunistischem Verhalten ("Moral Hazard") zu verhindern, einen eingebauten Mechanismus zur Verhinderung von Trittbrettfahrerei durch schwache Staaten und Banken haben. Wenn sich die Last der Disziplinierung auf marktgestützte Anreize gründet, wird dies die Abhängigkeit von den Behörden – sei es der Europäischen Kommission, der Eurogruppe oder einem anderen Gremium – zur Durchsetzung der Haushaltsregeln verringern.
Drittens müssen die neuen Instrumente das größte Defizit der Eurozone ausgleichen: den Mangel an einem 100%ig sicheren Anlagewert, den jede Währung zur Stabilisierung der diese nutzenden Finanzeinrichtungen braucht. Der Mangel an einem derartigen Anlagewert hat verhindert, dass die Banken der Eurozone ihr Eigenkapital durch eine ausreichende Menge an qualitativ hochwertigen Anlagen stützen, was zu größerer finanzieller Instabilität führte. Zudem wird sich der Euro nie zu einer lebensfähigen Alternative zum US-Dollar entwickeln, solange es keinen auf Euro lautenden Anlagewert gibt, in den ausländische Unternehmen durch Exporte in die Eurozone erworbene Euros sicher investieren können.
Viertens müssen die neuen Instrumente der EZB zugleich den Staaten und Banken in der Peripherie helfen, ihre Zahlungsunfähigkeit zu überwinden, und die Belastung durch negative Zinssätze in den Überschussländern vermindern.
Zum Glück lässt sich unmittelbar eine wirksame Waffe konzipieren, die alle diese vier Standards erfüllt: EZB-Wandelanleihen. Ihre Ankündigung könnte in etwa so aussehen:
"Künftig wird die EZB immer dann, wenn eine Staatsanleihe eines Eurolandes das Ende ihrer Laufzeit erreicht, eine Wandelanleihe ausgeben, deren Nennwert dem maastrichtkonformen Anteil der Staatsverschuldung des betreffenden Mitgliedstaates entspricht. Zweck der Anleihe ist es, die maastrichtkonformen öffentlichen Schulden (bis zu 60% vom BIP) zu so niedrigen Zinssätzen zu bedienen, wie sie nur die EZB erzielen kann. Voraussetzung dabei ist, dass die Mitgliedstaaten zusagen, die Anleihe einzulösen und ihr Vorrang vor allen anderen (dann vermutlich höher verzinsten) Schulden einzuräumen."
Ein numerisches Beispiel: Liegt die Schuldenquote eines Mitgliedstaates bei 90%, deckt die EZB-Wandelanleihe jeweils 667 Euro von jeden 1.000 Euro der fällig werdenden Anleihe des betreffenden Staates ab. Je weniger der Mitgliedstaat sein durch den Maastrichtvertrag festgelegtes Schuldenlimit überzogen hat, desto größer ist der Anteil seiner öffentlichen Schulden, der zu den ultraniedrigen Zinsen für EZB-Anleihen bedient wird. Es ist unmittelbar einsichtig, wie dieser Zinsunterschied die Disziplin fördert und die Angst vor opportunistischem Verhalten, die das gegenwärtige Programm der quantitativen Lockerung auf ein gefährliches Niveau erhöht hat, ausräumt.
Man beachte zudem, dass die neuen EZB-Anleihen, über die Verringerung von Moral-Hazard-Risiken hinaus, auch die drei anderen Standards erfüllen. Ihre Ausgabe ist nicht an ein Ermessen der EZB geknüpft, da sie sich unmittelbar aus den bestehenden Maastricht-Limiten ergibt. Sie würden den Banken der Eurozone den fehlenden sicheren Anlagewert bieten, den sie brauchen, um sich von den häufig von schwachen nationalen Regierungen ausgegebenen Anleihen unabhängig zu machen (und zugleich Ausländern einen sicheren Anlagewert bieten, den sie mit ihren Euros kaufen können). Und schließlich würden EZB-Wandelanleihen eine Zinserholung in Überschussländern wie Deutschland ermöglichen, weil die EZB keine deutschen Bundesanleihen als Voraussetzung für den Erwerb italienischer Staatsanleihen mehr kaufen müsste. Tatsächlich wäre die EZB jeder Verpflichtung entbunden, überhaupt etwas zu kaufen. Dies würde es ihr ermöglichen, die Unterstützung nur noch eines einzigen weiteren Anleihetyps in Betracht zu ziehen: von der Europäischen Investitionsbank ausgegebenen "grünen" Anleihen, um zusätzliche Liquidität abzuschöpfen und in die grünen Investitionen umzuwandeln, die Europa braucht.
Aus technischer Sicht sind EZB-Wandelanleihen die offensichtliche Alternative zum scheiternden Programm der quantitativen Lockerung. Nur die irregeleitete Furcht vor einer Vergemeinschaftung der Schulden steht ihnen im Weg.
Aus dem Englischen von Jan Doolan