2018 : une année d'opportunité pour l'Europe
MADRID – C'est devenu un cliché : tous les ans au mois de décembre, l'année à venir s'annonce cruciale pour l'Union européenne. À chaque bilan hivernal, on constate que l'Europe a connu 12 mois agités, marqués par des événements auxquels elle n'était pas préparée, qu'elle élabore une réponse improvisée, et qu'elle s'engage à résoudre des problématiques structurelles profondes. Puis arrive l'année suivante, dont les événements submergent à nouveau l'Europe, qui se retrouve à nouveau piégée dans une attitude de réaction à court terme face aux crises. L'année 2018 fera-t-elle exception à cette tendance ?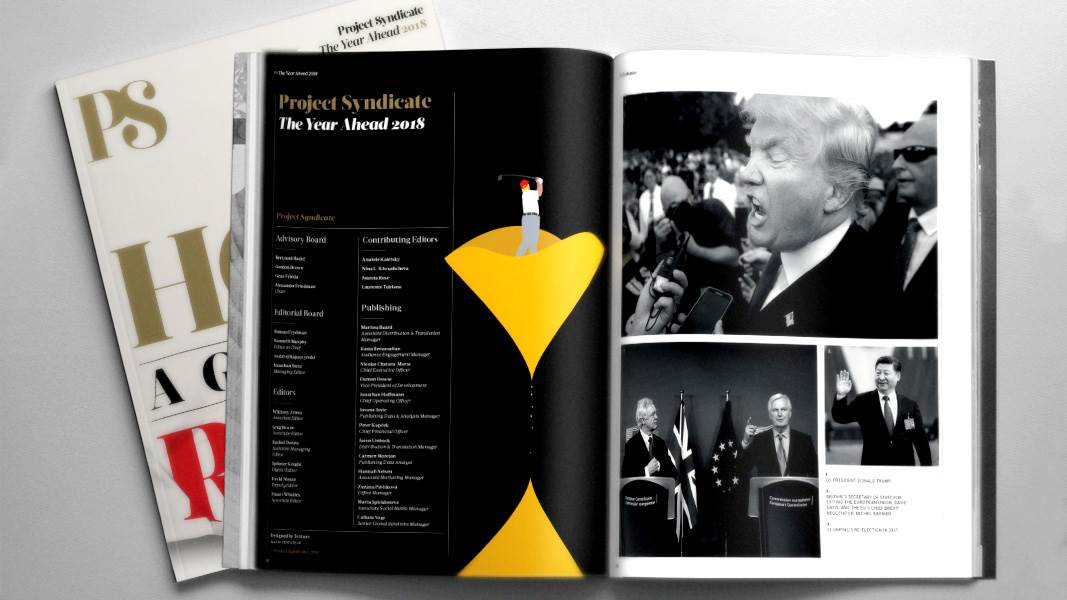 The Year Ahead 2018
The world's leading thinkers and policymakers examine what's come apart in the past year, and anticipate what will define the year ahead.
Réponse courte, c'est possible. À l'issue de presque dix ans de difficultés incessantes – désastre financier, invasion de l'Ukraine puis annexion de la Crimée par la Russie, crise migratoire, vote du Brexit, puis élection d'un président américain qui remet en question la relation transatlantique – l'Europe approche l'année 2018 dans une position relativement stable.
Aucune crise ne menace actuellement les frontières de l'Europe, et les perspectives économiques apparaissent également stables, malgré une croissance anémique. Plus important encore, les élections observées en 2017 dans les trois plus grandes puissances économiques européennes n'ont pas prolongé la révolte populiste. La France est aujourd'hui présidée par un Emmanuel Macron pro-européen, une grande coalition pro-européenne émerge en Allemagne, tandis que le gouvernement britannique, bien que profondément divisé, a trouvé un terrain d'entente avec ses partenaires européens autour d'un projet de divorce qui servira de base à la poursuite des négociations. L'Italie est le seul pays majeur de l'UE dans lequel une élection aura lieu en 2018.
L'Europe bénéficie actuellement d'une formidable opportunité de faire primer l'élaboration des politiques sur les considérations politiciennes, et de promouvoir les réformes dont elle a besoin pour poser les fondations d'un avenir plus prospère, plus sûr et plus dynamique. Il n'y a pas de temps à perdre : l'année 2019 s'annonce d'ores et déjà compliquée, puisqu'elle sera marquée par les élections européennes, la désignation d'une nouvelle Commission européenne, et l'échéance de la conclusion d'un accord sur le Brexit.
Ceci laisse 12 mois à l'Europe pour accomplir des avancées dans différents domaines, parmi lesquels la défense commune, le commerce, l'union énergétique, la réforme de Schengen, et l'union bancaire. Mais des efforts concertés seront particulièrement nécessaires dans trois domaines – interne, régional et mondial – au cours de l'année prochaine.
Le premier domaine qui exige des avancées n'est autre que la construction d'un marché unique numérique. En 2015, l'UE a lancé sa « stratégie pour un marché unique numérique », avec pour objectif d'amorcer le secteur numérique européen. Depuis, certains progrès ont été réalisés – notamment la très populaire suppression des frais d'itinérance qu'appliquaient les fournisseurs de téléphonie mobile. Pour autant, la création d'un environnement permettant aux entreprises européennes de se déployer et de rivaliser à l'international, tout en se confrontant aux géants de l'industrie qui s'accaparent ce marché, exigera bien d'autres efforts. Par ailleurs, le mandat du président de la Commission européenne Jean-Claude Juncker prenant fin en 2019, c'est l'année prochaine qu'il faudra agir.
Le deuxième domaine concerne la relation entre l'Europe et l'Afrique. La crise migratoire souligne le lien inextricable qui unit l'avenir des deux continents – et l'inefficacité de la politique européenne appliquée jusqu'à présent en Afrique. Les précédents abondent s'agissant des promesses formulées – et rompues – par l'Europe quant à une refonte de son approche vis-à-vis de l'Afrique. Bonne nouvelle, plusieurs raisons laissent à penser que ce changement, en direction d'une relation productive et axée sur les résultats, est enfin imminent. En effet, l'Europe joue désormais sa peau dans cette situation : si elle ne parvient pas à créer des opportunités et à stabiliser la gouvernance en Afrique, les pressions migratoires se poursuivront, voire s'accentueront. L'intérêt personnel s'est souvent révélé une motivation bien plus puissante que l'altruisme. La réussite exigera que le paternalisme d'hier cesse, au profit d'une coopération équilibrée. L'Afrique et l'Europe doivent travailler ensemble, sur un pied d'égalité, au-delà des solutions de court terme axées sur l'endiguement des flux migratoires, en adoptant désormais une approche qui en appréhende les causes profondes – dont la plus fondamentale n'est autre qu'une mauvaise gouvernance. Lors du récent sommet entre l'UE et l'Union africaine, les premiers indices d'une telle approche sont apparus sous la forme d'un plan de stimulation de l'investissement privé – plutôt que sous la forme d'une aide – et en grande partie via des garanties apportées. La question est désormais de savoir si l'Europe est enfin prête à honorer ses promesses, en investissant du temps, des efforts et du capital politique dans l'approfondissement de son engagement, et l'accomplissement d'une véritable réforme de la gouvernance.
Troisième domaine clé dans lequel l'Europe devra progresser en 2018, il s'agira pour elle de se réapproprier son rôle de leader mondial de la politique climatique. Bien que le rassemblement climatique récemment achevé par Macron ait envoyé un message positif, il a également mis en évidence, notamment dans la communauté des affaires, le désir d'un plus large leadership climatique mondial, à l'heure où les États-Unis fuient les démarches de coopération internationale, notamment sur les questions environnementales. L'Europe doit combler le vide laissé par les États-Unis. Seulement voilà, l'accord climatique de Paris (dont l'administration Trump s'est retirée cette année) étant actuellement dans une phase cruciale de détermination des règles, l'Europe doit agir rapidement si elle entend assurer une coopération intelligente et responsable. Plus précisément, et en tenant compte des erreurs qui ont abouti au sommet catastrophique de Copenhague en 2009, l'Europe doit travailler avec humilité à la formation de coalitions diverses.
L'année à venir apportera son propre lot d'événements imprévus et motifs de distraction. C'est néanmoins une réalité, 2018 s'annonce comme une année de relatif calme pour l'Europe, offrant une opportunité rare pour l'UE d'accomplir des avancées face à des défis plus profonds, et de plus long terme. Il ne faut pas manquer cette opportunité.  
Traduit de l'anglais par Martin Morel
Ana Palacio, ancienne ministre espagnole des Affaires étrangères, et ancienne vice-présidente principale de la Banque mondiale, est membre du Conseil d'État espagnol, et intervient en tant que conférencière à l'Université de Georgetown.