Un 2018 para hacer Europa
MADRID – Se ha convertido en un lugar común: cada diciembre proliferan las voces que califican el año siguiente como crucial para la Unión Europea. Es un balance bien pautado, se constata la turbulencia de los 12 meses pasados, y se reflexiona sobre su origen en eventos para los que Europa no estaba preparada, ha improvisado una respuesta y proclama el compromiso de abordar en el inmediato futuro las cuestiones estructurales. Y se inicia un nuevo ciclo, y Europa vuelve a saturarse de acontecimientos y a quedar atrapada en respuestas a corto plazo. ¿Será la Unión capaz de romper este esquema en  2018?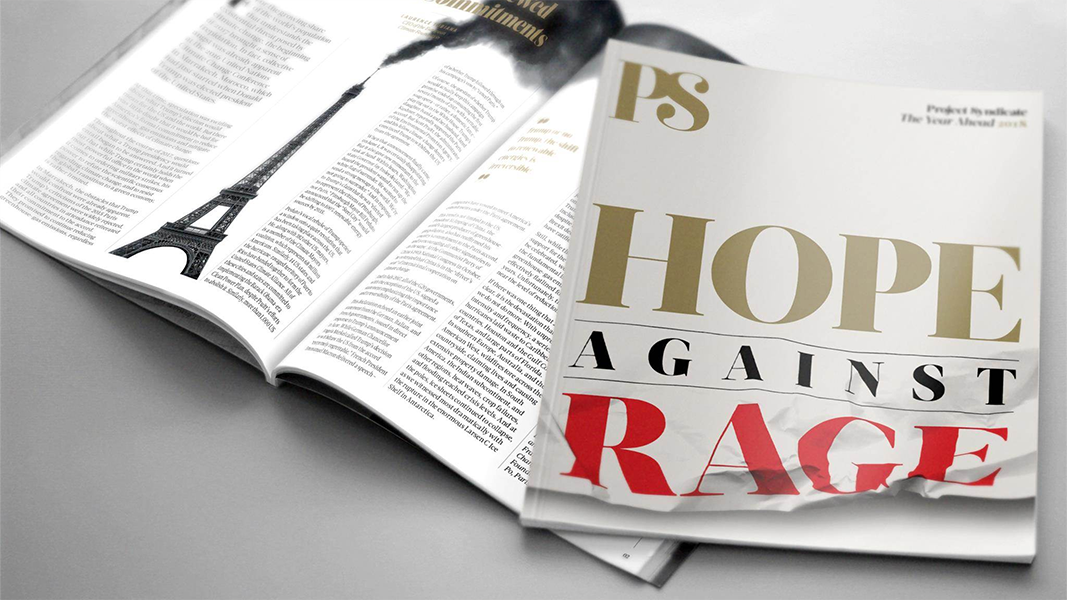 The Year Ahead 2018
The world's leading thinkers and policymakers examine what's come apart in the past year, and anticipate what will define the year ahead.
Es posible. Después de casi una década concatenando dramas — desastre financiero, invasión rusa de Ucrania y anexión de Crimea, crisis migratoria, votación del Brexit y elección de un presidente estadounidense que cuestiona la relación transatlántica — Europa entra en el 2018 en una situación de relativa estabilidad.
La crisis en las fronteras europeas ha remitido y, a pesar del crecimiento anémico, una perspectiva económica favorable también parece estabilizarse. En cuanto al panorama electoral que 2017 nos deja, sin perjuicio de los recientes resultados en Austria, es de destacar que las citas de las urnas en las tres grandes economías europeas no produjeron nuevas insurrecciones populistas. Francia, tiene ahora un presidente pro-europeo en Emmanuel Macron; una gran coalición pro-europea está emergiendo en Alemania; y el liderazgo británico, aunque muy dividido, ha conseguido alcanzar un acuerdo de divorcio con sus socios europeos que servirá de plataforma para futuras negociaciones. Italia es el único país trascendental con elecciones previstas en 2018.     
La Unión Europea tiene ahora una oportunidad excepcional para profundizar en la formulación de políticas concretas frente a la política declarativa, y para abordar las reformas que además de concentrar las preocupaciones comunes de los ciudadanos en toda la Unión — migraciones, competitividad y cambio climático — constituyen base ineludible para un futuro de prosperidad, seguridad y dinamismo. No hay tiempo que perder; el 2019 ya se perfila cargado de complejidad: elecciones al Parlamento Europeo, designación de una nueva Comisión Europea, y fecha límite para un acuerdo de Brexit. 
La Unión encara pues doce meses para progresar en diversas áreas, como la defensa común, el comercio, la unión energética, la reforma de Schengen, o la unión bancaria. Pero, tanto por razones sustantivas como por responder a preocupaciones primarias de los ciudadanos, los esfuerzos conjuntos son particularmente importantes en tres áreas — interna, regional y global —.
El mercado único digital requiere y merece profundización. En 2015, la UE lanzó su documento estratégico, con el objetivo de poner en marcha este importante sector europeo. Desde entonces ha habido avances, sobre todo la popularmente aclamada eliminación del roaming por parte de las compañías telefónicas. Pero crear las condiciones que permitan a las empresas europeas crecer y competir internacionalmente, en un mercado hoy copado por gigantes no europeos, precisa mucho más trabajo. Y dado que la Comisión Juncker termina su mandato en 2019, no cabe más demora.
La relación de Europa con África es el gran reto regional. La crisis migratoria recalcó lo estrechamente vinculado que está el futuro de ambos continentes, y lo inefectiva que ha resultado la política europea en África hasta ahora. La Unión tiene un largo historial de mudanzas erráticas en su compromiso de priorizar la política africana. Hoy, al fin, se dan las circunstancias para el establecimiento de una relación equilibrada, desde un planteamiento entre iguales, realista y productivo. Porque Europa es consciente de los intereses que tiene en juego: solo la creación de oportunidades y la estabilización de la gobernanza en África puede mitigar una presión migratoria que desde las condiciones actuales se proyecta imparable. Y la historia demuestra cómo el interés es una motivación mucho más poderosa que el altruismo o la mala conciencia por pasados coloniales. Alcanzar el éxito exige alejarse de paternalismos y perseguir una cooperación igualitaria. África y Europa deben trabajar juntos, en pie de igualdad; y superar las acciones tacticistas y cortoplacistas enfocadas a frenar los flujos migratorios; y adoptar un acercamiento que aborde sus orígenes estructurales, incluyendo cuestiones de gobierno. Este nuevo planteamiento caracterizó la Cumbre Unión Africana - Unión Europea con el énfasis marcado en la inversión privada frente a los fondos de ayuda al desarrollo; ahora falta que Europa cumpla sus compromisos e invierta tiempo, esfuerzo y capital político.
Por fin, y no sólo de cara a la ciudadanía, Europa debe consolidar la recuperación del liderazgo mundial en materia de cambio climático. El encuentro de alto nivel organizado y protagonizado por Macron en París a mediados de diciembre subrayó la oportunidad para Europa de asumir esta responsabilidad, en un momento en que Estados Unidos rehúye toda cooperación, sobre todo en este ámbito. Europa debe y puede suplir el vacío dejado por la retirada de EE.UU. en junio de 2017 del acuerdo de París, ahora en fase crucial de ejecución. Pero debe actuar rápido para garantizar una cooperación sensata y responsable. Especialmente, tomando en consideración los errores que culminaron en la desastrosa cumbre del clima de Copenhague en 2009, la UE debe trabajar con humildad para construir coaliciones fuertes.
El año próximo traerá, como los anteriores, imprevistos y distracciones. Sin perjuicio de ello, sigue siendo una realidad que el 2018 debería de propiciar, en particular, las políticas prácticas en los tres ámbitos señalados, agenda digital, política africana y medioambiente, que definirán nuestro futuro. No podemos desperdiciar esta oportunidad.