Die EU im Jahr 2019
BERLIN – Das neue Jahr verspricht aus europäischer Sicht ein weiteres schwieriges Jahr zu werden mit großen Herausforderungen, die sich aufgrund ihrer bereits heute absehbaren Konzentration sehr leicht zu bedrohlichen Krisen auswachsen können.
2019 wird, mit allen Vorbehalten, wohl das Jahr des Brexit werden; die italienische Finanzkrise wird sich verschärfen und droht die Eurozone weiter zu destabilisieren oder zumindest instabil zu halten. Frankreich wird durch eine populistische, recht eigentlich eine "identitäre" Protestbewegung destabilisiert und fällt wohl als europäischer Motor aus. Bei den im Mai anstehenden Europawahlen droht die Gefahr einer nationalistischen Mehrheit im Europaparlament oder zumindest die Gefahr, dass die Nationalisten so stark werden, dass sie nah an die Mehrheit herankommen. Für die EU käme dies einer Katastrophe gleich, weil dann eine weitere Blockade ihrer Entwicklung und ein verstärktes Auseinanderfallen ihrer Mitgliedstaaten droht.
Und all das wird sich mit hoher Wahrscheinlichkeit ereignen, während im Osten der Ukraine Russland weiter Krieg mit seinem Nachbarn führt wird, Donald Trump nicht nur China, sondern auch die multilateral orientierte EU zum Gegner der USA erklärt hat und sich die globale gesamtwirtschaftliche Lage weiter eintrüben wird.
Fürwahr, glänzende Aussichten für 2019. Aus europäischer Sicht verspricht es ein Traumjahr zu werden!
Diese Vielzahl absehbarer Herausforderungen machen aber zugleich auch für jedermann klar, worum es geht, nämlich um nichts Geringeres als um das Überleben des europäischen Einigungsprojektes.
Beim Brexit konzentriert sich gegenwärtig zu Recht alles auf die extrem wichtige Frage, ob es zu einem geordneten oder chaotischen Austritt Großbritanniens kommt. Im zweiten Falle wird es auf allen Seiten nur Verlierer geben und die Beziehungen zwischen Großbritannien und den Kontinentaleuropäern könnten auf lange Zeit vergiftet werden. Das kann auf beiden Seiten des Kanals ernsthaft niemandes Interesse sein, denn die geopolitischen Tatsachen auf dem europäischen Kontinent werden sich durch den Austritt nicht wirklich ändern. Das Leben wird auch nach einer Scheidung weitergehen. Das Verhältnis zwischen dem Vereinigten Königreich und der EU möglichst gut und eng zu gestalten liegt im beiderseitigen Interesse und ausschließlich in den Händen der beiden Parteien. Es wird also sehr viel Vernunft gefragt sein.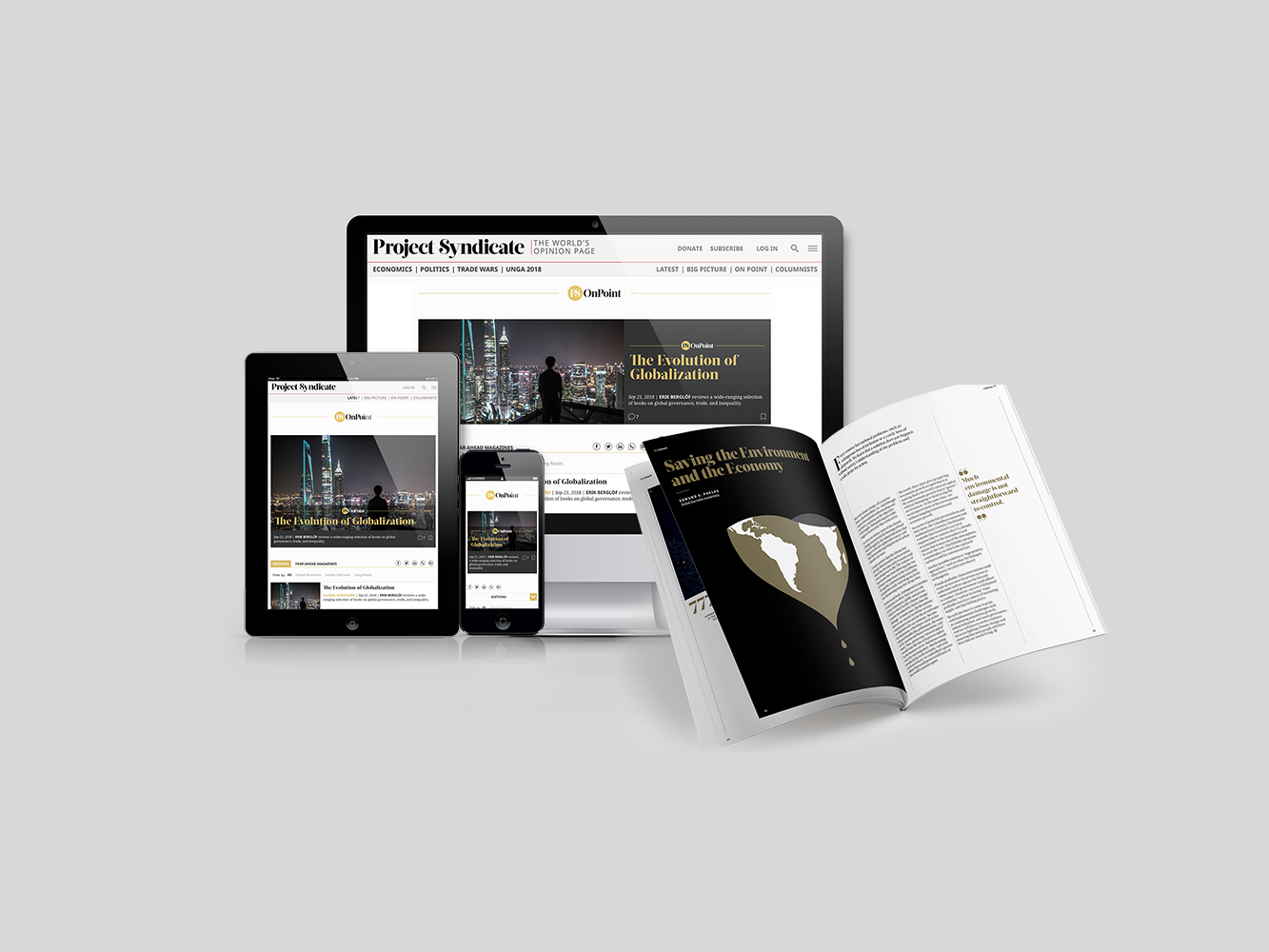 Subscribe now
For a limited time only, get unlimited access to On Point, The Big Picture, and the PS Archive, plus our annual magazine, for less than $2 a week.
Die italienische Krise kann tatsächlich nicht in Brüssel gelöst werden, sondern überwiegend in Rom; Brüssel kann und muss helfen. Italien braucht eine grundsätzliche Modernisierung von Wirtschaft und Gesellschaft und Wachstum. Dazu trägt die Politik der gegenwärtigen Mehrheit leider kaum etwas bei. Bei aller Flexibilität, die Brüssel wird zeigen müssen, kann es sich nicht von den vereinbarten Grundsätzen verabschieden, ohne die Existenz der Währungsunion zu gefährden, und insofern wird es eine längere Phase von wohl quälenden Verhandlungen geben.
Frankreich erlebt gegenwärtig eine Protestwelle, die sich zwar auch in ökonomischen Forderungen artikuliert, zugleich aber über starke "identitäre" Elemente verfügt und einen generellen Verdruss über die Gesamtentwicklung (Verlust der alten Lebenswelten, Europa, Globalisierung, etc.) zum Ausdruck bringt.
Im Zentrum dieser französischen und ähnlicher Entwicklungen in den meisten westlichen Gesellschaften steht aber das Gefühl vor allem der traditionellen Arbeiterklasse und der Mittelschicht, dass der Gesellschaftsvertrag, wie er für die meisten westlichen Länder nach dem Zweiten Weltkrieg gegolten hat und der ein Aufstiegs- und Wohlstandsversprechen war, tatsächlich nicht mehr gilt.
Solange es nicht gelingt, darauf eine Antwort unter den Bedingungen des Abstiegs des Westens und des Aufstiegs Asiens, von globaler Klimakrise, der neuen Kommunikationstechnologien und der Digitalisierung und globaler Migrations- und Flüchtlingsströme neu zu formulieren, werden die westlichen Eliten das verlorene Vertrauen nicht wiedergewinnen und droht eine strukturelle Gefährdung der Demokratie und ihrer Grundsätze.
Wie diese gigantische Aufgabe ohne ein stärkeres Europa von den tradierten Nationalstaaten Europas angegangen werden soll, bleibt ein Geheimnis des Neopopulismus. Das heißt aber: Setzt sich dieser durch, und darum wird es bei den nächsten Wahlen zum Europaparlament gehen, droht die große, die definitive Niederlage Europas
Zudem laufen fast alle großen globalen Trends gegen Europa. Hinzu kommen noch die großen Veränderungen der Weltordnung im 21. Jahrhundert, die alle zu Lasten Europas gehen, wie die Verlagerung des Zentrums der Weltwirtschaft vom atlantischen in den pazifischen Raum und nach Ostasien, der Aufstieg Chinas zur Weltmacht und führenden Weltwirtschaft, sowie technologische Revolutionen wie die künstliche Intelligenz, die Europa zu verschlafen droht. Aus all diesen Gründen wird es für den alten Kontinent in Zukunft keine zweite Chance geben, wenn er seine Möglichkeiten heute und in näherer Zukunft nicht nutzt.
Das Amerika Trumps hat sich verabschiedet, ein bedeutender Teil der europäischen Bevölkerung möchte als Antwort auf die Veränderungen zurück in die Vergangenheit, der alte Gesellschaftsvertrag ist zerbrochen, ein neuer nicht in Sicht, nirgends. Das autoritäre Modell Chinas kann kein Vorbild sein.
2019 wird uns verstärkt klar machen, dass eine völlig neue Zeit angebrochen ist. Die traditionelle Europadebatte und ihre Grundsäulen, wie ein starker Westen, das Bündnis mit den USA und die fortwährende Reform der EU hin zu einem immer engeren Zusammenwachsen der beteiligten Staaten, werden immer weniger tragen.
Die drohenden Krisen in Europa werden diese Tatsachen im kommenden Jahr schonungslos offenlegen. 2019 wird daher aus europäischer Sicht bestenfalls ein Jahr der Defensive werden, und nicht der Beginn des Neubaus Europas. Gleichwohl wird an einem Neubau Europas kein Weg vorbeiführen. Dieser Widerspruch beschreibt eine Zeit des Übergangs, für die es keine Abkürzung und kein Patentrezept gibt.