2019 wordt voor Europa een jaar van defensief gemanoeuvreer
BERLIJN – Vanuit Europees perspectief belooft 2019 opnieuw een moeilijk jaar te worden, gedomineerd door grote problemen die makkelijk kunnen omslaan in dreigende crises. Tenzij zich een grote ommekeer voordoet, zal het Verenigd Koninkrijk zich op 29 maart terugtrekken uit de Europese Unie. Een nakende economische en financiële crisis in Italië zal heviger worden en de stabiliteit van de eurozone bedreigen. En Frankrijk zal waarschijnlijk het toneel blijven van populistisch protest, wat de mogelijkheden van dat land zal verminderen om een leidende rol op zich te nemen bij het nastreven van hervormingen binnen de EU.
Bovendien kunnen de verkiezingen voor het Europees Parlement in mei heel goed een nationalistische meerderheid opleveren, die vervolgens zal bepalen wie de nieuwe leden van de Europese Commissie, de leiders van de Europese Raad en de Europese Centrale Bank, en de Hoge Vertegenwoordiger voor Buitenlandse Zaken en het Veiligheidsbeleid zullen worden. Het behoeft geen betoog dat een nationalistische overwinning een ramp voor de EU zou zijn, omdat de noodzakelijke hervormingen erdoor zouden worden gedwarsboomd en de lidstaten er nog verder verdeeld door zouden raken.
Wat er ook gebeurt, het interne politieke drama van Europa zal zich afspelen tegen de achtergrond van internationale politieke onrust. Op het moment dat Rusland zijn agressie in het oosten van Oekraïne intensiveert, voert de Amerikaanse president Donald Trump een handelsoorlog tegen China, die uitgebreid zou kunnen worden naar de EU (die hij een "vijand" heeft genoemd). En in bredere zin wordt de wereldeconomie zwakker en zal de groei de komende maanden blijven vertragen.
In het licht van al deze voorspelbare problemen staat het overleven van het Europese project zelf op het spel. Voor zover het om de Brexit gaat, zal veel afhangen van de vraag of het vertrek van het Verenigd Koninkrijk op een ordelijke of een chaotische manier zal verlopen. In het laatstgenoemde geval zullen er alleen maar verliezers zijn en kunnen de betrekkingen tussen het Verenigd Koninkrijk en de EU voor langere tijd vergiftigd worden. Niemand aan weerszijden van het Kanaal moet op deze uitkomst hopen. Het leven gaat verder na een scheiding, en het is in het algemeen in het belang van beide partijen om een goede relatie in stand te houden. Je moet hopen dat het gezond verstand zegeviert.
Net als de Brexit kan het EU-leiderschap in Brussel de Italiaanse crisis niet oplossen, maar het kan en moet wel een helpende hand bieden. Italië heeft behoefte aan groei, waarvoor een grootscheepse modernisering van de economie nodig is. Helaas voert de huidige regering niet het beleid dat vereist is om dit te bereiken, en heeft zij in plaats daarvan aangestuurd op een confrontatie over de begrotingsregels van de EU. De EU zal flexibiliteit moeten tonen en tegelijkertijd de beginselen overeind moeten houden die ten grondslag liggen aan de duurzaamheid van de monetaire unie. Dit duidt erop dat er lange en pijnlijke onderhandelingen in het verschiet liggen.
In Frankrijk hebben de "Gele Hesjes" hun eisen grotendeels in economische termen verwoord, nadat ze in eerste instantie de straat zijn opgegaan om te protesteren tegen een voorgestelde verhoging van de dieselaccijns. Maar de beweging omvat ook sterk "identitarische" elementen die gebruik hebben gemaakt van de gevoelens van ontevredenheid over het verlies van traditionele manieren van leven in een tijdperk van mondialisering en Europese integratie. Zoals in de meeste westerse landen concentreren deze gevoelens zich onder de traditionele kiezers uit de arbeiders- en de middenklassen, die tot de slotsom zijn gekomen dat het naoorlogse sociale contract niet langer van kracht is. Hard werken garandeert niet langer economische zekerheid en opwaartse mobiliteit.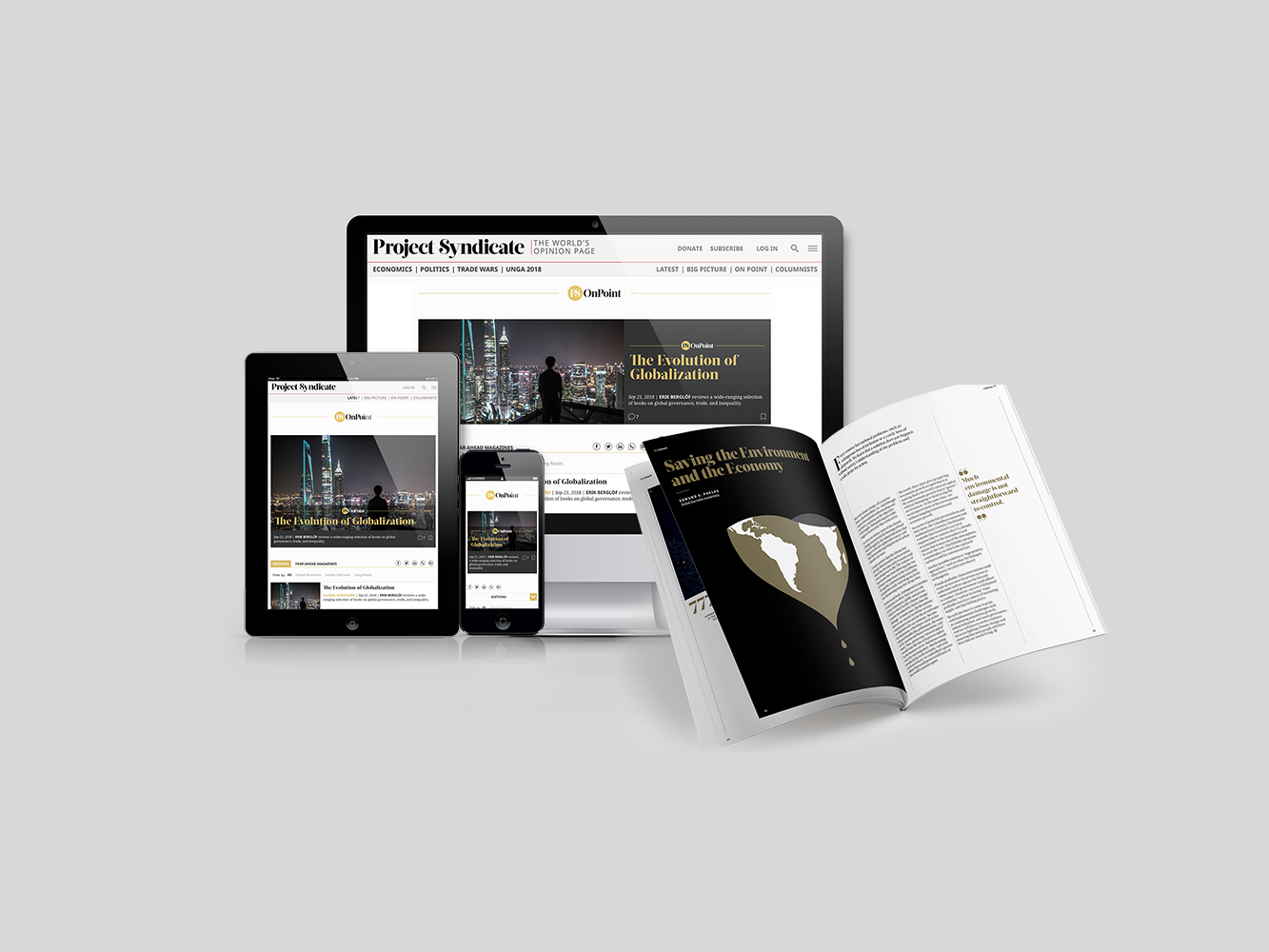 Subscribe now
For a limited time only, get unlimited access to On Point, The Big Picture, and the PS Archive, plus our annual magazine, for less than $2 a week.
Westerse elites zullen het vertrouwen van het publiek niet kunnen herwinnen totdat zij een antwoord weten te formuleren op dit verlies van het vertrouwen dat onontbeerlijk is voor het goed functioneren van de democratie en haar kerninstituties. Wat de zaken nog ingewikkelder maakt, is dat het mondiale machtsevenwicht snel van het Westen naar het Oosten verschuift, dat de klimaatcrisis heviger wordt, dat nieuwe digitale technologieën de manier waarop we leven en werken op z'n kop zetten, en dat migranten- en vluchtelingenstromen olie op het vuur van de populistische reactie gooien.
Maar als de populistische krachten een plan hebben dat hun object van verlangen – de traditionele natiestaat – in staat zou stellen deze toenemende problemen het hoofd te bieden, dan hebben ze dat goed verborgen weten te houden. In werkelijkheid is slechts een verenigd Europa opgewassen tegen deze taak, wat de reden is dat de Europese verkiezingen van volgend jaar zo belangrijk zijn. Als het populisme wint, verliest Europa.
Het helpt ook niet dat de meeste grote veranderingen op het gebied van de internationale orde van de afgelopen decennia zich op kosten van Europa lijken te hebben voltrokken. De opkomst van China en de revolutie op het gebied van de kunstmatige intelligentie lijken Europa aan de zijlijn te laten staan. Tot nu toe heeft het Oude Continent slapend aan het stuur gezeten. Als het niet snel wakker wordt, zal het de kans verspelen om de krachten van de verandering ten eigen bate aan te wenden.
Een nieuw tijdperk is aangebroken, en dit zal in de loop van volgend jaar steeds duidelijker worden. Traditionele Europese debatten kunnen de kracht van het transatlantische bondgenootschap niet langer als vanzelfsprekend beschouwen, evenmin als de gestage vooruitgang op weg naar een "steeds nauwere unie." Trumps Amerika heeft van bepaalde zaken afscheid genomen, en het oude sociale model van Europa is kapot, zonder dat daar iets voor in de plaats is gekomen. Noch nostalgie naar een mythisch verleden, noch China's autoritaire staatsmodel is een bruikbaar alternatief.
De crises waardoor Europa bedreigd wordt zullen zich op meedogenloze wijze manifesteren. 2019 zal op z'n best een jaar van defensief gemanoeuvreer worden, in plaats van het begin van een Europese wedergeboorte. Maar op de langere termijn is een wederopbouw van Europa de enige optie. Deze tegenstelling zal dit tijdperk van transitie definiëren, dat geen ruimte biedt voor sluiproutes of wondermiddelen.
Vertaling: Menno Grootveld