Sind Frankreichs Annäherungsversuche an Russland richtig?
PARIS – Der französische Präsident Emmanuel Macron ist überzeugt, dass der richtige Zeitpunkt für einen Neuanfang in den Beziehungen zu Russland gekommen ist. Er hat es daher zur diplomatischen Priorität erklärt, erneut eine vertrauensvolle Atmosphäre zwischen Paris und Moskau zu schaffen. Drei triftige Gründe sprechen für diesen Schritt.
Vor allem hat sich der internationale strategische Kontext dramatisch verändert. Chinas Macht wächst, während die Vereinigten Staaten zwar immer noch als Weltmacht dominieren, aber von ihrer globalen Verantwortung Abstand nehmen. Und Russland mit seiner alternden, schrumpfenden Bevölkerung und einer riesigen, weitgehend unbewohnten Landmasse ist eine natürliche Beute für Chinas langfristige Ambitionen.
Die europäischen Staats- und Regierungschefs sollten sich nicht tatenlos damit abfinden, dass sich Russland in Ermangelung anderer Alternativen mit China verbündet. Stattdessen sollten sie versuchen, die Russen davon zu überzeugen, dass ihre Zukunft in Europa liegt und nicht in der Rolle als Chinas Juniorpartner in einer ausgesprochen unausgewogenen Beziehung. Russlands Zukunft liegt im Westen, nicht im Osten.
Auch wenn Russland China nicht gewachsen ist, so ist es doch als ernstzunehmender globaler Akteur zurückgekehrt. Viele aktuelle Konflikte, von Osteuropa bis zum Nahen Osten, können ohne die Einbindung Russlands einfach nicht bewältigt werden.
Für den russischen Präsidenten Wladimir Putin, der erstmals vor fast 20 Jahren an die Macht gelangte und versprach, den geopolitische Einfluss seines Landes wiederherzustellen, bedeutet dies eine Art Triumph. Insbesondere wollte Putin, dass die USA Russland nicht als bloßen Gegenstand der Geschichte behandeln, wie es unter seinem Vorgänger Boris Jelzin der Fall war, sondern als echten Gesprächspartner. Und auch wenn es unmöglich sein sollte, die bipolare Welt des Kalten Krieges wieder aufleben zu lassen, wären die USA zumindest gezwungen, die Bedeutung einer modernisierten und einsatzbereiten russischen Armee anzuerkennen, die im Bereich der ehemalige Sowjetunion und darüber hinaus eingreifen könnte.
Mit anderen Worten: Russland ist zurück. Für Europa kann es keine zufriedenstellende Grundlage für eine langfristige strategische Doktrin und realistische Diplomatie sein, dies in Abrede zu stellen oder einfach zu versuchen, Russland einzudämmen.
Subscribe now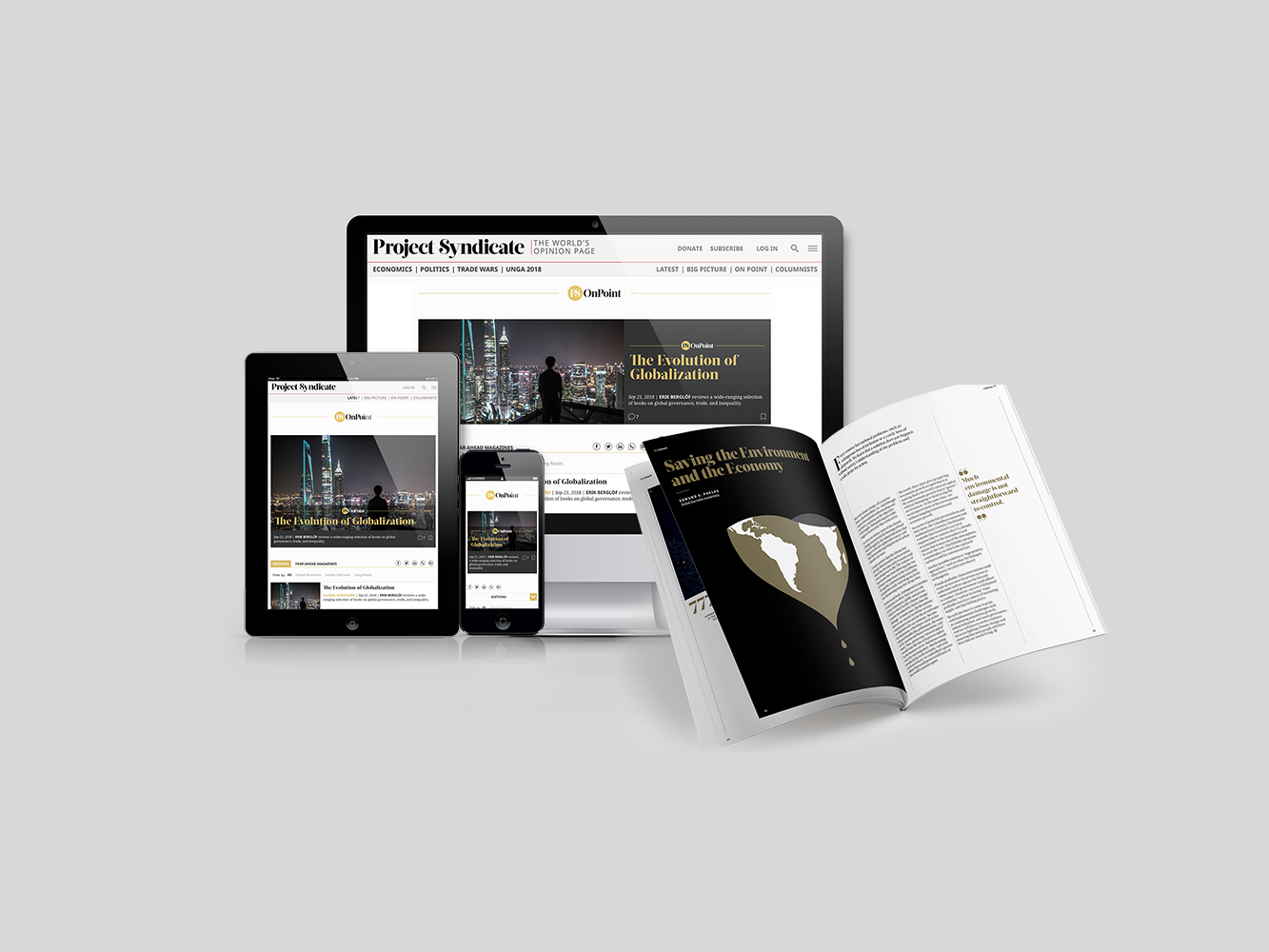 Subscribe now
Subscribe today and get unlimited access to OnPoint, the Big Picture, the PS archive of more than 14,000 commentaries, and our annual magazine, for less than $2 a week.
Der zweite Grund für die neue diplomatische Initiative Frankreichs gegenüber Russland ist das Führungsvakuum in Europa, das es zu füllen gilt. Das Vereinigte Königreich, das Russlands Verhalten zuletzt besonders entschieden kritisiert hatte, ist selbst verschuldet weg vom Fenster. Besessen von der Brexit-Tragikomödie, die zur schwersten politischen Krise des Landes seit dem Zweiten Weltkrieg geführt hat, ist das Vereinigte Königreich als ernstzunehmender diplomatischer Akteur von der Bühne verschwunden.
Unterdessen steht Deutschland, die europäische Macht mit den engsten historischen und kulturellen Beziehungen zu Russland, am Ende eines politischen Zyklus. Es ist sowohl gefährlich als auch unfair, die deutsche Bundeskanzlerin Angela Merkel zu unterschätzen, aber sie verfügt nicht mehr über den Einfluss oder die Energie, Europa im Umgang mit der Außenwelt zu führen oder für Geschlossenheit unter den Europäern zu sorgen.
Da das Vereinigte Königreich und Deutschland derzeit nicht imstande sind, eine wichtige diplomatische Rolle zu spielen, und Italien, Spanien und Polen nicht in der Lage sind, sich als Hauptakteure zu betätigen, ist die Schlussfolgerung denkbar einfach: Teilweise mangels Konkurrenz und teilweise aufgrund der Energie und der Vorstellungskraft seines jungen Präsidenten ist dies die Stunde Frankreichs.
Und zu guter Letzt steht Macrons Versuch, die Beziehungen zu Russland auf eine neue kooperative Grundlage zu stellen, im Einklang mit der gaullistischen Tradition Frankreichs. Charles de Gaulle besaß ein natürliches Gespür dafür, zwischen unterschiedlichen Systemen zu vermitteln und einen Blick einzunehmen, der über die gegenwärtige Gestalt anderer Länder hinausgeht. Hinter der Sowjetunion oder hinter Mao Zedongs China sah der erste Präsident der Fünften Republik Frankreichs das ewige Russland oder das ewige China. Im Umgang mit einem anderen Land sollte man sich daher nicht vom Wesen seines Regimes lähmen lassen.
Zudem könnte es zu Macrons innenpolitischem Kalkül passen, an diese Tradition anzuknüpfen. Indem er auf den Kreml zugeht, kann er die Wirtschaftssektoren besänftigen, die am stärksten von den westlichen Sanktionen gegen Russland betroffen sind, und gleichzeitig die traditionell pro-russischen Parteien der extremen Rechten und Linken Frankreichs herausfordern.
Aber es ist eine Sache, die Wurzeln einer Politik oder die Gründe dafür zu erklären, und eine andere, die Entscheidung umfassend zu rechtfertigen. Vor allem den mittel- und nordeuropäischen Regierungen ist die neue diplomatische Initiative Frankreichs suspekt. Warum eine Annäherung an Russland, fragen sie, und warum jetzt?
Aus dem säkularen Frankreich kommend, wirkt eine solche Nächstenliebe – geben, bevor man etwas dafür zurückbekommt – entweder naiv oder machiavellistisch. Darüber hinaus scheint diese im Widerspruch zu Frankreichs Betonung der Werte im Kontext der Europäischen Union zu stehen. Kritiker von Macrons Russlandinitiative geben zu bedenken, dass die Gegensätzlichkeit zwischen der Verteidigung politischer Prinzipien innerhalb der EU und der Praxis der Diplomatie außerhalb derselben nicht so groß sein sollte, dass sie deren Festigkeit gefährdet.
Außerdem verweisen seine Kritiker darauf, dass Macron im Alleingang handelt, ohne sich wirklich mit seinen europäischen Partner und Verbündeten beraten zu haben. Er kann schwerlich behaupten, im Namen Europas zu sprechen, wenn er weiterhin so vorgeht und die anderen EU-Mitglieder ständig vor vollendete Tatsachen stellt.
Obwohl ich diese Kritikpunkte verstehe (und einige davon teile), unterstütze ich Macrons Bemühungen trotzdem. Die strenge Eindämmungspolitik des Westens ist gescheitert. Eine Politik der Annäherung kann daher gerechtfertigt sein, sofern sie nicht naiv oder unter völliger Missachtung von Prinzipien verfolgt wird.
Außerdem wäre Macron der Letzte, der sich falsche Illusionen über Putins Russland macht. Während der französischen Präsidentschaftswahlen 2017 setzte sich Russland aktiv für seine rechtsextreme Rivalin Marine Le Pen ein, indem es systematisch Desinformationen und Fake News verbreitete. Macron wird zudem nicht den Anschein wecken wollen, dass Putin alles haben kann – nicht zuletzt, weil Russland an dem Verhalten festhält, das überhaupt erst zur Verschlechterung seiner Beziehungen zu Europa geführt hat.
Frankreich hat einen mutigen ersten Schritt für einen Neuanfang der Beziehungen zu Russland unternommen. Jetzt ist Putin am Zug.
Aus dem Englischen von Sandra Pontow