El poder del diálogo en un mundo trastornado
GINEBRA – Para cerrar las brechas en nuestro fracturado mundo será necesaria la colaboración de muchos actores. Y en la mayor parte de los casos es el diálogo el que distingue la cooperación del conflicto, y los avances de los dolorosos retrocesos de la fortuna.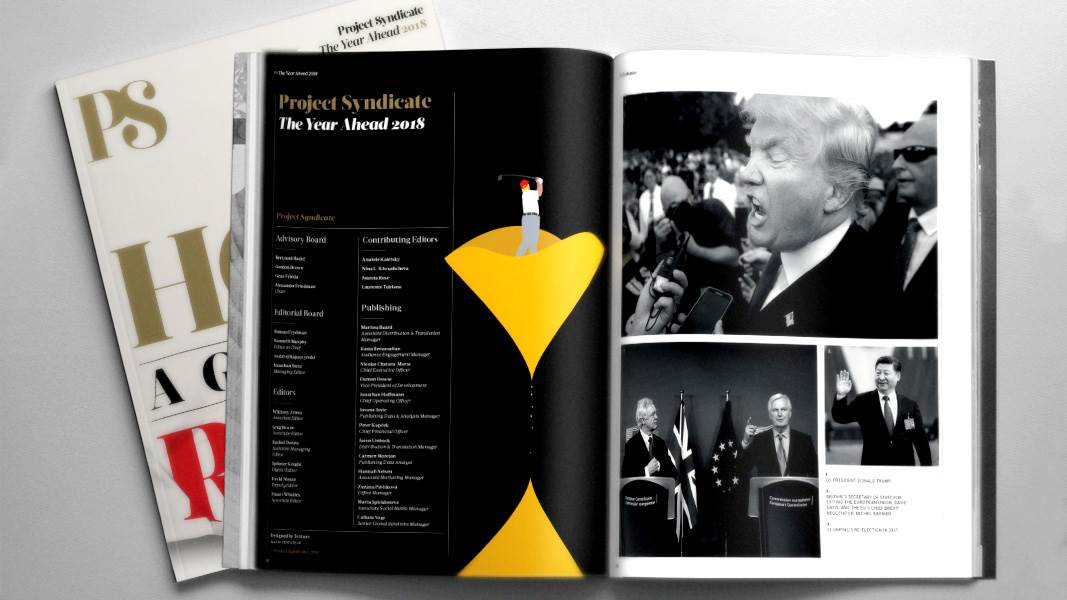 The Year Ahead 2018
The world's leading thinkers and policymakers examine what's come apart in the past year, and anticipate what will define the year ahead.
Nunca ha sido más importante el diálogo de buena fe, la capacidad de ver el mundo a través de los ojos de los demás, especialmente aquellos con quienes no estemos de acuerdo. Vivimos en una edad en que Internet y otras tecnologías de la información y las comunicaciones han derribado las fronteras tradicionales y nos han acercado los unos a los otros. Pero también es una época en que nos distancian los tambores del nacionalismo. Sin las conversaciones tranquilas, constructivas y, a veces, incómodas acerca del futuro que queremos, la intolerancia y el aislacionismo amenazan con retroceder siglos de avances.
Lo que está en juego es así de alto. El Informe de Riesgos Globales de 2018 del Foro Económico Mundial muestra a una abrumadora mayoría de expertos en todo el planeta que creen que este año podría estallar un conflicto entre potencias. Mientras tanto, los problemas internos de los países seguirán alimentando las sospechas del público de que el sistema está montado para favorecer a las elites. La creciente desigualdad y la menguante movilidad social destacan entre estos problemas. De acuerdo al Fondo Monetario Internacional, la desigualdad del ingreso ha aumentado un 53% de los países en los últimos 30 años, en especial en las economías avanzadas.
El filósofo estoico griego Epícteto dijo una vez que "Tenemos dos oídos y una boca para que podamos escuchar el doble de lo que decimos". El mismo principio se aplica al diálogo, que exige que escuchemos diferentes perspectivas y mantengamos siempre una mente abierta. En 2018, esto significa atender a los reclamos populares y colaborar hacia el logro de soluciones colectivas. Solo las respuestas en conjunto podrán afrontar los complejos problemas que enfrentamos.
La indispensabilidad de un diálogo entre múltiples actores para avanzar en el progreso global es la piedra angular que guía al Foro. Más allá del vital trabajo de organizaciones como las Naciones Unidas, el Foro ha creado un espacio en la escena mundial en que los líderes de negocios pueden coexistir con activistas laborales, y los líderes mundiales pueden hablar pero, lo que es más importante, escuchar.
En 1987, la reunión anual del FEM en Davos jugó un papel clave en la prevención de una guerra entre Grecia y Turquía. El primer ministro turco de ese entonces, Turgut Ozal, se reunió con su contraparte griego, Andreas Papandreou, y ambos establecieron un vínculo de confianza que ayudó a impedir un conflicto militar.
Este año en Davos, un grupo de líderes empresariales israelíes y palestinos se reunieron para renovar su compromiso con una solución de dos estados, y prometieron su apoyo al fortalecimiento de la economía palestina.
Más aún, el Primer Ministro griego Alexis Tsipras y el primer ministro de la Ex República Yugoslava de Macedonia (FYROM), Zoran Zaev, sostuvieron el primer encuentro de nivel de primeros ministros entre sus países en siete años. Juntos avanzaron en negociaciones para poner fin a una prolongada disputa que ha impedido el acceso de la FYROM a la Unión Europea. Por último, pero no menos importante, Davos fue anfitrión de las conversaciones diplomáticas para apuntalar las actuales conversaciones de reconciliación política y procesos de paz en la Península Coreana, Venezuela y Somalia y el África Subsahariana.
En 2018 y los años venideros, habrá retos políticos de larga data junto a disrupciones frescas desde el mundo digital. La Cuarta Revolución Industrial y sus tecnologías correspondientes (inteligencia artificial, bioingeniería y demás) ofrecen abundantes oportunidades de progreso material y social. Pero también están dando la vuelta a los modelos empresariales establecidos y empujando el armamento moderno en escalofriantes nuevas direcciones.
Los dilemas a los que nos enfrentamos hoy son profundos. ¿Deberían los vehículos sin conductor valorar las vidas de sus pasajeros por sobre las de los peatones? ¿Existe la privacidad en un mundo de software de reconocimiento facial y aplicaciones de big data? ¿Debería permitirse a las compañías que patenten genes humanos que hayan logrado aislar? ¿Debería la inteligencia artificial (IA) tomar decisiones en el campo de batalla?
Ninguna se puede responder sin un diálogo abierto y cuidadoso entre segmentos de la sociedad que raramente interactúan. Es preciso que las compañías tecnológicas, las emergentes, las organizaciones internacionales, el mundo académico y los líderes de la sociedad civil se reúnan con las entidades normativas y las encargadas de diseñar las políticas para desarrollar medidas que limiten los riesgos de las nuevas tecnologías sin restringir la innovación.
El Centro para la Cuarta Revolución Industrial del Foro, con sede en San Francisco, se fundó para facilitar este tipo de diálogo. Y ya ha reunido a diferentes actores para formular respuestas de políticas a los retos planteados por la IA y el aprendizaje por máquinas, la Internet de las Cosas, el comercio digital y los flujos de datos transfronterizos, los drones civiles y la tecnología de cadena de bloques.
El mundo necesita más de este tipo de diálogo cooperativo. Muchos pueden tener nostalgia por el regreso del supuestamente más simple mundo del pasado. Pero no es la respuesta refugiarnos en nuestras culturas, naciones, industrias y organizaciones. De hecho, es parte del problema. Por el bien de nuestro futuro en común, debemos reconocer el poder del diálogo.
Traducido del inglés por David Meléndez Tormen