La puissance du dialogue dans un monde de ruptures
GENÈVE – Dans le monde fracturé que nous connaissons, le comblement des divisions exigera une collaboration entre de nombreux acteurs. Or, c'est principalement le dialogue qui permet à la coopération de primer sur le conflit, et au progrès de l'emporter sur les revers de fortune les plus douloureux.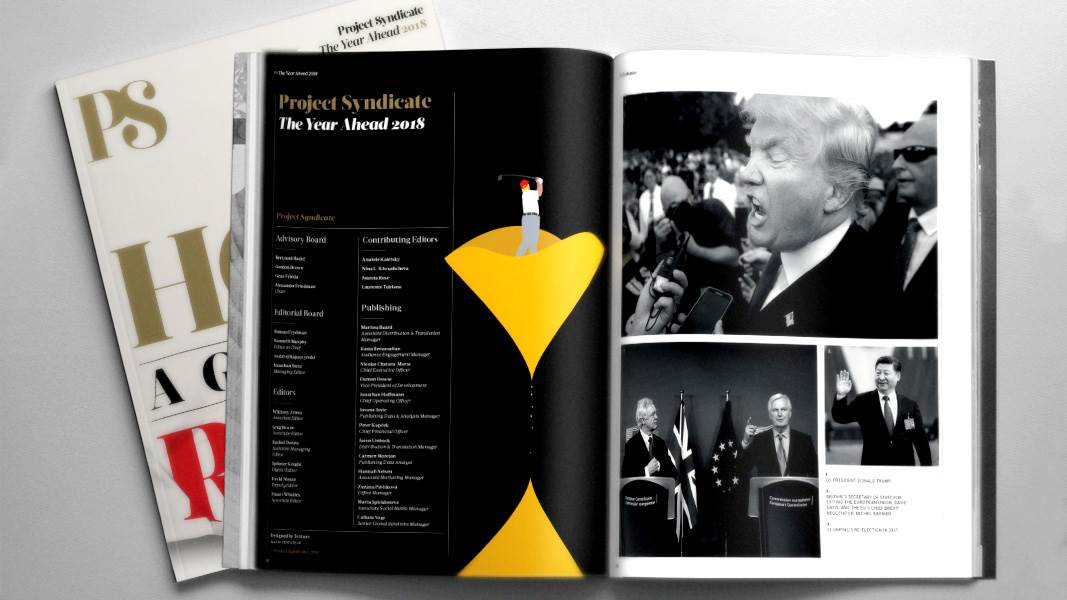 The Year Ahead 2018
The world's leading thinkers and policymakers examine what's come apart in the past year, and anticipate what will define the year ahead.
Le dialogue de bonne foi – la capacité à voir le monde à travers l'œil des autres peuples, notamment ceux avec lesquels nous sommes en désaccord – n'a jamais été aussi important qu'aujourd'hui. Nous vivons une époque dans laquelle Internet et les technologies de l'information et de la communication font voler en éclat les frontières traditionnelles, et nous rapprochent. Mais cette époque voit également les sirènes du nationalisme nous éloigner les uns des autres. Sans un certain calme, sans discussions même inconfortables sur le genre d'avenir auquel nous aspirons, l'intolérance et l'isolationnisme menacent d'anéantir plusieurs siècles de progrès.
Telle est véritablement la hauteur des enjeux. Le Rapport sur les risques mondiaux rendu par la Forum économique mondial pour 2018 révèle qu'une majorité écrasante d'experts du monde entier estime qu'un conflit désastreux entre deux grandes puissances pourrait éclater cette année. Dans le même temps, les difficultés rencontrées aux niveaux nationaux sont vouées à alimenter la suspicion du public selon laquelle le système est pipé en faveur des élites. Parmi ces difficultés figurent en premier lieu le creusement des inégalités et le déclin de la mobilité sociale. D'après le Fonds monétaire international, les inégalités de revenus ont augmenté dans 53 % des pays de la planète au cours des 30 dernières années, et en particulier au sein des économies développées.
Le philosophe stoïcien grec Épictète a dit un jour : « Si l'homme a deux oreilles et une bouche, c'est pour écouter deux fois plus qu'il ne parle. » Le même principe s'applique au dialogue, qui nécessite que nous écoutions différents points de vue, en gardant toujours l'esprit ouvert. En 2018, cela signifie écouter les demandes de la population, et travailler à ses côtés en direction de solutions collectives. Seules des réponses conjointes nous permettront de résoudre les problématiques complexes auxquelles nous sommes confrontés.
Le caractère indispensable d'une discussion à plusieurs acteurs autour des progrès mondiaux explique pourquoi le dialogue constitue la pierre angulaire et la ligne directrice du Forum. Au-delà du travail vital que fournissent des organisations telles que les Nations Unies, le Forum crée sur la scène mondiale un espace dans lequel les dirigeants d'affaires peuvent côtoyer des acteurs syndicalistes, et les responsables mondiaux échanger des idées – mais, plus important encore, écouter.
En 1987, le rassemblement annuel du FEM à Davos avait joué un rôle majeur dans la prévention d'une guerre entre la Grèce et la Turquie. Turgut Őzal, alors Premier ministre de la Turquie, avait rencontré son homologue grec Andréas Papandréou, et les deux hommes avaient noué un relation de confiance qui avait permis d'empêcher un conflit militaire.
Cette année à Davos, des dirigeants d'affaires israéliens et palestiniens se sont rencontrés pour renouveler leur engagement en faveur d'une solution à deux États, et ont promis de soutenir le renforcement de l'économie palestinienne.
De même, le Premier ministre grec Alexis Tsipras et Zoran Zaev, Premier ministre de l'Ancienne République yougoslave de Macédoine (ARYM), ont organisé pour la première fois en sept ans une rencontre de niveau premier-ministériel entre les deux pays. Ensemble, ils ont progressé dans les négociations visant à mettre un terme au litige persistant qui empêche l'ARYM de candidater à une adhésion à l'Union européenne. Enfin, et non des moindres, Davos a accueilli des discussions diplomatiques autour d'efforts de pacification multilatérale et de réconciliation politique dans la péninsule Coréenne, au Venezuela, ainsi qu'en Afrique sub-saharienne et en Somalie.
En 2018 et dans les années à venir, plusieurs défis géopolitiques de longue date resteront à résoudre, auxquels s'ajouteront les ruptures récentes qu'engendre le monde numérique. La Quatrième Révolution industrielle et les technologies qui l'accompagnent – intelligence artificielle (IA), bio-ingénierie et autres avancées – offrent de nombreuses opportunités de progrès matériel et social. Mais elles bouleversent également les modèles d'entreprise existants, et orientent la guerre moderne dans de nouvelles directions effrayantes. 
Les dilemmes qui se présentent aujourd'hui à nous sont profonds. Les véhicules sans conducteur doivent-ils faire primer la vie de leurs passagers sur celle des piétons ? Existe-t-il encore une vie privée dans un monde équipé de logiciels de reconnaissance faciale et d'applications de mégadonnées ? Les entreprises peuvent-elles breveter les gène humains qu'elles parviennent à isoler ? Doit-on laisser l'IA prendre des décisions sur un terrain de guerre ?
Aucune de ces interrogations ne doit trouver de réponse sans un dialogue entre des pans de la société qui interagissant rarement. Entreprises technologiques, startups, organisations internationales, acteurs universitaires et leaders de la société civile doivent se réunir aux côtés des régulateurs et décideurs politiques afin d'élaborer des mesures permettant de limiter les risques liés aux nouvelles technologies, sans pour autant entraver l'innovation.
Situé à San Francisco, le Centre pour la Quatrième Révolution industrielle a été créé par le Forum en 2016 pour faciliter ce genre de discussions. Il a d'ores et déjà permis de rassembler différents acteurs, qui ont proposé des solutions politiques aux défis soulevés par l'IA, le machine learning, l'Internet des Objets, le commerce numérique, les flux transfrontaliers de données, les drones civils, ou encore la technologie blockchain.
Le monde doit pouvoir bénéficier encore davantage de ce type de dialogue coopératif. Beaucoup seront sans doute tentés de revenir au monde d'hier, prétendument plus simple. Mais le repli dans nos cultures, nations, industries et organisations respectives n'est pas la solution. Au contraire, il fait parti du problème. Pour un meilleur avenir commun, il nous faut reconnaître la puissance du dialogue.
Traduit de l'anglais par Martin Morel