Politik Fasis dalam Pandemi
NEW YORK/NEW HAVEN – Jauh berbeda dengan kepemimpinan efektif yang ditunjukkan oleh Kanselir Jerman Angela Merkel, Presiden Korea Selatan Moon Jae-in, dan teknokrasi otoriter Singapura, para pemimpin nasionalis sayap kanan di dunia menghadapi krisis COVID-19 dengan melakukan hal yang sudah tidak terlihat selama beberapa dekade: politik fasis mengenai penyakit. Dan tidak ada contoh yang lebih tepat mengenai politik ini daripada Presiden Brasil, Jair Bolsonaro.                            
Memang benar bahwa beberapa pemimpin dunia – termasuk Presiden Nikaragua Daniel Ortega dan diktator Belarusia, Turkmenistan, serta Korea Utara – masih menyangkal ancaman virus corona. Tapi, di antara para penyangkal virus corona ini, Bolsonaro berada di tingkatan tersendiri.  
Salah satu alasannya adalah Bolsonaro baru-baru ini memecat menteri Kesehatan Brasil, Luiz Mandetta, hanya karena ia mendukung langkah penjarakan sosial yang ringan. Bolsonaro tampaknya meniru rekannya dari AS, Donald Trump, yang baru-baru ini memecat seorang pejabat kementerian kesehatan karena menolak upayanya untuk mendukung pengobatan COVID-19 yang belum terbukti.
Trump tidak bisa mengatasi krisis ini, ia berkali-kali menyatakan hal yang tidak koheren seperti menyangkal krisis ini namun juga menyerukan tindakan tegas, dan yang terbaru ia berspekulasi bahwa virus corona bisa diobati dengan menyuntikkan disinfektan rumah tangga. Namun ia dan Bolsonaro punya dorongan politik yang sama untuk menempatkan diri mereka di atas sains dan keahlian, mendahulukan insting mereka sendiri dan membenarkan keputusan mereka dengan keimanan dan mitos. Meskipun strategi mereka terlihat jauh berbeda, keduanya punya latar belakang fasis yang sama, yang berpusat pada pengultusan pemimpin dan mitos kehebatan nasional – sebuah kehebatan yang seharusnya telah dilemahkan dengan internasionalisme dan liberalisme (yang disamakan dengan komunisme oleh kaum fasis).   
Di seluruh dunia, respons para pemimpin sayap kanan terhadap pandemi ini mencakup elemen-elemen penting dari ideologi fasis. Setelah para anggota dari partai Vox yang merupakan partai nasionalis sayap kanan tertular penyakit di pertemuan politik mereka sendiri, mereka menyatakan bahwa antibodi mereka mewakili perlawanan bangsanya terhadap penjajah asing. Seperti perkataan salah satu pemimpin Vox, Javier Ortega Smith, "antibodi Spanyol Saya melawan virus Tiongkok yang terkutuk ini."
Demikian pula Bolsonaro dalam pidato besar pertamanya mengenai COVID-19 (pada tanggal 24 Maret), yang menyatakan bahwa Brasil tidak rentan terhadap virus ini. Tidak seperti Italia yang lemah, dengan jumlah lansia besar," Brasil saat ini, ia berkata, "punya segalanya, ya, segalanya untuk menjadi bangsa yang besar." Bolsonaro kemudian menggembar-gemborkan "sejarahnya sebagai atlet," yang menunjukkan standar motif fasis lainnya: pemimpin sebagai perwujudan kesehatan dan semangat bangsa. Menurut "Bolsonarismo," Bolsonaro adalah Brasil.
Back to Health: Making Up for Lost Time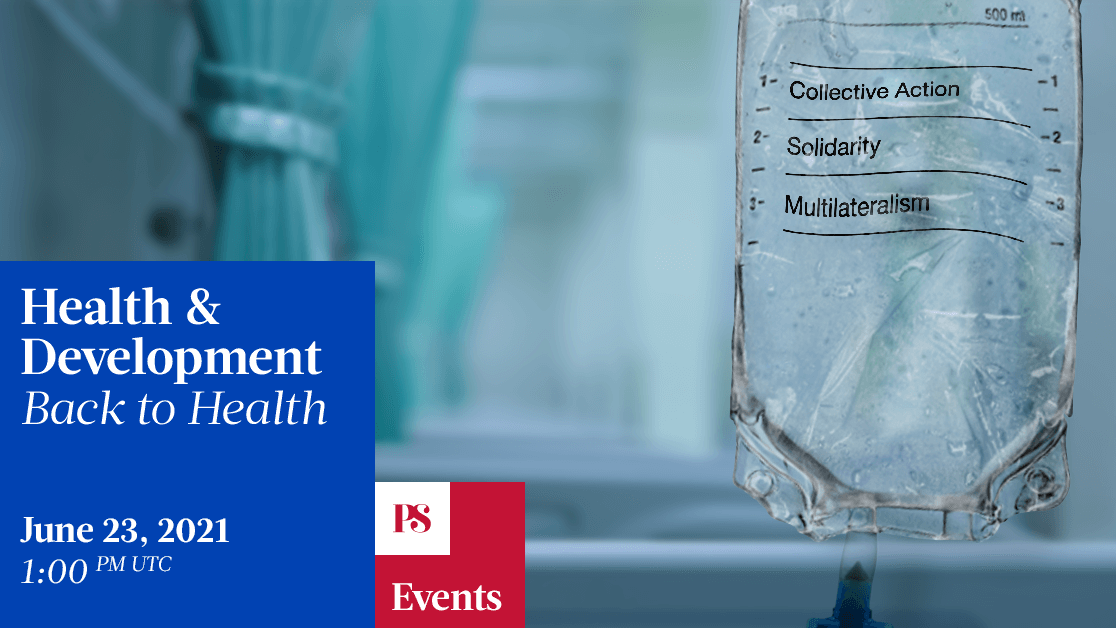 Back to Health: Making Up for Lost Time
The COVID-19 crisis has laid bare systemic inequities that will have to be addressed if we are ever going to build more sustainable, resilient, and inclusive societies. Join us on June 23, 2021, for our latest live virtual event, Back to Health: Making Up for Lost Time, where leading experts will examine the immediate legacy of the pandemic and explore solutions for bringing all communities and societies back to health.
Ada alasan mengapa beberapa pihak di media menyebut Bolsonaro, yang terpilih pada akhir tahun 2018 sebagai "Trump dari kawasan Tropis." Kesukaan Bolsonaro terhadap Trump paling jelas terlihat dalam reaksinya terhadap pandemi ini. Ketika Trump menyerukan untuk mengakhiri penjarakan sosial di Amerika pada hari Paskah, Bolsonaro dengan cepat meniru seruan ini.
Tapi, berbeda dengan Trump, Bolsonaro benar-benar melaksanakan perkataannya. Meskipun Trump sering mengisyaratkan keinginan untuk mempunyai kekuasaan absolut, ia tidak benar-benar melakukan hal ini. Sebaliknya, Bolsonaro ikut dalam demonstrasi masyarakat yang mendukung intervensi oleh militer Brasil untuk membubarkan Kongres dan pengadilan. Bolsonaro adalah id Trump, melakukan apa yang hanya bisa diimpikan oleh Trump. Dan, mengingat fasisme pada intinya adalah sebuah fantasi dominasi total oleh seorang pemimpin, Bolsonaro kini sudah melampaui gurunya dalam mencapai hal tersebut.
Terlebih lagi, dalam politik fasis, kenyataan hanyalah sebuah instrumen untuk menyebarkan ideologi dan menyerukan dominasi. Seperti pernyataan Hitler dalam buku Mein Kampf, "Negara bangsa memandang sains sebagai alat untuk meningkatkan kebanggaan nasional."
Selain Brasil dan AS, negara demokrasi besar lain – negara demokrasi terbesar di dunia – juga sudah berada di bawah kekuasaan sayap kanan: India. Di India, Perdana Menteri Narendra Modi dan Partai Bharatiya Janata yang berkuasa, telah menggunakan pandemi sebagai alasan untuk meningkatkan kampanye yang sudah berlangsung untuk menjelek-jelekkan masyarakat Muslim India.
Untuk mencapai tujuan tersebut, pemerintahan Modi telah secara terbuka mengaitkan penyebaran virus corona dengan pertemuan tahunan kelompok misionaris Muslim Jamaah Tabligh, dan mengabaikan pertemuan serupa yang dilakukan umat Hindu. Jadi tidak mengagetkan, kata Rana Ayyub yang merupakan seorang wartawan, bahwa tagar #CoronaJihad dan #BioJihad membanjiri Twitter pada beberapa minggu terakhir.   
Pesan dari pemerintahan Modi ini didasarkan pada sebuah kebohongan yang menjijikkan, tapi hal ini punya konsekuensi yang luas bagi masyarakat Muslim India. Sebelum COVID-19 terjadi, masyarakat Muslim menjadi target diskriminasi negara. Selain adanya upaya resmi dari pemerintah untuk mencabut kewarganegaraan jutaan masyarakat Muslim, terjadi peningkatan kekerasan jalanan terhadap Muslim, termasuk pogrom yang bertepatan dengan kunjungan resmi dan mewah Trump ke India pada awal tahun ini.      
Dalam politik fasis, para anggota kelompok luar yang dibenci hampir selalu digambarkan sebagai pembawa penyakit. Ini adalah cara Nazi menggambarkan kaum Yahudi, dan cara pemerintah sayap kanan saat ini membenarkan penargetan imigran dan kelompok minoritas. Di Italia, yang merupakan rumah bagi rezim fasis pertama, Matteo Salvini dari partai sayap kanan League berargumen di bulan Februari bahwa "membolehkan migran dari Afrika, tempat yang sudah ada kasus positif corona, untuk masuk ke Italia adalah sebuah hal yang tidak bertanggung jawab." Ketika itu, sudah ada 229 kasus positif COVID-19 di Italia, dan hanya satu kasus positif di Afrika.  
Tidak mengherankan bahwa pemerintahan Trump juga menggunakan krisis COVID-19 untuk memperkuat sikap anti imigran mereka. Melebihi serangan obsesif mereka terhadap imigran tanpa dokumen, pemerintahan tersebut juga kini menerapkan moratorium untuk imigrasi legal.
Para pemimpin politik akan terus tergoda untuk menyalahkan lawan dari ideologi mereka atas permasalahan yang ada karena hal ini akan memberikan narasi yang koheren. Tapi seperti yang diingatkan oleh Hannah Arendt, "kelemahan utama dari propaganda totaliterisme adalah ketidakmampuannya untuk memenuhi keinginan massa akan sebuah dunia yang konsisten, dapat dipahami, dan diprediksi tanpa berlawanan dengan akal sehat."
Sekarang ketika AS sudah mengalami lebih dari 60.000 kematian terkonfirmasi (dan tentu jumlah sebenarnya lebih besar) akibat COVID-19, kenyataan mulai terlihat berbeda dari propaganda yang ada. Tapi, seperti yang kita ketahui dari sejarah fasisme, tidak ada jaminan bahwa akal sehat akan menang.