Une vision politique fasciste de la pandémie
NEW YORK/NEW HAVEN – En net contraste avec le leadership efficace démontré par la chancelière allemande Angela Merkel, par le président sud-coréen Moon Jae-in, et par la technocratie autocratique de Singapour, les nationalistes d'extrême droite ont partout dans le monde répondu à la crise du COVID-19 par une démarche qui n'avait pas été observée depuis plusieurs décennies : une politique fasciste de la maladie. Personne n'incarne aujourd'hui davantage ce phénomène politique que le président du Brésil, Jair Bolsonaro.
Certes, plusieurs autres dirigeants mondiaux             – parmi lesquels le président nicaraguayen Daniel Ortega ou les dictateurs de Biélorussie, du Turkménistan et de la Corée du Nord – nient encore aujourd'hui la menace que représente le coronavirus. Pour autant, parmi les négationnistes du COVID-19, Bolsonaro défie toute concurrence.
Entre autres constats, Bolsonaro a récemment limogé le ministre brésilien de la Santé, Luiz Mandetta, simplement pour avoir recommandé de légères mesures de distanciation sociale. Bolsonaro semble s'inspirer de son homologue américain Donald Trump, qui a dernièrement évincé un haut responsable de la santé pour s'être opposé à ses efforts de soutien à un traitement non démontré contre le COVID-19.
Tout au long de cette crise, Trump s'est révélé totalement dépassé, oscillant sans aucune cohérence entre le déni et les appels à une action forte, puis spéculant tout récemment sur la possibilité de traiter le coronavirus par injection de désinfectants ménagers. Le président américain et Bolsonaro partagent cette même pulsion politique consistant à se placer eux-mêmes au-dessus de la science et des experts, privilégiant leurs propres intuitions primaires, et justifiant leurs décisions par la foi et le mythe. Si de légères différences s'observent dans leurs « stratégies », tous deux partagent une vision fasciste de l'histoire, axée sur le culte du dirigeant et le mythe de la grandeur nationale – une grandeur à leurs yeux compromise par l'internationalisme et le libéralisme (que les fascistes assimilent au communisme).
À travers le monde, les réponses des dirigeants d'extrême droite face à la pandémie intègrent plusieurs éléments clés de l'idéologie fasciste. Infectés lors de leurs propres rassemblements politiques, les membres du parti espagnol d'extrême droite Vox ont expliqué que leurs anticorps représentaient le combat de la nation contre un envahisseur étranger. L'un des dirigeants de Vox, Javier Ortega Smith, a ainsi déclaré : « Mes anticorps espagnols combattent ce satané virus chinois ».
De même, dans son premier discours majeur sur le COVID-19, le 24 mars, Bolsonaro a déclaré que le Brésil n'était pas particulièrement vulnérable au virus. À la différence d'une Italie fébrile, abritant une « importante population de personnes âgées », le Brésil d'aujourd'hui, a-t-il affirmé, « a tout ce qu'il faut pour être une grande nation ». Le président brésilien a ensuite vanté son propre « profil de sportif », adhérant ainsi à un autre motif récurrent du fascisme : le leader en tant qu'incarnation de la santé et de la vigueur de la nation. Dans le « bolsonarisme », le Brésil c'est tout simplement Bolsonaro.
Back to Health: Making Up for Lost Time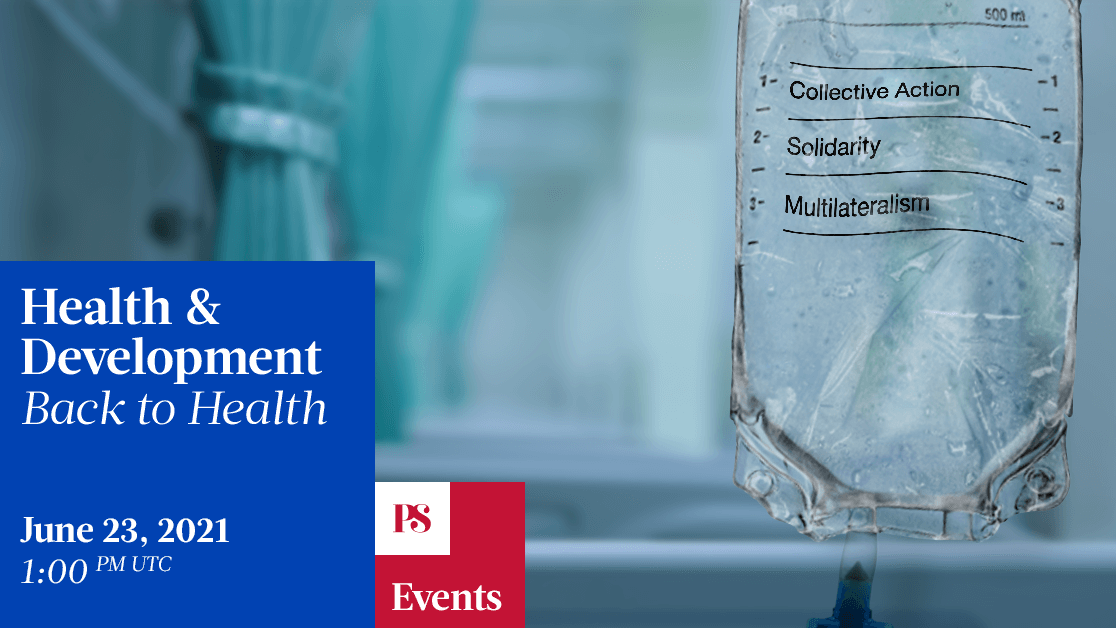 Back to Health: Making Up for Lost Time
The COVID-19 crisis has laid bare systemic inequities that will have to be addressed if we are ever going to build more sustainable, resilient, and inclusive societies. Join us on June 23, 2021, for our latest live virtual event, Back to Health: Making Up for Lost Time, where leading experts will examine the immediate legacy of the pandemic and explore solutions for bringing all communities and societies back to health.
Ce n'est pas un hasard si certains médias ont attribué à Bolsonaro, élu fin 2018, le surnom de « Trump des tropiques ». Mais jamais cette proximité entre Bolsonaro et Trump n'était apparue aussi évidente que dans la réaction du président brésilien à la pandémie. Lorsque Trump a décidé fin mars de déconfiner l'Amérique d'ici Pâques, Bolsonaro s'est empressé de lui emboîter le pas.
Seulement voilà, à la différence de Trump, Bolsonaro joint les actes à la parole. Car si Trump laisse parfois transparaître un désir de pouvoir absolu, il finit souvent par faire marche arrière. De son côté, Bolsonaro se joint personnellement aux manifestations publiques de soutien à une intervention de l'armée brésilienne pour le démantèlement du Congrès et des tribunaux. Il est en quelque sorte « l'id » de Trump, agissant là où Trump ne peut que fantasmer. Le fascisme étant au fond le rêve de domination absolue d'un dirigeant, l'élève Bolsonaro a désormais dépassé le maître dans la concrétisation de ce rêve.
Par ailleurs, dans la politique fasciste, la réalité n'est qu'un instrument permettant de propager une idéologie et d'affirmer une domination. Comme l'écrit Hitler dans Mein Kampf, « l'État national considérera la science comme un moyen de renforcer la fierté nationale ».
Outre le Brésil et les États-Unis, une autre grande démocratie – la plus peuplée de la planète – se retrouve sous le règne de l'extrême droite : l'Inde. Le Premier ministre Narendra Modi et le parti au pouvoir Bharatiya Janata exploitent en effet la pandémie pour promouvoir une campagne de diabolisation de la population musulmane du pays.
C'est dans cette démarche que le gouvernement Modi a publiquement attribué la propagation du coronavirus à la tenue du rassemblement annuel du groupe de missionnaires musulmans Tablighi Jamaat, tout en ignorant les rassemblements similaires organisés par les groupes hindous. Sans surprise, et comme l'observe la journaliste Rana Ayyub, « les hashtags #CoronaJihad et #BioJihad ont inondé Twitter » ces dernières semaines.
Fondé sur un mensonge répugnant, ce message du gouvernement Modi entraîne des conséquences très importantes pour les musulmans d'Inde. Bien avant l'apparition du COVID-19, ils étaient déjà la cible d'une campagne étatique de discrimination. Au-delà de la proposition d'un responsable public consistant à retirer leur nationalité à plusieurs millions de musulmans, une explosion des violences extrajudiciaires contre les musulmans a été observée, notamment un véritable pogrom qui a coïncidé avec la visite officielle en grande pompe de Trump sur le sol indien cette année.
Dans la politique fasciste, les minorités haïes sont presque toujours considérées comme vecteurs de maladies. C'est ainsi que les nazis décrivaient les juifs, et c'est ainsi que les gouvernements d'extrême droite actuels justifient leurs politiques hostiles aux immigrés et aux minorités. En Italie, berceau du tout premier régime fasciste, le chef de la Ligue d'extrême droite Matteo Salvini a déclaré en février : « Il est irresponsable de permettre l'entrée de migrants d'Afrique, où la présence du virus a été confirmée ». À cette période, on dénombrait déjà 229 cas confirmés de COVID-19 en Italie, et seulement un sur l'ensemble du continent Africain.
Sans surprise, l'administration Trump tire elle aussi parti de la crise du COVID-19 pour renforcer sa position anti-immigration. Au-delà de ses habituelles attaques obsessionnelles contre les immigrants sans papier, l'administration a désormais imposé un important moratoire sur l'immigration légale.
Les dirigeants politiques auront toujours tendance à reprocher les difficultés à leurs ennemis idéologiques habituels, conférant ainsi une prétendue cohérence à leur discours. Or, comme nous le rappelle Hannah Arendt, « la principale faille de la propagande totalitaire réside en ce que cette propagande ne peut satisfaire le désir des masses, celui d'un monde entièrement cohérent, compréhensible et prévisible, sans entrer sérieusement en conflit avec le bon sens ».
Les États-Unis déplorant désormais plus de 60 000 décès confirmés liés au COVID-19 (le total réel étant certainement bien supérieur), la réalité s'affirme face à la propagande. Seulement voilà, comme nous l'enseigne l'histoire du fascisme, le bon sens ne triomphe pas toujours.
Traduit de l'anglais par Martin Morel