Negociar mientras el mundo arde
LONDRES – La de 2010 puede ser recordada como la década en que perdimos la lucha contra el dañino cambio climático. En 2015, en la conferencia climática COP21 en París, 196 países acordaron limitar el calentamiento global a mucho menos de 2 °C por encima de los niveles preindustriales. Pero la emisión mundial de gases de efecto invernadero (GEI) no para de crecer, las concentraciones atmosféricas de dióxido de carbono están en los niveles más altos en 800 000 años, y con las políticas actuales podemos esperar un calentamiento de unos 3 °C en 2100. Además, las recientes negociaciones de la COP25 en Madrid fracasaron, por disputas entre los gobiernos por el valor y la asignación de "créditos de carbono" remanentes de un régimen de políticas previo que ya está desacreditado.
Pero al mismo tiempo, asombrosos avances tecnológicos del último decenio hacen posible reducir las emisiones de GEI a un costo mucho menor al que osábamos esperar hace diez años. Los costos de la energía solar y eólica se redujeron más de 80% y 70%, respectivamente, y los costos de las baterías de iones de litio cayeron de mil dólares por kilovatio‑hora en 2010 a 160 dólares por kWh en la actualidad. Estos y otros avances permitirán a sistemas energéticos con hasta un 85% de dependencia de fuentes renovables variables producir electricidad sin emisión de carbono a costos totalmente competitivos con los de sistemas basados en combustibles fósiles.
Además, ya es evidente que incluso los sectores de la economía donde la reducción de emisiones es más difícil, por ejemplo la industria pesada (incluida la producción de acero, cemento y sustancias químicas) y el transporte a larga distancia (en barco, avión y camión), se pueden descarbonizar a costos que aunque son significativos para una empresa por separado, apenas afectarán los niveles de vida de la gente.
En mayo de 2019, el Comité sobre Cambio Climático del Reino Unido calculó que llegar a la descarbonización total de la economía británica en 2050 apenas implica una reducción de 1 o 2% del PIB de ese año. En 2008, ese mismo organismo (del que entonces yo era presidente) había estimado un costo similar para lograr solamente un 80% de reducción de las emisiones.
En tanto, la reducción de los costos de la descarbonización y la mayor conciencia de los riesgos climáticos llevaron a prestar más atención a la posibilidad y necesidad de alcanzar la meta de emisión nula de aquí a 2050. En julio, el RU se comprometió con ese objetivo en forma legalmente vinculante, y este mes la Unión Europea adoptó la misma meta. Además, Maersk (mayor empresa mundial de transporte marítimo en contenedores), la metalúrgica sueca SSAB y la cementera india Dalmia (lo mismo que un número creciente de empresas líderes) se comprometieron a alcanzar la emisión nula de carbono en 2050 o antes.
Para llegar al objetivo climático del acuerdo de París, todas las economías desarrolladas deben lograr la emisión nula de carbono más o menos a mediados de siglo; y pueden hacerlo con mínimas repercusiones sobre los niveles de vida. Y el esfuerzo debe incluir a China.
Subscribe now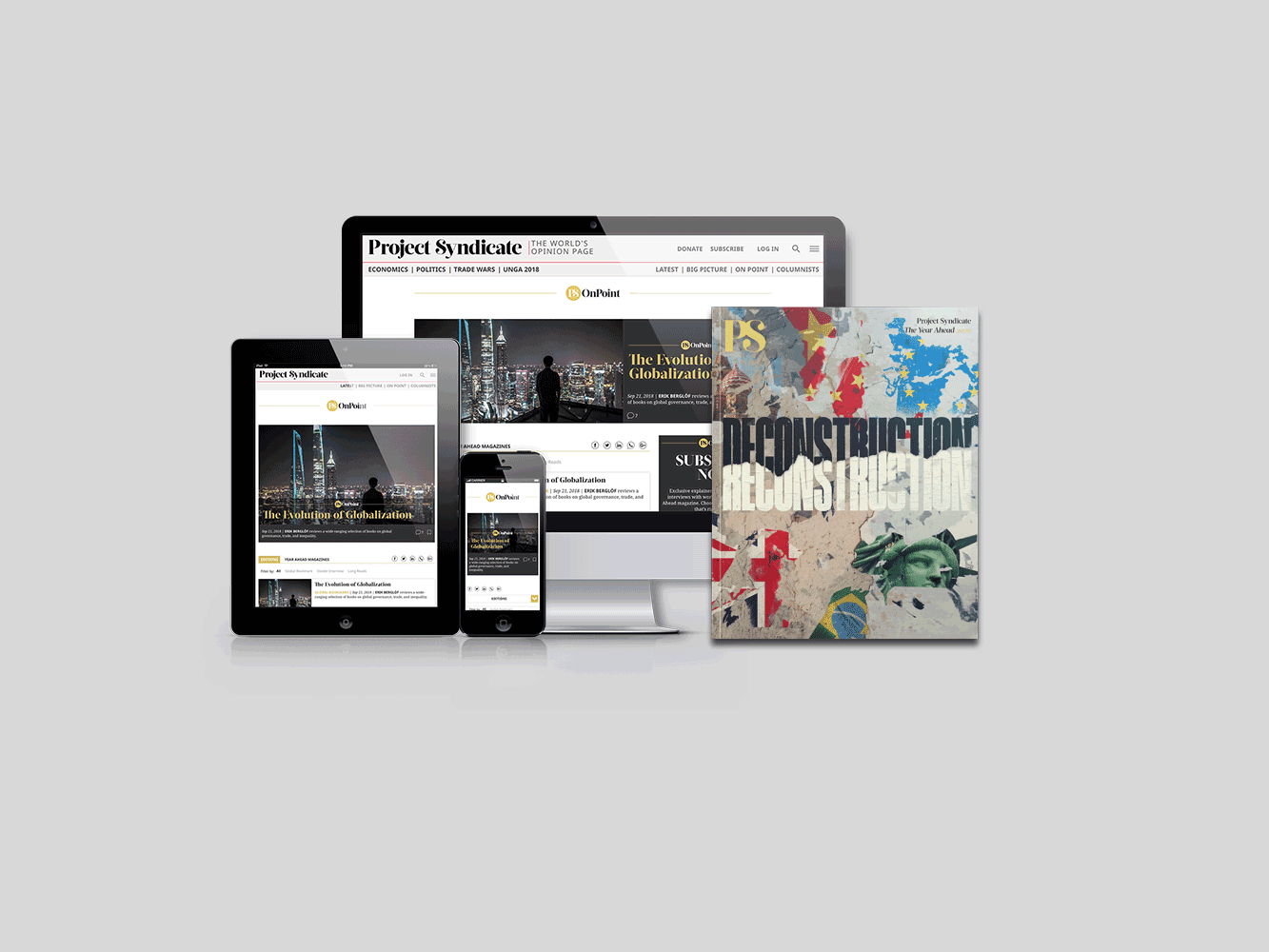 Subscribe now
Subscribe today and get unlimited access to OnPoint, the Big Picture, the PS archive of more than 14,000 commentaries, and our annual magazine, for less than $2 a week.
Hoy, en las conferencias sobre cambio climático, China pretende negociar como "país en desarrollo", ya que su PIB per cápita actual (por paridad del poder adquisitivo) es alrededor de 18 000 dólares, o sea cerca del 40% del promedio de la UE. Pero el gobierno chino declaró su ambición de convertir al país en una "economía rica totalmente desarrollada" de aquí a 2050, con un PIB per cápita superior al de cualquier país europeo en la actualidad. Un objetivo totalmente alcanzable con la calidad de la fuerza laboral, la infraestructura y la gestión de China y su creciente liderazgo tecnológico en muchos sectores.
De modo que la rapidez con que China reduzca las emisiones es crucial. Hoy el país genera casi el 30% de la emisión global de CO2, y su nivel de emisión per cápita superará al de Europa (que está en disminución) en pocos años. De modo que si China no reduce drásticamente sus emisiones de aquí a 2050, que Europa las reduzca un 80% o un 100% apenas repercutirá en el ritmo del calentamiento global.
China no debe conformarse con ser una economía totalmente desarrollada en 2050: también debe procurar la emisión nula de carbono. Claro que esto demandará inversiones inmensas. Para sostener niveles de vida en alza y lograr la electrificación a gran escala del transporte, la calefacción residencial y la industria, es posible que China deba pasar de generar 6700 teravatios‑hora en la actualidad a 14 o 15 000 TWh en 2050. Eso implica triplicar la inversión anual en energía solar y eólica para aumentar la capacidad de generación a partir de fuentes renovables a casi 5000 gigavatios en 2050, junto con 230 GW de energía nuclear.
Pero como señala un informe reciente de la Energy Transitions Commission, este enorme aumento de capacidad, sumado a una inversión adicional en transmisión, distribución y almacenamiento de la energía, sólo supone para China un aumento de inversión total que no llega al 1% del PIB; y esto en un país que ahorra e invierte más del 40% de su PIB. Además, el impacto total sobre el PIB de China (y por consiguiente, sobre el nivel de vida de los consumidores) en 2050 también sería apenas un 1%, o mucho menos, porque el compromiso con la emisión nula de carbono estimulará el avance tecnológico y mejorará la productividad.
Tras el fracaso de Madrid, ahora la atención estará puesta en las perspectivas para la conferencia COP26 que se celebrará en Glasgow el próximo año. Esa reunión también puede quedar empantanada en disputas estériles, si los negociadores se ponen a discutir por diferencias menores en el presunto "reparto de cargas". En vez de eso, es necesario que los gobiernos se concentren en los inmensos beneficios potenciales que supone la creación de una economía global con emisión nula de carbono.
Así pues, las economías desarrolladas (y China, en veloz desarrollo) deben comprometerse unilateralmente a alcanzar la emisión nula en 2050, con la seguridad de que el costo para sus economías será muy pequeño. Las economías emergentes deben comprometerse a alcanzar la misma meta una década después, con la seguridad de que el progreso tecnológico implícito en la reducción de las emisiones en los países desarrollados reducirá con el tiempo los costos de la descarbonización.
Además, los países desarrollados y en desarrollo deben prestar atención a una cuestión que afecta a todos por igual y que destacó la Agencia Internacional de la Energía en su último informe Panorama Mundial de la Energía: cómo liberar inversiones a gran escala para la generación de electricidad a partir de fuentes renovables en las economías de bajos ingresos. Lo cual se aplica especialmente a África, un continente que a pesar de contar con el mayor potencial para la energía solar, en la actualidad posee menos del 1% de la capacidad de generación fotovoltaica solar del mundo.
Si en la COP26 del próximo año logramos concentrarnos en los desafíos y en las enormes oportunidades, tal vez la de 2020 sea la década en que comenzamos a ganar la batalla contra el cambio climático.
Traducción: Esteban Flamini