Négocier tandis que le monde brûle
LONDRES – On pourrait malheureusement se souvenir des années 2010 comme de la décennie où la bataille contre le réchauffement climatique aura été perdue. En 2015, lors de la Conférence des parties de Paris sur le climat (COP21), 196 pays s'étaient mis d'accord pour limiter le réchauffement mondial à un seuil nettement inférieur à 2° C au-dessus des niveaux préindustriels. Mais les émissions mondiales de gaz à effet de serre (GES) n'ont cessé d'augmenter, les concentrations de dioxyde de carbone dans l'atmosphère sont à leur niveau le plus élevé depuis 800 000 ans et les mesures qui ont été jusqu'à présent mises en œuvre conduiront probablement à un réchauffement d'environ 3° C d'ici 2100. En outre, les récentes négociations de la COP25, à Madrid, se sont soldées par un échec, les représentants des États se querellant sur la valeur et l'allocation des « crédits carbone », héritage d'un système de compensation discrédité, finalement maintenus.
Des progrès technologiques époustouflants ont pourtant été réalisés durant cette même décennie 2010, et rendent possible la baisse des émissions de GES, à des coûts bien moindres que ceux qu'on osait espérer voici seulement dix ans. Les coûts de l'énergie solaire et éolienne ont chuté de 80 % et 70 % respectivement, tandis que ceux des batteries lithium-ion sont passés de 1 000 dollars par kilowattheure en 2010 à 160 dollars par kWh. Ces avancées, et d'autres encore, permettent d'envisager des réseaux énergétiques alimentés à 85 % par différentes sources d'énergie renouvelable, capables de produire de l'électricité décarbonée à des coûts parfaitement concurrentiels comparés à ceux des réseaux alimentés par les sources fossiles.
En outre, il est désormais certain que même les secteurs de l'économie les plus « difficiles à décarboner », comme l'industrie lourde (notamment la sidérurgie, la cimenterie et la chimie) et les transports au long cours (par air, par mer et par route), peuvent l'être à des coûts qui, quoique non négligeables pour une entreprise, n'ont des conséquences qu'insignifiantes sur le niveau de vie des gens.
En mai 2019, la commission britannique sur le changement climatique estimait que le passage du Royaume-Uni à une économie neutre en carbone d'ici 2050 ne coûterait, pour cette même année qu'un à deux points de PIB. En 2008, cette même commission, que je présidais alors, n'envisageait, pour un coût de cet ordre, qu'une réduction de 80 % des émissions.
La baisse des coûts de décarbonation et la prise de conscience du risque climatique ont mis en évidence la possibilité et la nécessité d'atteindre l'objectif d'émissions nulles d'ici 2050. En juillet, le Royaume-Uni s'est engagé à mettre en place des dispositifs légalement contraignants pour y parvenir, et l'Union européenne, au début du mois de décembre, a annoncé un accord sur le même objectif. En outre, Maersk, le premier transporteur maritime de conteneurs, le sidérurgiste suédois SSAB et le cimentier indien Dalmia comptent désormais parmi les entreprises de taille mondiale, de plus en plus nombreuses, qui se sont engagées à la neutralité carbone d'ici 2050 ou avant.
Pour atteindre l'objectif fixé par l'accord de Paris sur le climat, toutes les économies développées doivent parvenir à la neutralité carbone d'ici le milieu du siècle, et elles peuvent le faire avec un coût négligeable quant aux niveaux de vie. Ces efforts doivent aussi comprendre la Chine.
Subscribe now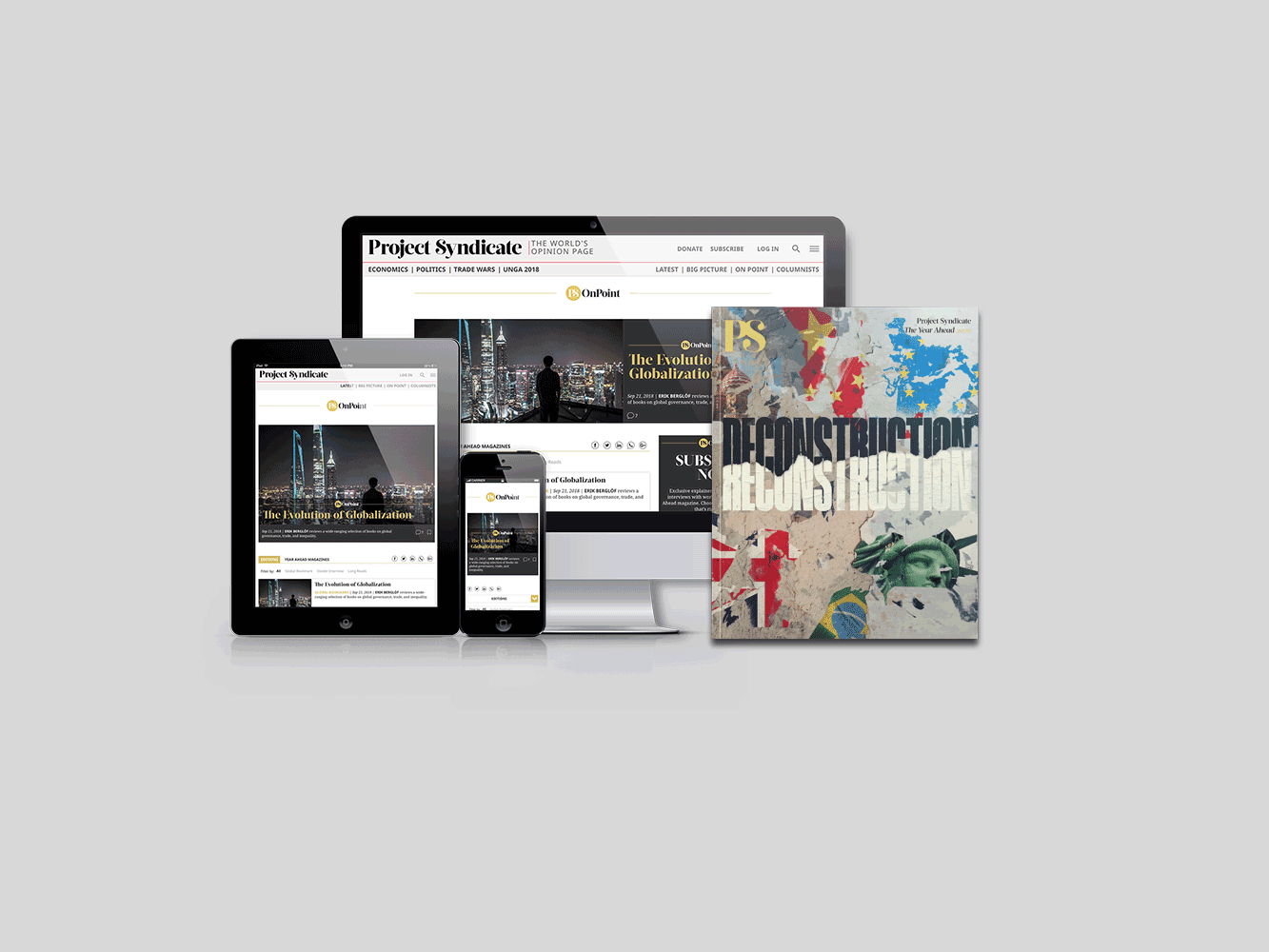 Subscribe now
Subscribe today and get unlimited access to OnPoint, the Big Picture, the PS archive of more than 14,000 commentaries, and our annual magazine, for less than $2 a week.
Lors des conférences sur le changement climatique, la Chine cherche aujourd'hui à négocier en tant que « pays en développement », considérant son PIB par habitant (à parité de pouvoir d'achat), d'environ 18 000 dollars, soit 40 % de la moyenne européenne. Mais l'ambition affichée du gouvernement chinois est de faire du pays « une économie riche et pleinement développée » d'ici 2050, avec un PIB par habitant plus élevé que celui de n'importe quel pays européen d'aujourd'hui. Étant donné la qualité de la main-d'œuvre chinoise, de ses infrastructures, et de son management, tout comme son avance technologique de plus en plus nette dans de nombreux secteurs, ce projet est parfaitement réalisable.
La rapidité avec laquelle la Chine réduira ses émissions est par conséquent cruciale. Elle représente aujourd'hui environ 30 % des émissions mondiales de CO2, et dans quelques années, ses émissions par habitant devraient dépasser celles de l'Europe, qui diminuent. Si la Chine ne réduit pas drastiquement ses émissions d'ici 2050, cela n'aura plus vraiment d'importance pour le rythme du réchauffement mondial que l'Europe parvienne ou non à réduire les siennes de 80 ou de 100 %.
La Chine doit viser à devenir d'ici 2050 non seulement une économie pleinement développée, mais aussi neutre en carbone. Pour y parvenir, il lui faudra bien sûr réaliser d'énormes investissements. La production électrique nécessaire pour accompagner l'augmentation du niveau de vie en Chine et pour permettre l'électrification à grande échelle des transports, du chauffage domestique et de l'industrie pourrait passer des actuels 6 700 térawattheures à 14 000 ou 15 000 TWh d'ici 2050. Il faudrait pour cela tripler l'investissement annuel dans le solaire et l'éolien afin d'accroître la puissance renouvelable disponible pour atteindre environ 5 000 gigawatts d'ici 2050, couplés aux 230 GW du nucléaire.
Mais comme le souligne un récent rapport de la Commission des transitions énergétiques (Energy Transitions Commission – ETC), même cette énorme augmentation de puissance, en tenant également compte des investissements supplémentaires dans le transport, la distribution et le stockage de l'énergie, ne nécessiterait qu'une hausse de l'investissement global en Chine inférieure à 1 % du PIB – dans un pays qui, rappelons-le, investit ou épargne 40 % de ce qu'il produit. En outre, l'impact total sur le PIB chinois en 2050, par conséquent sur le niveau de vie du consommateur chinois, serait du même ordre de grandeur, soit d'environ 1 % – et peut-être même beaucoup moins, car l'engagement dans une économie neutre en carbone stimulerait le progrès technologique et améliorerait la productivité.
Après l'échec de Madrid, les attentes vont se reporter sur la COP26, à Glasgow, l'année prochaine. Cette réunion pourrait elle aussi s'embourber dans des différends stériles qui verraient les diplomates s'affronter sur des arbitrages mineurs concernant un soi-disant « partage du fardeau ». Les gouvernements auraient tout intérêt à se concentrer plutôt sur les immenses bénéfices qu'engendrerait la construction d'une économie mondiale neutre en carbone.
Les économies développées, auxquelles il faut adjoindre la Chine qui se développe rapidement, doivent donc s'engager unilatéralement à atteindre d'ici 2050 la neutralité carbone, sachant que le coût en sera très faible. Les économies émergentes devraient s'engager sur le même objectif, qu'elles atteindraient une décennie plus tard, sachant qu'avec le temps, les progrès technologiques mobilisés dans la réduction des émissions abaisseront les coûts de la décarbonation.
En outre, pays développés comme pays en développement doivent se concentrer sur la question globalement importante mise en avant par l'Agence internationale de l'énergie dans son dernier World Energy Outlook : comment lancer des investissements massifs dans l'électricité renouvelable pour les pays à faible revenu. Cette question vaut notamment pour l'Afrique, le continent où les ressources d'énergie solaire sont les plus abondantes, mais qui stagne aujourd'hui à moins de 1 % de sa capacité photovoltaïque.
Si la COP26 de l'an prochain parvient à répondre à ces défis et à tirer parti de ces immenses opportunités, les années 2020 pourraient rester dans les mémoires comme celles où nous avons commencé à remporter la bataille du changement climatique.
Traduit de l'anglais par François Boisivon