L'Europe face à la puissance chinoise
LONDRES –Récemment, alors que les dirigeants de l'UE se réunissaient à Bruxelles pour discuter d'une stratégie commune plus volontariste dans leurs rapports avec la Chine, le président Xi Jinping était à Rome pour marquer la participation de l'Italie à l'initiative chinoise Une Ceinture et une Route. Ce projet, à hauteur de 1000 milliards de dollars d'investissement dans des infrastructures euro-asiatiques, vise à étendre l'influence économique et politique de l'empire du Milieu, alors que les Européens ne parviennent pas à se mettre d'accord sur une attitude commune pour traiter avec lui. 
Dans ces conditions, que devrait être la politique chinoise de l'UE ? Alors que les USA et la Chine paraissent se diriger vers une nouvelle Guerre froide, ces deux puissances veulent attirer les Européens dans leur camp. Le président Trump houspille les Européens pour qu'ils s'alignent sur sa politique agressive à l'égard de la Chine en matière de commerce, de technologie et de sécurité. De son coté, cette dernière courtise l'UE en soulignant leur intérêt commun à défendre le système de commerce multilatéral, l'accord de Paris sur le climat et l'accord avec l'Iran sur le nucléaire contre les attaques de Trump.
Dans l'idéal, l'UE devrait décider d'une stratégie, mais aussi longtemps qu'elle reste faible et divisée, il lui sera difficile d'y parvenir.
Encore récemment, elle considérait la Chine comme un partenaire stratégique – et avant tout comme une source de croissance et d'emplois. Mais le nouveau projet de stratégie à l'égard de la Chine que proposent la Commission européenne et le Service européen pour l'action extérieure est plus brutal et moins nuancé. La Chine y est considérée simultanément comme "un partenaire de coopération dont les objectifs concordent largement avec ceux de l'UE, un partenaire de négociation avec lequel l'UE doit parvenir à un équilibre d'intérêts, un concurrent économique qui ambitionne d'être au premier plan technologique et un rival systémique qui promeut d'autres modèles de gouvernance."
De même que leurs homologues américains, mais avec moins de véhémence, les responsables politiques européens s'inquiètent du défi que pose une Chine autoritaire, étatiste et dominante sur le plan technologique. La centralisation du pouvoir entre les mains de Xi et son programme industriel "Made in China 2025" qui vise manifestement à assurer la domination chinoise dans 10 secteurs clés de haute technologie ont mis fin aux espoirs européens d'une libéralisation politique et économique. Les dirigeants européens sont de plus en plus attentifs aux plaintes des milieux d'affaires qui disent que la Chine achète les entreprises européennes et met la main sur leur technologie sans leur accorder un accès aussi facile à ses propres marchés.
De ce fait, l'UE devrait être l'allié naturel des USA pour obtenir l'ouverture des marchés chinois et assurer la protection de la propriété intellectuelle des investisseurs étrangers. Mais Trump ne se soucie guère d'avoir des alliés, qualifie l'UE d'ennemi et menace d'engager une guerre commerciale avec l'Europe en raison de son énorme excédent commercial dans ses échanges avec les USA, notamment dans le secteur automobile. Les dirigeants européens détestent le protectionnisme unilatéral de Trump et son idée de "l'Amérique d'abord". Ils n'ont pas confiance en lui et estiment à juste titre qu'il pourrait conclure un accord avec la Chine sur le dos de l'UE ; c'est pourquoi ils répugnent à s'aligner sur la politique chinoise de Trump.
Subscribe now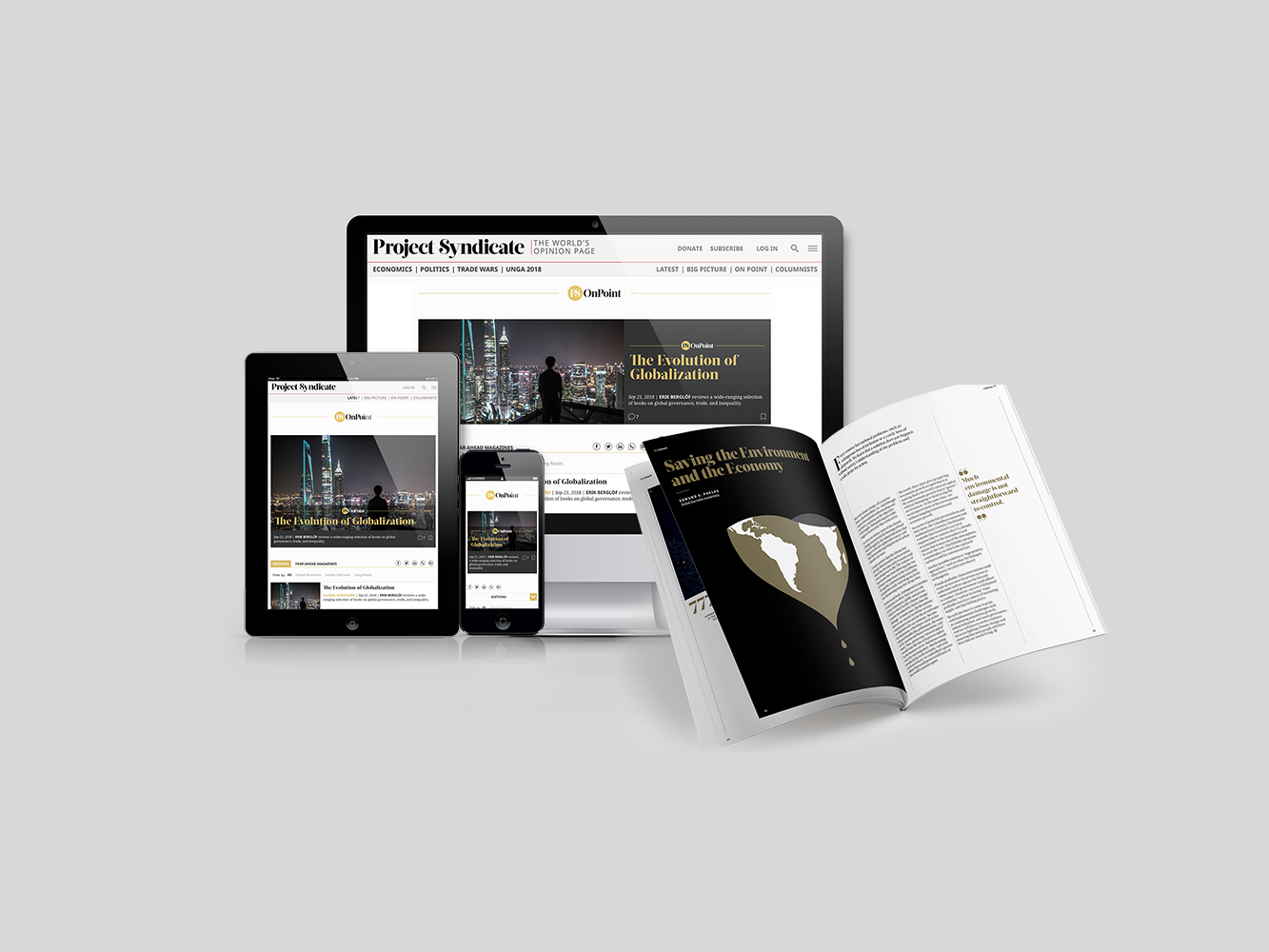 Subscribe now
Get unlimited access to OnPoint, the Big Picture, and the entire PS archive of more than 14,000 commentaries, plus our annual magazine, for less than $2 a week.
Cette situation offre une opportunité à la Chine qui fait tout le bruit nécessaire autour du multilatéralisme et a tout intérêt, au moins actuellement, à défendre un système international ouvert et réglementé. Par ailleurs, elle s'engage fortement vis-à-vis de l'UE ; le Premier ministre chinois Li Keqiang était le 9 avril à Bruxelles pour le sommet annuel UE-Chine. Mais en même temps elle affaiblit l'Europe en engageant des négociations bilatérales avec les gouvernements européens et en essayant de les opposer les uns aux autres.
C'est ainsi qu'elle a établi le forum "16+1" pour discuter avec 16 pays d'Europe centrale et d'Europe de l'Est dont 11 sont membres de l'UE. Ils sont particulièrement réceptifs à l'attention que leur porte la Chine et à ses investissements, car ce sont des pays pauvres, souvent traités comme de haut par des pays comme la France ou l'Allemagne.
L'empire du Milieu inonde aussi de capitaux les pays du sud du continent dont le besoin en investissements étrangers est criant depuis la crise de la zone euro. Il a investi dans le port grec du Pirée et dans des compagnies d'électricité portugaises, il envisage maintenant de rénover le port italien de Trieste. Jusqu'à présent, 15 des 28 pays membres de l'UE participent à l'initiative Une Ceinture et Une Route.
Il est vrai que les investissements chinois en Europe sont souvent utiles et que l'intensification des échanges commerciaux et l'amélioration des infrastructures sont mutuellement avantageuses. Mais comme le plan Marshall après la Deuxième Guerre mondiale, l'initiative Une Ceinture et Une Route a aussi une dimension politique : attirer l'Europe dans la zone d'influence chinoise.
Cela pose des questions stratégiques fondamentales à long terme. L'avenir de l'Europe passe-t-il réellement par l'Eurasie plutôt que par l'Occident ? Et dans ce cas, que supposerait pour elle d'être un partenaire de moindre taille de la Chine, et pourrait-elle alors être en bonne position pour défendre ses intérêts ? Malheureusement, presque personne ne pose ces questions.
En attendant, la stratégie bilatérale de la Chine envers l'Europe lui permet de diviser pour régner. Récemment, lorsque les ministres de l'économie français et allemand ont proposé d'engager une politique industrielle qui créerait des champions européens capables de rivaliser avec les géants chinois (et américains), le Premier ministre socialiste du Portugal, Antonio Costa, a rejeté cette idée. Il s'est aussi opposé à l'idée d'un contrôle plus strict des investissements chinois en Europe.
L'UE est à la fois divisée et faible. Bien que géant économique, elle reste un nain géopolitique mal préparé à la nouvelle ère qui s'ouvre, marquée par la concurrence entre les grandes puissances.
Unie, elle pourrait s'imposer face à des puissances de moindre taille telles que le Royaume-Uni et discuter d'égal à égal avec les USA et la Chine sur le plan économique. Son marché unique qui représente 19 000 milliards de dollars lui donne un formidable avantage dans les négociations commerciales, dans la politique en matière de concurrence, ainsi que dans l'établissement des réglementations et des normes.
Mais quand la politique économique recoupe la politique étrangère et de sécurité, l'UE manque de volonté et de capacité pour agir sur le plan stratégique. Hormis la France et le Royaume-Uni (qui quitte l'UE), ses pays membres manquent d'une perspective géopolitique. L'UE en tant que telle est dépourvue d'une puissance militaire et la plupart de ses membres comptent sur les USA pour leur défense. Enfin elle utilise de plus en plus des technologies numériques de pointe qui proviennent d'ailleurs.
 Résultat de tout cela, l'UE est prise en enclume entre les USA et la Chine. Il lui faut à tout prix trouver un objectif commun et une capacité stratégique que le président français Emmanuel Macron est presque seul à proposer. En attendant, l'UE va continuer à se débattre pour défendre ses intérêts tout en risquant de plus en plus de tomber victime du jeu entre grandes puissances.
Traduit de l'anglais par Patrice Horovitz