La visión de China para los próximos 30 años
SHANGHÁI – Cada cinco años, el Partido Comunista de China convoca a un Congreso Nacional, donde se toman decisiones clave: quién liderará a China en los próximos cinco años y qué camino hacia el desarrollo seguirán esos líderes. El XIX Congreso Nacional del PCC que acaba de terminar hizo todo eso y más.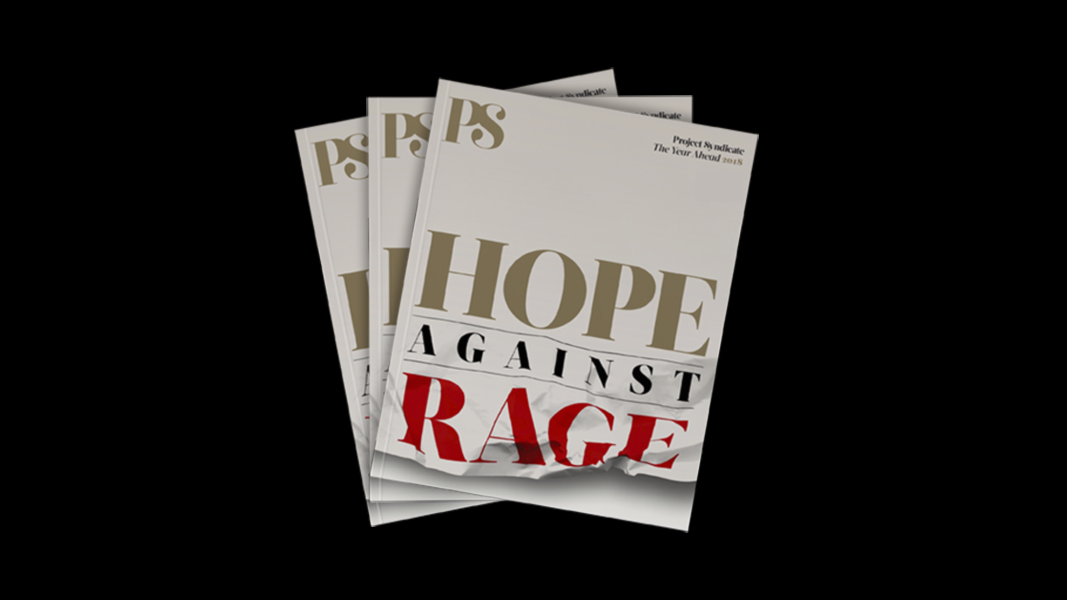 The Year Ahead 2018
The world's leading thinkers and policymakers examine what's come apart in the past year, and anticipate what will define the year ahead.
Más allá de elegir al próximo Comité Permanente del Politburó, el XIX Congreso Nacional reeligió al presidente Xi Jinping como el líder del PCC y agregó su ideología epónima -"Pensamiento de Xi Jinping"- al estatuto del Partido. El Congreso también elaboró un plan para el desarrollo futuro del país hasta 2050 -un plan que refleja los cambios que la reforma  y la apertura económica han llevado a China.
En el XIII Congreso Nacional del PCC, en octubre de 1987, los líderes de China declararon que las "principales contradicciones" que enfrentaba el país eran aquellas entre "las crecientes necesidades materiales y culturales de la gente y el atraso de la producción social". En otras palabras, el desafío fundamental era producir suficientes alimentos, ropa y libros para todos los chinos.
Treinta años después, la principal contradicción que enfrenta China es la que existe entre la "creciente demanda de niveles de vida más elevados y las limitaciones impuestas por un desarrollo económico insuficiente y desequilibrado". En su discurso ante el XIX Congreso del Partido, Xi declaró que, como China puede satisfacer, en gran medida, las necesidades básicas de su pueblo, el objetivo ahora debería ser mejorar su calidad de vida.
Con eso en mente, el XIX Congreso trazó una nueva hoja de ruta, basada en los "dos objetivos centenarios" heredados del XVIII Congreso. El primer objetivo centenario es construir una "sociedad moderadamente próspera" (xiao-kang) para 2021, el centésimo aniversario de la fundación del PCC. La clave aquí es garantizar una amplia prosperidad y eliminar prácticamente la pobreza.
El segundo objetivo centenario es el de transformar a China en una "nación plenamente desarrollada y avanzada" para 2049, el centésimo aniversario de la fundación de la República Popular. La visión, confirmada en el Congreso, es que China sea una sociedad socialista próspera, civilizada, armoniosa y moderna, que pueda hacer alarde de una sólida gobernancia. Una China de esas características sería una potencia global líder, ubicada en la parte superior de la lista de economías avanzadas.
El XIX Partido del Congreso avanzó en cuanto a marcar el camino entre esos dos objetivos, asegurando que una vez que se hubiera concretado el primer objetivo centenario, la próxima tarea de China sería modernizar la sociedad china para 2035. Una China de esta naturaleza sería un líder mundial en innovación, con un medio ambiente limpio, una clase media grande y una brecha mucho más estrecha entre el crecimiento rural y urbano, servicios públicos y estándares de vida.
Para alcanzar estos objetivos hará falta, primero y principal, que el liderazgo de China entienda dónde está China en el proceso de desarrollo. En este sentido, es prometedor que los líderes de China admitan en el último Congreso que China está y seguirá estando en la primera fase del socialismo. China, por ende, debe anteponer el desarrollo, con la expectativa de que el crecimiento económico resuelva los problemas del país.
Frente a esto los principales líderes de China prometieron que continuarían implementando reformas estructurales y fomentando la liberalización económica. Esto se basa en una resolución, adoptada en la Tercera Sesión Plenaria del XVIII Comité Central del PCC en 2013, de darle al mercado un "papel decisivo" en la asignación de recursos.
Como reconoció el XIX Congreso del Partido, honrar estos compromisos requerirá que China proteja los derechos de propiedad privada y el espíritu emprendedor. La importancia de esto es resaltada por el hecho de que el sector privado aporta más del 60% del PIB de China, el 50% de sus impuestos, el 70% de sus innovaciones tecnológicas y productivas y el 80% de sus empleos, a pesar de representar menos del 40% of la participación.
En cuanto a la liberalización, China está comprometida a implementar políticas para abrir aún más sus mercados al comercio y a la inversión extranjera, protegiendo a la vez los derechos e intereses legítimos de los inversores extranjeros. Como parte de este esfuerzo, el gobierno está autorizando más zonas de libre comercio y explorando la posibilidad de puertos de libre comercio en determinados lugares.
Se cree que China va camino a alcanzar su objetivo de convertirse en una economía de altos ingresos en 2035. Pero tendrá que sostener un crecimiento de la productividad laboral de por lo menos el 5% anual en los próximos 15-20 años -un resultado que dependerá de la creciente urbanización y del avance del progreso tecnológico.
La clave para el éxito será un liderazgo chino que se adapte de manera efectiva a las condiciones internas y externas cambiantes y gestione los riesgos que se han acumulado en las últimas décadas. Por ejemplo, debe abordar la creciente desigualdad de ingresos, generada mayormente por la enorme disparidad entre los ingresos urbanos y rurales, aunque la brecha de ingresos entre los residentes urbanos también se está ampliando. En 2014, el ingreso per capita fue de 53,300 yuanes (8.024 dólares) entre el 5% superior de los hogares y apenas 1.600 yuanes entre el 5% más pobre.
Según datos de la Encuesta Financiera de Hogares de China, el coeficiente Gini de China -la medición más común de la desigualdad- trepó de 0,283 en 1983 a 0,491 en 2008, alcanzando picos de 0,61 en 2010 y 0,60 en 2012 (mucho más alto que las cifras oficiales de 0,481 y 0,474, respectivamente). Si bien el coeficiente Gini cayó a 0,465 en 2016, todavía excede el rango de 0,24-0,36 para las principales economías desarrolladas.
China también enfrenta una creciente disparidad de la riqueza. En 1988 y 1995, el coeficiente Gini de China de la riqueza de los hogares era de apenas 0,34 y 0,4, respectivamente. Pero el coeficiente ha crecido, llegando a un pico de 0,739 en 2010. En 2014, el 25% más pobre de los hogares poseía menos del 2% de la riqueza total del país, mientras que el 1% más rico tenía una tercera parte.
Si China no logra contener la desigualdad, su crecimiento a largo plazo podría verse afectado. Pero con un plan de desarrollo claro y un líder poderoso cuya influencia política garantice la reforma continua, China podría estar en una posición fuerte para encarar los retos que enfrenta y sustentar su éxito económico sin precedentes.
Sin embargo, aunque China alcance sus objetivos en 2050, el desafío no habrá desaparecido, ya que los líderes de China luego tendrán que lidiar con una población que envejece. En 2050, el 36,5% de la población de China tendrá más de 60 años, según la revisión de 2017 de las Perspectivas de la Población Mundial de las Naciones Unidas. La edad mediana puede llegar a 49,6 años, muy cerca de los 53,3 de Japón y más que en Suecia, el Reino Unido, la Unión Europea en general y Estados Unidos. Esto hace que sea más crucial aún que los líderes de China tomen las decisiones correctas y coloquen a su país en una posición estable en 2050.